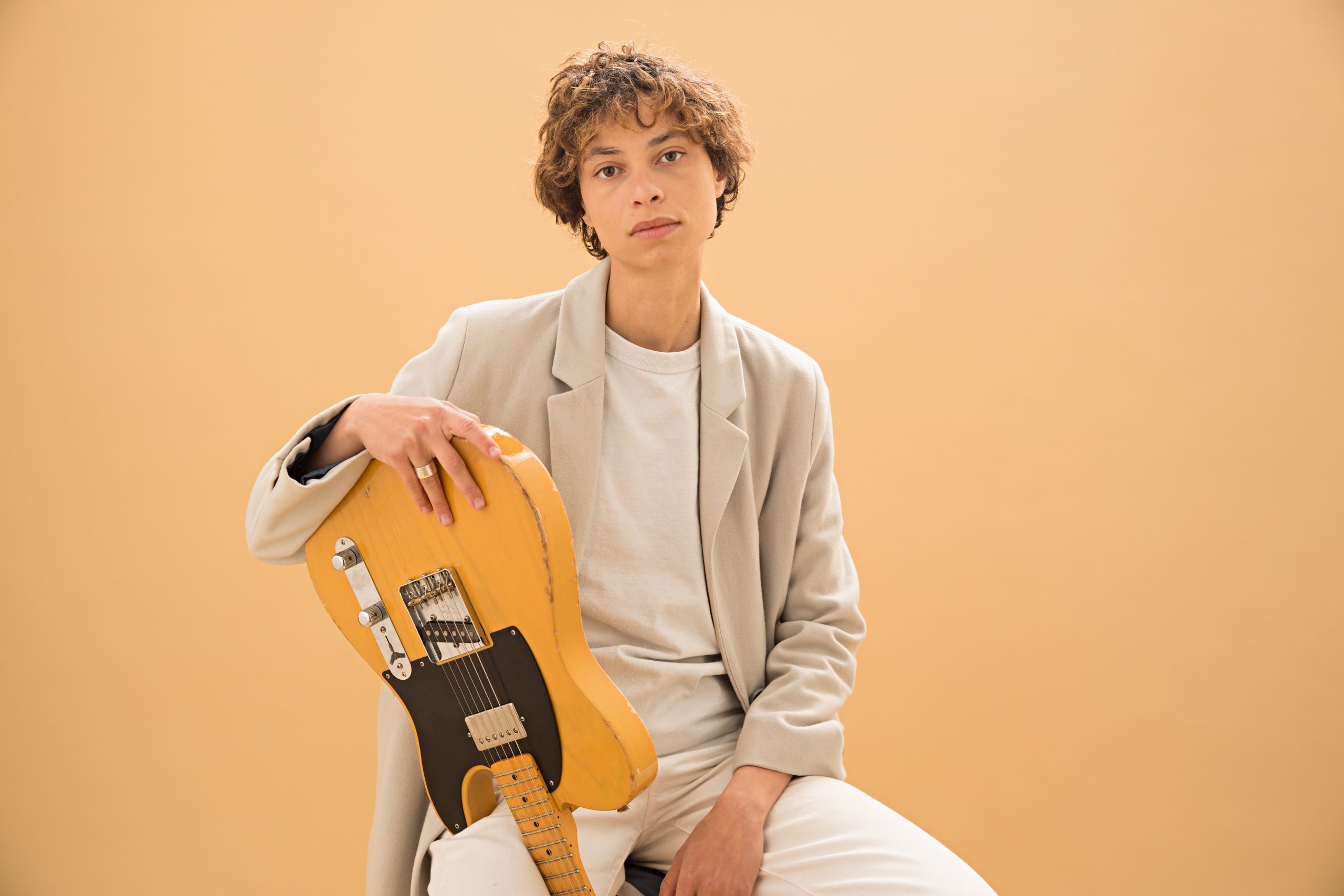 'Warm Blood' today's new single dives deep into Uele Lamore's textured melodies. With detail to layering and construct, a diverse use of instrumentals is noted, with Lamore occupying the more obscure arenas of indie and post genre. Cinematic in nature, this single acts as the prelude to next months album Loom and informs us of a glitteringly ethereal Il dolce far niente.
How does the upcoming album compare to your EP?
This album is one that has taken some time, we had access to bigger production, and we were able to record with strings and have different singers, so it's very different from my last EP.
Post genre?
I'm happy you said post genre, cuz I haven't heard that in a long time! First off, I was very lucky to receive a formal education in music, and really go in depth to many different styles, and so that influenced how I think, because I heard a lot of different approaches, and sounds. I think that people from our generation listen to a lot of different sounds because we have access to so many great algorithms that offer you new things that you wouldn't have dreamt of discovering years ago.
Is there one genre that you avoid?
I'm not too big on funk music. It's not my thing ha-ha!
The first few tracks are reminiscent of a vortex, what was the thought behind this?
I have a way of approaching composition in a very visual way. I really want to make music that is very pictural and can bring you vivid imagery. On the record I really wanted to focus on everything that is sound design related and not just production, and so I really think about what I wanted these tracks to feel like and what kind of sounds were not specifically notes and how rhythms can enhance that. I think that comes from film, there's a lot of similar techniques that are used in film music.
Is there a particular inspiration that has fueled your music?
There are many! I'm a big, big fan of Miles Davis, I have a big poster in my studio. Apart from that there a lot of different artists…I'm also a big fan of this flamenco guitar player that's a legend in the flamenco world and has had an incredible life and pasted away a few years ago… Paco de Lucia. I'm also a big fan of Alex Turner form The Arctic Monkeys…everything he does is a huge inspiration!
How do you feel you've transitioned?
I spent a lot of time in the US and then I came back to France about five years ago. I was more focused on making music, so I was hitting the grind and arranging gigs to make ends meet. I was lucky to meet my manager who really pushed me to write original music, which I had neglected. He really thought that I should push in that direction. When I started writing and producing music again it reminded me why I loved doing music when I was a teenager, so it was like meeting up with a lover that you had forgotten about and randomly stumbled upon.
French Indie vs American Indie?
I think that US indie has a very American sound. America is so huge, meaning that you have a lot of different styles coming from LA and NY; whereas in France there's more of the French sound, which feels super French. The scene is completely different…it's a very closed scene where everything is happening in like three towns, whereas in America there is this huge space to cover…so the energy is very different.
What would you say is the first thought that goes into your head when you enter the studio?
The first thing I think about is 'what is the story'? It's almost like closing your eyes and imagining the music video for the track. I maybe have a melody or a couple chords, and I try and figure out what I am trying to say with this…what kind of images am I seeing, and then I try to find the sounds that describe that. I used to watch MTV for hours when I was younger and it was in the early 2000's when there were these massive budgets with crashing cars and helicopters and thousands of dancers, and so I think that's why I always think about music visually.
A color scheme?
I would say for instance, the next single from is all about grays and blacks and whites… there's this very granular aspect. Grainy kinds of colors, you know like when you're playing an old film. The other tracks are super colorful…there's a track called 'Currents' that's kind of the love song of the record which veers more towards soft purples, and pinks and pastels. But I usually think more about texture rather than color.
How long has it taken for your sound to develop?
It's taken years! I first started writing music and dabbling in production at the beginning of high school. And then I decided to stop and really study and acquire the knowledge that I knew I needed to achieve the kind of sounds that I wanted. In the meantime, I was exposed to so many other musicians that came from different musical cultures that played different styles, so it's something that happened over ten years. It's a whole process, where I'm kind of like a sponge to everything that I see and then I need to squash the sponge and let everything flow.
How do you fuse your ideas together when you feel you have too many?
It's easy to tell when there's too much happening. If you can't decipher what the most important element of the track is, it means there's too much happening. From a very practical way of thinking you have all your tracks that are lined up in your session and then you just mute everything and then you unmute track by track and then you can easily find which one is the booger! There's usually one that kills the others…that's when you press delete!
How would you describe the trajectory of your tracks?
I think of it like a good book. With every good book…is it really about the story or is it more about what you feel while you're reading it? It's the same way I approach it, there's not really a beginning or an end to the story, it's more of a moment that has been caught, and you're just the spectator…and its up to you to decide exactly how you feel about it.
Your favorite novel?
The War of the Salamanders…it's a science fiction novel by a Czech novelist. It's a metaphor about society. It's great!
2022?
The main thing is going to be touring, which is going to be a big part of this year. Apart from that I'm also doing a film score, and I'm looking into doing some video game tracks as well… but in the meantime I want to focus on my record and put all my energy towards that.
CONNECT WITH UELE