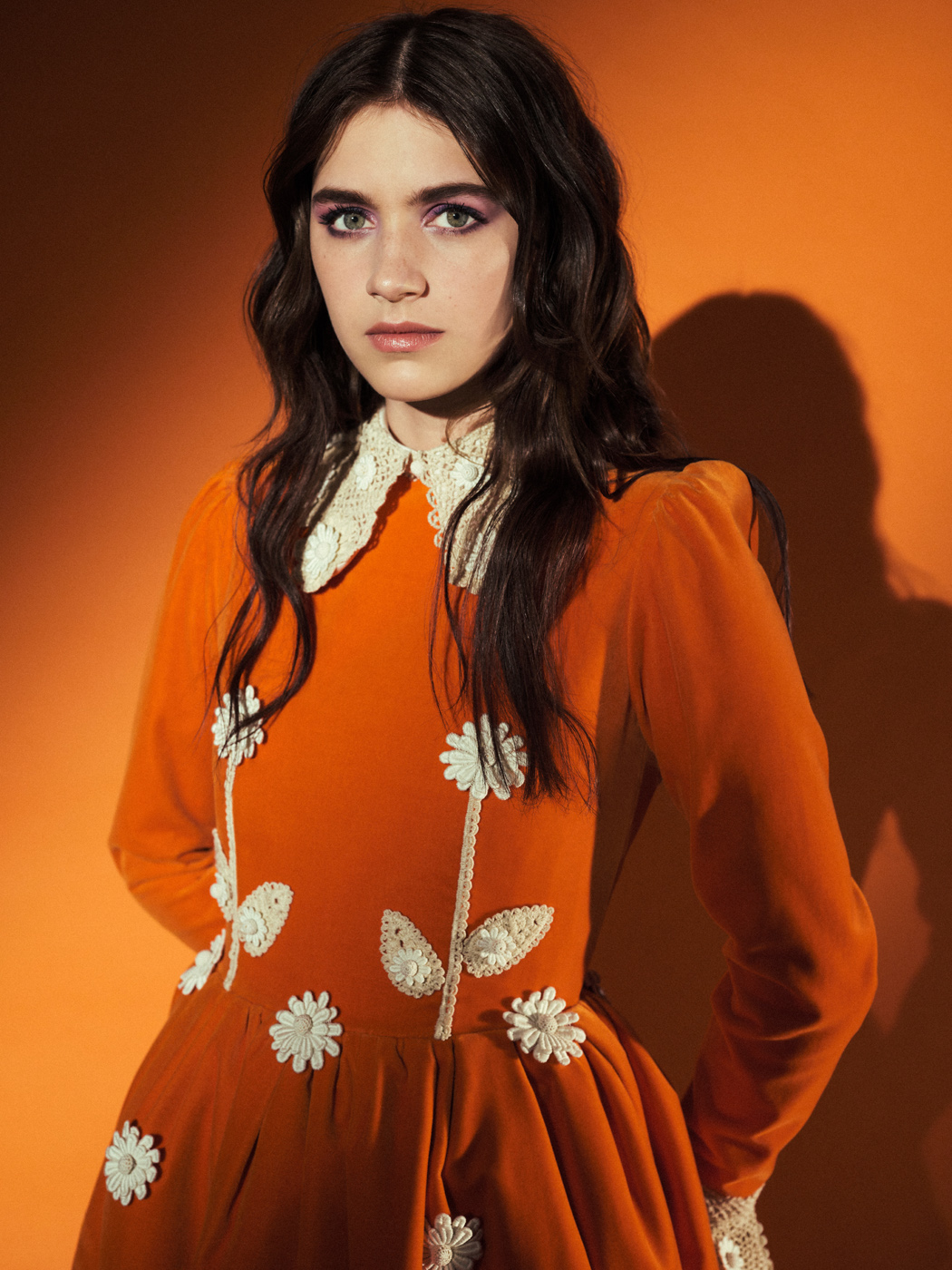 The fantasy epic Game of Thrones is historic in the world of TV and cinema, not to mention elemental in understanding meme-culture. With boundless storylines and prodigious cinematography, it is the recipient of hundreds, literally hundreds, of both awards and nominations.
One out of three friends, I wager, have binged the entire series (I am admittedly off-trend), praising the world and characters the show has brought to life. So what does it take to be involved in a series like that? What happens, when at age 15 you're *accidentally* (her words, not mine) cast in a role that is seemingly larger than life? Nell Tiger Free is the charming, talented actress who brilliantly plays Myrcella Baratheon in the illustrious G.O.T. and has been expanding her repertoire ever since. 
When I spoke with Nell, she was eloquent, funny, and honest. A ripe twenty years old, her casual, bouncy demeanor reflected her youth but an assuredness capped her sentences. She answered my questions with a matured height, that of someone who – wrapped in true humble nature – knows who they are. 
Now with a dynamic history of on-screen appearances, Nell Tiger Free is starring in M. Night Shyamalan's psychological thriller series Servant, in the role of Leanne Grayson or "the Servant." Opposite Lauren Ambrose, Rupert Grint, and Toby Kebbell, Nell plays a taciturn, mysterious live-in nanny. A shocking contrast to her personality in real life, Nell admitted that getting into character for Leanne was an inspiring, challenging duality. 
Read our conversation below to learn from Nell what it's like on and off-screen as a young woman in an ever-changing world of getting into character.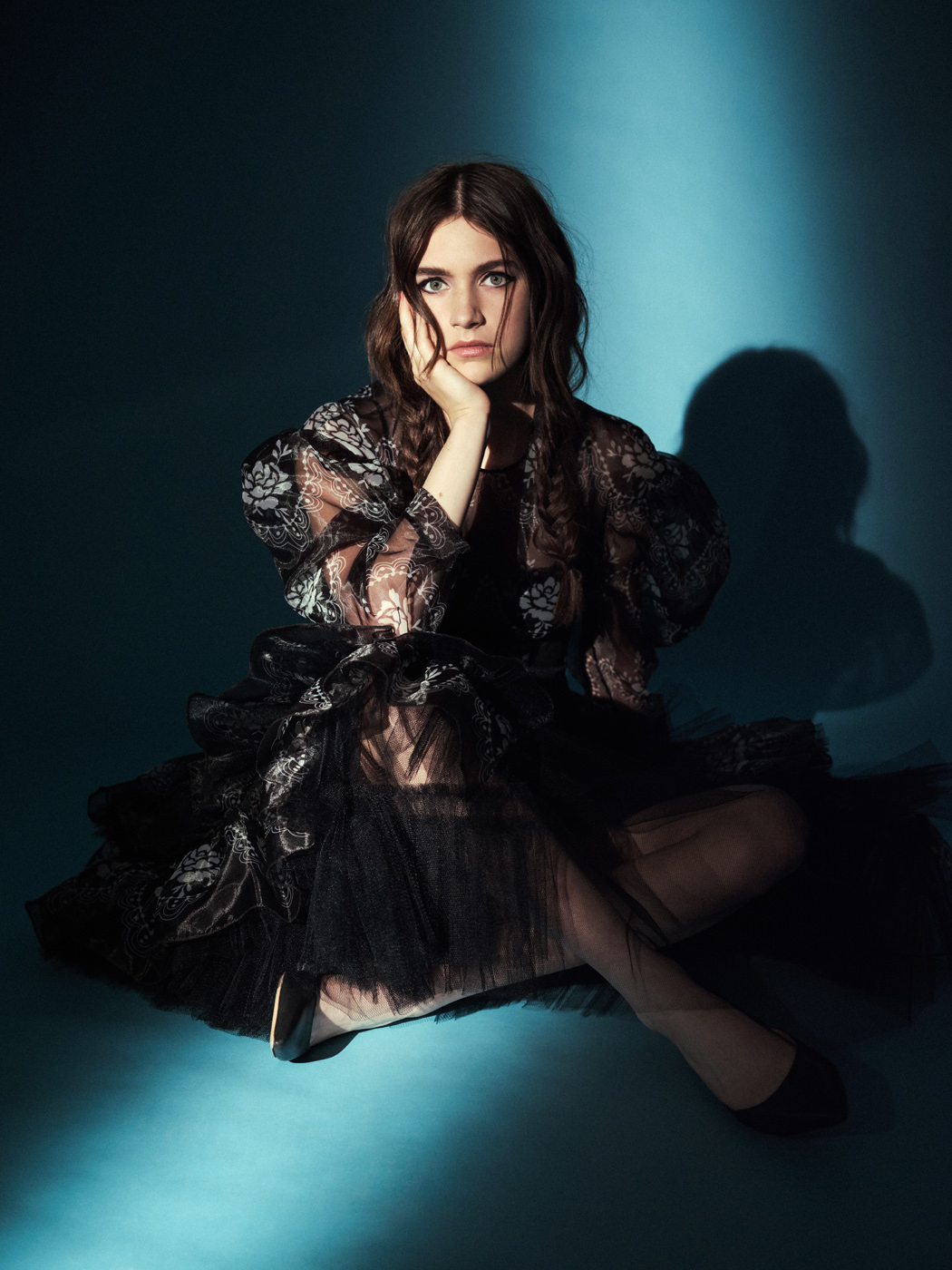 DRESS BY SIMONE ROCHA. SHOES BY GABRIELA HEARST.
What were the first signs when you were younger that you wanted to be an actress, or that you would become one?
It was never really the plan, to be honest with you, I was scouted when I was 11 at a Saturday Drama club and was asked to audition for something and then I got picked up by an agency for kids and then got picked up by a bigger one. My first audition with that agency was Game of Thrones. So it was an accident! 
Hardly, haha! What has it been like playing Leanne Grayson?
Playing Leanne has been such an amazing experience for me. Getting into the shoes of that character was such a challenge, but I think I know her pretty well now. It's actually been so rewarding. 
In what ways was it a challenge for you?
Leanne is such an introvert, so quiet, and there's so much brooding beneath her; and that's not necessarily my personality. But I think it was finding the balance and the duality with Leanne…because you want to be scared of her and you want to be confused by her; but you also want to empathize with her and to feel an attachment to her. We don't want her to be just the regular horror, psychological thriller antagonist, you know? She needs to be someone that's sometimes likable and maybe you root for sometimes, so it's quite difficult finding the balance between those two things.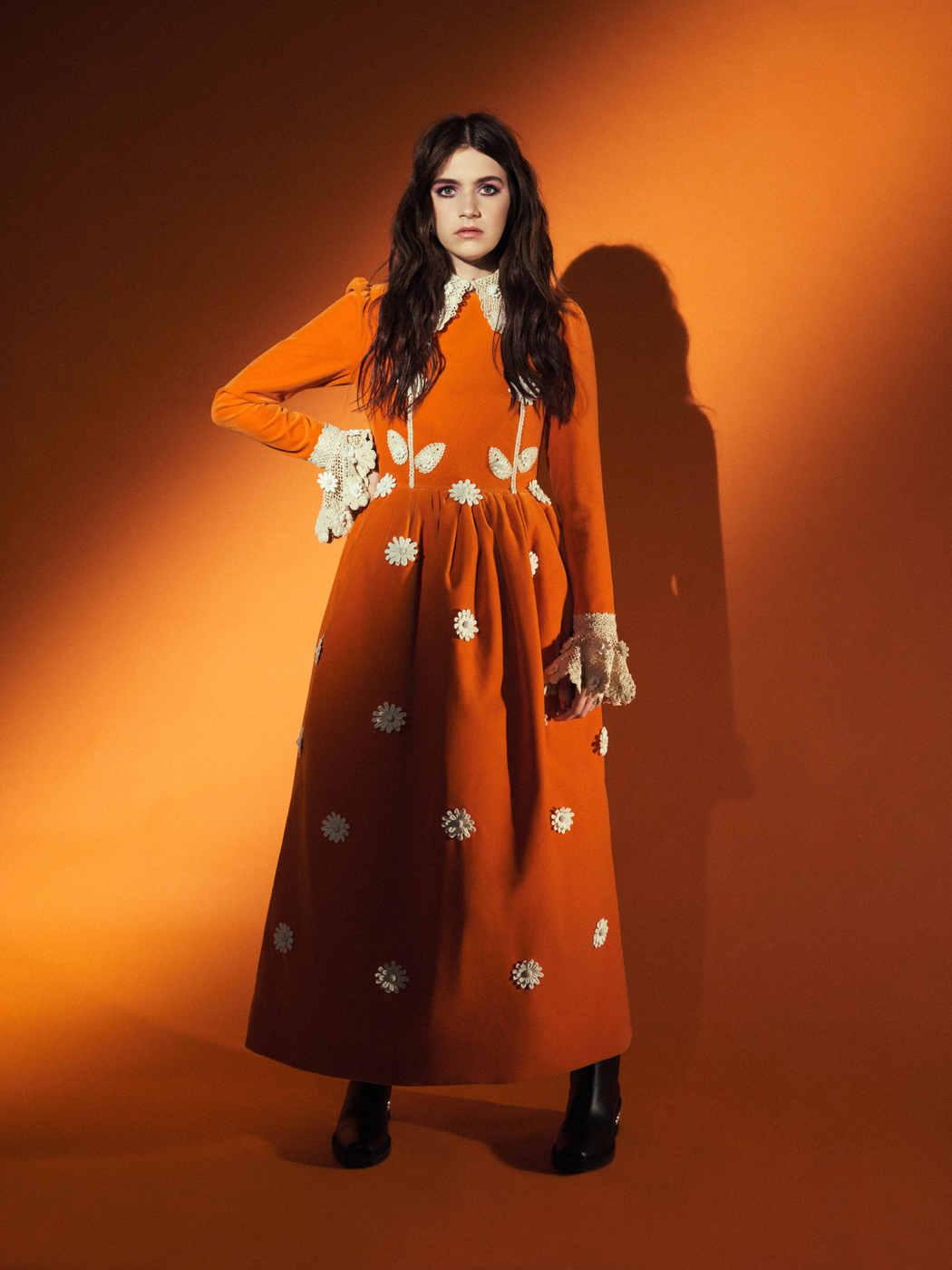 DRESS BY MARC JACOBS. BOOTS BY NICHOLAS KIRKWOOD.
On the note of duality, because social media is so skewed and our realities have become virtual, it can kind of translate into our own lives. As an actress, you almost have a similar situation going on where you have a role and then you have Nell behind the scenes. 
Do you have any words of wisdom in terms of self-love or self-preservation? 
To feel qualified to give words of wisdom I would have to figure some of it out myself too. I think the only thing I try to do is separate my public persona a little bit from myself but not enough that I lose who I am because I like to think I'm funny. I'm not sure, let me know…
But it's scary having every detail of your life broadcasted all over the Internet. I think some things you have to keep to yourself. There's definitely an element of desperately trying to keep people interested and engaged with you, but god it's so exhausting. When I was a bit younger when I didn't get enough likes on a picture I would delete it, even if I really loved the picture, because the masses didn't deem it worthy enough to be on the Internet. I think many young girls are the same way. In that way, social media can be incredibly detrimental, but on the other hand, it's a way that I can connect with people who like the show and really love the stuff I do. It's definitely a double-edged sword. 
I think It's so fascinating the world we're living in and getting people who do have a platform to comment on it.
I mean I'm 20 years old, I'm incredibly influenced by it, and I feel like the success of the things I do is measured by how many people follow me on Instagram. It's a direct measurement of how worthy you are, how important you are. And I'm completely guilty of watching them go up or down, and they don't really exist in my day-to-day life. It's scary that it has so much control over your life, and probably will for a long time.
And control over your idea of self, that's the worst. Do you feel like you had to grow up quickly because of either social media or your roles?
Yes, absolutely. For me, I started working in the adult world when I was 12, I would take off from school and go shoot something and then I'd be right back in detention again when I got home; around mean girls or boys who didn't like me and this kind of, living in two worlds. When I was younger I very much liked to think of myself as Hannah Montana. But looking back on it now, I was so determined to do it. It seems from that taste of it, I was hooked and I couldn't think of anything else. I think that drive, doing what I did from very young, definitely accelerated my growing up for sure. I was surrounded by adults all the time and desperately wanted to be like them and be respected like they were. Yeah, I think I owe a lot of who I am now to the people that I worked with when I was very young.
What do you see yourself doing in the next 5 or 10 years, what do you hope for?
Genuinely I just pray people to keep hiring me
I'm not gonna say that I'm gonna sit here and change the world with a song or a movie but I just want to make things that make people scared or make them smile, or that people talk about or can be the start of a conversation. I think that Movies and TV and things like that, they bring people together – Oh my god, that is so cheesy, please don't put that in.
Are you kidding me…I'm putting it in, it's so good!
[laughs] But If I'm sad or maybe a boy broke my heart, or I had a falling out with a friend, or anything like that, I watch a movie or I watch a TV show. If I can bring that to people and do it well, and be able to buy food because I'm doing it, then that's kind of the dream, you know? And if it all goes wrong, then I'll marry rich!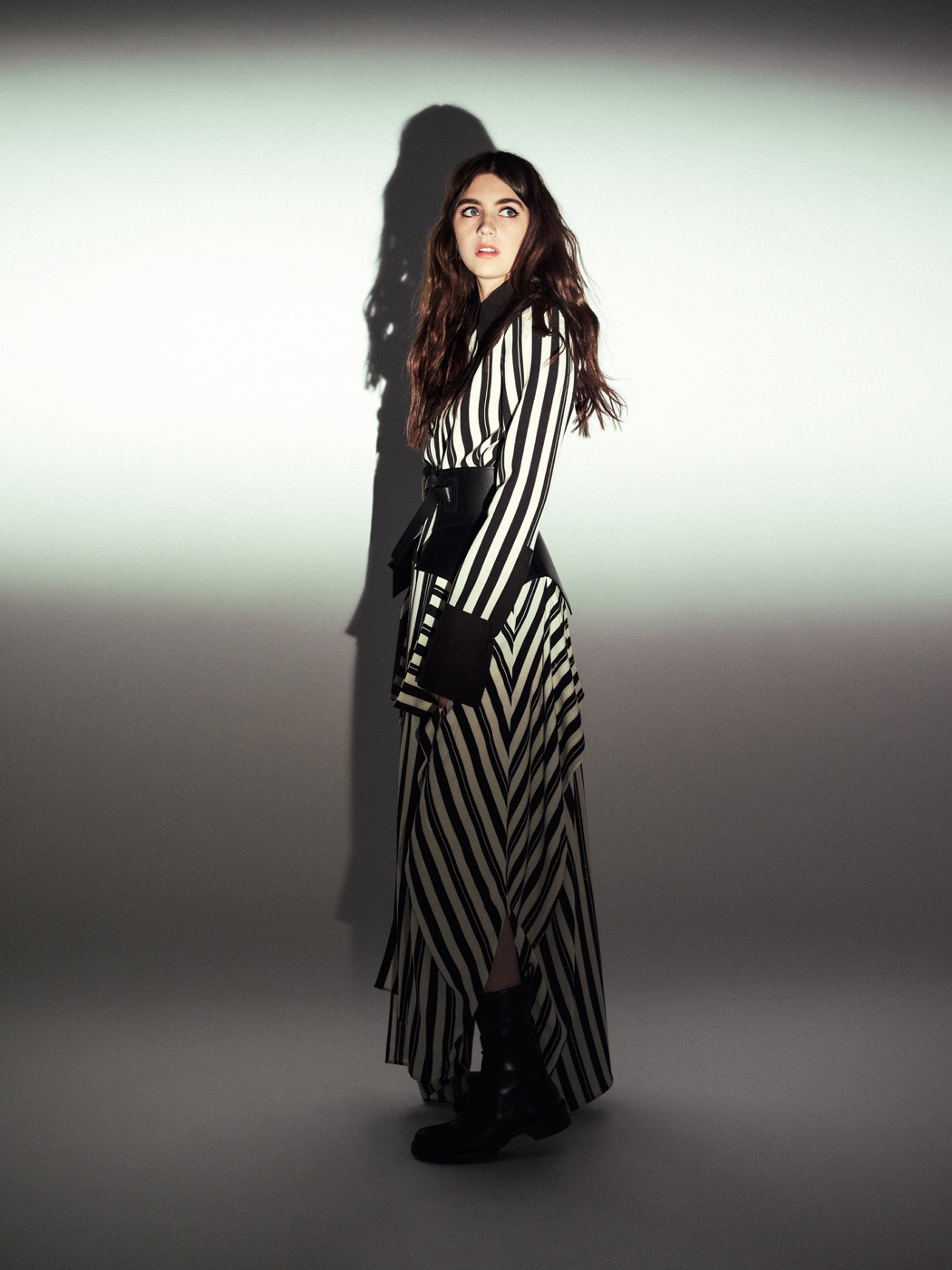 TOP, SKIRT, AND BELT BY LOEWE. BOOTS BY LOUIS VUITTON.
You *are* funny [laughs]. Ok. What's your favorite thing to eat for breakfast?
I actually have an answer to that: spinach and mushroom on toast with baked beans and hash browns. No matter where I am in the world, I will always try and locate this breakfast.
What were you in your past life?
A dung beetle. 
If you were going to write your own movie or your own role or anything like that, what would you write?
I am the president of the world. I'd like to tell the story of my mother's life and I'd like to play my mum.
Can you talk a little bit more about that?
My dad is really fucking awesome as well, but my mum is the most amazing person I know and she's been through so much and she's the reason that I do what I do and she's the reason I want to do it well because I look up to her so much and she had such an interesting, amazing childhood…so I'd love to play her.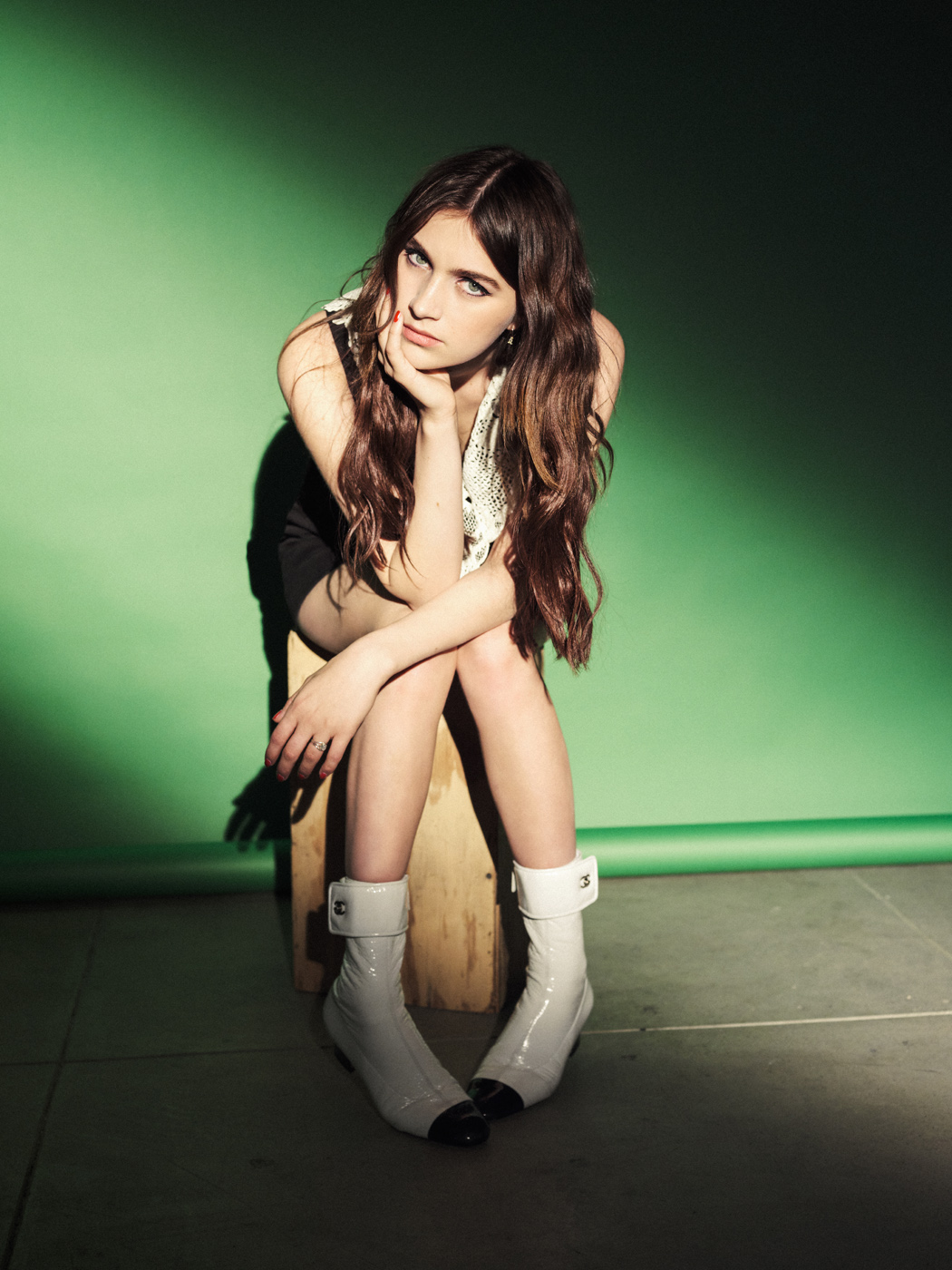 DRESS BY PATBO. BOOTS BY CHANEL.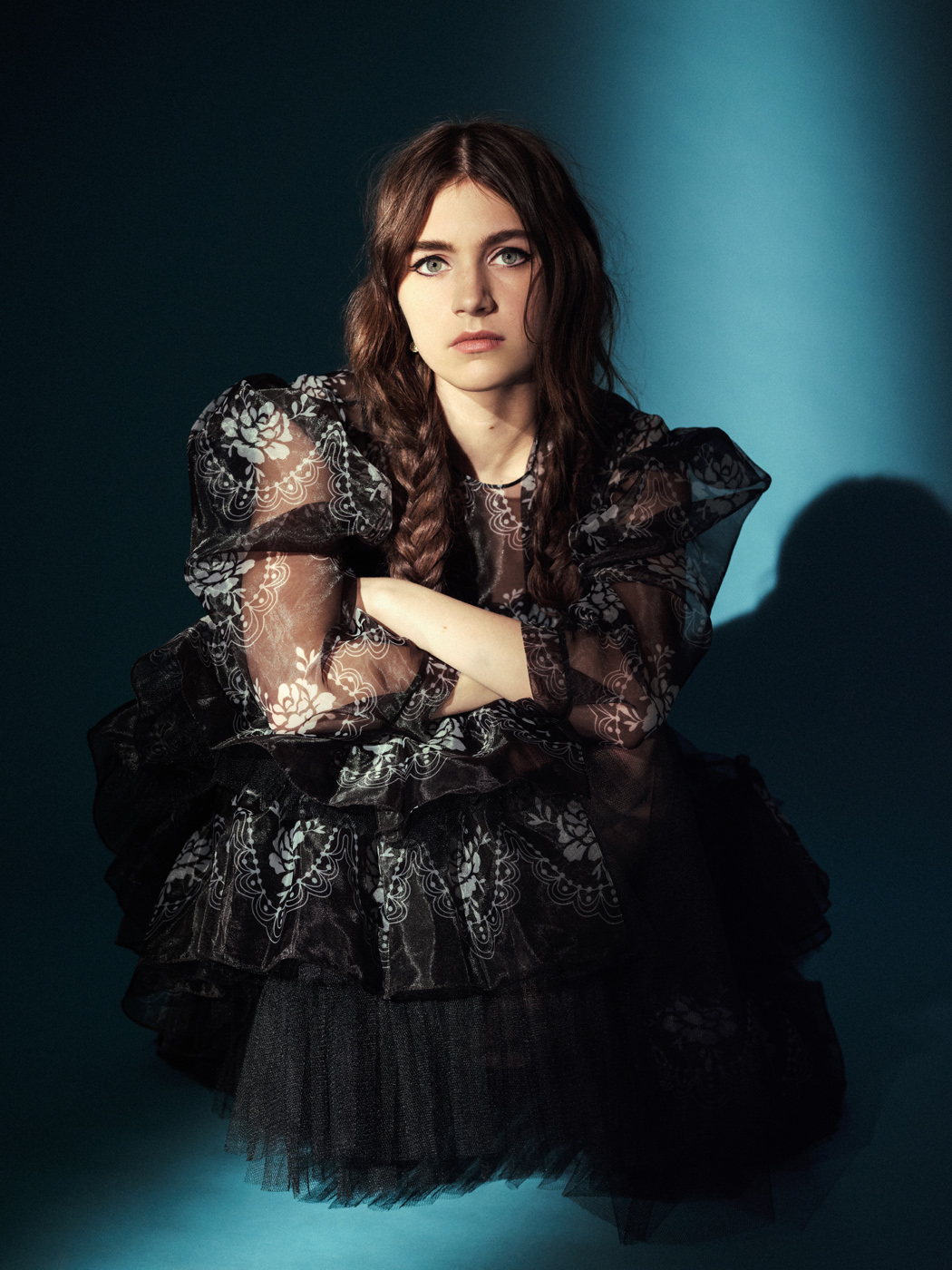 ---
CONNECT WITH NELL TIGER FREE
---
assistants / SARAH GARDNER, ARIELLE ARNOLD, TAYLOR MILLER
styling / LEITH CLARK
stylist assistant / AUSTEN TURNER
makeup / QUINN MURPHY
hair / REBEKAH FORECAST AT THE WALL GROUP FOR SERGE NORMANT SALON
special thanks to Sarah Gardner Studio