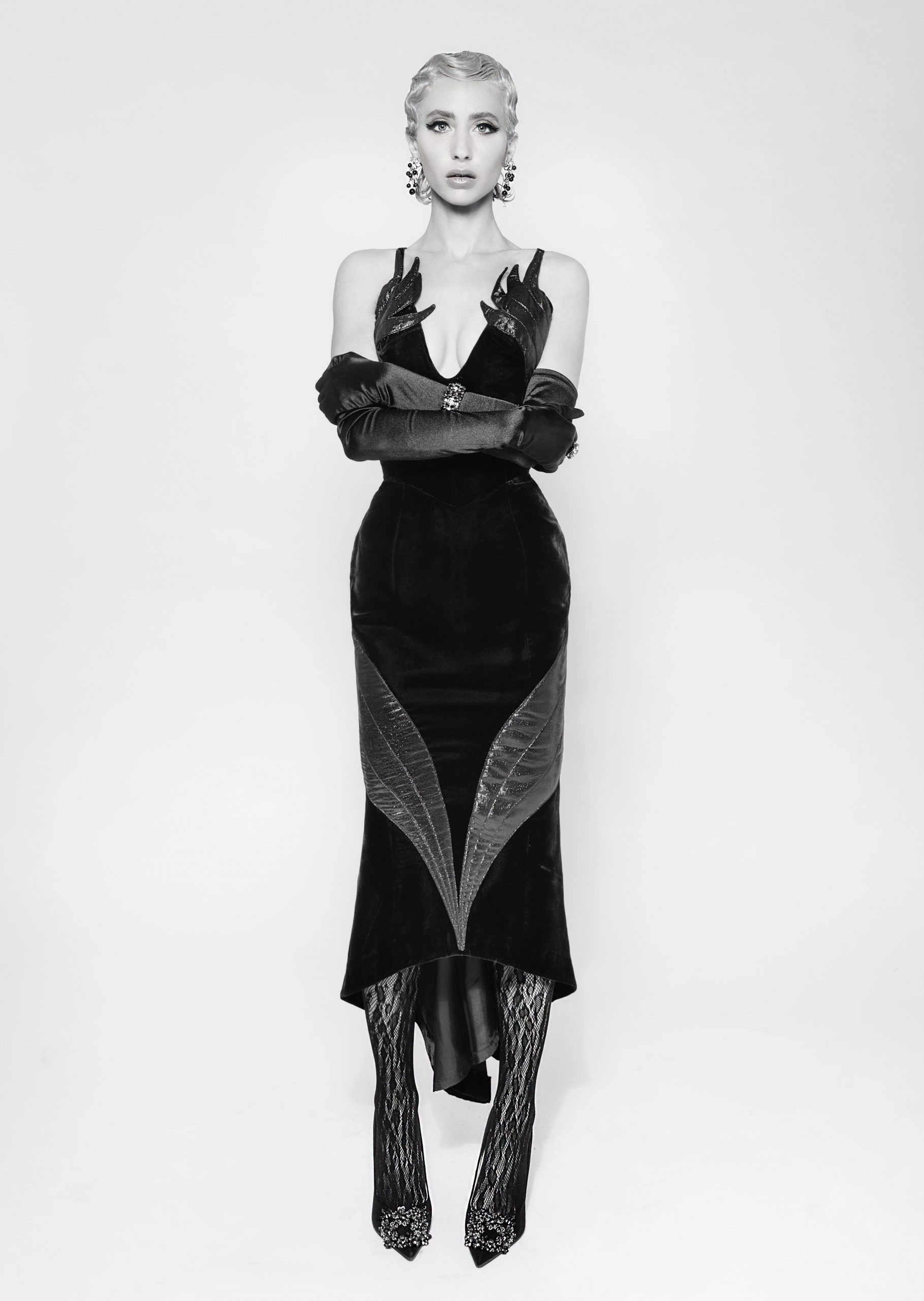 1990's Thierry velvet dress from Morphew vintage and 1960's Christian Dior jewels from MDVI
Drue de Milo is one of your fave songstresses and fashion aficionados who charmed us in the Hamptons almost exactly a year ago, where she made a coral colored wetsuit look chic af and then made all of us jealous of her perfectly tussled, sun-kissed surfer chick hair. At the time, 2020, and as a native New Yorker, de Milo was sticking with her city through the worst of the pandemic, as COVID raged through her hometown and took away her gigs. But much has changed since then; today, de Milo spends most of her time in Los Angeles, working on new music and creating more elevated visual art. Now back with us sporting a fresh aesthetic represented in a new shoot, de Milo is ready for 2021 — check out the shoot below, as well as an exclusive LADYGUNN preview of "U Want Me," the sexy, breathless first single off her upcoming, as-yet-to-be-named album.
We caught up with de Milo to discuss how things have changed for her since we hung out in the Hamptons last year, what this photoshoot signifies for her as a visual artist, and how she's been keeping inspired through COVID.
1938 Elsa Schiaparelli "Pagan Collection" embroidered jacket from 1990's John Galliano zebra skirt from Morphew Vintage, 1930's necklace, 1920's bracelet, 1960's bracelet, and 1960's ring from MDVII, hair accessories Kitsch x Justine Marjan
We last spoke with you almost exactly a year ago, in September of 2020. How have you been since then?
Wow! That feels like a hundred years ago and also five seconds ago. Definitely a lot has changed in my world. I left New York for Los Angeles, which sort of feels like getting a divorce… New York is the kind of lover that begs you not to leave, and just because you leave doesn't change the fact that the city is funny and sexy and will bring you sushi at four in the morning. But it wasn't right for me anymore, so papers were signed and belongings were divided.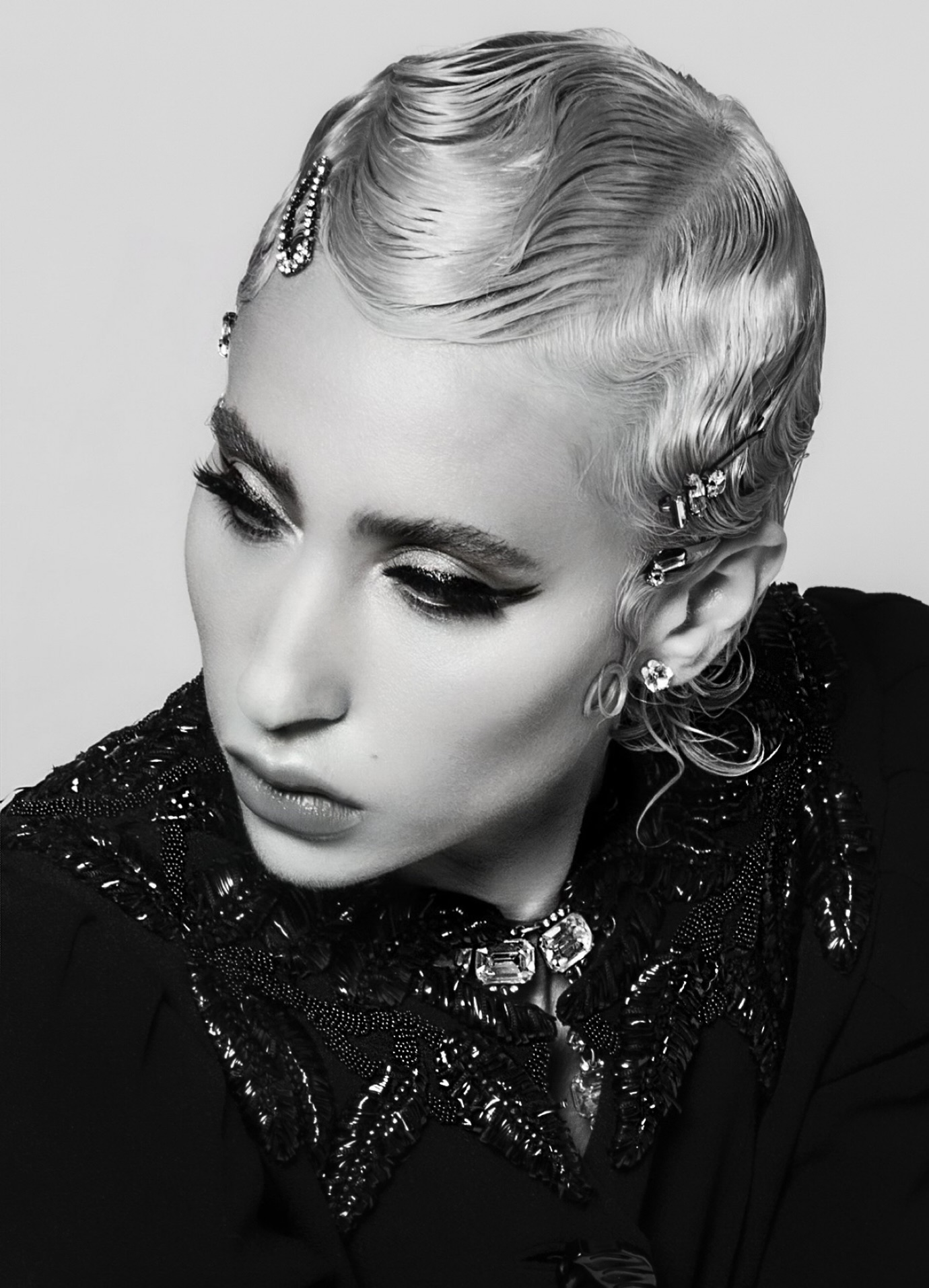 Tell us about this photoshoot — what kind of evolution does it signify to you?
This shoot was super personal; as much as I'm connected to the beach and nature, I feel an equally strong pull to glamour. Sometimes we dress up to become other people, but when it's right, we can put on the right dress and become ourselves. I hadn't done a non-beach shoot in a while when we did this, and then I put on that velvet Mugler, and I felt instantly at home. For me, evolution is about embracing all parts of yourself, the simple and the decadent, the generous and the selfish. All of these exist and aren't going anywhere, and there's such a freedom in embracing and exploring that. Evolution is about beauty in all its forms.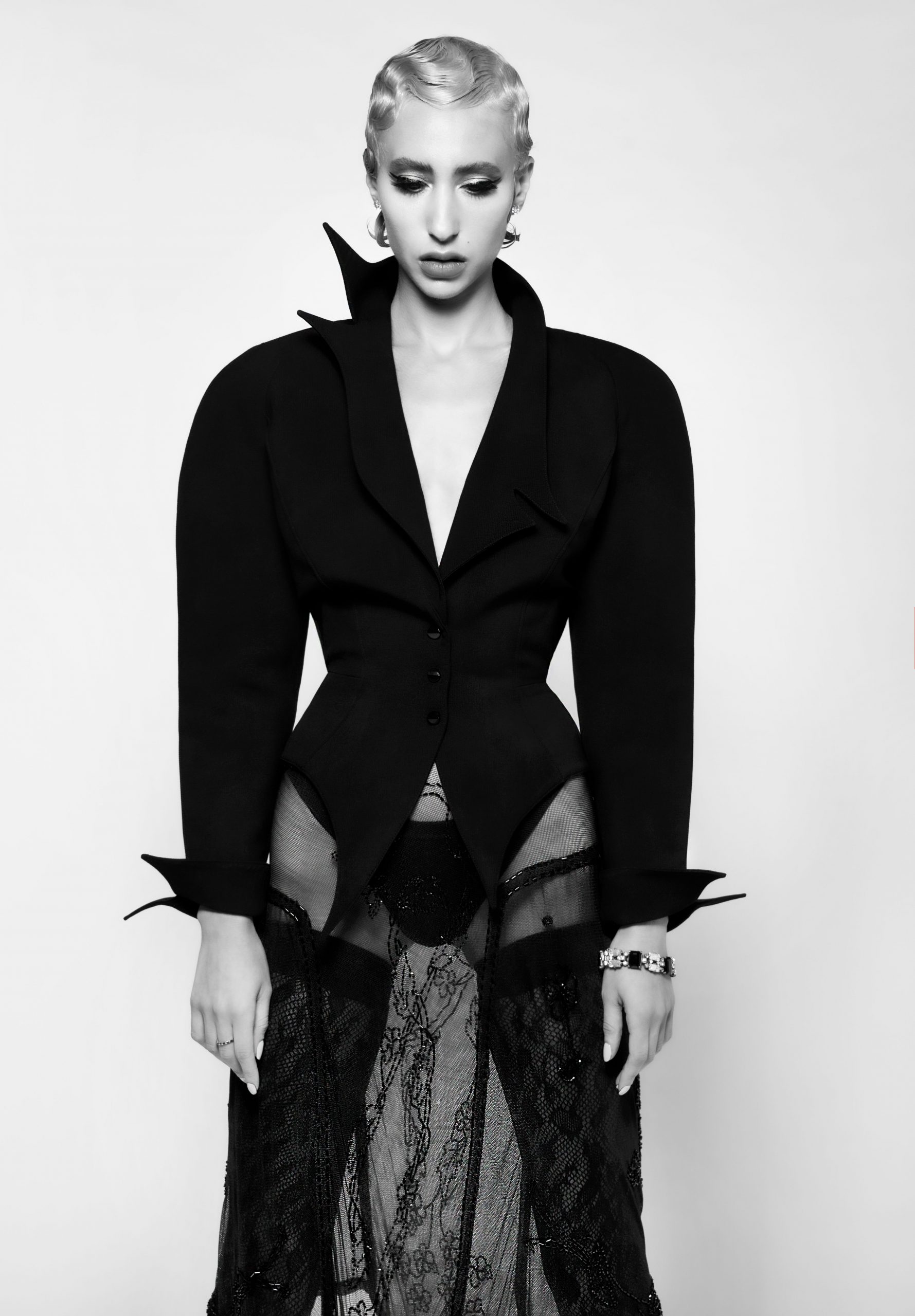 1990's Thierry Mugler jacket from Morphew Vintage and 1960's Christian Dior jewels from MDVII
Much of the clothing used in this shoot are gorgeous, vintage couture pieces. What is it about vintage that you enjoy so much?
I've always looked at fashion with a sense of poetry, and enjoy especially wearing pieces with history. Every detail of the garment is intentional, and they stand the test of time. It's cool to put something on and be like, "that woman in 1940 must have had a lot in common with me; we're both drawn to the same piece! I wonder if she feels how I feel?…" It's sort of a reminder that at our core, people don't really change.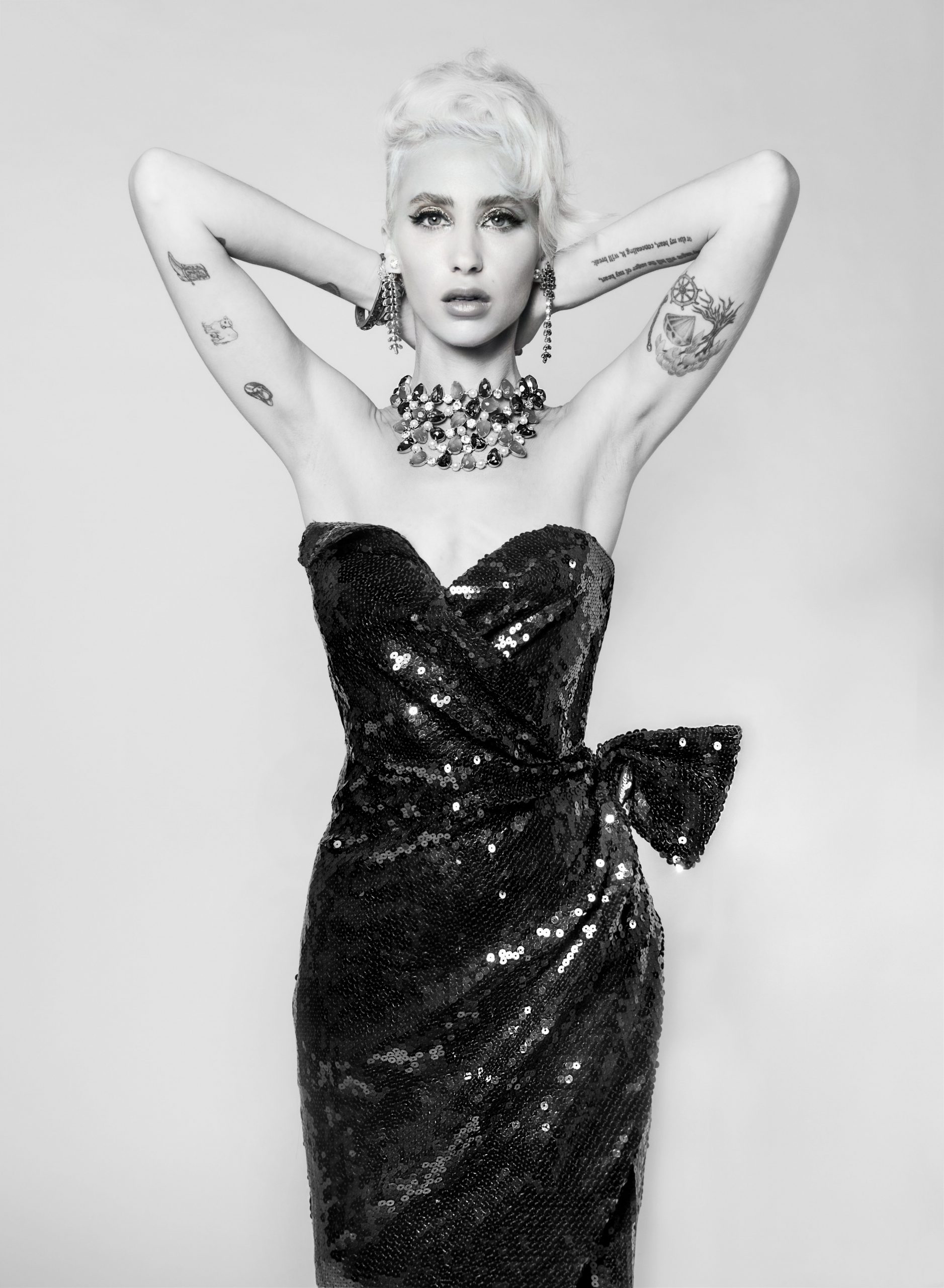 1990s Thierry Mugler sequin dress from Morphew Vintage, 1970's Dior earrings, 1920's bracelets, and 1960's Kenneth Jay Lane bib necklace from MDVII
Where have you been pulling inspiration from to sustain a positive, chic mindset through COVID?
The new Lorde album is amazing and I think I watched The White Lotus on HBO four times. Did you see that playful, super colorful Oscar de la Renta dress with the buttons on Sydney Sweeny's Instagram? Incredible, very inspirational! I've also been playing a lot of chess, and I just read "Love in the Time of Cholera." Honestly, I get the sense that the chaos the world is experiencing right now will re-energize our desire for art.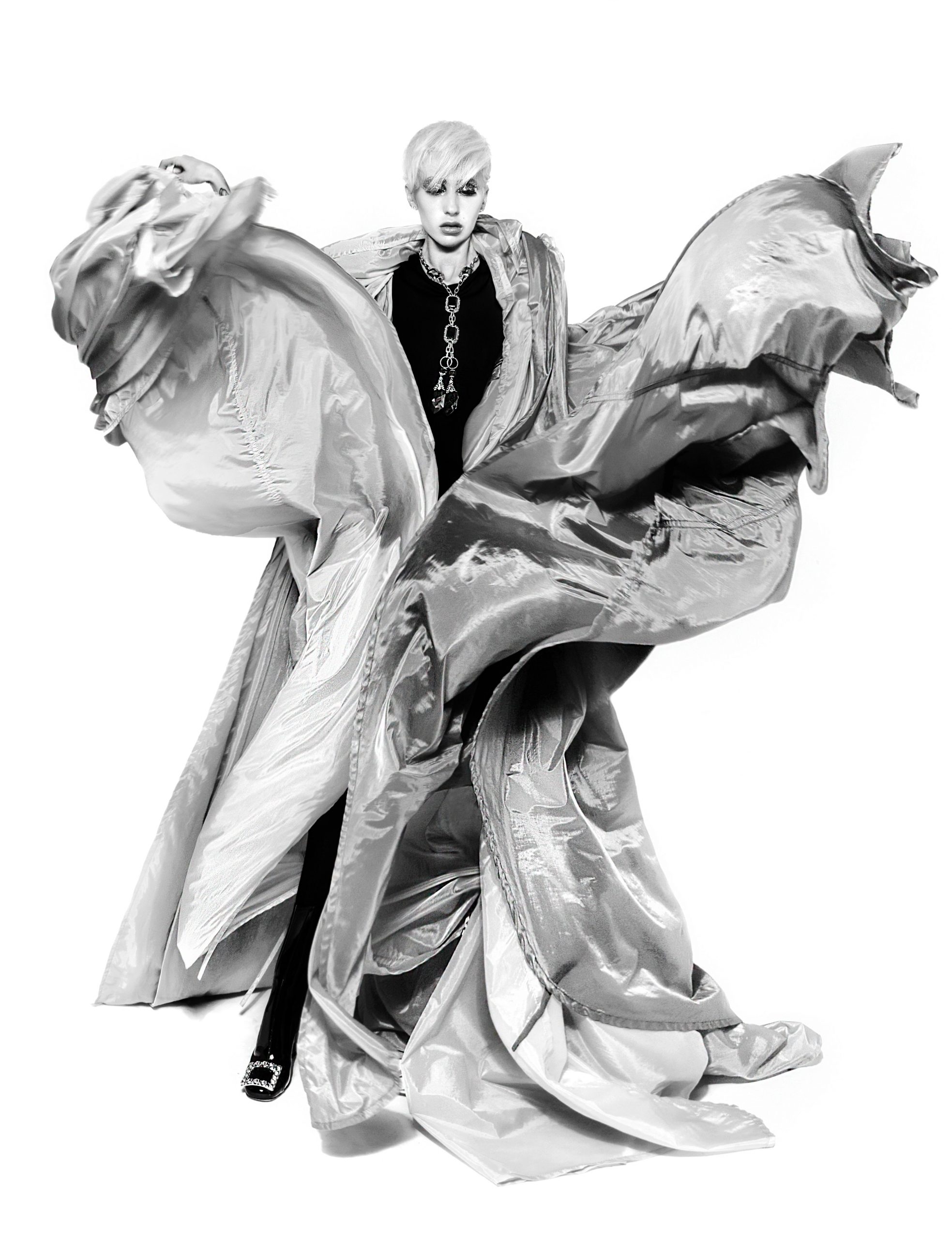 1990's Ann Demeulemeester vest from Morphew Vintage, 1960's Christian Dior necklace from MDVII, and Tres Vivier Strass Buckle Booties from Roger Vivier
And are you working on new music?
Yes! I was originally going to make an EP, but it's shaping up to be an album. I'm super committed to embracing sounds that maintain an empowering vibe, but also not shying away from the darker elements. I hope you enjoy the preview of U Want Me !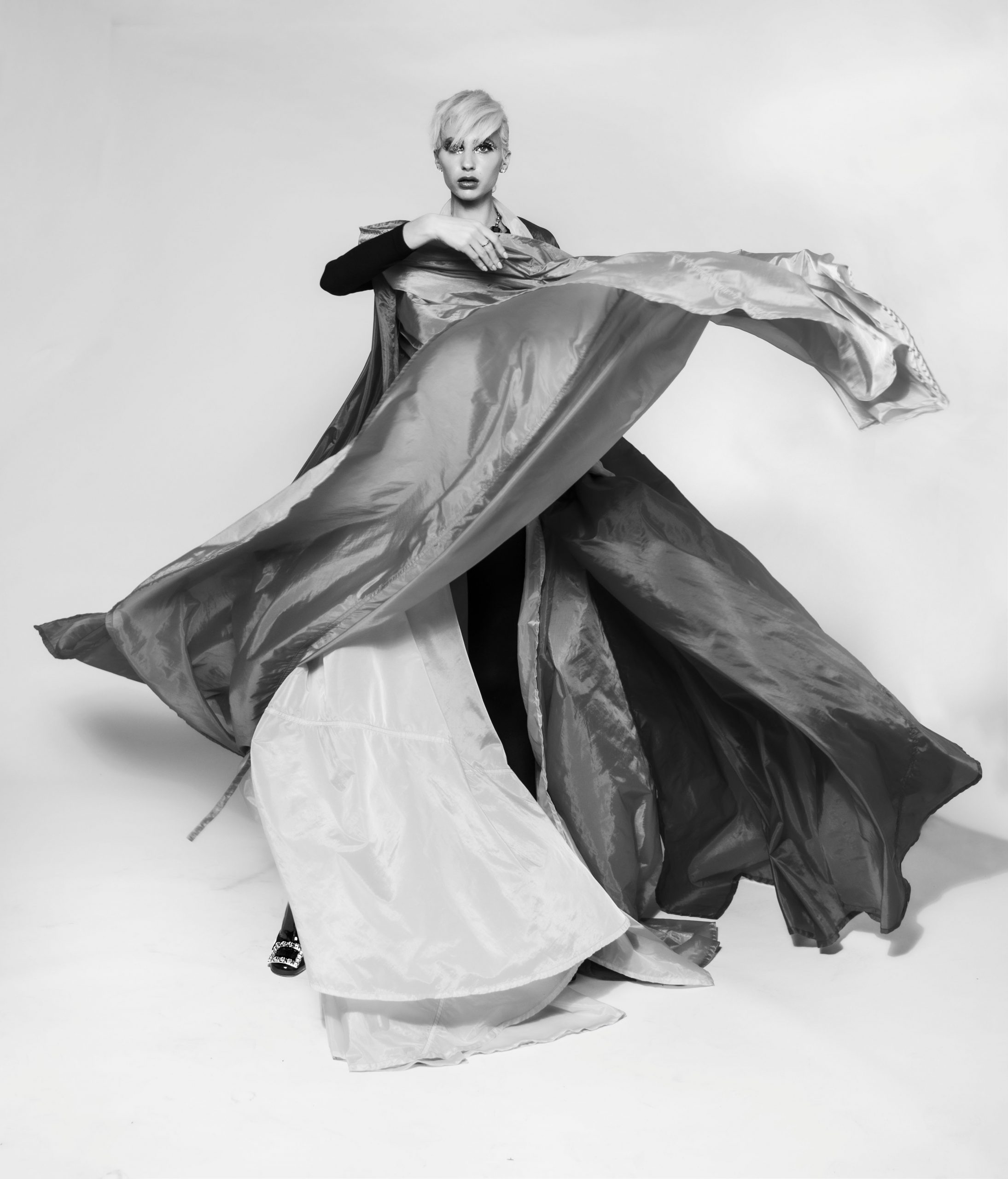 CONNECT WITH DRUE de MILO:
Story / Alex Blynn
Photographer /Matthew Pandolfe
Styling / Bruce Estevez
Hair/  Niko Weddle
Makeup / Faye Lauren