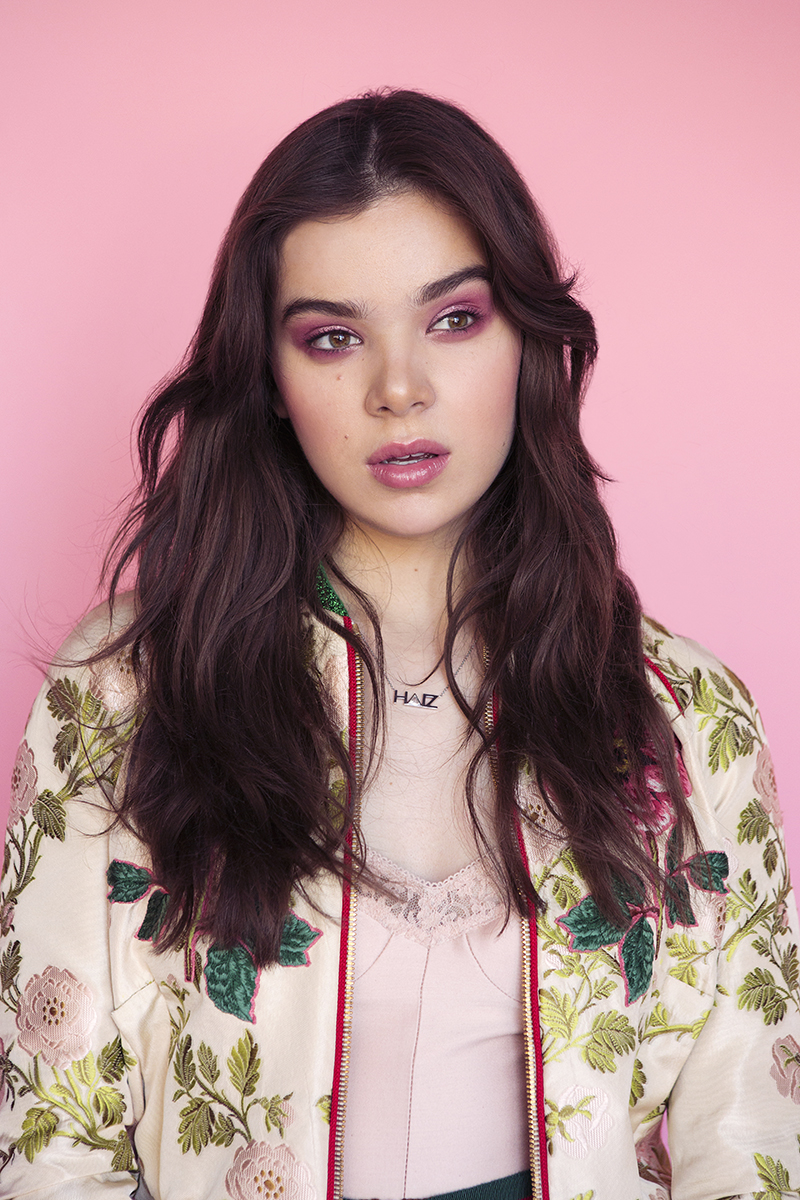 story / Erica Russell
photos / Ted Emmons
makeup / Stephan Sollitto
hair / Bobby Elliot
fashion direction / Matthew Hensley
Humility and Hollywood have never really mixed. Much like oil and water, the two may often come into contact, but they merely glide past one another, rarely if ever truly mingling. The majority of actors and music artists are narcissists—many self-admitted and proud—and can you really blame them? After all, when a star shines bright, all it can really see is its own luminous glow. So when a star emerges who possesses that certain introspection, earnestness, and levity that is necessary for appreciating the circumstances and various players involved in one's success—not merely one's own talents and fortitude—it's refreshing. Such humility, as rare as it is, it purely magnetic, which is probably why I feel so immediately drawn to Hailee Steinfeld.
We've all heard of those super down-to-Earth celebrities, right? The ones who go on and on about how much they love bingeing on pizza, and how they totally walk their own dogs as if it merits a gold star? As relatable as Steinfeld comes off during our hour-long chat on the phone, it's not her openness or girl-next-door appeal that strikes me—it's the fact that she keeps acknowledging her collaborators and influences. When I ask about making the transition from acting to music, she's quick to thank those who helped her through the shift.
"Something people don't know is that I started making music around the same time that I was getting into acting, but acting took off and music became more of a side project over the years," she shares. "Now it's my full focus. When I signed with Republic Records and was put in the studio with the most incredible writers and producers, I had a hard time trying to verbally translate what I wanted. Because I was with the best of the best, they were able to help put that into words and song for me. I owe a lot to the people that I made the EP with—Mattman and Robin, Max Martin, Julia Michaels, and Justin Tranter."
When I comment on how an earnest shout-out is a bit unusual for certain celebrities, she puts it in perspective for me: "I've been involved in film since I was thirteen. I've been studying acting since I was eight. One thing I learned—the easy and the hard way—is that you're nothing without an amazing writer, director, cast, and an amazing set of producers. You're nothing without the people that surround you! Launching into music knowing nothing and being paired with some of the best writers and producers out there, I've learned so much from them in such a short amount of time. I feel like I owe a lot to them for that."
Then again, I shouldn't be so surprised at how reflective Steinfeld is. Considering her age—she turned nineteen in December—the girl has accomplished a lot in a short span of years. She was only thirteen when she landed her breakout role as Mattie Ross in the Coen Brothers' epic Western True Grit (2010), based on the classic novel. And she was only fourteen when she was nominated in the category of Best Supporting Actress for said role, making her one of the youngest Academy Award nominees in history. In 2013, she starred as the leading lady in Romeo & Juliet as well in the big-screen adaptation of the fan-favorite sci-fi novel Ender's Game. Last year, she nabbed a role in the cult music comedy Pitch Perfect 2.
All that said, you'd think she would have no trepidation about walking onto a stage to sing, but like any sane person, even Academy Award nominees get occasional stage fright. "The idea of going out on stage, whether it's seventy people or fifteen thousand, the thought of having one shot to do whatever it is that you're doing is terrifying!" Steinfeld admits, adding, "But there's also this idea that I can go out there and be myself… Whereas in film there are always scenes that we just have to get out of the way and once we do, we're fine. And those scenes, I am always obviously nervous [to do] them, whether it's because of an actor that I'm doing the scene with or if it's something that's outside of my comfort zone. I think with each there are things that make me nervous, but music more than the other."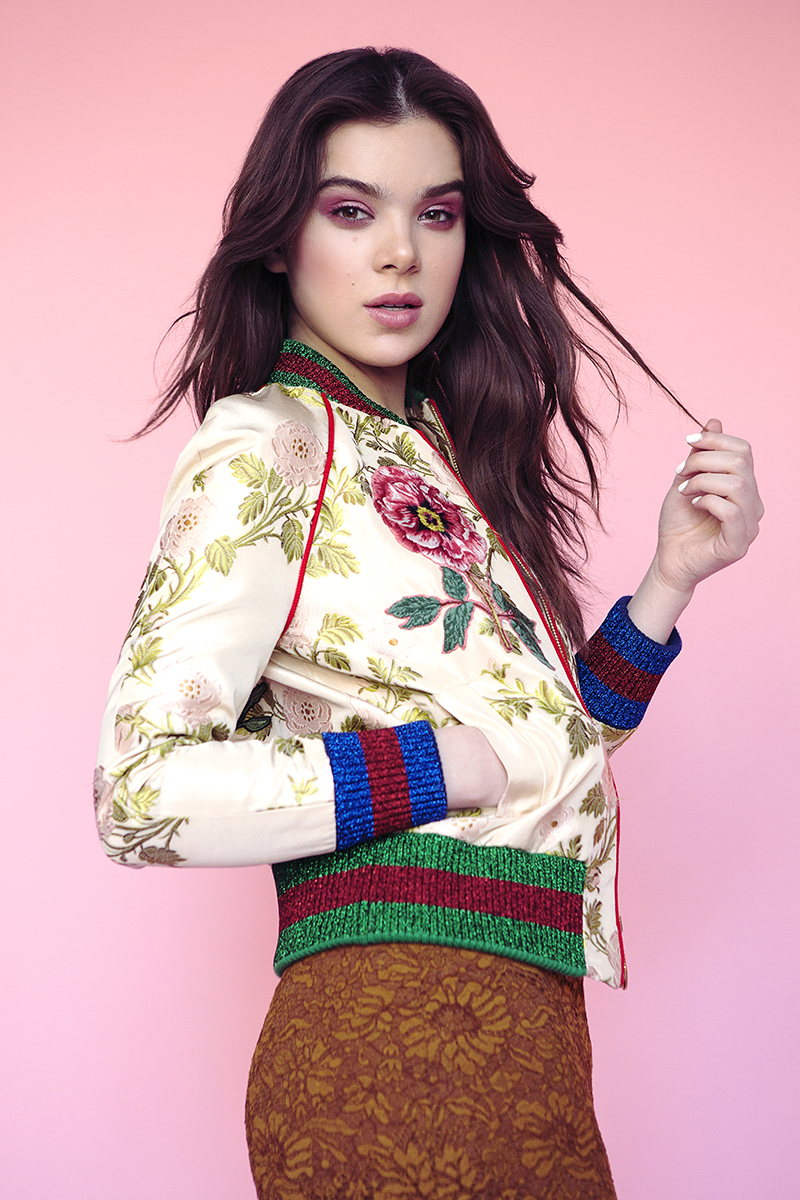 skirt and jacket, GUCCI / bustier, STELLA McCARTNEY
Not to get all tough-love here, but Steinfeld better shake those nerves, and fast. Last year, the rising artist released her HAIZ EP, a collection of four soaring dance-pop jams with infectious beats and diary-confessional lyrics. The release served as her musical debut—that is, if you don't count her Pitch Perfect 2 role—and the introduction was catapulted by her premiere single, "Love Myself," an uplifting electro-pop anthem with an age-old message and double-entendre lyrics.

"When I first heard the song, I couldn't help but think how much that message resonated with me and how much I thought it would resonate with people around the world," the singer, who lists Bruno Mars and Justin Timberlake as her favorite artists, tells me. And while "Love Myself" certainly bears an overarching message about self-confidence and self-acceptance, listeners have also noticed another layer to its uplifting lyrics, calling it an ode to masturbation—a subject that has been considered taboo for women in society. Curious, I ask about her perception on how the song has been received in that way.
"There is that double meaning that some people perceive, and there's even a triple meaning that some people hear when they listen. There was never a doubt in my mind that made me uncomfortable because again, I don't think it's anything to be ashamed of," she explains. "There are so many lines that are drawn between male and female when it comes to sexuality, lines that need to be cleared. I can only do and say what I can and I think, with this being my first single, it says enough as to how I feel."
The young starlet, who maintains that her favorite part of making music is "being able to perform," adds that the single has connected her with young women around the world in an unexpected way. "I've had girls come up to me and say, 'Thank you for this song and this message, because it's something that I needed to hear.' Regardless of how they interpret it, that's all that matters to me at the end of the day. It's something I need to remind myself of, how much power it is in being able to love yourself. It's so easy to forget, because we live in a world that is so judgmental. If you can start with yourself and have that self-reassurance and that self-confidence and love, then you're set."
Resisting the urge to shriek "preach!" into my Samsung Galaxy, I instead bring up a music icon I'm reminded of, one who is known for her commanding presence: Madonna. "An opportunity that I've had through music that I've never had in acting is being able to create my own sound and my own look," Steinfeld shares. "As an actor, it's been my job to conform. There's something about Madonna in that she doesn't necessarily have to fit any mold. She can take risks and try things, be unexpected… I've watched her documentary a million times. There's one moment where she's in the city and they're asking her not to do a specific part of her show, otherwise they're threatening to arrest her, and she just says, 'This is my show. This is how I do my show. And if they don't like it, then they can deal with it.' There's going to be so many different voices and opinions and people telling you what they think you should do or how they think you should look. That's one thing I've learned from my friend Taylor [Swift], too. It's just so incredible to see that you can stick up for yourself and you can do what it is you feel is right regardless of who is telling you what, and that's so important."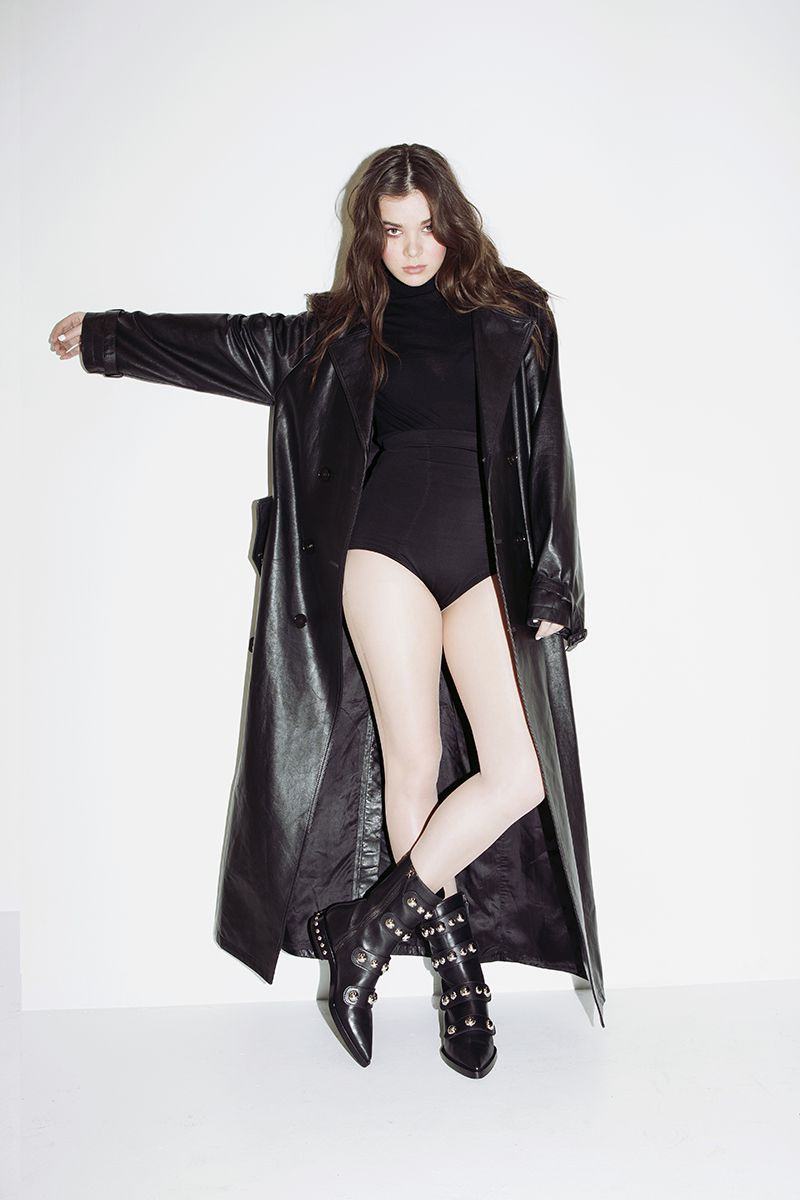 t

rench coat, MARGIELA / t

urtleneck, PAUL SMITH / b

riefs,

 

Agent Provocateur / b

oots, LANVIN / e

arrings, CHANEL
When it comes to confidence, gender expectations—much like the ones brushed upon during our chat on "Love Myself"—tend to send girls mixed messages. Be confident, but don't be too confident; be confident, but be coy about it, they seem to say. Steinfeld agrees that the double standard is unfair and confusing, and points to another pop princess's anthem as the perfect manifesto against such contradictions.
"With Demi Lovato's 'Confident,' there is no, 'I can't be too confident!' There is no, 'Let me be ninety-five percent confident and five percent coy.' There's nothing wrong with being confident—being able to take care of yourself in situations. I think that's amazing for boys, girls, men, and women," she declares, playfully adding that she's been obsessed with the "Confident" singer since she was eight.
Much like Lovato, Steinfeld is an actress making the transition to pop stardom, and though she herself doesn't have any pixie dust to shake off, her recent collaborators are Disney alumni. Well, at least one of them is. "Rock Bottom," Steinfeld's current single, features DNCE, the new pop-rock band fronted by Joe Jonas, who the artist says she has known for years. In addition to releasing the reworked single (originally it was a solo track) and its music video in March, the singer is hard at work crafting her debut album, rumored to be released towards the end of the year. Oh, and let's not forget the films she has lined up: Term Life, a thriller starring Vince Vaughn, an indie comedy called Besties, and Pitch Perfect 3.
I ask her if she has a game-plan to balance both of her passions. After all, most people find it overwhelming just to go grocery shopping after work. Her answer is unsurprising. "There's definitely a strategic way of balancing the two, but it's frustrating when you have a plan to do one thing and then something else comes up. If you're willing to sacrifice one for the other for a minute, then that's great! It gets to be stressful when something comes up that wasn't part of the original plan, but a lot of it is playing it by ear, just taking it as it comes."
She pauses a moment before continuing: "One thing that I'm very lucky for is that I have an amazing team on both sides that work together and help me so that I can do both." And with that attitude, something tells me she'll have both an Oscar and a Grammy in no time.


gloves and beret, GUCCI / t
urtleneck, 

PAUL SMITH / skirt, VALENTINO / boots, LANVIN

See more of Hailee in LADYGUNN #13 — Pre-order HERE