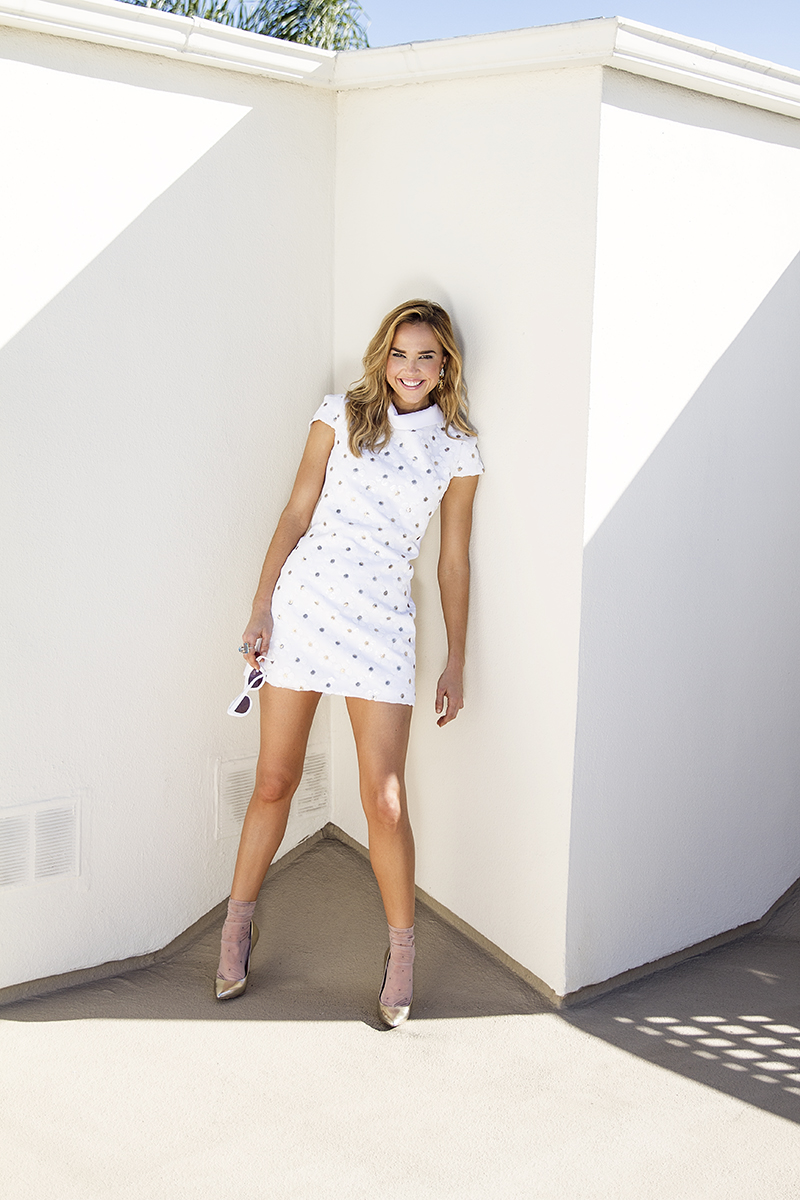 story / Maria Elena
photos / Shanna Fisher @ Day Reps
styling / Jessy Cain @ Wall Group
makeup / Jenn Streicher
hair / Derek Yuen
special thanks to Edi Kaminska
It's a windy Valentine's Day morning when Arielle Kebbel calls me. Although primarily based in Los Angeles, she is currently at a yoga retreat in Mexico. "I love it here, it's very untouched," she tells me. And despite her busy schedule, there is a sense of calmness in Kebbel's voice, and I'm excited to dive into her mind.
Normally, I have phone anxiety. I can easily talk in person or through text or e-mail, but I despise phone calls. Something about them makes me feel oddly uncomfortable. But with Kebbel, it's different. We've never spoken before and quite frankly, I don't really know what to expect. Yet every word she speaks is so down-to-earth, like calling an old friend for a casual conversation. She also has a fascinating stillness about her that makes you want to know more.
So then, who exactly is Arielle Kebbel? Let's just say that she always plays that one character you can't get enough of. She portrays everyone's favorite vampire Lexi on CW's The Vampire Diaries, and she graces the screen as Carrie in 2006's classic teen comedy, John Tucker Must Die.
Wondering where else you've seen her? How about American Pie? Gilmore Girls? Aquamarine? The list goes on.
Dress by Tracy Reese, heels by Minna Parikka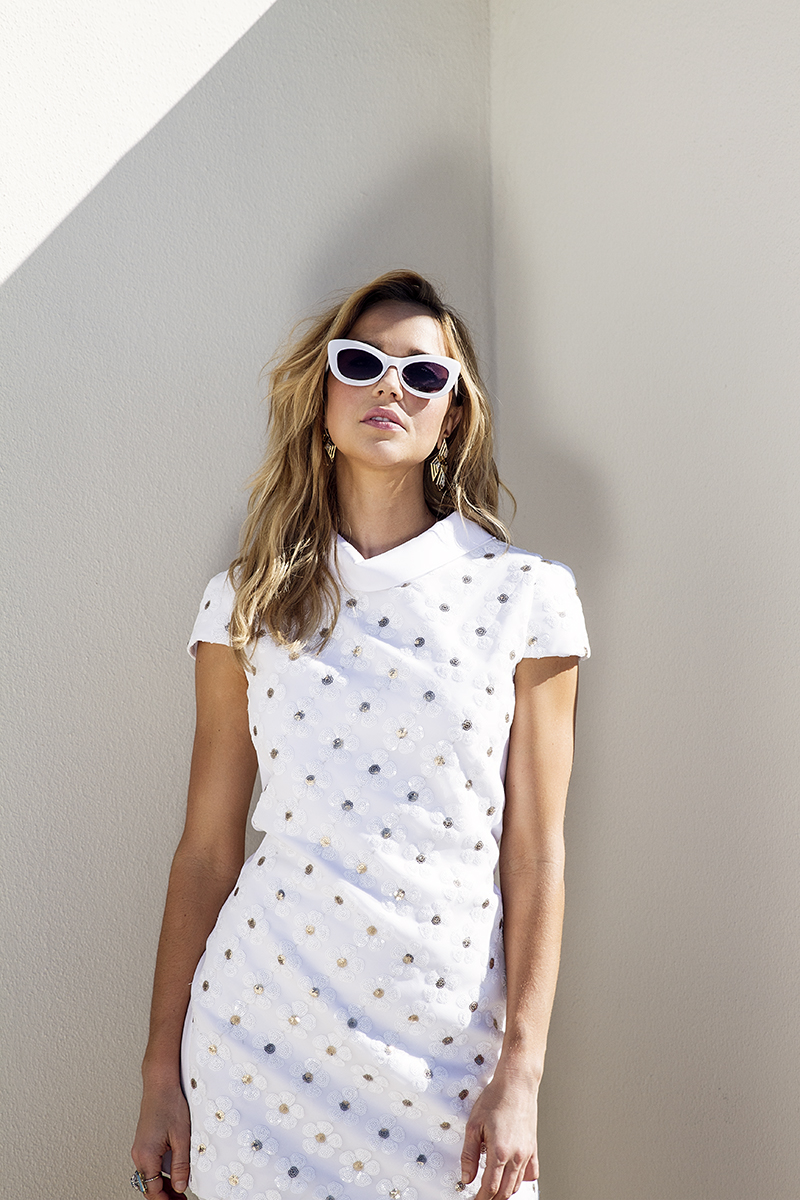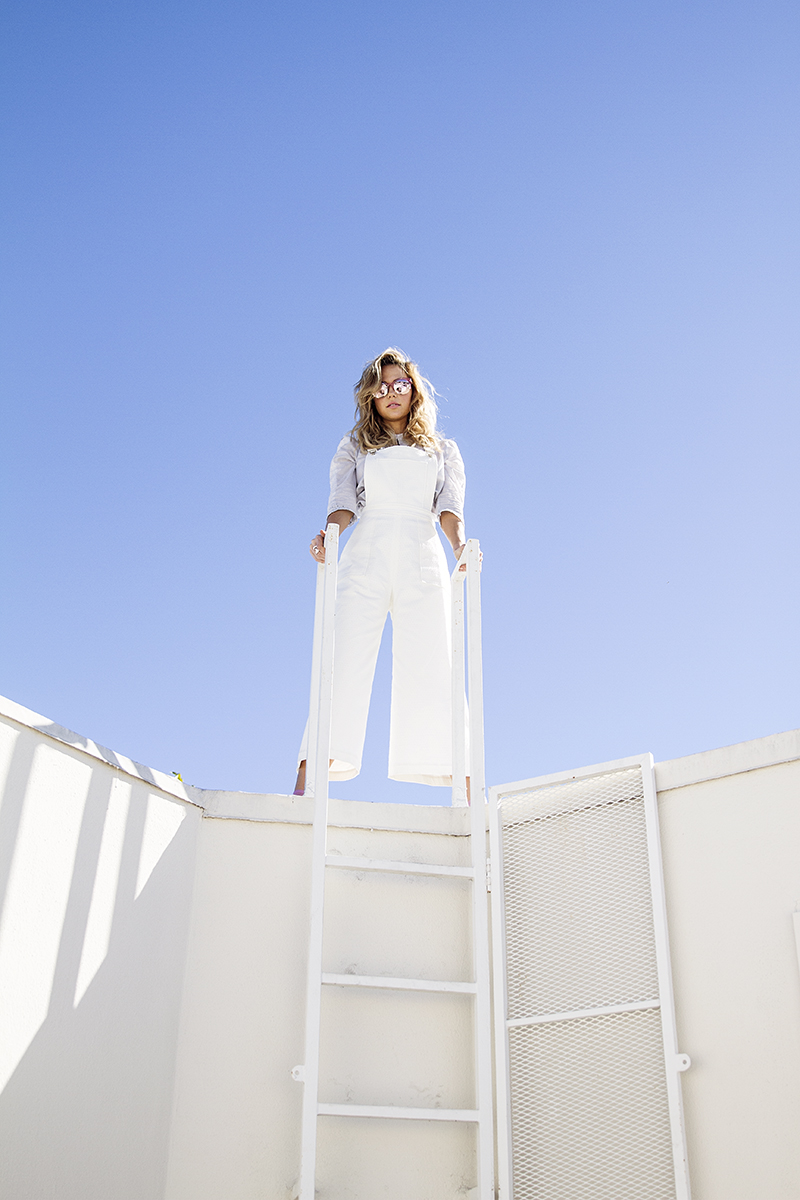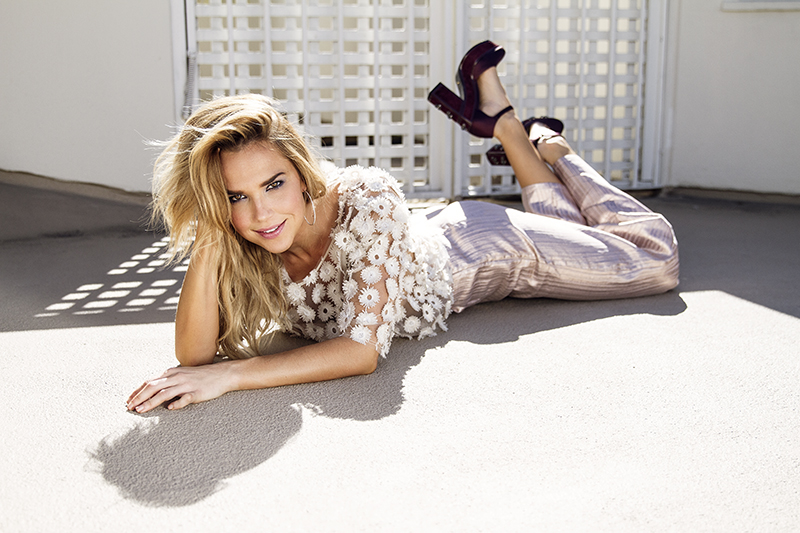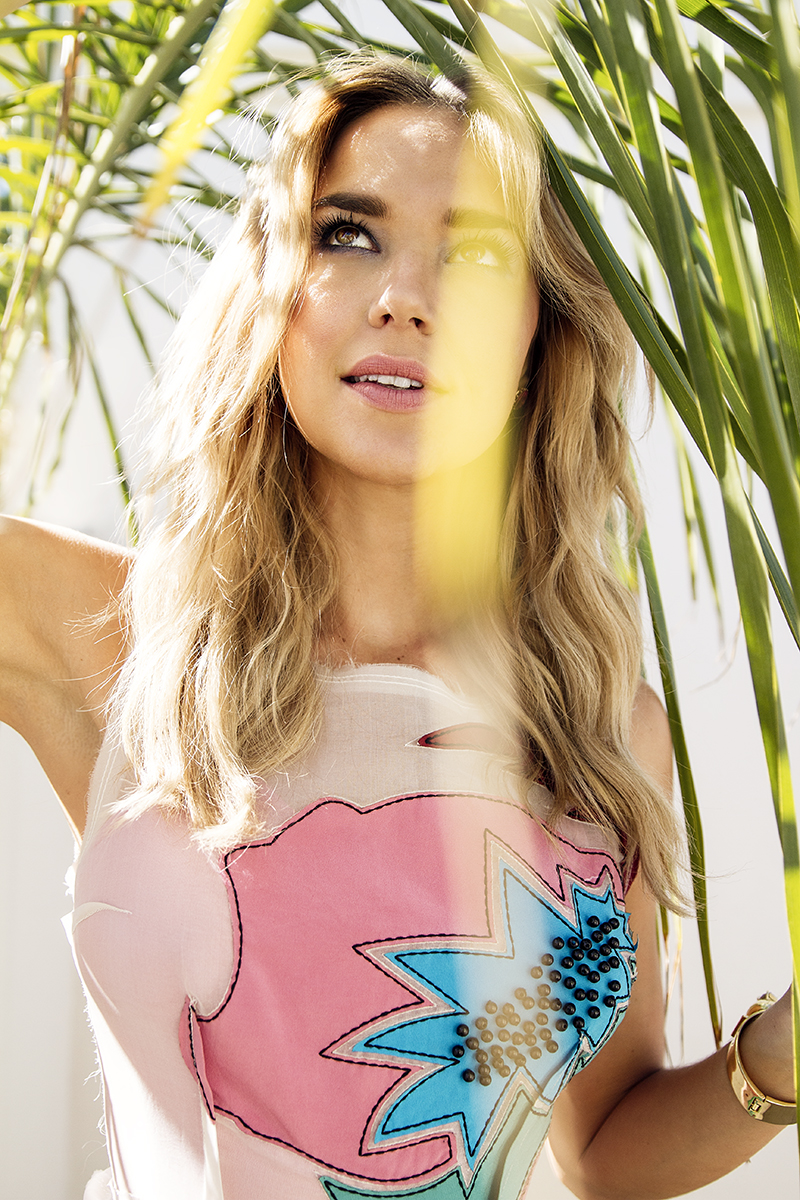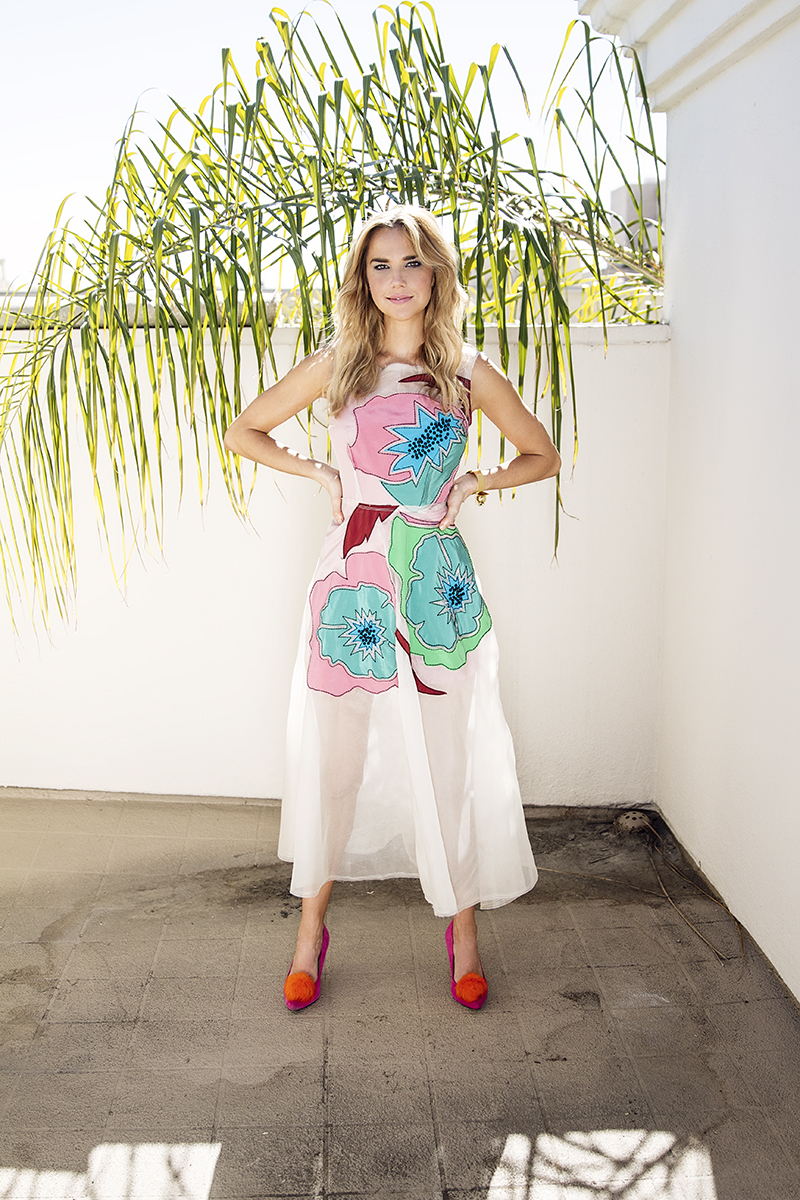 Pants by Amber Sakai . Top by Tracy Reese. Shoes, Kat Maconie 
We've all witnessed her make our favorite youth-defining films and TV shows what they are today, and it turns out, she's just as thankful as we are: "I'm very thankful people remember [Lexi] and honor her." Even years later, people still love the scene where her character randomly shows up to Stefan's house to talk about Bon Jovi.
That said, Kebbel must know a thing or two about youth, the theme of this issue, considering she's portrayed a vampire that never ages and has taken part in films that will forever live in our adolescent hearts. Her definition of the ever-fleeting, time-relative concept? "A playful heart." Instead of letting age and time define the word, she thinks "it's all in the attitude," and I couldn't agree more.
These days the actress plays Tracy Legette on HBO's Ballers, a series centered around football players and their crazy lives. "Every day on the set of Ballers is different because we shoot almost everything on location," she shares. "I never know what each location will bring to my acting experience. I love that the city of Miami has become an important character in our show."
But I almost forgot to mention the best part: Kebbel gets to play Dwayne Johnson's (yes, The Rock) love interest. "Working with DJ is great," she tells me, gushing, "He always shows up with a smile on his face and is very collaborative on set. We both always want each scene to be the best that it can be and I love working opposite someone with that kind of attitude."
Earlier this year, it was announced that Kebbel had been cast as Gia Matteo in Fifty Shades Freed, the third and final installment in E.L. James' book and film series. The character, an intelligent, sensual architect that everyone loves to hate and hates to love, is referred to as "Miss-Provocative-and-Unfortunately-Good-at-Her-Job" by protagonist Anastasia Steele, and with good reason.
To suddenly be a part of such a successful franchise would excite anyone, and Kebbel shares her enthusiasm with me: "It's definitely still sinking in. There's a lot going on behind Gia and I wanna know what makes her the way she is. She's so smart, yet so spicy. There's a lot of responsibility for me to portray her authentically."
Kebbel's acting career is nothing short of eclectic and every type of artist can find inspiration from that. Her advice for young artists trying to get their big break is to "have faith that if you work hard and keep at it, it will happen."
Yet, considering her considerable experience with both mermaids and vampires, I have to ask the life-or-death question: "If you had to choose between the two, what would you be?"
We have a laugh over this one. "Don't do this to me, no way!" After minutes of speculation, she says if she "had to pick, [it would be] a mermaid." And anyway, she does share with me that her favorite part of about living in Los Angeles is "all of the beaches," so her answer is expected if not characteristic. After all, her name is Arielle.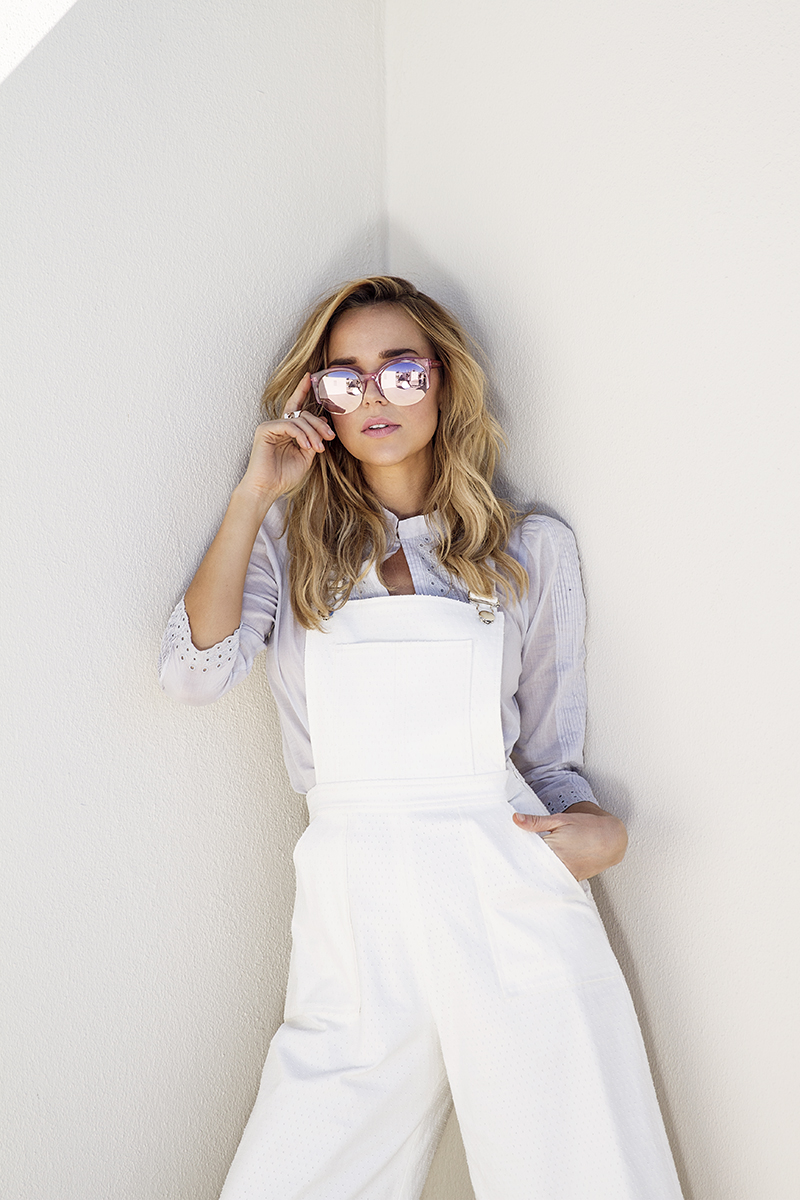 Overalls by Erin Fetherston. Blouse by St.Roche
Dress by Camilyn Beth, sneakers by Minna Parikka. Socks by Darner.