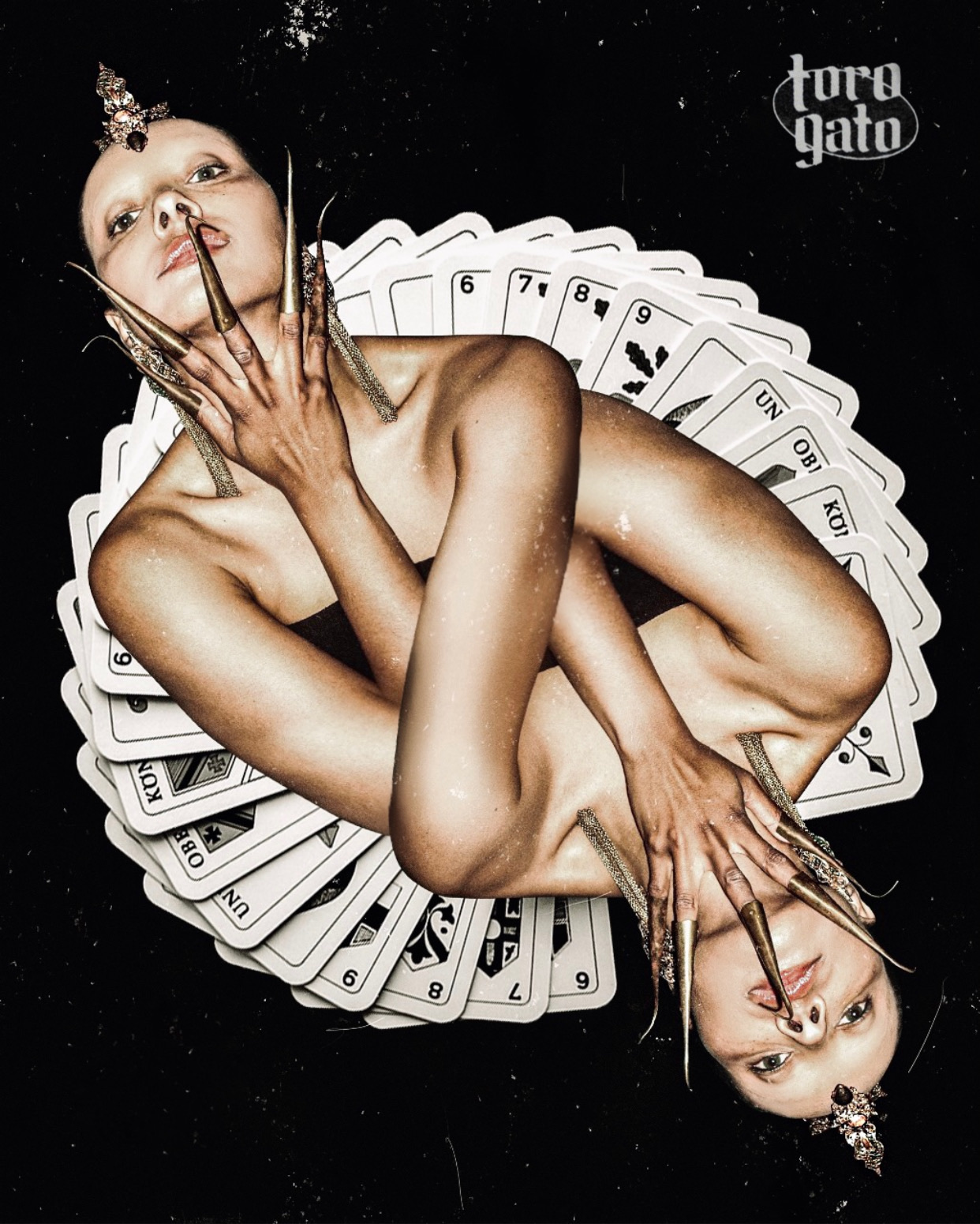 A digital, multimedia art gallery and a "re-debut" album come together, hailing a new artist at her most vanguardist and innovative self yet. I am of course talking about Toro Gato, the new persona that has arisen from the personhood of Kat Graham.
A multidisciplinary artist, Graham rose to prominence as Bonnie Bennet in the hit Tv series "The Vampire Diaries" while also pursuing a musical career. Her 2015 debut album "Roxbury Drive" was hailed as a 90's R&B throwback gem.
Today, Toro Gato stands over the -figurative- grave of the artist formerly known as Kat Graham, whose "burial" is part of a video performance piece soon to be available. Regarding the change, Graham/Gato said: "I think Kat is the alter ego and I am becoming the West African, the ruler, the monster, that's not scared of anything that can show up without shoes on. I think that's really fun, and a terrifying place to be." Toro Gato's embodiment of "The West African" she speaks of here is almost blatantly clear from a look of her visual presentation to the eclectic Afrobeat-leaning musical work she has in store for us in Toro Gato: Part II.
Toro Gato is trailblazing for Kat Graham in more ways than one, technologically speaking, this album release (alongside quite a lot more content, produced alongside her partner, Darren Genet) comes as an NFT  through the NYC-based digital collectibles platform YellowHeart.  
"Yellowheart is my museum. It's where I house my most precious records that I have been working on since I was 15 with nothing but a keyboard. It's the museum that houses my most vulnerable performances as an artist, and the museum where I know that anyone that walks into that museum is there for that art."  -Toro Gato, Kat Graham.
To simplify. What this means is that rather than going through a "middle man" (such as streaming platform subscription.) Fans will be able to digitally  tokenize their "ownership" of the album and any other Toro Gato/Kat Graham art therein, giving them a timeless online key access to the pieces, a key that's logged and verified in and by Blockchain technology
"fans will have five offerings to choose from. There are two digital only offerings – seven unreleased singles, exclusive video content, and the complete "Toro Gato" debut album – and three bundles, which include physical collectible items. These "bundles" include the digital offerings, as well as vinyls, cassettes, hoodies, and an iron-on patch. As a "thank you" to her early supporters, for the first thirty days the patch is exclusively available free of cost to those that purchased "Toro Gato: Part I" in September 2021."
Now let's talk music.
Speaking a rather idiosyncratic vernacular of sounds and textures, Toro Gato's album is filled with easily recognizable elements and sounds (such as the Afrobeat influences) but arranged in delightfully new configurations. At times the album is sinuous and spacey basking in its downtempo and trip-hop heritage, while at other times it can be filled with severe angles and violent beats. 
It all places stress on expectations of what Kat Graham was capable of, breaking away -almost entirely- from the previously heard mold and into a much wider worldview, Toro Gato's worldview, and here's a track-by-track impression of it: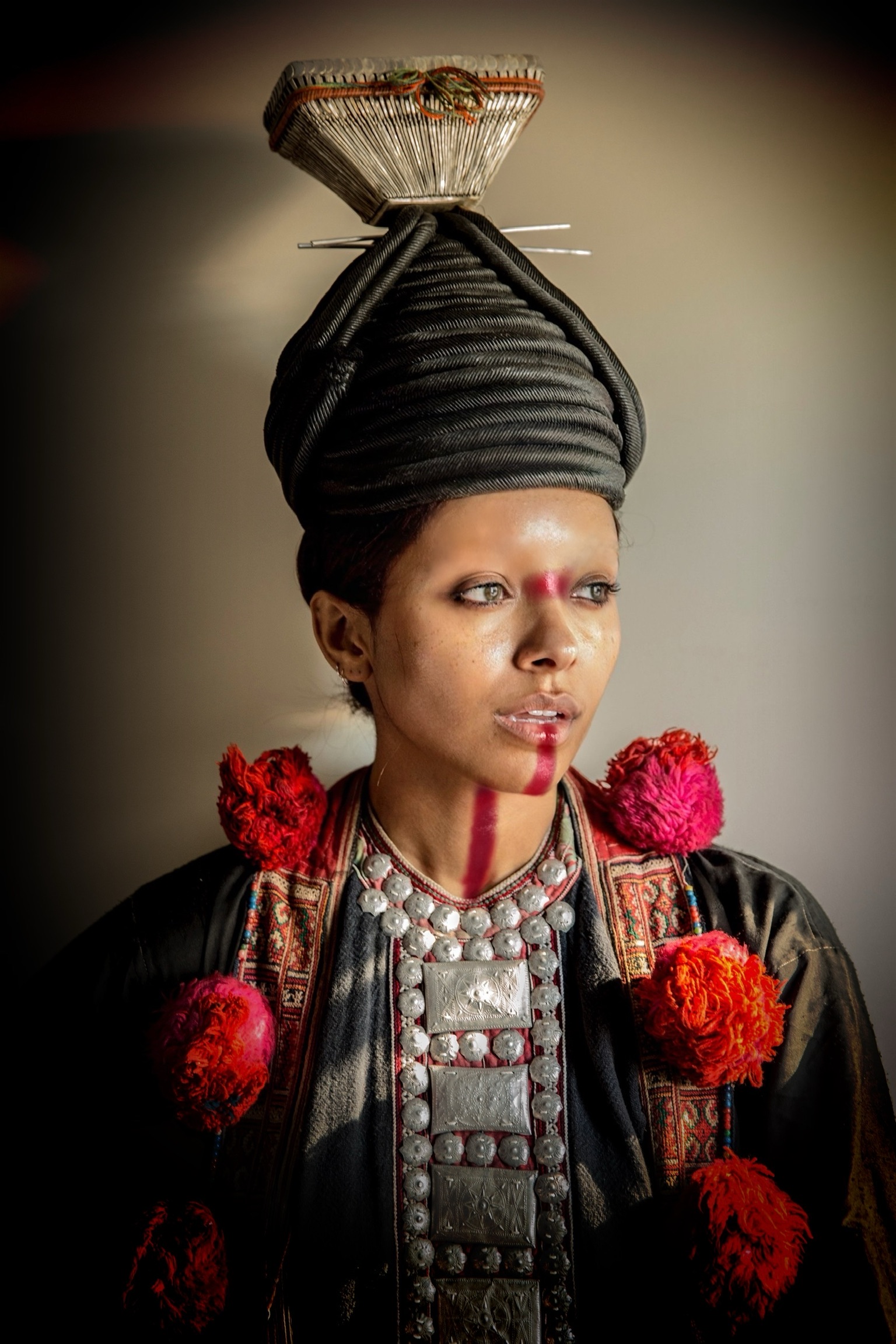 "Fall 4 U"
The first track we face is "Fall 4 U", and it certainly had me falling for "Part II" Right away. The song opens up on strings and it moves to a percussion-and-vocal gander at a very tranquil pace that nonetheless, packs quite a punch and gives us a very solid grasp of the "cinematic"  tone that Toro Gato will be known for. "Fall 4 U", much like the rest of the album, falls on a rather introspective downtempo mood, but there's an undeniable intensity to it all, if not by the effervescent emotions of Toro's lyrics, then by the production design around her vocals, bass, and percussion line.
"Red Skies"
If you're familiar with acts such as Morcheeba, Portishead or Massive Attack, then the intro of  "Red Skies" will be immediately familiar, heck the rest of the song oozes that same kind of impressively accomplished trip-hop sound that bleeds over into ethio-jazz and folkloric undertones as it goes on, which is yet another recurring theme with Toro Gato. 
The fantastic and expansive sound of "Red Skies"  managed to earn repeated plays even before I listened through the whole album, it simply is that engaging, and it's a delight to just discover the many tiny details hidden in the layers of sound therein, like a brief harmonica I didn't notice the first time.
"Smoke & Fire" (interlude)
This is our first interlude in the album, an eerie one at that. There's not much to say about interludes other than the fact that they really ought to be taken in with the rest of the album for the full effect. I will say though that I did not expect to hear a classic sci-fi horror theremin in this album at any point, so that's a Plus for Toro Gato's ability to surprise.
"Matador"
I did not expect to hear hints of both Flamenco and Pasodoble in this album, but here we are. "Matador"  is one of the most deliberate and clever songs in the entire album, with my only complaint being that it feels shorter than it is. 
Its influences resonate deeply with me personally for reasons of cultural proximity, and the fact that Toro Gato (literally Bull Cat) has a song called "Bullfighter/slayer" says far more about it than I think I could muster.
"Time"
Virtually at the halfway-point now, time resolves some of the tension that "Matador" created by returning to previous elements and adding a spoonful of Jazzy brass into the mix. 
Now, the true core of the song is the fantastic beat and the vocal sampling, it's pure early turn-of-the-century alt Hip-hop at its finest. Think Mos Def or MF Doom, not as references, but as high bars set that Toro Gato can just easily clear. Is there anything she can't do?
Again, my biggest complaint here would be that "Time" feels a lot shorter than it really is, but hey, that in itself reflects some wise teaching.
"Doors" (Interlude)
Our second and final interlude, and from the very moment you hear the Sitar kick in, you realize that the "Doors" it refers to are those of perception.
"Sorry I Shot Ya"
this song strikes completely from the left-field once again, in a way subverting our notions of having fully figured out the album, as it is very clear that Toro Gato has as many sleeves as a multi-armed deity. The deep booming bass drum is the key piece driving the whole song together, and it quickly turns into a feverish dystopic nightclub banger going on altered states before making its closing statement on some threatening spoken word segment.
White Flag
Perhaps one of the most "conventional" sounding songs in the album, one that dwells on the romantic disillusion so often expressed through R&B at it slowest and most uncluttered. The sound and composition is fairly minimalistic and clean but taken into a grander dimension by the fact that this is perhaps our most vulnerable vocal performance so far, leading me to believe that this song might be particularly more meaningful to Toro Gato (or Kat Graham) as a person first and an artist second. Why is that? well so far, most of what we've heard has had Toro show a great deal of restraint in her vocals, to always wrap them in some mystery, either through modulation and effects and/or the music accompanying the performance. 
This being such a relatively minimalistic track that relies on her voice as the sole protagonist, leads me to believe there's more than meets the ears, so to speak.
"The Unknown"
This might as well have been the titular track for the whole album, as the entire experience is the same as sailing through uncharted waters, both eager and wary to discover what lies beyond each new stage.
The song is haunting and cold and dominated by strings, both guitar, and violin sweetly courting Toro's voice.A very vulnerable romantic anthem that -to my years- seems to come from a heart lashed raw by uncaring hands, just asking for some tenderness, or perhaps one whose longing also betrays some sort of pessimism. Whatever the case, I found "The Unknown" to be surprisingly catchy and uplifting in spite of its dour atmosphere.
"Swim"
Swim is the song we've had the most time to digest, as the music video for the single dropped last year and quite an audiovisual experience that was, wearing its Jodorowskian influences clearly on its sleeve.
As curious as the music video is, the song itself is paradoxically one of the easiest songs to take in and pin down. "Swim" is intrinsically an electro-pop song  -a really good one, make no mistake- but also a very contrasting piece to the rest of the album that I would say arrives at a very nice moment. It serves to cleanse the palate with its more upbeat and danceable rhythms, perhaps throwing you off once again. Foolish you, thinking you had Toro Gato all figured out!
"Not For Sale"
The second-to-last builds upon what "Swim" brought about, which was this very groovy electro-infused pop vibe, but this time Toro Gato plays even more cleverly with her vocals by stepping towards this glassy and ethereal realm using a neat editing trick that I can't quite put my finger on.  It's particularly noticeable in the hook, where her voice comes through with some sort of electronic modulation effect, it's hard to tell if we're dealing with some very subtle autotuning or careful use of delay, the final result is almost like a vocoder (but you have to pay attention to hear it!) and it makes her voice come out as if directly from the keys of a synthesizer.  
It's a great song with some ingenious use of modern production tools to give it that fantastical or even alien edge without ever going overboard and staying true to the general aesthetic principle's that Toro's shown us so far..
"Work For your love"
Not one to be content with ending things in a predictable note or get too comfortable either, Toro Decides to end the Album on a soulful, honey-dripping neo-R&B track called "Work For Your Love", whose intro utilizes string sections that perfectly rhyme with the first few seconds of the Album, giving us a nice callback that moody cinematic start, and a dignified sendoff to a marvelous album.
Of course, any "soulful R&B" song worth its salt is going to have more than enough passionate spicy vibes, and this has it in spades, but the chorus bounces off it to a different direction, something uplifting and perhaps more intellectual goes on in the way Toro Gato sings "… do anything/to get you right back here again". She is -again- markedly vulnerable. She doesn't try to glamorize or be "cool" about what she's singing, and her delivery is full of some true sincere puppy-dog-eyed romanticism that has no time for cynical post-modern hearts, and if nothing else, the conviction and sentimentality of her voice alone could carry the song.
Final thoughts. 
In a weird way, you could say this is (the second stage of a) debut album, though I've been calling it a "re-debut" because I think that it suitably describes the situation from my external perspective (as I'm sure Toro Gato's insight would be preferable). The reason why I chose to call this a "Re-debut" is not that I consider it a do-over for Kat Graham (though you might say that), but because I think of it as an album for a re-birth.
There are enough elements from the old artist here to establish a connection, and the musical intelligence that Kat Graham has been developing since the age of 15 is more than crystallized.
 This is not by any stretch something that is at the level of the fledgling recording artist, nor is it where you would place a sophomore who has figured "a lot, but not all of it" out. This feels far more like a 4rth or 5th full-length release, and whoever this new Toro Gato person really turns out to be from here on out, you can tell they have it all locked in *right now*. 
So It's not a matter of *how* they can grow from here, or *if* they can live up to this precedent, but rather a question of *when* the next masterfully crafted piece of work is coming. 
Right now, of course, this 13-piece-second-parter blockchain'd opus has more than enough staying value to keep us well fed, and the more I listen to it, the more I can't shake the feeling that I'm listening to something ominous. That Toro Gato is already one of The Greats.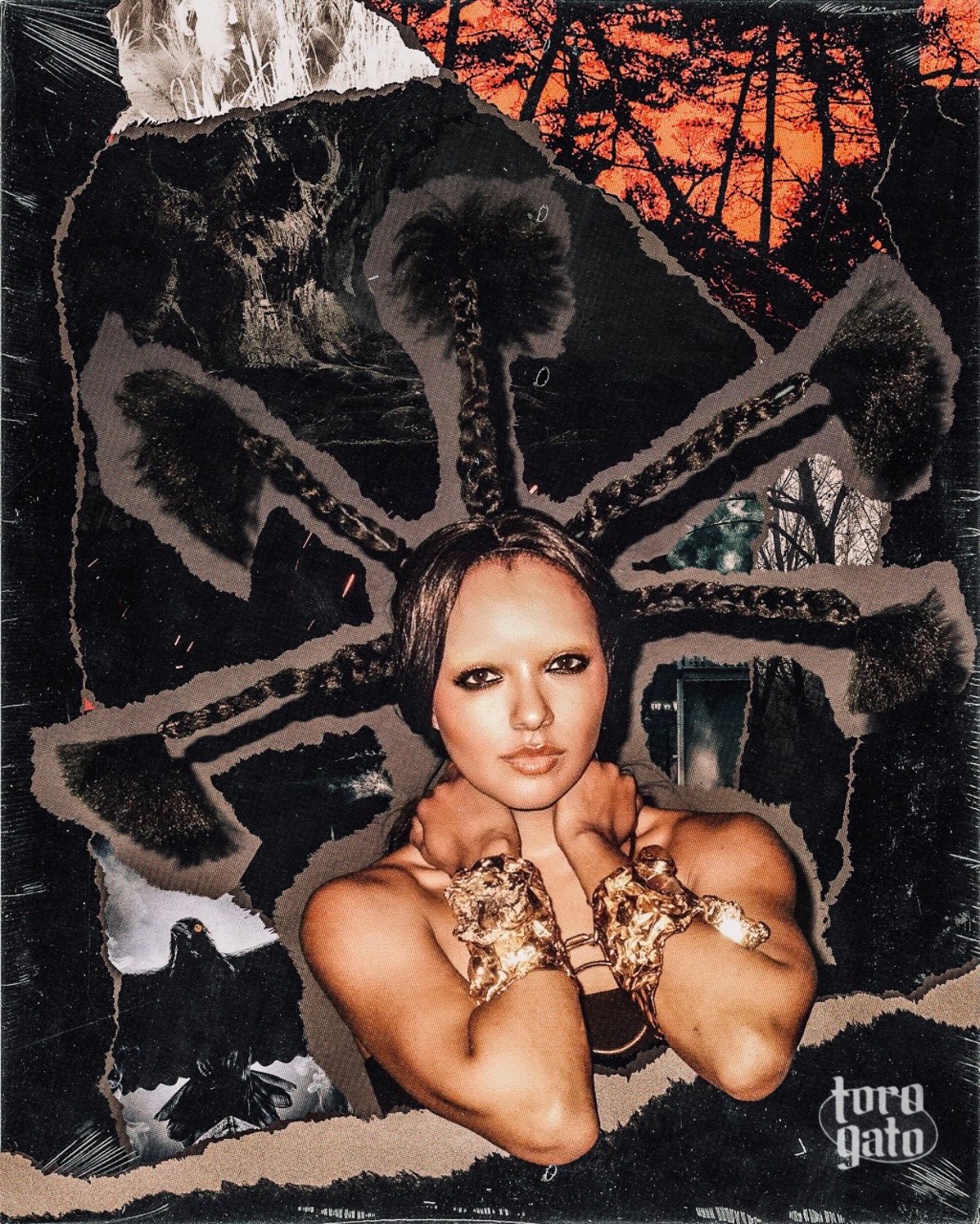 Story: Samuel Aponte
Photos:
Courtesy of the artist
CONNECT WITH TORO GATO