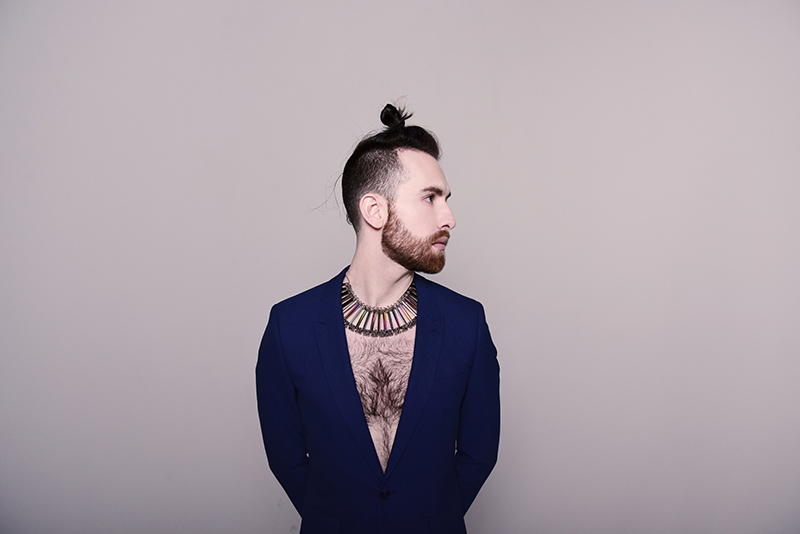 photo / Shervin Lainez
story / Koko Ntuen
When  Michael Blume's unbridled honey coated voice comes onto any song, I immediately get a chill. His voice is captivating and his music a fantastical tour of harmonies, conscious lyrics, beats, and layers of sound that unite in a soulful blast.
Blume produces complex vocal arrangements that showcase his wide range and all-star Acapella background, (Michael was on the Duke's Men of Yale Acapella team), on his debut EP When I Get It Right. "Manufactured Love" is a personal favorite of mine. The gospel-like,  capitalist challenging song  made a ripple through the internet when it debuted and spent weeks on Spotify's US and Canadian Viral 50 Chart and eventually claiming the #1 spot on its Alternative R&B chart.  Additionally, Apple Music featured the project on the cover of iTunes as a "New Artist" to watch.
Today we premiere a raw energizing live session of Michael and his choral crew performing the song and we chat with Micheal about everything that is happening today.
How are you holding up in this political aftermath?
I was pretty devastated last week.  And shocked.  I think that was and is the emotion that has been most difficult for me to sort through — the complete surprise.  But in thinking about it and talking with more friends and folks from different backgrounds and generations, I've realized that my shock was largely a result of the privileged bubble I live in.  I grew up and went to school in the liberal northeast; I don't think I personally know a single person that voted for Trump.  So I am feeling shocked, saddened, surprised, and… sheltered.  I definitely feel like my work is cut out for me now.  I also feel a need to use my platform to empower folks who feel further disempowered by the hateful rhetoric galvanized by the Trump campaign.
I was a closeted little gay boy in NJ around 2004 when this picture was taken. I worked hard and overachieved to overcompensate for a fear I felt inside myself. Somewhere in my subconscious, I knew I was gay and it caused in me a great and deep delegitimization of the self; I internalized the homophobia that surrounded me.
Today, I have had the privilege to overcome a lot of that self-hatred (not all of it) and become the proud, Queer, gay, New Yorker, Jew, young person, ally, smart, outspoken, hardworking, professional songwriter and recording artist that I am. I am proud of getting to the place I am in today. It was not easy for me. I am forever grateful to the friends, family, and lovers that helped me learn to love myself. And I am forever grateful to the Obama administration for putting Queer people on the political map in a nationally unprecedented way.
I know that not everyone has had or will have the privilege that I had to overcome my early teenage fears and shame. If you are a young LGBTQ person and you see this I am speaking to YOU and telling YOU that there is safety for you. There is love for you. You matter. There are spaces and communities and cities and states that you are welcomed in. Not just welcomed, CELEBRATED. With this week's election, I am afraid for our community too. But, more so, I am confident in its strength and resilience. Please never doubt that you are loved and cherished and important. It gets better. You will find your people. You have a home. We are here and we are not backing down. Rather, we are growing louder and stronger."
Can you tell us what inspired "Manufactured Love"?
I wrote "Manufactured Love" when I was still in school. A while ago! The song addresses and shines light on the ways in which capitalism and consumerism can disrupt our ideas of what love is supposed to look and feel like.  We have become so obsessed with THINGS in our society of markets and materialism – sometimes I fear that this obsession disrupts even the purest of love, for a child, for another loved one, etc.  "Manufactured Love" interrogates the loss and intoxication of this love.
Who do you dedicate this song to?
Everyone who has lost their own love or someone else's love to some tangible object.  Sad but true.
It's such an emotional song. It can be applied to so many other aspects of life if you replace "kids".
Yes!  I have had a lot of great feedback on the song and how much it has spoken to people with different perspectives.  It's always exciting as an artist and a songwriter to connect to different listeners in that way. 
I love the choir of angels you perform with! How did you meet your backup singers?
The singers I work with – as well as the instrumentalists in my band – are all good friends of mine.  I am coming from the working musician scene in NYC.  I played weddings and corporate gigs for many years before signing a record deal and committing to working on my music full time.  So the people I work with are all friends I know from the musician scene in NYC.  They are lovers and friends and colleagues and it is one of my greatest joys to be able to work so closely with people I love so much in my live band.
Your songs such an open book manifesto, emotional yet inspirational like they are coming straight from your journals. What's your writing process like? Do you write lyrics or melodies first?
I definitely aim to write with openness, honesty, and vulnerability.  I think change happens and good happens when we allow others to see into ourselves – when we share rather than hide.  My work is to point out things that we might not otherwise talk about – the things that make us uncomfortable.  The things that push the boundary of what's "OK" to talk about.  Inequality, freedom, corrupted love, addiction, self-destruction, etc. 
My process can be absolutely anything.  Sometimes I have lyrics first, other times music.  For the most part, I write entire songs at the piano and then work with my band/producers to flesh them out.  But, other times I have a small idea that translates into something else in the studio… I am back in the studio now working on a new album and I am experimenting in a lot of ways, which I am super excited about.
Any issues you ever felt you couldn't bring yourself to write a song about?
No.
Any songs that make you guys especially emotional to play live?
"How High" is probably the most personal song I have written.  It's a song about what I call "catching up on love" as a gay man.  I've had a few moments of emotion on stage with that song as I share my very personal story.  I've also had some fans tell me after shows how much they have been moved by that song.  It's very meaningful to get that kind of feedback, to see how much the song resonates with folks.
Did you ever perform in churches or in a church? Your voice would be so beautiful in a church.
Thank you!  I have performed in a church!  I think there is definitely room to do more in churches or big gorgeous reverb-y spaces, though! LADYGUNN – let's do a cool show in a church!
Your music doesn't follow traditional pop formulas, yet they sound so radio ready. What do you think of when you craft your songs?
Ha!  I just want to reflect the times and tell my story.  That's really all I can do.  Radio viability is a whole political thing that I don't even concern myself with.  All I can do is make music I think is dope and hope folks continue to dig what I am making.
You must do karaoke. What are your favorite songs to sing along to?
I actually haven't done it in while but…. "Love on Top" by Beyonce.
Who would you love to sing Acapella or harmonize with?
Great question!!  Destiny's Child for sure.
What are you working on now?
I am thrilled to be releasing the live video for "Manufactured Love" today!   I am also working on a proper music video for "Manufactured Love," which I can't wait to share.  Next month I will be on tour on the West Coast – my live show is very much the centerpiece of my artistic work, so I really can't wait to get out to the west coast to share the show.  I'll be out there with my 7-piece band (like the video). In January I'll be doing another big show in NYC.  And underneath all of that, I have started working on and writing my first full-length album, which will come out next year. Lots of crazy stuff happening – very excited for all that is to come.
MICHAEL BLUME TOUR DATES:
December 6                       Seattle, WA @ Barboza
December 8                       Portland, OR @ Hawthorne Lounge
December 11                     San Francisco, CA @ Brick & Mortar Music Hall
December 13                     San Diego, CA @ Soda Bar
December 15                     Santa Ana, CA @ Constellation Room
December 16                     Los Angeles, CA @ Bootleg Theater
December 17                     Phoenix, AZ @ Rebel Lounge