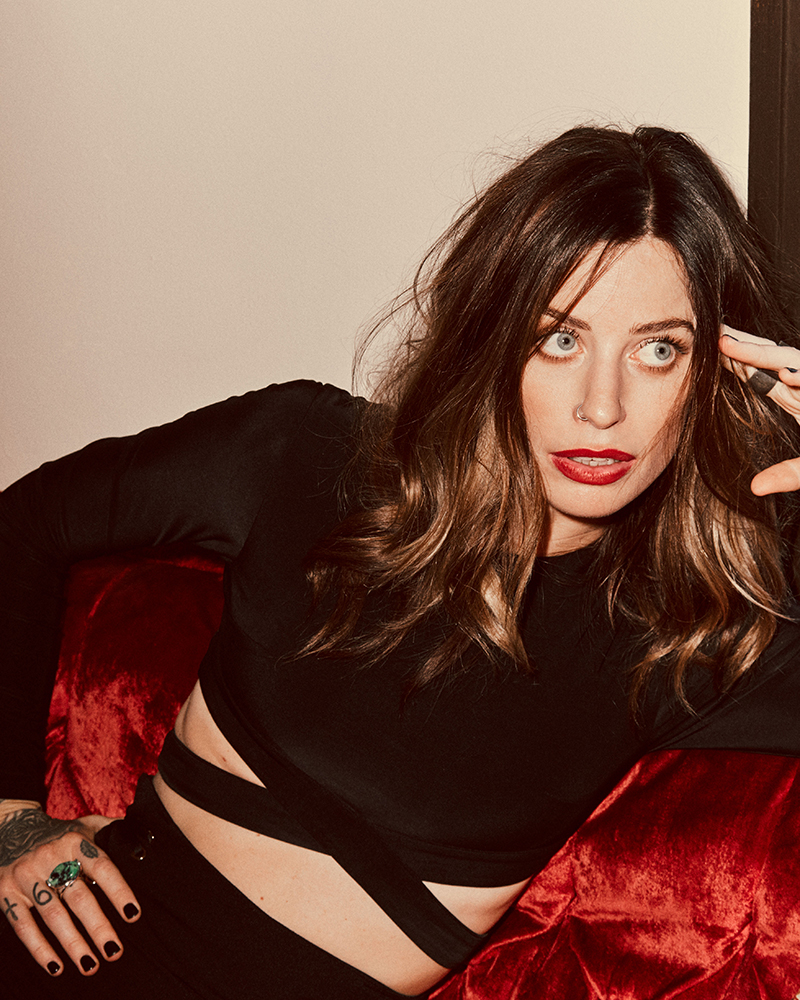 New Zealand fire starter, Gin Wigmore's rhythmic, bluesy aura has had the world transfixed since her first release, Island Records' 2008 Extended Play. A music prodigy before she knew, Wigmore kick started her career before she was 18 when her sister entered her music into a Nashville based songwriter competition. She won that and was flown to the states to record some demos before retreating back to the beach side of Australia trying to figure out what to do with her life. It was then that Universal Records took their shot welcoming her on as the first artist under their partner label Island Records.
International tours soon followed breathing new light into Gin's mission and purpose and providing her fans with a raw sonnet of sounds that lifted and consoled spirits worldwide. Her music moves you in the way wearing velvet and silver on a winter night would. It's soft and provides a warm breath into the cold with heavy icy accents to remind you where you are.
Today we share the video for "Cabrona" from Gin's most recent collaborative project #GIRLGANG, in which Gin collabs with some of her favorite female artists and people to produce multimedia Pro-Woman experiences. The "Cabrona" video in collaboration with Cindy Whitehead, founder of skate collective Girl Is Not A 4 Letter Word, features four female skaters, Zara Percy, Emma Houle, Kyra Williams and Amanda Caloia. In addition to appearing in the music video, GN4LW and Gin are collaborating on a special edition skate deck to (TBD) to be designed by the artist Kristin Liu.
Read more below to catch up with Gin and watch her video over and over and over.

What was your alter ego while recording "Cabrona"?
I'd say it would be a combo between a derby girl and Nellie Bly at around 6 PM as the sun goes down in LA. 
Does the term hold any specific meaning of importance to you? 
I wanted to explain the idea of what a "Bad Girl" meant to me. I think society has, unfortunately, put so many negative connotations on women who are expressive, confident and liberated enough to seek out their truest self. Ultimately, all these characteristics of a woman are too often perceived as being a "bad girl." So my idea for Cabrona was to flip that negativity and make those attributes into positive ones. The title of Cabrona seemed perfect to follow that sentiment. The word Cabrona, if taken literally can have a negative meaning, however, if used affectionately and casually can be a very positive way to explain a woman being a bad ass bitch! (muscle arm emoji if I had one.) So yeah, I liked the similarity of that words meaning to the point I am trying to make with the idea of being a bad girl as something that can, in fact, be very positive. 
For the #GIRLGANG project, you personally chose 5 artists to create original pieces to accompany the 5 songs on your forthcoming album. How did that selection come about? Were they all friends or people you admired and reached out to?
It came about and is still coming about, very organically. It just sort of unfolds as the month's progress as to whoever I find myself particularly drawn to on an artistic or moral level. It so happened that the first artist collaboration was a friend of mine as I have always admired her work and as a wonderful person – but the other 2 collaborations that followed were completely unknown until I approached them about the project. 
How has your artistry changed since you had a baby?
It has become far more selfless. And to be honest, that has been a difficult adjustment to be thrown into overnight. I think to be an artist is a very selfish endeavor for the most part, but then to have a child and ensure their wellbeing, is a completely selfless act. It's a strange meeting of two worlds that you must attempt to make work harmoniously and I am for sure still trying to figure it out! 😉 The coolest thing about it all though is that I feel now, more than ever, this flood of desire and motivation to give to whatever needs more help in this world than I do and I think that is totally connected to getting outside of myself after having a child. 
Where are you going with emotions and message on your fourth album?
 This album is definitely far more uplifting than my previous album Blood To Bone. I think I had a lot to prove to myself on the last album with producing for the first time and coming from a very sad place with everything at the time.  But now, I feel secure and confident in my abilities to make an album and because this album came about so surprise like, it felt super low stress and was overall a real joy to create. I feel that positive wash is present in the entire record. 
What other groundbreaking career moments can you think of?
I still strongly believe the most groundbreaking career moment for me is that I am 31 years old now and have been able to, for the last 10 years, and am still able to have music be my sole career. Every time I think about that I feel extremely grateful to have been successful enough to have a job that enriches and satisfies my soul daily. 
What is the hardest part of being a buzzy, noteworthy, paid attention to, adored artist, and what is the easiest? 
Ha, am I? Too kind. Maybe the hardest part would be making sure I continue to be all those things! 😉 The easiest might be living such a chaotic life all the time that I seem to always have a story to tell which inevitably turns into a song. But that kind of sounds like the hardest part too…hmm…I guess it's all hard?! 
What is your life like as an artist?
Well, I am a Gemini. And that's an air sign…so it's a little away with the fairies on most days I think. My darling husband is convinced I am a triple Gemini due to the number of ideas I have in a day and my ability to be 1000000% into something one minute and 1000000% not into it the next. But I would say my life as an artist is filled with color, complexity, drama, emotions and doing what feels like 100 things at once.  
Your touring life is enough for so many ON THE ROAD memoirs, what have had you learned most about yourself and the world from traveling to so many places?
That an oversized sweater, clean sheets, and a hot bath can fix just about anything. And that finding the best place to get coffee in a new city will generally lead you to some of the coolest neighborhoods.
Tell us a fantasy dream day for you.
Wake up. Kiss my son. Kiss my husband. Cuddle my dogs. Get an iced mocha with almond milk from Blue Bottle. Eat coconut pancakes with bananas on top. Swim at Makalawena Beach in Hawaii. Spend the afternoon at Territorio de Zaguates animal sanctuary in Costa Rica. Dinner at Speranza in LA. Dessert at Little Pine. Stay the night back at Sparrows Lodge in Palm Springs. Kiss my son good night. Kiss my husband goodnight. Cuddle my dogs to sleep. 
What do you want to put out into the universe that is next for Gin? 
Be the sole music composer for a film or a TV series. Open an animal sanctuary in Hawaii. Adopt more dogs. Spend more time doing things that only serve the purpose of helping in the betterment of the animals, the people, and the world around me.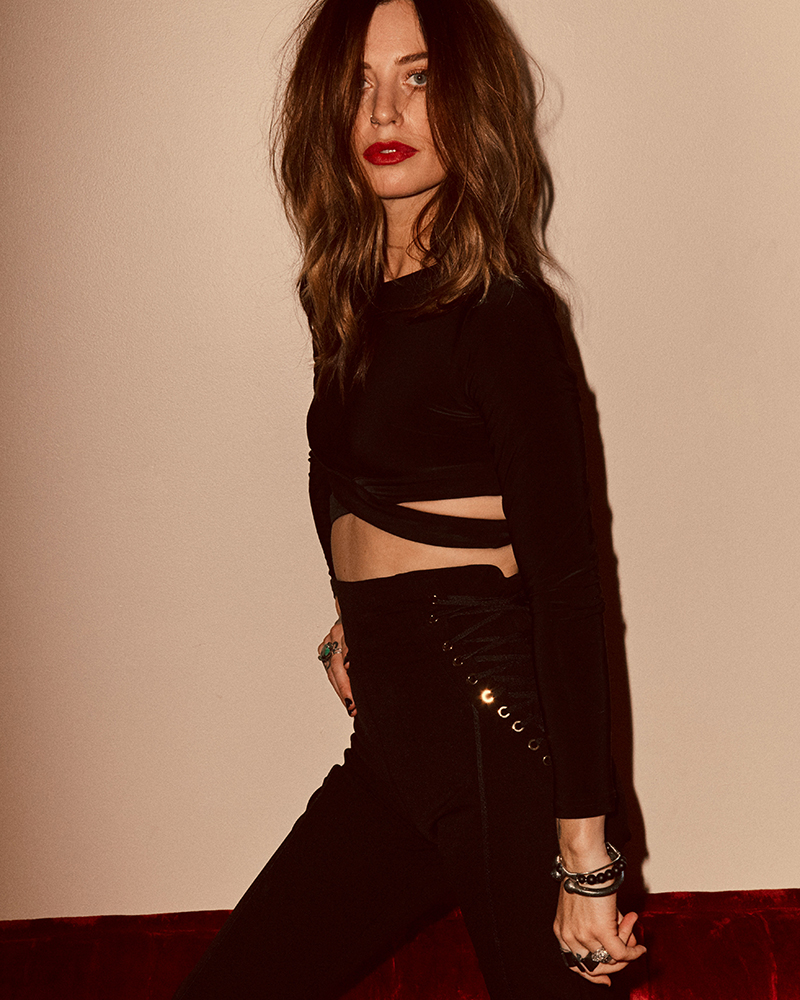 photos / Joe Perri
CONNECT WITH GIN
FACEBOOK  //  SOUNDCLOUD  // INSTAGRAM