BIIANCO, electronic chill-wave brainchild of LA-based multi-instrumentalist and producer, Gabby Bianco, has released the video for her latest single "Get Up". For years she'd witnessed other producers execute her vision, with a growing frustration for a lack of women in a producorial role. It was not long after a women's only retreat in the Joshua Tree desert that she realized who better to implement her own vision then herself. In the coming months she wrote engineered and produced an entire EP, not to mention playing every instrument on the track.
"Get Up" highlights a pulsating blend of electronic soundscapes atop delicately fierce vocals. An irresistibly inspirational hooky track, it's the ultimate anthem to all those doubters. She sings, "You want to watch me fall?  You're gonna watch me get up get up get up this time."
The video, which draws from ancient Sumerian mythology conveying a theme of rebirth, begins with BIIANCO tied up in ropes, bound, hanging and blindfolded. At one point she falls to the ground, but quickly gets back up and proceeds to untie herself. Surrounded by leaves and deep red flowers, the visuals showcase a stunning esthetic, which perfectly pairs with her immaculate fashion. The video metaphorically integrates the story of Mesopotamian goddess, Inanna, descended into the underworld, who was turned into a corpse, hung on a hook and stripped of her riches only to rise from the ashes more powerful than before. I got the chance to interview BIIANCO, discovering everything from taking the producers chair to her empowering message and more.
How does it feel finally getting to be in the producer's chair and what has your experience been like engineering and producing your entire EP?
It's a funny feeling actually.  I've made music for half a decade but never felt "qualified" enough as a producer to produce it myself.  Last year, I went to an Ableton retreat with a bunch of women identifying producers and everyone was like: if you're demoing your tunes and that hands on with all the production direction, you're 75% of the way there.  I felt really empowered to take the reigns.
It's been a wonderful process because it's felt like my creative has been more undiluted with me engineering and producing everything.  I've been able to extend my vision out of the writing and into the sonic execution.
This really has been a lesson in telling myself I can do whatever I put my mind to and to ignore that nagging little voice in the back of your head that suggests you're not good enough.
Tell me about playing every instrument on the track, what was that like?
It involved a lot of sitting in front of a synth actually!  Also, I think the weakest part of my production and writing has always been the beats and rhythm but with this project I've really had to refine and develop that part of my musicality.  My goal was to execute really intelligent but simple parts that all supported the bigger picture.
I understand you hired an all woman crew to execute your video, single art and incorporated female collaborators throughout the EP, can you tell more about what that experience?
We've been so hardwired to think that femininity is a liability and not appropriate for the workplace.  We've also been hardwired to think of the studio or a music video set as a traditionally masculine place.  BIIANCO is about embracing the femininity and taking it a step further to see a feminine perspective as a valuable creative asset.  Because of that, I felt it was really important to bring together a crew that would all be able to operate from that perspective organically.
We encouraged everyone who was a part of the crew to really dig into that on set and with the creative direction.  It created a kind of magic.  And it's worth noting that this was no easy shoot.  We were on set for 14 hours, in a house with no heat, hanging me from the ceiling and in and out of bathtubs.  But no one was complaining!  We were seriously devoted to getting the most magical video we could.
The message of this song is very powerful, you watch me fall, I get back up, what inspires you to keep going when you are faced with hardship or others putting you down?
They say success is the best revenge.  That's my motto.  If people kick you down, keep working on your shit.  Rise like a phoenix.
What inspired the concept for your video and what was it like working with Zoe Zhou, getting the chance to wear incredible fashion?
We really wanted to convey the theme of rising from the ashes of hardship stronger than ever so we dug into a lot of mythology in search for the best symbols.  Our director, Katie McGehee, did a lot of research and then suggested we portray Inanna, a prominent goddess in Sumerian mythology.  Inanna went through A LOT.  At one point, she descended into the underworld and was turned into a corpse and hung on a hook by her sister for thousands of years.  Another time, she went back to the underworld and at each gate needed to strip herself of her power — i.e. her crown, her jewels, her riches — only to discover that by the final gate she was more powerful than ever before.
We leaned heavily into Inanna's symbolism in this music video — especially in the fashion component.  Zoe Zhou is a true genius and as soon as we had articulated the themes, she ran with it.  She wanted to pull pieces that felt feminine and powerful.  My favorite styling moment was her choice for a crown.  A crown was a big part of Inanna's symbolism and we had originally played with the idea of going with a really traditional looking crown, but then Zoe showed up with a Black Russian hat and explained that she wanted to be more abstract and cover it with babies breath flowers.  The result is an image so strong and unique.  She really brought that level of brilliance to all of her styling decisions.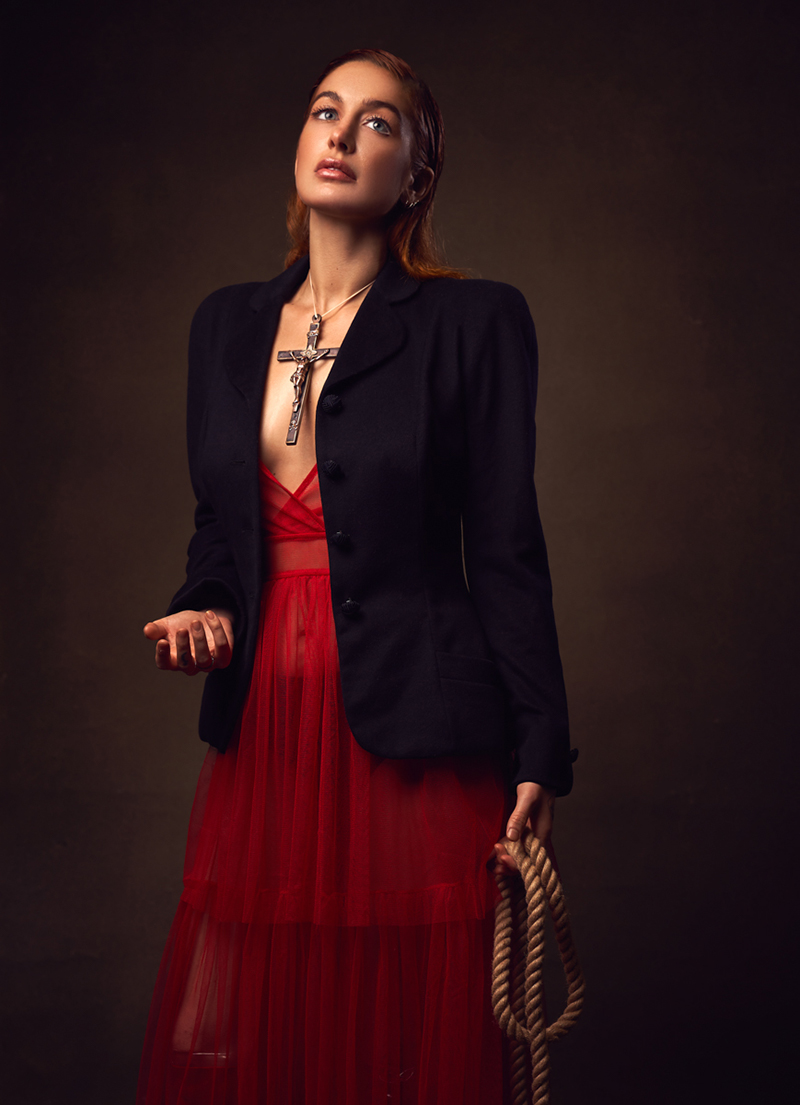 Director: MK McGehee Directory of Photography: Daria Rountree Assistant Director: Elizabeth Ayers PA & Set Dresser: Casey McCullum Hair & Makeup: Cynthia I Diaz Styling: Zoe Zhou Editing: Gabby Bianco & MK McGehee Color: Michael Schatz Photography: Chase Leonard
CONNECT WITH  BIIANCO:  
Facebook // Twitter // Instagram