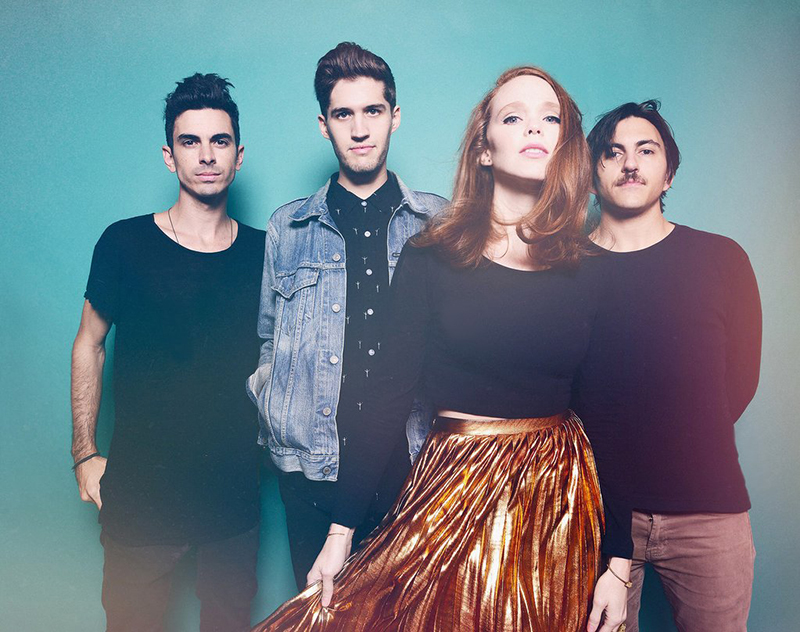 photo / Shervin Lainez
Louisiana-based dance-pop outfit Nora Patterson, Gary Larsen, Josh Hefner, and Thomas Onebane, otherwise known as Royal Teeth, have a savory pop sound that swell with all the right ingredients to make a perfect melody.  Singer, Nora Patterson's Kate Bush-esqe voice is a mysterious force in their power pop. 
The quartet 's effervescent anthems have been entertaining festivals and music lovers for years, amassing a ton of fans along the way. The band has also achieved mainstream adoration appearing on American Idol (by personal invitation of Harry Connick Jr. himself!) and Last Call With Carson Daly, as well as major placements for The Voice, ESPN, Bose and FIFA13 and too many festivals to list. Since their formation in 2011 the band has spent hundreds of days on the road and are currently fresh off the first leg of their Fall tour with indie rock band Rooney (for tickets and dates for the second half of the tour, visit the band's website).
Today we premiere 'Is It Just Me'  off the EP, a lovesick synth anthem that is perfect for writhing in the night thinking of that special someone. Nora Patterson describes the songs as, "A testament to that spark you feel from meeting someone you have an instant connection with. It's an intense energy that's like nothing else. And part of the excitement is not knowing whether that person feels the same way."
She goes on to say, "One of my favorite lyrics is, 'Swallow the sun and spit it out into the face of the night'.  It speaks to that electricity that ignites inside of you and makes you feel like you can take on anything, with or without someone else by your side."
Their new EP Amateurs drops tomorrow via Round Hill Records
CONNECT WITH ROYAL TEETH: