Get ready to witness history in the making! The Miracle in Mundelein  Fest is coming to Illinois, and it's going to be the state's first concert that allows onsite cannabis consumption. Happening on September 9-10, 2023, just outside of Chicago, this groundbreaking event merges the worlds of music and cannabis culture like never before.
Presented by RYTHM Premium Cannabis, Sacred Rose, and Dayglo Presents, The Miracle promises to be an unforgettable celebration of cannabis, music, and art that brings together communities and fosters camaraderie.
Over two days, the event will feature a diverse lineup of artists from various genres, including hip-hop, jam, reggae, and funk. On Saturday, you'll get to see legendary multi-platinum hip-hop group Cypress Hill, underground rap icon and cannabis enthusiast Action Bronson, eight-time GRAMMY-winning reggae artist Stephen Marley performing a rare full band acoustic set, and local artist DJ Papa G. Sunday's lineup is equally impressive, with world-class jam acts like Grateful Dead offshoot Joe Russo's Almost Dead, funk-fusion group Lettuce, jam/experimental bassist Karina Rykman, and Chicago DJ Mitch Please.
Stephen Marley is a highly acclaimed reggae artist (and the son of Legendary Bob Marley) known for his exceptional talent and contributions to the genre. He blends traditional reggae with contemporary elements and has won multiple Grammy Awards for his work. His music is known for its powerful messages of love, unity, and social justice, making him a beloved figure among fans of reggae music. 
Action Bronson is a renowned rapper known for his unique style and lyrical prowess. He has released critically acclaimed albums and mixtapes, and has collaborated with many notable artists in the hip-hop industry. He is also a successful television personality, known for hosting several food and travel shows that showcase his passion for cooking and exploring different cultures. Bronson's music is known for its witty wordplay, vivid storytelling, and eclectic beats, making him a favorite among fans of underground hip-hop.
Joe Russo's Almost Dead is a highly skilled rock band that has gained a large following among fans of the Grateful Dead. They specialize in performing the legendary band's music with high-energy and faithful live shows, earning them a dedicated following of "Deadheads" around the world.
Lettuce is a jam-funk band that has been around since 1992. Their music is a blend of funk, jazz, and soul, and their live performances are known for being highly improvisational and energetic. They have released several albums and have collaborated with many other notable musicians in the jam band and funk scenes. Their shows are a unique and unforgettable experience that will leave you dancing and grooving all night long. Their musicianship and improvisational skills are top-notch, and their ability to connect with the audience is truly remarkable.
Karina Rykman is a talented American bassist and composer who has made a name for herself in the jam band and rock scenes. She is best known for her work as the bassist for Marco Benevento's band and has also collaborated with other notable musicians such as Mike Gordon and Joe Russo's Almost Dead. Rykman's music is characterized by her dynamic bass playing and her ability to blend funk, jazz, and rock into a unique sound. She has released several solo singles and is currently working on her debut album. Her skills and talent have earned her a reputation as one of the most exciting bassists in the music industry today.
This event is not just about the music, it's about the whole cannabis culture. In addition to the carefully curated lineup of musical performances, attendees will have access to a range of one-of-a-kind non-music experiences. There will be a dab bar where you can enjoy various concentrates. You can also visit the cannabis beverage garden, where you can try different cannabis-infused drinks and cocktails. If you're looking to learn a new skill, there will be a joint rolling station where you can perfect your rolling technique. And for those who want to chill out and enjoy the moment, there will be chilled bongs available for use.
Although cannabis sales will not be allowed within The Miracle in Mundelein Fest, attendees can purchase their cannabis products from the nearby Green Thumb dispensary, which is located just across the street from the event 
Pre-sale registration for tickets is now open and offers exclusive access to secure a limited spot at The Miracle. General admission tickets will be available starting from June 8th. Single-day passes for General Admission are priced at $69, while VIP passes cost $178. For those who want to attend both days of the event, two-day passes are available for $129 for General Admission and $346 for VIP.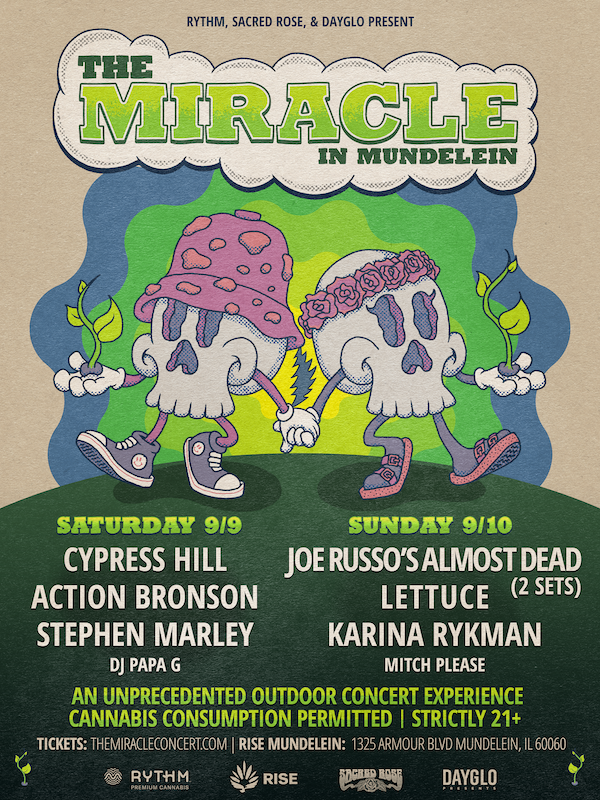 BUY TICKETS FOR THE MIRACLE IN MUNDELEIN FEST HERE