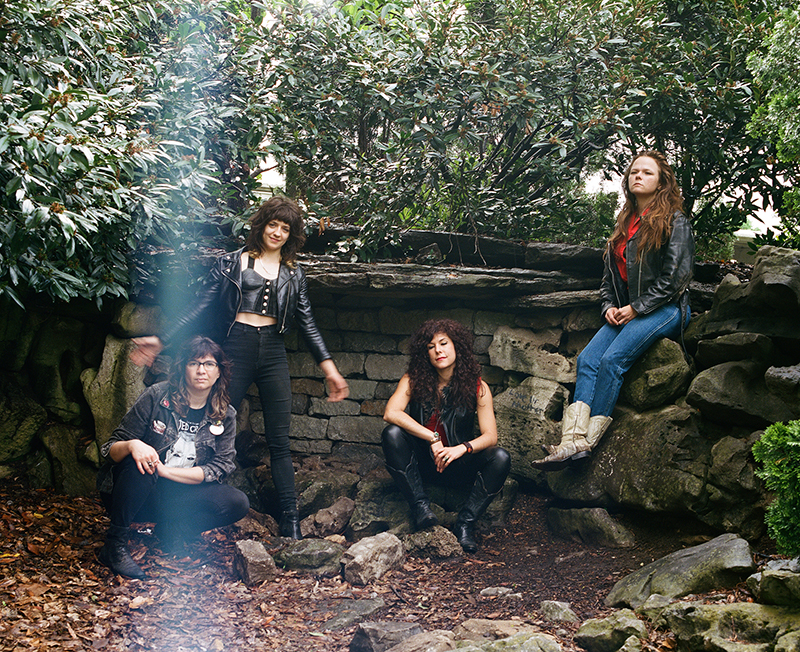 photos / Danielle Holbert
story / Augusta Gail
Thelma & The Sleaze: The name alone is enough reason to listen to this one-of-a-kind band from Nashville, Tennessee.  But these women are more than just a cool name—they're a seriously talented musical trio. They're rock n' roll laced with riot-grrrl punk and southern edge; they're raucous, and wild, and totally fucking badass in concert. 
Here, on the eve of their hiatus, I chat with chat with vocalist/guitarist Lauren Gilbert (who goes by LG, by the way) about the band's recent tour with Eagles of Death Metal, what it's like hailing from the south, and how sex dreams are the best dreams.
Okay, so first and foremost: How was Thelma and the Sleaze born?
It was an offshoot of my [LG's]  first band, Trampskirts, in 2006.
How did you all meet and form this wild and totally badass band?
Me and Chase met through Trampskirts shows and when Thelma's first drummer left, Chaste joined.
Do you consider yourself southern girls? How has Nashville shaped your music?
Living in the south has really help shape our music and how we carry ourselves. There's so many incredible people who have made music here and we try to pull inspiration from the history as well
What's inspiring you right now, in terms of music or life in general?
We have a new record that's mores straightforward old school rock n' roll. Our other EPs are a little darker and abrasive.
What's your songwriting process?  How do you come up with the lyrics and concepts?
I usually have a subject in mind. I'll sit with my guitar or bass and try to come up with something that gets whatever point across. Then I track it and play with the composition a dozen different way until it feels right.
Your music is full of loud, vibrant, messy girl power vibes. What are your thoughts on empowering girls and women through music?  Is that something you're conscious of or is it more instinctual? If you could tell teenage girls anything, what would it be?
I think that whenever you make yourself vulnerable it's empowering in a way. Some of our songs are about the worst parts of being in a relationship but something about writing it down and playing it live helps you heal and grow. I hope that young girls follow their hearts and never compromise.
What are your thoughts on social media and its impact on music?  Do you like it and use it, or hate it?
I feel pretty excited because I feel like Facebook isn't good for promoting music anymore so I can probably delete my profile soon and be done with it. I hate it. It's really the worst how people abuse each other. I will be happy when it's gone.
Okay, so your Kandyland Tour sounds like it was incredible. Can you tell us one crazy story that happened during the month-long awesomeness?
It was! We played during an ice storm outside which was really intense. Also this guy brought me his poetry about being a stalker to another singer and some candy. We didn't think about it and ate some anyways. Glad it was just candy.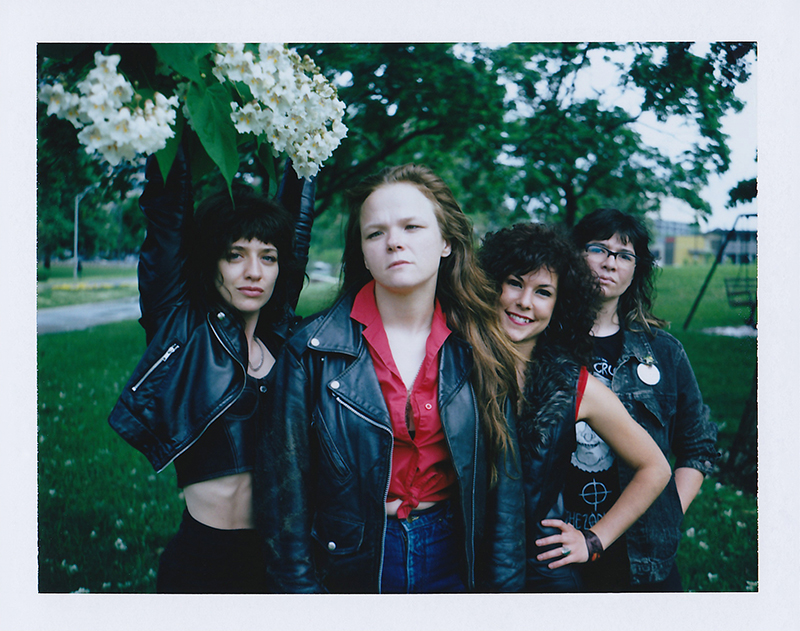 How would you describe the Kandyland movie (which our readers should 100% check out)?
I hope it's a really good snapshot of where we were as a band. You know we have been around for 6 years in one form or another and have done a lot of things. There were probably collectively 200 people at all thirty Kandyland shows combined. I think it's pretty funny that we did this huge promotional thing and still didn't have that much of an impact. People talked about it a lot but they didn't really come out in herds. I think it will be more like Spinal Tap then The Wall. You will get an idea of how hard we work, which is important because we do work really hard. Also there are a handful of people who love us a lot and I hope they get some screen time.
Your live shows are supposed to be super fun and intense. How would you describe what goes down at a concert? What are people in for if they see you live?
I love performing as a longtime sober person. It's really my only outlet. I consider it a privilege to have an audience and I also try to connect with them in some way. Whether they are scared of me, turned on by me or want to be me.
How did your most recent tour go?  What were some of the highlights?
The tour was great. We really enjoyed being out with Eagles of Death Metal. They are great dudes. Real rock n' roll vikings. Such energetic, eager fans; they were ready for the goods so we gave them the goods.
What's up next for the band? Tours, shows… What fun stuff is happening this fall?
We aren't planning anything in the near future. We would like to put out the record we made but haven't decided the best route for that yet. It's been a rough year with really high highs and very low lows.
This is totally random, but your latest merch has been super rad! The crops are so cool and the cassingles are awesome. How do ya'll come up with all the funky merch ideas?  It's just nice to see merch that's unique and badass.
Thank you! We try to sell things we think are cool and we would wear. So a Bass Pro Shop shirt cropped with pro-choice imagery is a no brainer. The cassingles came together so well thanks to our graphic designer Mim Brooks and Cold Lunch Recordings here in Nashville.
What did you dream about last night?
I don't really remember. I have been have some really weird dreams because of stress and uncertainties in my life. My favorite dreams are the ones about fucking. Maybe I'll have some of those soon!
Anything else we should tell our readers?
They should check out our new individual projects! "LG+Friends" from me, and Chase is currently playing with Boytoy. We are taking  a hiatus for a while. We want to thank everyone for their support and love for the last five years, but it's what's best for us now.