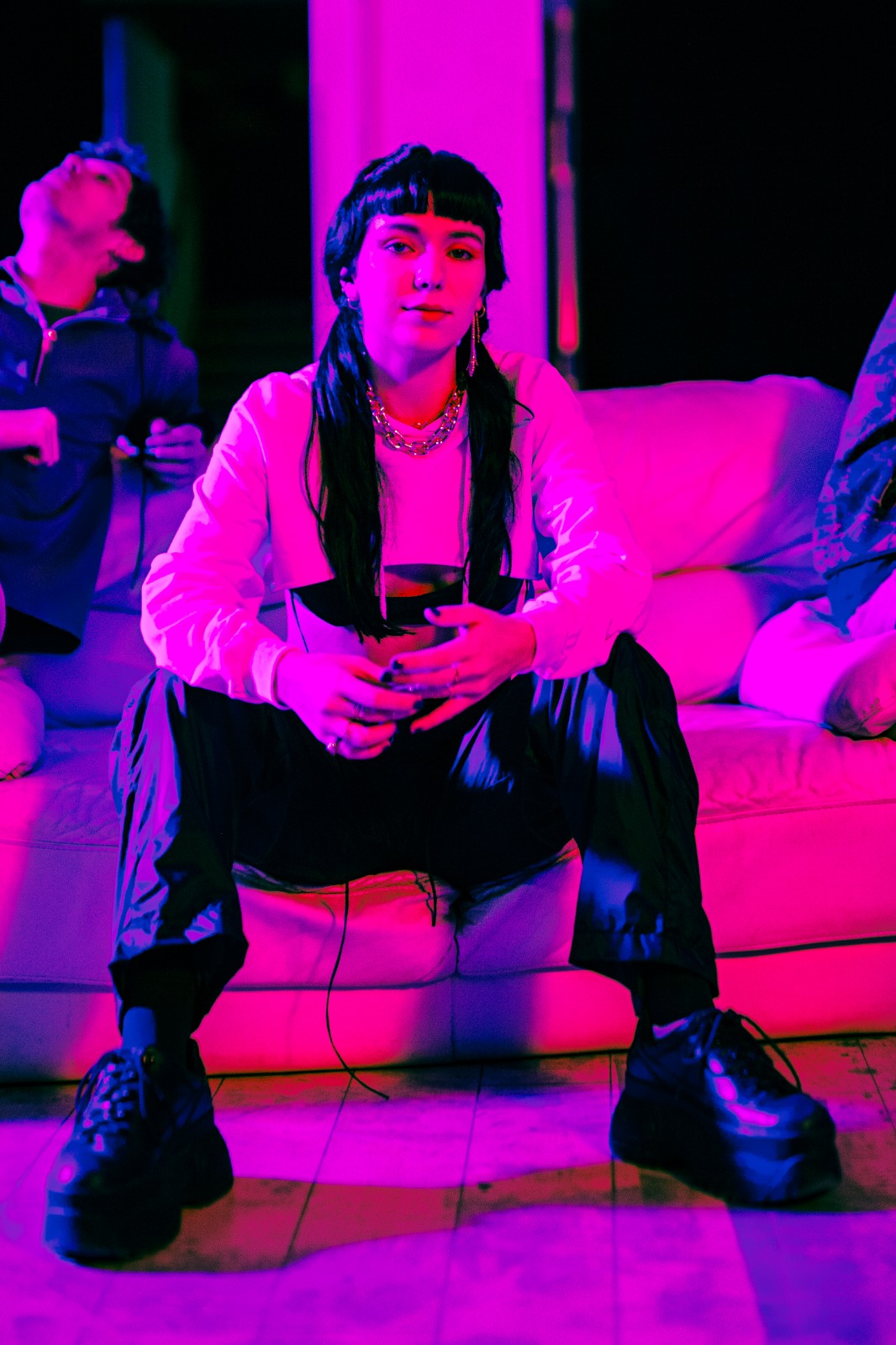 "we're gonna make it, live in another world"…
And in this world, girl-meets-harp-meets-London-rave-scene-but-adds-her-own-pop-y-splashes comes full circle in finding her own musical style. A couple months ago, Tatyana showed us with her single release "Back in my Head" that she thrives on being multi-faceted. And now with the release of her "super fun, happy pop song" that provides "a bit of escapism for anyone who wants to dance around at home," "Lock U Down," well — she just further proves she's capable of successfully and passionately creating whatever the fuck style and sound she feels like.  
"I wrote "Lock U Down" with my friends from Exmoor Emperor before our world completely changed, and lockdowns took on a more sinister meaning… I've found that singing the chorus at the top of my lungs really helps alleviate those lockdown blues," Tatyana says. 
How has this last year transformed you as a human? As a creative? 
I guess the kind of initial shock was really interesting. I immediately kind of retreated into my old musical world so I started playing a lot of classical music again, which I hadn't touched in like, six or seven years. I started playing piano (which I kind of stopped doing as soon as I went to Berkeley because I just was so involved in other styles of music) and I found it very rewarding and therapeutic. I started writing a lot—that initial period was like there was so much uncertainty in it and it does sort of feel like the end of the world as you know it a little bit and in those moments you really reach for the things that give you pleasure and joy. I guess now it's really that I'm missing crowds and stages and performing. It's been a mixed bag, you know. As I'm sure it has been for lots of people…
What a time in life for a mixtape project called MELT. How is this work different from your previous? 
Everything has slowed down on the outside, but we're still inhabiting these online spaces that are very fast-paced, and the dialogue and the subjects change kind of daily. And the way that people release music is also kind of reflecting that. I usually write quite quickly, and I don't love sitting on material for a long time. But it's a necessary process to kind of refine things and let them kind of simmer and, and absorb, whatever it may be. With MELT I just wanted to have this kind of mixtape —ongoing mixtape on the side. That I can drop in music that is sort of untethered from these larger narratives, but it's sort of ongoing in that it's my development as an artist, as a musician, like in an immediate sense, you know? And so the music that comes out for that project will be music that's come together kind of quickly and reflects this kind of idea of a melting of influences and melting of time; melting of all of the things that I choose to pick from.
"Back in my Head" is so fucking relatable to literally anyone who has ever loved and let go. Say more? 
"Back In My Head" is the first track for MELT. I'll be adding songs to it that fit a certain kind of mood I write from sometimes: darker, minimalist, more experimental. I like to try on different hats when it comes to making music and not be tethered to a linear approach. The song itself is quite personal. I was on YouTube late one night and the algorithm posted up a video of someone I used to be involved with. A rush of memories came flooding back, and I realized how much had changed since I had stopped thinking about him. It was such an intense feeling that I just hit record in the studio at 2 am, and a stream-of-consciousness lyric came out. It turned a painful moment into something beautiful. I was amazed at how, something that's just through a computer can make you feel all these emotions, you know? 
Blast from the past, but touring with Nenah Cherry feels iconic. What was the best part about being on the road?
Oh, wow. I mean, it was really just one of the best experiences of my life. I loved everything about it. I loved the tour bus, I loved everything. I love the people. The kind of immediate sense of being part of a family and a crew and, they're really wonderful people and they really know how to create, the camaraderie in their team.
What are you gonna make 2021 about?

 
I really would love to play a show again, that is what I'm manifesting. But we'll see if that happens. In the meantime, I'm excited to have ["Lock U Down"] out in the world. And I really wish I could talk more about my other projects, but I feel like I'm not sure if it's the time just yet…
CONNECT WITH TATYANA
INSTAGRAM // TWITTER // SPOTIFY
photos / courtesy of artist
story/ Eve Simonsen