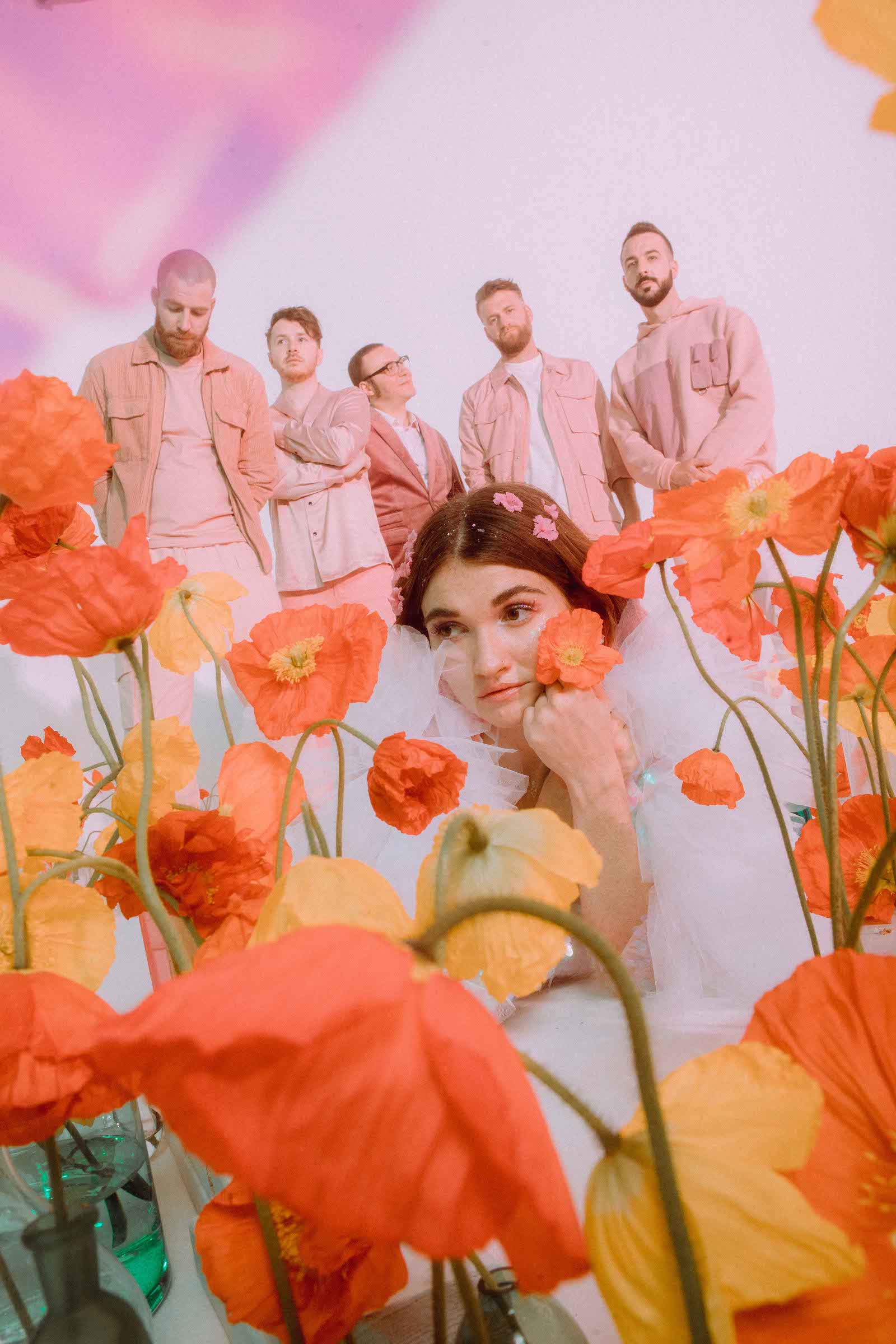 MISTERWIVES – the feel good, anthem churning six-person band – has announced another full length album on the way. Following up their celebrated record Connect The Dots, the collection SUPERBLOOM is full of color and melody unique to the NewYork bred indie-pop group. Dance along to the newly revealed singles, you can thank us later:
Self-reflective and optimistic, the most recently released single 'decide to be happy' is filled with swagger. The song marches along to a beat that ensures positivity and groove, sampling today's pop songwriting with a side of horn-induced funk. 'rock bottom' was the first to be unveiled and carries a low hum that bursts into a chorus mantra: "I fall just to get back up." It stays in your head the way a mentor's groundbreaking advice fuels your day. The Misterwives' title track, SUPERBLOOM, is just that: a super bloom of color and life, like the party your friend threw you when you "came out the other side."
To get an insight into their creativity and the forthcoming album, we asked the group to interview each other. Enjoy below:
What does SUPERBLOOM mean to you?

Mike Murphy, Saxophone: For me, when I hear "SUPERBLOOM" I think of words like "tenacity" and "relentlessness." Traditionally we associate superbloom with aesthetic images of beauty and color, and those things are all there and true. But a lot of what makes superblooms so incredible are the intense periods of struggle that precede them – all that drought and heat in arid and often inhospitable climates. It's only after enduring these long periods of pain that the beauty of the superbloom comes alive, and I think it's this determination that makes it something truly unique and special.  

William Hehir, Bass: To me "SUPERBLOOM" highlights the cumulative nature of growth in everything, individuals, small groups and larger communities. I think we have the tendency to break things up into the 'bad' and 'good' parts of life, but that misses a huge part of what makes life worth living. I think the album serves to remind us that we can grow out of hardship and learn from it, rather than just forget about it and move on hoping for a brighter future.

Etienne Bowler, Drums: "SUPERBLOOM" inspires me and makes me remember that anything worth having doesn't come easy. It's about strength, power and triumph through hard times, and getting through to the other side cause when you get there, you'll be stronger and more beautiful than you were before. 🌈

Marc Campbell, Guitar: My simple answer is growth.

Mandy Lee, Vocals: Growth in unexpected places. Visiting the superbloom a couple years ago I was so moved by these resilient yet fragile and delicate poppies that weren't supposed to grow in the desert terrain. Without the unusual amount of rainfall which felt symbolic for my tears and pain and heartache watering growth, this vast and vibrant botanical phenomenon couldn't exist 🌈🏵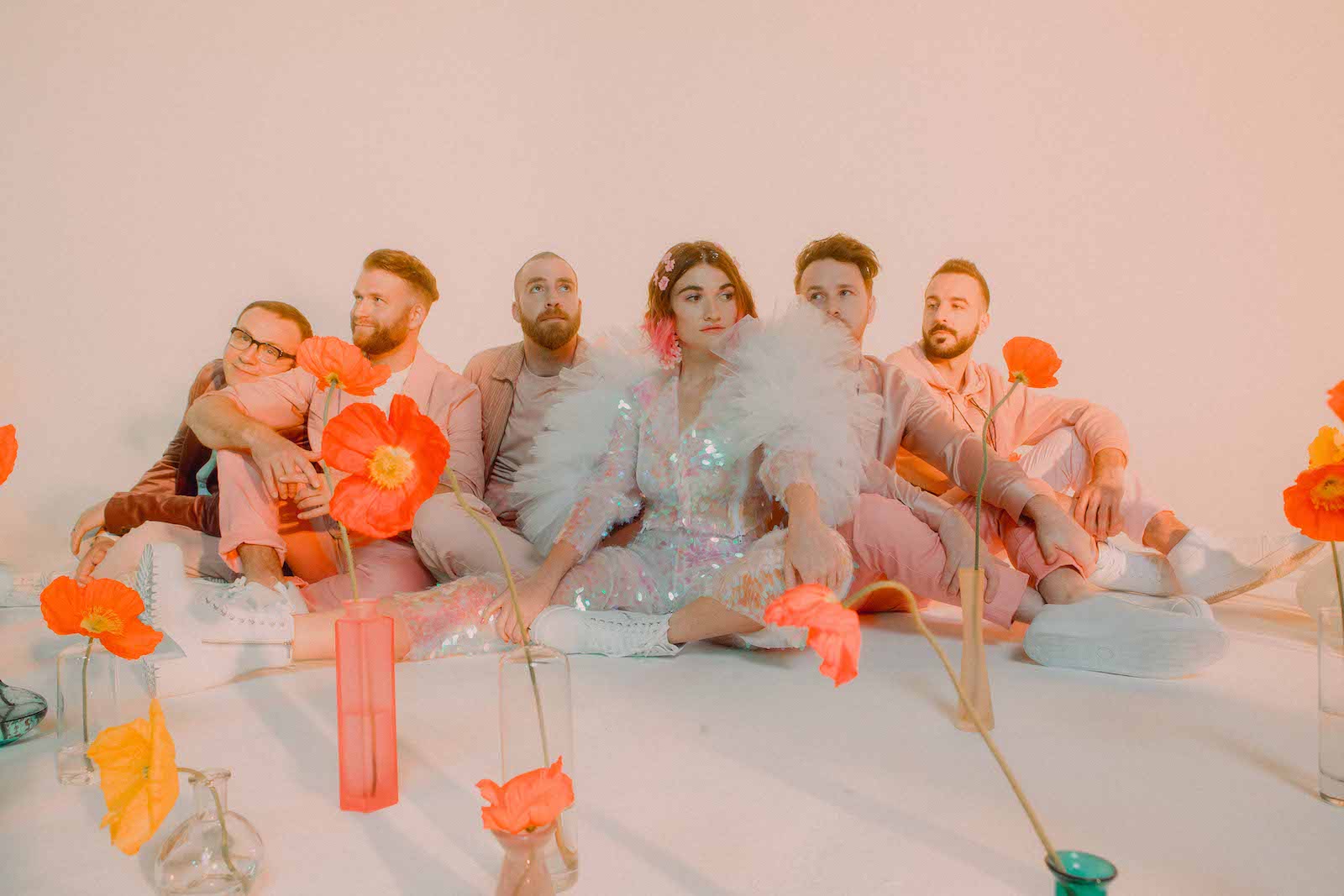 Your favorite moment recording the record?

JB: Recording all of my parts for SUPERBLOOM was awesome. Mandy would already have an idea in her head for a horn melody or a rhythmic part and Murphy and I got to add our little sprinkles. Every session was just amazing and I always left feeling like what we accomplished that day was really special.

WH: Hearing "whywhywhy" for the first time, even though it seems like a million years ago, was such an incredible moment.  I just remember thinking, "Holy shit, we're about to work on the third album?" It hadn't really dawned on me until that moment. I guess all of us recognize how lucky we are to get to do this, but part of you always expects to wake up and realize the last few years were just a dream. It still feels like only yesterday that we were trying to figure out how to demo songs in Etienne's closet and so hearing the first song on the new record for the first time just seemed so surreal.

ML: What a f*cking journey it was making this record. It's 19 songs but I really wrote close to 50? It happened in so many different places with so many different wonderful faces at various different stages in my life and I'm thankful for it all. The moments of despair when I felt so alone and was barely able to sing a note scrunched up at my piano to singing "I DESERVE CONGRATULATIONS" or "I CLIMBED OUT OF THE GRAVE" with all the courage and strength and proud mama bear energy I had for myself and everything I grew through. 

When did you fall in love with music?

MC: I think for me there were two steps, listening then playing. I remember pretty vividly hearing "Spirit in the Sky" for the first time, I was so young, and had no idea why I connected with it, I just loved how it sounded. My parents had an old record player and got me a copy of it, I just played it over and over, then as I got older more songs just kept jumping out to me. Second, playing an instrument – as soon as I got my first guitar! I just never put it down. It gave me the ability to play music to match how I was feeling, I thought that was incredible… and if I could also add a third step haha, it was getting my first distortion pedal! A BOSS DS-1 🙂

ML: Yes to Marc's response about it happening in two parts! I basically came out the womb singing. Would always sing along to my mom's records and do the classic "singing into a hairbrush in front of my stuffed animals" to the greats like Aretha, Nina Simone, and Billie Holiday. I think I'd always be just as moved by such soulful music even if I was tone deaf lol. Growing up in New York and attending LaGuardia the trajectory for me at the time as a teenager was auditioning for Broadway, which I will always appreciate and love but taking a singer-songwriter class at LaGuardia led by one of my favorite teachers, Mr. Apostle, was where my passion really took shape. I bought an upright piano at a thrift store for $300 and taught myself keys and put my love of language to song. That's when i knew this was what I had to do and began booking myself shows (almost got x's tattooed on my hands to make me getting into the clubs easier lol) busking, putting my name down for every open mic and never giving up on a dream that was really a form of survival. 

EB: That's a good question, I remember when I fell in love with music. It was when I was 12 and I was jamming with my brother for the first time and we were playing drums and bass, and I was like, "wow, jamming is the greatest feeling in the world." And that's when I fell in love with it.

MM: I think my earliest memory, my parents had one of those like massive eighties stereo systems that aren't even around anymore. And I remember at two or three, just being able to stand, I would lean on the speaker because it would be pumping music out. And I was fascinated by music. So that's one of my early memories, holding onto the speaker for balance, but also for music. Also like Will in high school, I guess we all had this phase where we went to, was it FYE back then? And I bought Blood Sugar Sex Magik by the Red Hot Chili Peppers. I remember that blew my mind because my mom listened to Rod Stewart and my dad listened to classic rock and stuff. So hearing some real rock in the modern time, really kind of blew my mind. 

WH:  The first time I fell in love with music was after my cousin introduced me to a band called Nirvana. My parents mostly listen to traditional Irish stuff so there wasn't a whole lot of popular music played in the house. So hearing Nirvana for the first time when I was like seven or eight, I thought "this is the fucking coolest thing in the world.". Around that time my cousin got an electric Silvertone guitar and then I thought that was the coolest thing in the world. Neither of us knew a thing about how to play but we learned pretty quickly that turning an amp to 11 is a surefire way to piss everyone in the house off.

JB: I think when I was four, I heard Louis Armstrong on the radio in my dad's car, and he played the trumpet and sang. And there was something about the joy – I didn't really understand but absolutely loved. There was something about the joy that changed me. I guess it must've been when I was four because my parents tell me when I was from four to six I begged them, "I really want piano lessons. I'll go every day. It's not just a phase like me being a ninja, a fireman, and a rocket ship pilot. I really want this."
As we sit in isolation, the world is blooming outside with protests and rightful change. Constructive conversations about justice and the future need to be shared, so in addition, they're providing us with a list of questions to ask yourselves on the daily. Check out the group's merch fundraiser: all proceeds will be donated to Color Of Change.
From The Misterwives:
We did this interview before the horrific killing of George Floyd held a mirror up for all to see how police brutality and racism runs rampant in this country. More than runs rampant, racism runs this country. So when the lovely team at LADYGUNN reached out asking afterwards if we'd like to share support for BLM there was no other answer than "fuck yes."
Acknowledging our privilege and diving deeper into how we can actively be anti-racist is something that requires way more than a week of posting, or protesting, or donating. We are in in this for the long haul and know this revolution is not a sprint, it's not even a marathon, it's always.
We are witnessing a fight for civil rights bigger than anything we've seen or been part of before. The conglomeration of having a president who condones and exudes white supremacy and a pandemic that has ripped through the seams of our comfort bubble provided the luxury of time away from our "normal" schedules to digest and address the plethora of information exposing how much work there is to be done to dismantle a system that was built to oppress the Black community. I hope that plethora of information doesn't discourage you but rather encourages you to figure out new ways to not just stand in solidarity but move in solidarity!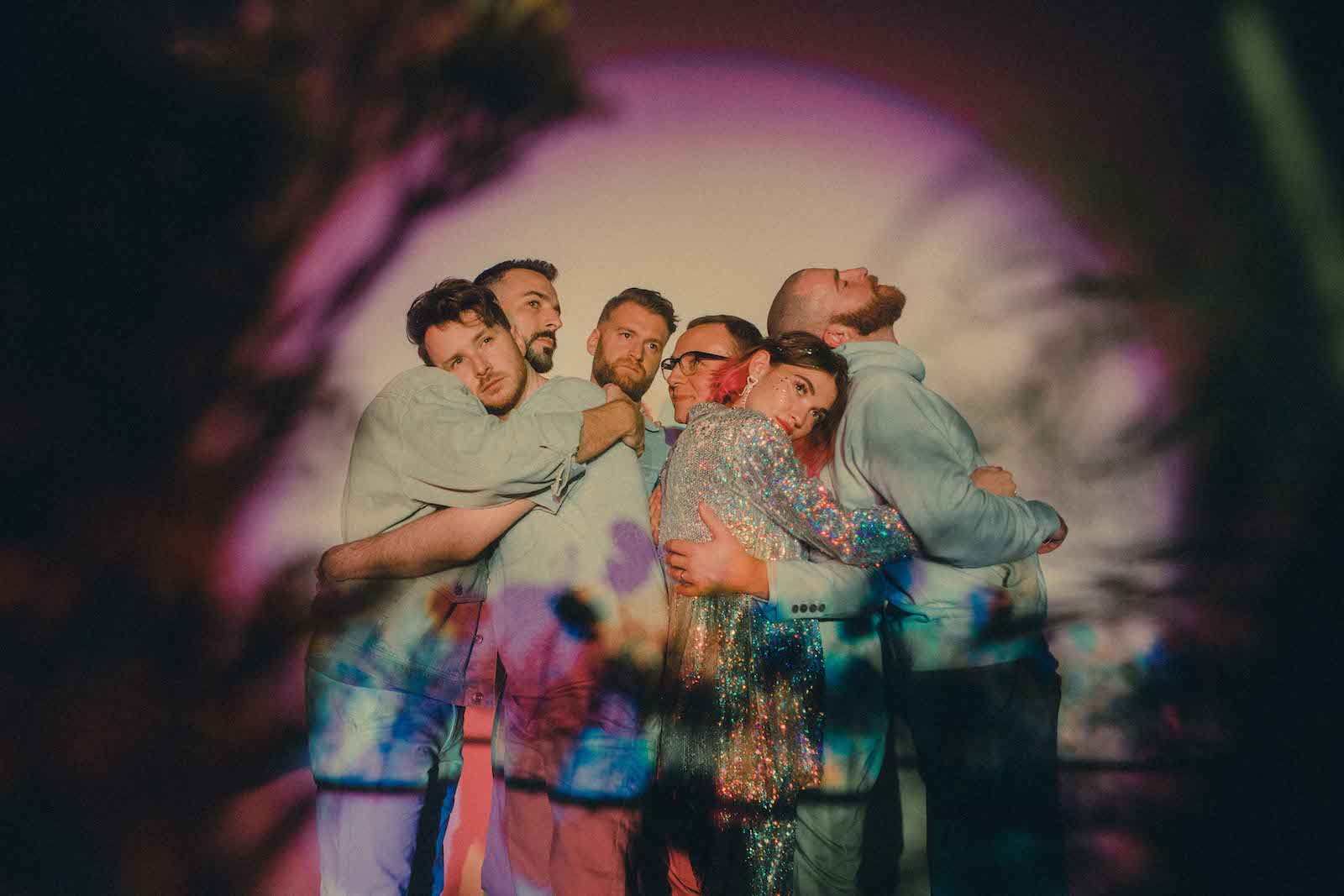 So here are some questions to ask yourself daily to continually support the Black Lives Matter movement:
Where is your money going?
Research Black owned businesses to directly support the Black economy and although I know it is hard because most food we eat and products we buy are traced back to the corrupt corporations who support and donate to the Trump campaign, use prison labor and are prejudiced to their employees and consumers. We have the power in our wallets to be conscious with our spending and make a difference!
Who are you following?
Not one for social media but it's the first time I've dusted off my twitter and been active on my account amplifying Black voices as well as supplying call to actions so people can get involved. My instagram that was once flooded with banana bread and endless selfies is now beaming with useful information. Follow Black activists, Black artists, writers, photographers, food accounts, brands, etc…whatever it is that you usually follow- diversify your feed so that we expand our bubble and make space for EVERYONE to thrive and be heard.
Are you talking the talk?
Talk to your elected officials!! Call them!!! Email them!!! Tweet 'em to take action to arrest and charge the cops who have killed too many innocent Black lives like Breonna Taylor and Elijah McClain and aren't held accountable. While we are talking about the police, defunding them and redirecting the billions they receive and putting that money towards healthcare, education, affordable housing, mental health services, etc.. is something we feel is necessary to defend Black lives and fund what will make CHANGE!
Don't stop talking…have the uncomfortable conversations in your home, in your work place, in your friend groups. Do not be afraid to speak out against racism that you witness and shed light to the Karens who don't think white privilege is real. With that said, it is easy to point the finger at others for their wrongs but we must also be uncomfortable with ourselves and look inward and see how we have benefitted from this privilege. White people need to take actions to work against a system that just works for us.
Are you walking the walk?
If you are not marching in the inspiring protests we've seen across not just the entire country but the world…march yourself to the polls, or the post office if you got an absentee ballot! Voting is such a crucial way to elect officials who will fight for what we want and need! Many reforms can be undertaken at the local and state level so please do register if you haven't already and make your voice heard. Historically, young voters have some of the lowest turnout in state and federal elections hence the importance to encourage friends and family to get to the ballots!
Netflix and don't chill, are you educating yourself?
There are endless podcasts, books, documentaries and movies that help breakdown and expose the systemic racism we are fighting against. If you have the comfort of curling up on the couch every night to watch a movie, watch something that helps deepen your awareness. 13th and LA 92 is a great place to start! Incorporate a podcast in your morning routine like Code Switch who are leading the fearless conversations about race and how it impacts society.
It's important to not just watch/read/listen to Black people when they are being oppressed but also celebrating and supporting their work that highlights their dreams, their love, their beauty, their strength, their joy! Currently reading Bone by the Yrsa Daley-Ward who has a way with words that breaks your heart and pieces it back together. Couldn't recommend her work more.
If you made it to the end of this, don't let this list be daunting. Don't treat this movement as a trend. Do take action in your day-to-day to make change – even if it feels small, it shapes and creates the big picture.
big hugs and love from your friends,
Misterwives 🌈💞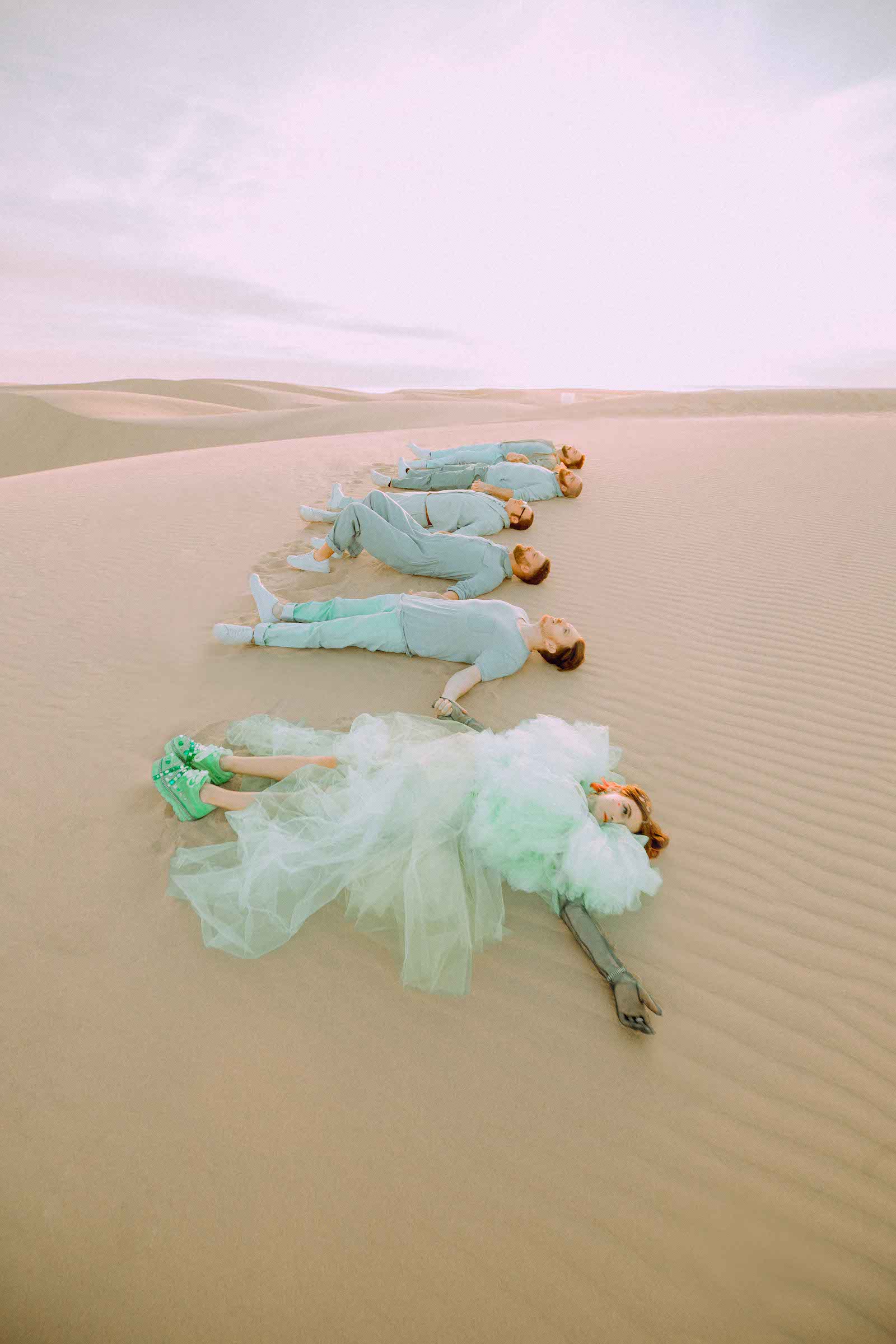 CONNECT WITH MISTERWIVES
INSTAGRAM // SPOTIFY // TWITTER
photos / courtesy of the artist
story / Ariana Tibi