http://instagram.com/skylarsteckerPhotography: Tyler Rowell @itstylerrowell
Stylist: Quentin Fears @mrqfears repped @scoutcreatives
Makeup: Toni Cordova @toni_mua
Hair: Marc Anthony Salazar @anthonymarc_ca
Skylar Stecker at the age of 16 is coming into her own and is beginning to make her mark as an extraordinary talent with the release of her second album, Redemption. She's a songwriter, a pianist, a drummer and vocalist with a richness and tone reminiscent of a young Mariah Carey and a bounce like one of her idols the late great Aaliyah. She has already paid many of her dues singing the National Anthem over 100 times at sporting events across the country wowing fans with her larger than life voice. Like Gabby Wilson aka H.E.R., Stecker also started at a young age, releasing her first album before she was even a teen. As it stands Stecker has a spectacular career ahead of her and just might give some of the other Pop/RNB divas a run for their money.
You released your first album, This is Me in 2015 at the tender age of 12. You weren't even a teenager yet. What was it like getting into the music industry at such a young age?
I am so grateful to have started in the industry at a young age. I have grown & learned so much. Since I was 9 & discovered my love for music, I knew that that was my purpose in life. There were definitely downsides to being so young at the beginning (not being taken seriously by everyone, being ignored or overlooked, ext.), but also was a lot of fun because I had to prove myself. And I love a good challenge;)



On March 16th you released your second album, Redemption. Besides the definite maturity of your voice and it's an expansive range. How is this album different from the first one?
This album is more truthful and so much more personal. I really poured my heart & soul into this album and have been nothing but honest in every single song. I am also so proud of the message "Redemption" has. I want to be a positive role model to young adults, and let them know that they have the power within themselves to rise up, be strong, and be their own redemption's:)
Are you writing your own music? This album seems much more personal and introspective especially for someone at the age of 16.
Yes, I've been writing since the day I discovered I could sing. It's always been hard for me to open up & be emotional to people, so I would write how I felt & put it in a song instead. Writing is such a release, and it's helped me through so much.
Previously, you found a lot of early success singing covers like Sia's Chandelier, Beyonce's If I Were A Boy and Eurhythmics Sweet Dreams. What is it like finding success with your own music?
It's amazing. It's fun to put my own twist on songs I love by other artists, but being able to write & sing my own songs and have people relate & feel something when listening to what I have to say is the best feeling.
The standout tracks for me Let it Pour and the title track Redemption has a really haunting quality. What are these songs about?
Let It Pour is about opening up & not being afraid to be vulnerable. I chose that song to be the first release from this new "era" because I felt like it was the perfect introductory song to the world of Redemption. 🙂
And Redemption is about not waiting around on other people to do things or make things better for you. I feel like my generation (including me) can sometimes get wrapped up in the negativity that's in the world, and we need to be strong & stay positive no matter what life may throw at you.
Redemption seems like a lofty album name. What does it mean to you?
Redemption really signifies what I've had to do this whole past year. Through all the hard times, I've had to be strong, and get my redemption from within myself.
The album also has an all-around "empowering confidence" & I feel like the word "Redemption" really screams that.
Much of your album showcase ballads highlighting your powerful voice and surreal range can we expect some dance bops on this album?
Yes! Fire and Up On Game are the most fun/upbeat.
This album you are releasing independently. What made you chose to go that route?
I know who I am & where I want to go musically so well, & being independent really gives me the opportunity right now to show that to the world in a really authentic way. There was also some negative energy through some of those past relationships that I needed to get away from.
But I definitely can see myself partnering up with a label in the future, just has to be the right fit.
Will we see any collaborations in your near feature?
Yes! Nothing planned at the moment but I would love too!
Who are some of your musical inspirations?
Bruno Mars, Beyonce, & Alicia Keys are my top 3!
What music are you listening to now? I hear your father has a love for 90's R&B. Do you have a similar taste?
R&B is my favorite! I grew up listening to such a mix of music, but I've always been most connected to R&B/Pop.
Are you planning on doing a summer tour? Where can we find you live?
I'm having a show in LA at The Roxy on March 22nd & another show in my hometown of Madison, Wisconsin on March 30th at The Majestic Theater!
I would love to go on tour this year!
When you're not making music what are you up to?
Honestly, I'm always making music. If I'm not at rehearsal or a session, I'm practicing the drums or piano. But I also love to cook! I'm vegan so its fun experimenting in the kitchen with vegan dishes.
What else would you like to share with LADYGUNN?
You guys rock! Make sure to check out my album Redemption.
Tickets for both my shows are available now, so if you're in the LA or WI area I hope to see you there!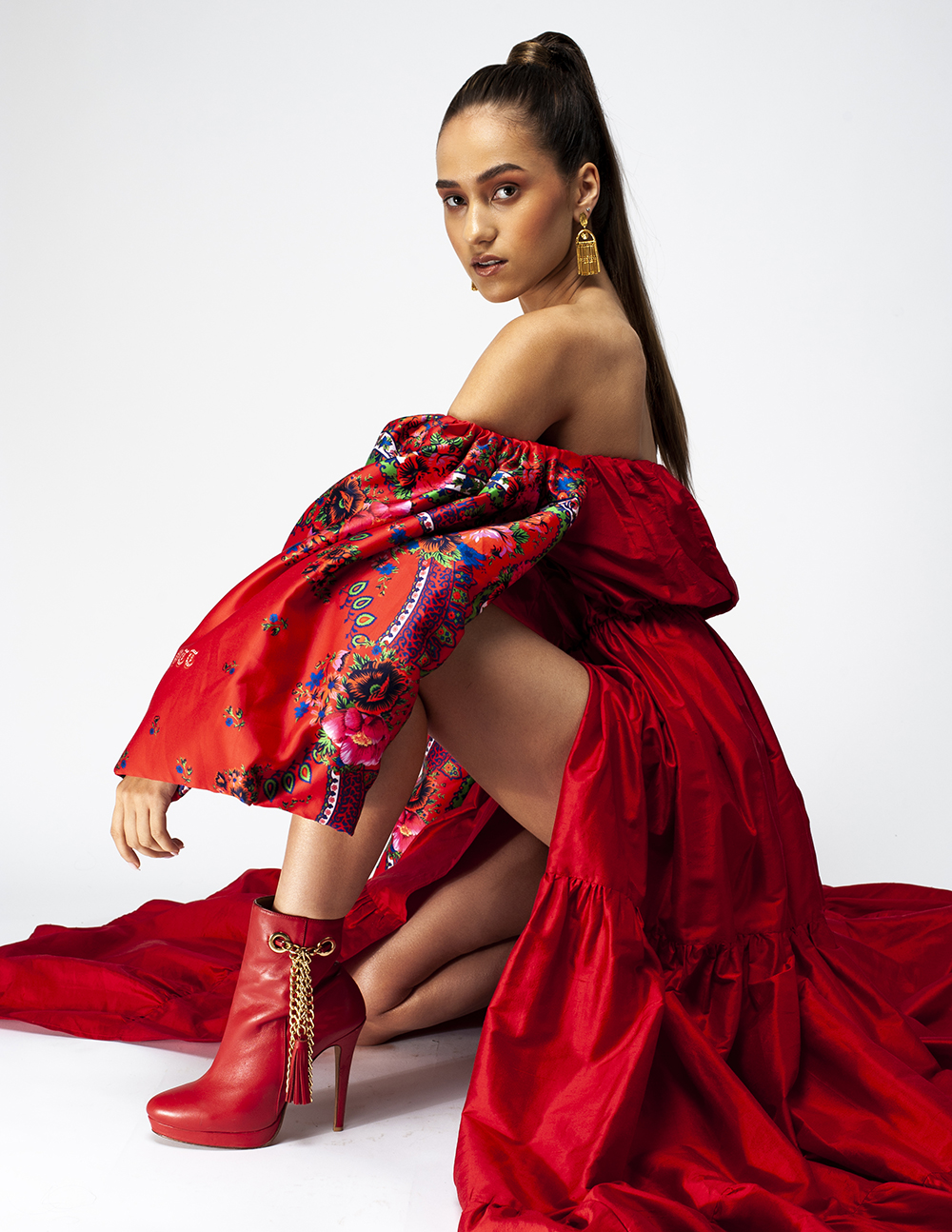 Red Dress: OTT Dubai @ottdubai Earrings: Lingua Nigra Shoes: Alejandra G. @Its_Alejandra_G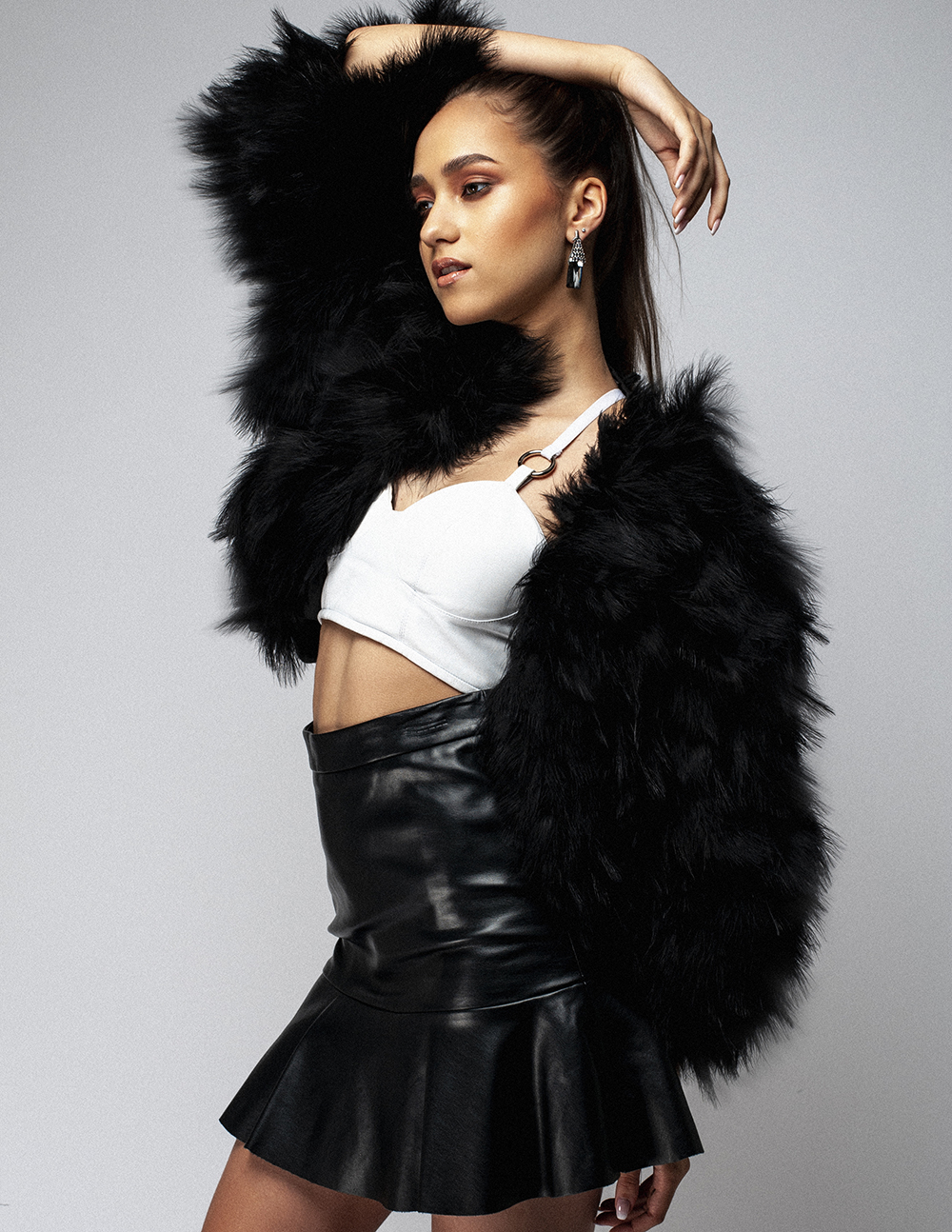 Feather Coat: Charles and Ron @charlesandron Halter: Ashton Michael @ashtonmichael Skirt: S. Team LA @s.teamla Earrings: Outhouse Jewellry @OUTHOUSEJEWELLERY Shoes: SHOE DAZZLE @SHOEDAZZLE

Dress: KHOSLA JANI @KhoslaJani. Earrings: OUTHOUSE JEWELLERY @OUTHOUSEJEWELLERY. Shoes: ALEJANDRA G @Its_Alejandra_G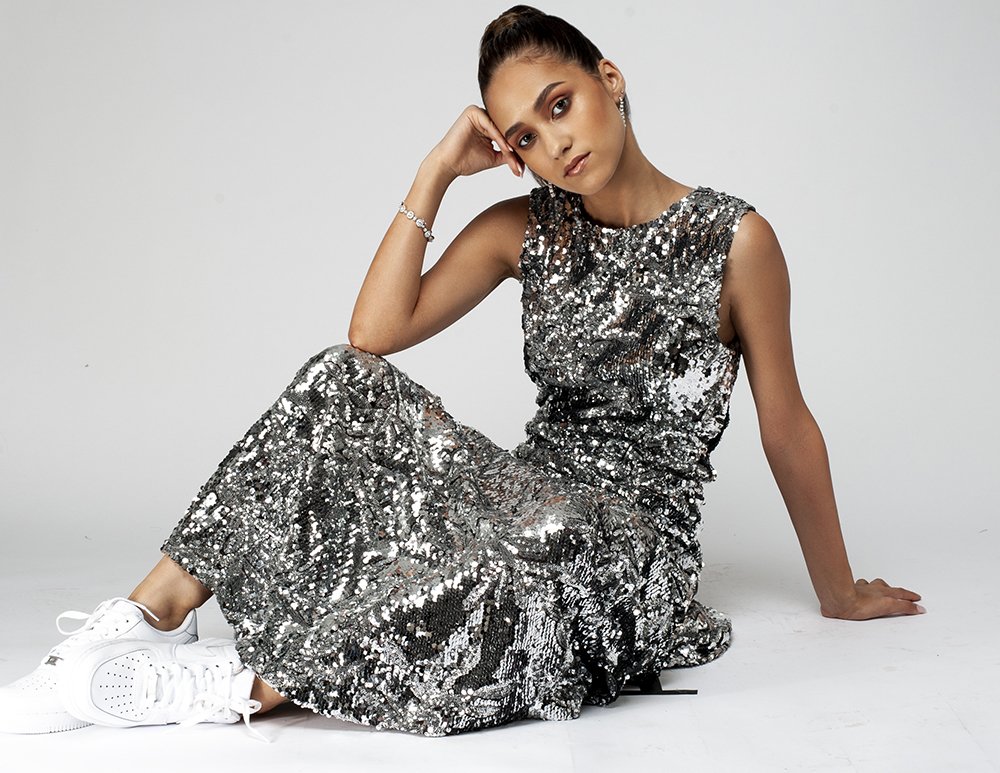 Dress: OTT Dubai @ottdubai Jewelry: VANNA K FOR BELLA LUCE @VannaKForBellaLuce
CONNECT WITH SKYLAR: