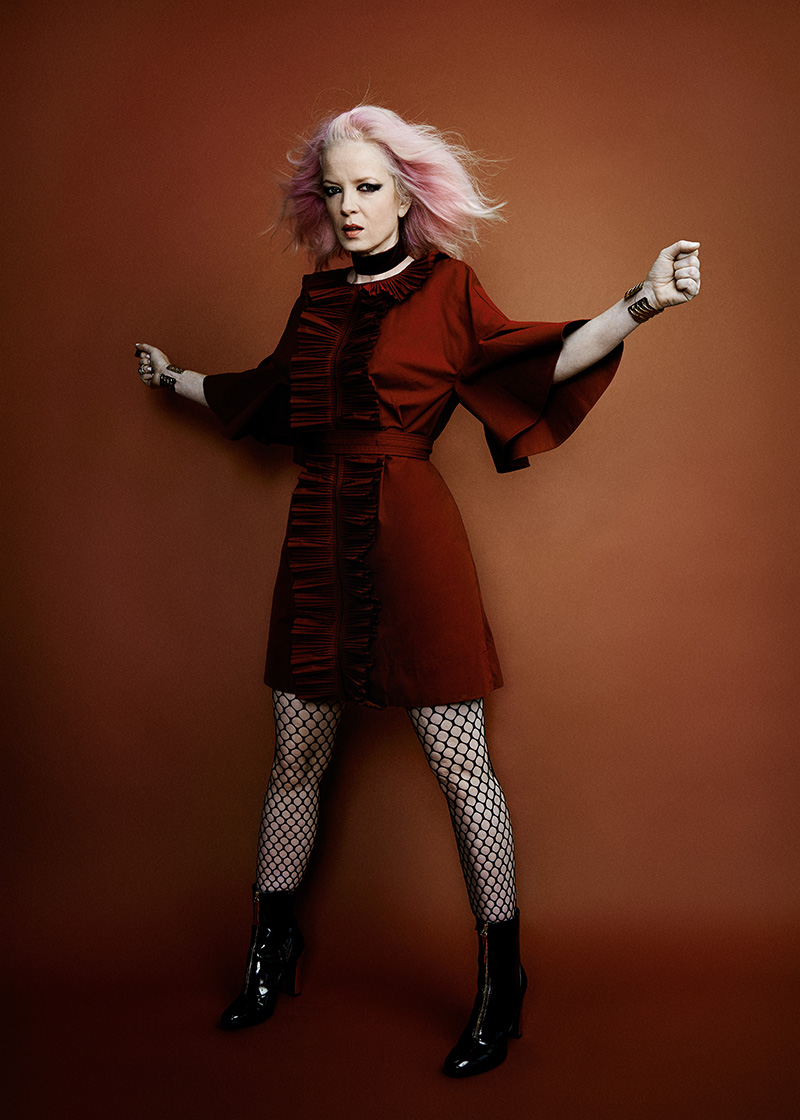 story /  Alyssa Hardy
photos /  Kathryna Hancock 
styling /  Candice Lambert 
makeup /  Jeffrey Baum 
hair /  Nikki Providence
In an era where '90s nostalgia has reached new heights, the true culture of the decade often gets lost in a sea of flannels, chokers and "What Kids These Days Don't Get" listicles. Of course, a resurgence is natural as fashion trends cycle  around and the aging youth begins to long for their past, but the Internet has transformed a decade full of culture-shifting discoveries into something you can purchase online. Enter Shirley Manson: the iconic singer of infamous '90s grunge rock group, Garbage. Now 50 years old, the pink-haired front-woman has reemerged with a new album in tow, one which reintroduces the true spirit of the time.
"I do think there is a lot of love for the generation—my generation—who emerged in the '90s at a time when the alternative culture was really dominating the extreme culture," she tells me over the phone, a hint of amusement in her voice.
As Garbage sets out on tour with their record, Strange Little Birds, they've realized that their fan-base, present company included, has not only remained loyal, but has grown. "We enjoyed a No. 1 rock record with this album, and that literally feels like a miracle. Particularly for a woman of my age—and I could count on my digits how many women have been able to do that—it's really unusual," Manson shares. "It's very difficult to hold onto an audience these days because there's always something new to listen to, there's always someone new to fall in love with."
As she looked out into the faces of the crowds who attended her west coast tour this past year, the singer saw something she didn't expect: young people.
"I think that's one of the things that has struck us the most on this tour is, all of a sudden, there's a whole new generation of very young women competing at the front of the gates. You don't want to be stuck in your own world. You always want to be stretching a hand out across a dark sea and hope that you can connect with a new ear, a fresh ear, of people who put perspective to the field across generations and, again, that's really powerful and inspiring," she shares.
As you can tell from her particular penchant toward the women in her audience, Manson is famously feminist in an unapologetic, no-holds-barred way. Recently, she made a shocking revelation to Billboard about her experience with sexual assault at age 14, something which has certainly framed the way she looks at our patriarchal society.
Her new fan-base has given her a renewed responsibility towards speaking her mind about it: "As I have gotten older and older, I've become more and more passionate about women and their role in our culture. I realize how we have allowed ourselves to be disempowered and disengaged. And I have also noticed, as I've gotten older myself, so many of my peers give up because they're no longer seen as a sex symbol or a sex object."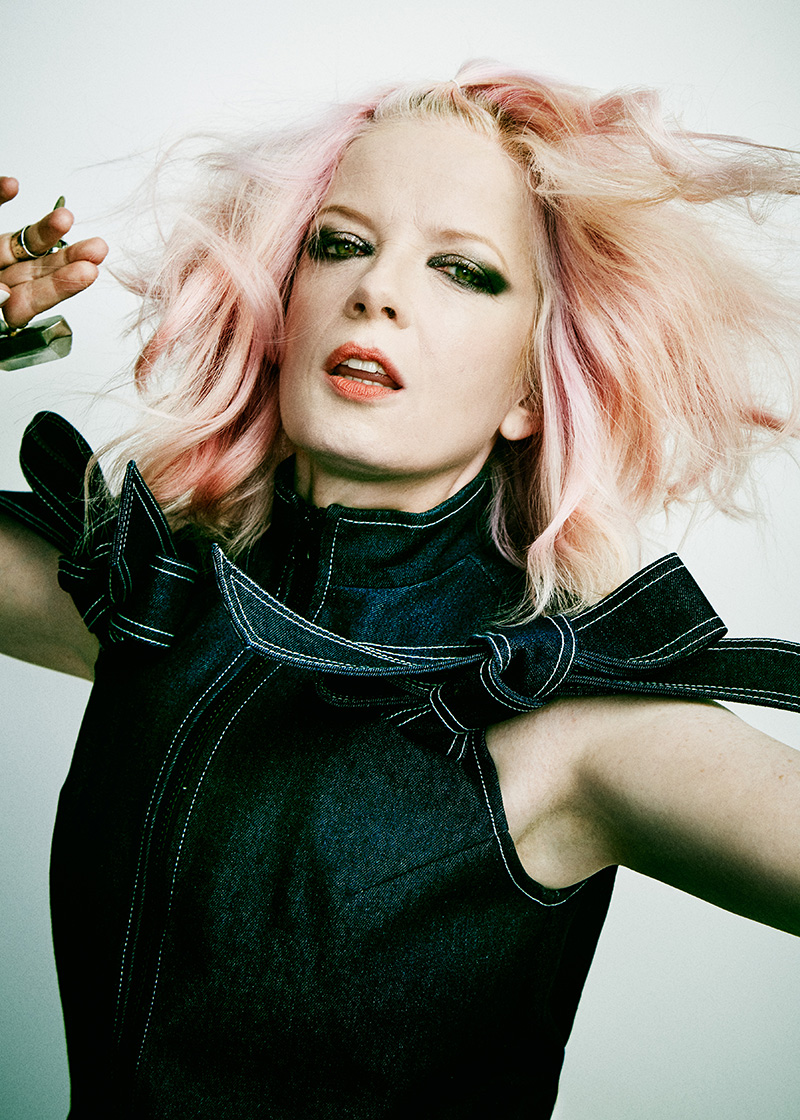 Dress, Shushu/Tong. Jewelry, Charles Albert and J.Southern.
Since the beginning of her career, Manson has fought against the idea that sexuality is a commodity, especially when it overshadows talent. It's a theme that has come through her music and her performances since 1995. She explains, "I think a lot of people just want to be famous, or they want to entertain, but I think there is a real opportunity for musicians who are interested in being [a part of the] counterculture. My focus is usually on young women artists because that's who I'm invested in, but I think it goes for male artists too."
She advises women in entertainment to be themselves and not succumb to the pressures of the pop world. "If you continue to play the traditional game, you'll drown," Manson muses. "Every woman seems to be interested in only being perceived as pretty, or only being perceived as popular, and until women reject that notion, they'll continue to be part of a lineage of women who only get five minutes of fame."
As a 20-something woman that only knows the '90s through watching my older sister over-tweeze her eyebrows, the underexposed time before the Internet and selfies is lost on me. I can't help but think that not caring about "being pretty" is a great concept, but unbelievably difficult in practice. I also can't imagine what someone in the spotlight must feel, particularly as they grow older.
"I didn't say it was easy," she tells me. "It's painful and it's depressing and you feel rejected, and dejected. Interestingly enough, a lot of people on our social media platform who criticize my appearance are mostly women. 99.9 percent of any negative criticism I endure comes from other women."
Whether it's feminism, music or culture, Manson's perspective is one of an outsider. While our conversation occurs prior to Kim Kardashian's now-infamous Paris robbery, Manson brings up something surprisingly relevant about pop culture, glamorization and the responsibility that many people struggle with, just as our collective news-feeds flood with information on the unfortunate incident.
"I really am at odd with popular culture for the most part," the artist claims. "When I see people on social media boasting about their fur coat, or their fast cars, or all the money they have in the bank, I genuinely feel repulsed. I have traveled to India and I see children living on top of garbage, with no parents around and they're working at the age of four years old. I understand that there are women in the Middle East that are forced to stay inside during the daylight hours so that they are not considered indecent, and I know that there are young women in Africa that are forced to endure genital mutilation. I know there are so many people who are so unlucky in this life."
Thus, Manson's return couldn't have come at a better moment. We are living in a time that is so inundated with escapism that it seems like we've lost touch with reality. Even celebrities who are "totally themselves" often have an air of being contrived. Garbage's frontwoman, however, has remained steadfast in her convictions.
"I was viewed as a sex symbol and I fought against it, I didn't take my clothes off," she recalls of her early days in the business. "I was asked to pose for Playboy and Penthouse and I rejected it, and I rejected the money involved that I had been offered. I just refused to allow myself, through my own vanity, to be lured into a cage. Because a woman's sexuality is the most important power in the entire universe." Arguably, posing for a sexy magazine shoot or taking your clothes off can be seen as powerful for many women, but Manson's point is valid and personal. In fact, speaking up against the pressures of society without being prompted by a slew of online comments is almost revolutionary.
For fans of Garbage, old and new, both Manson and her band's most recent record are refreshing additions to the current state of music.
"When I was younger, I just really wanted to make a noise show," the singer tells me. "But as I have gotten older and I realized I have the ability to make people feel better, once I sort of figured that out, it's become a great pleasure and joy to get up onstage and really work at putting joy onto other people's faces, and when I see that happen, that fills me up in ways that I have been unable to fill myself up with any other sort of walk of life."
As a whole, Manson's return to the stage is a power move for women, for rock n' roll, and for an ageist society. She wants to make people uncomfortable and give them an alternative way of thinking, the same way she did in the decade that gave her a voice. With this attitude, she has found her true strength.
"I think my power comes from striving to be a good artist, a truthful artist," she says. "I've never been one who wants to be told I look pretty. I want to look powerful."
Dress, Fendi. Tights, Wolford. Jewelry, Charles Albert. Shoes, Alejandra G.
Dress, T.N.Y.R. /Wasteland. Slip, Daniel Silverstain . Harness, Manokhi Leatherwear. Jewelry, Charles Albert. Boots, Public Desire.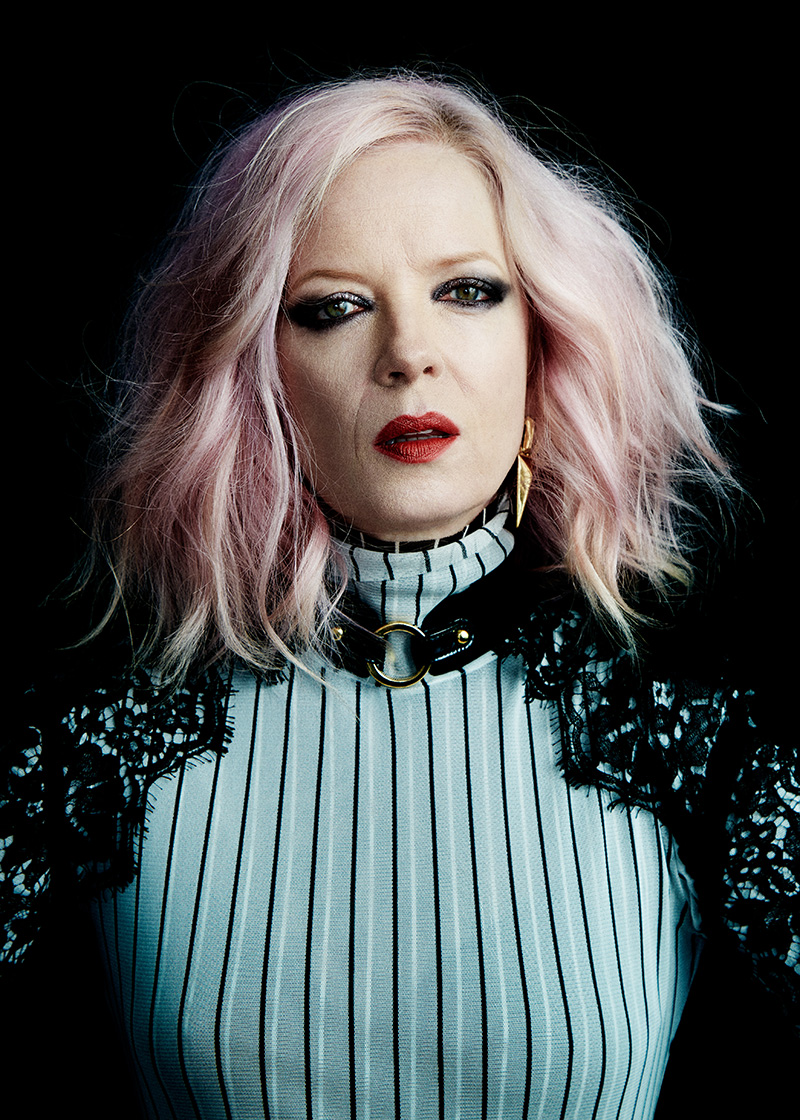 Shirt, Daniel Silverstain. Lace sleeves, Darkest Star. Earrings, Charles Albert.                                       Skirt, Frame via Wasteland.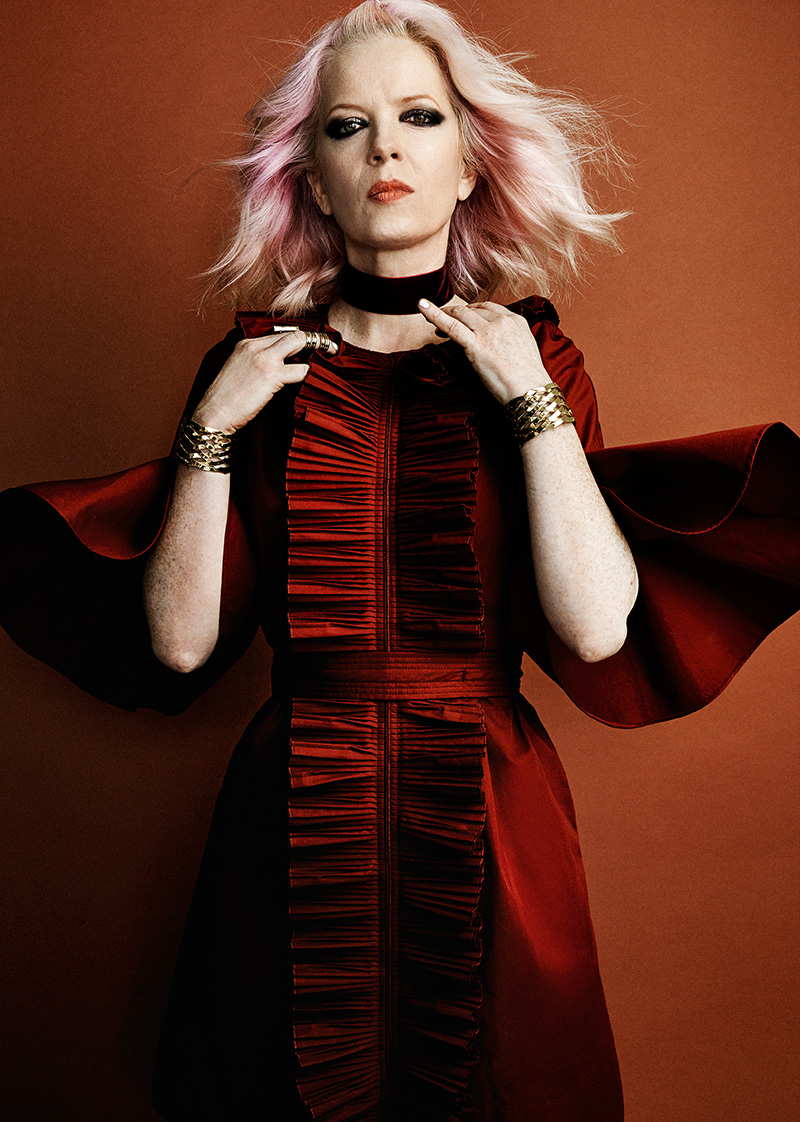 Dress, Fendi. Tights, Wolford. Boots, Public Desire. Jewelry, Charles Albert. Choker, Topshop.