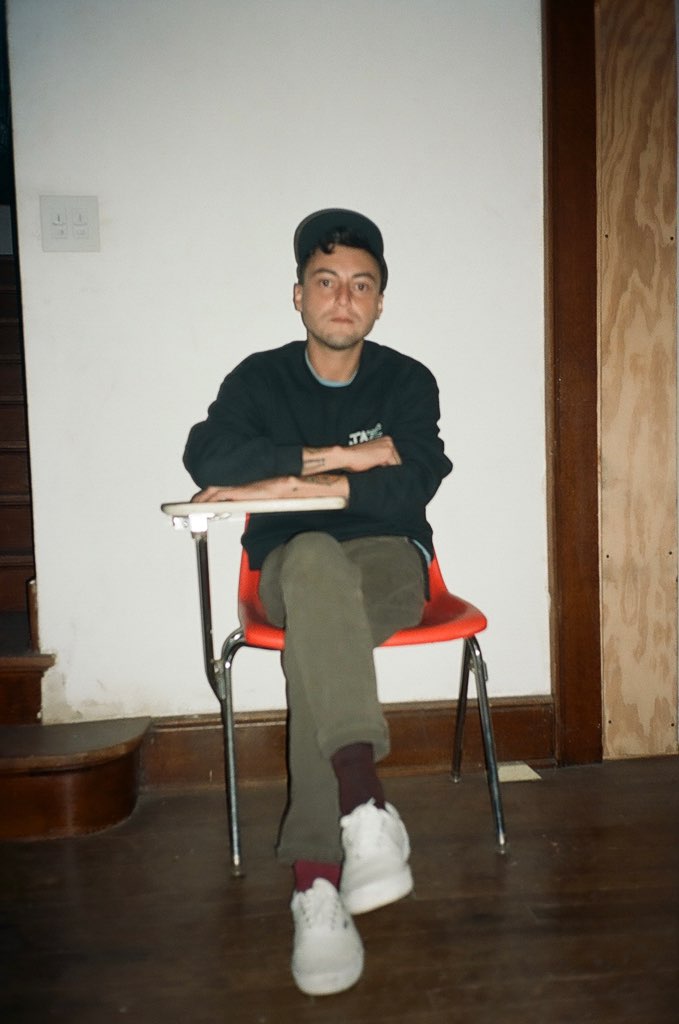 Soft age. Delicate era. Sensitive period. However you mull its meaning, 'Tender Epoch,' the latest release from Mexican American artist Rudy De Anda, stands as a fitting title for an album delivered in the year 2020.
A collection of 13 songs of genre-spanning influence veiled in misty guitar pop, Tender Epoch is a versatile record. Personified, it would appear a gentle but confident friend. In its natural state, it is a fitting sonic companion for dancing, fast or slow, daydreaming in front of your computer when you're supposed to be working from home, and everything in between.
Following his 2016 solo debut via Porch Party Records, a shinily psychedelic pop-rock LP with all-English lyrics entitled Delay, Cadaver of a Day, Tender Epoch is Rudy's first multilingual venture as an independent artist in which he switches seamlessly between English and Spanish, even dabbling, for one song, in Catalan ("Cavallet Del Mar"). Of his more markedly Latin-influenced numbers, "Helado," with its dancey rhythm and relentlessly catchy melody, uniquely attests to Rudy's ability as a songwriter to take a page or two from the old books and incorporate them with fresh and playful elements to create something unexpected, contemporary, and fun.
The new music video for the buoyant, cumbia-inspired track, directed by Los Angeles-based filmmaker Adam Neustadter, features Rudy opposite model and actress Sydney Schafer. In the midst of quarantine, Rudy appears both spirited and contemplative as he sings and wanders, bemasked, beneath autumnal Chicago skies, stopping to eat ice cream near some off-duty mariachi musicians. Meanwhile, in Lincoln Heights, California, Sydney dances, a dreamlike vision in a red charro hat and white Fashion Brand Company blazer and pants set decorated with musical notation.
Befriended and mentored as a teenager by the late, Grammy Award-winning producer Ikey Owens (The Mars Volta, Jack White's band), Rudy began his journey in music relatively early on, working his way through a number of projects over the past fifteen years, including the band Wild Pack of Canaries, in which he sang and played guitar before embarking on a solo career that would eventually lead to the recording of this latest album at Jazzcat Studios in Rudy's hometown of Long Beach, California.
LADYGUNN got in touch with Rudy to hear more about his identity as an artist, his recent Karma Chief Records-released Tender Epoch, and the music video for "Helado."
Can you tell me a little about how you view yourself as an artist?
I am a first-generation Mexican American. I consider myself a songwriter first and foremost. It's an organic experience for me, and I'm blessed to share it with the world. 
What does it mean to you to be a Mexican American musician? How has your multicultural upbringing informed your work?
I find a great deal of honor in that. Especially when I get to achieve things in the general music industry. I find a lot of pride in representing my people. Especially when crossing new territories. I think that my unique experience growing up in this country, given the fact that I am of immigrant parents, allows me to paint a certain type of picture and tell our story. I want to embrace it but also be seen as a musician rather than just a token Latin artist.
You've played in a variety of projects since 2005. Have you always known you were a songwriter or did you start out another way?
I think I knew pretty early on in my late teens. I never had any desire in being a guitar shredder but rather a person that can craft a whole tune. Someone who can tell a story. I always have gravitated towards the basic principles of being a songwriter rather than just a guitarist, for example.
The way you seem able to blend styles so organically to create cohesive records reminds me of an artist crafting intricate mosaics. How would you describe your approach to genres in music, or do you consider those kinds of forms at all when you're writing?
That's actually a great way to describe it! I consider myself a genre chameleon.  I don't like to be defined by one certain genre or style. I listen to a variety of musical styles, so I like to express that liberty through my music. I always consider every song like its own separate canvas, and a record is very much like the finished representation of my final art exhibit. 
The music video for "Helado" contains gorgeous footage following you in Chicago and Sydney Schafer in California. What was the inspiration for the video?
Thank you, the video is an ode to a certain special someone back in California. Sydney represents her character in a sort of fantasy-daydream type of way. It's a depiction of me still holding on to a certain type of romantic feeling towards someone but also [a] sense or resignation that leads to a sense of longing but also calmness.
Throughout Tender Epoch, you lead the listener through a series of moods as well as between languages—English, Spanish, and even Catalan! Can you briefly explain the meaning behind "Helado" for non-Spanish speakers?
Of all the songs on the record, "Helado," I would say, has the most non-serious lyrical subject matter. The emphasis was mostly on the rhythmic quality of the track, so I took a page from the old cumbia, salsa playbook and just added lyrics that were slightly silly but rhymed and bounced off the melody well. For instance, the main verse translates to:
"When you saw that I was in jail, you offered me some ice cream." Haha.
I know, to some, this is an unfair question, but do you have a favorite song on this record?
I think my favorite song would have to be "Tres Boletos." It's the sleeper track. It's a clear ode to the Argentine band Almendra and, more specifically, Alberto Spinetta. I wrote it as if I was in that band.

As a longtime Long Beach, California, resident, how do you think your surroundings and background have affected your perspective as an artist?
I think my music has an innate sunshine, beachy, stoner, California vibe. However, I just moved to Chicago a few months ago, so the cold, dark winter ahead might definitely affect some songs moving forward, and I can't wait to see the outcome.
What's next for you? Is there anything, in particular, you're looking forward to right now?
I think, for most artists, we are eagerly awaiting the chance to get back on the road next year. Who knows, maybe we'll see y'all in Europe soon? Anyways, I have a digital single coming early next spring featuring lyrics from Bardo Martinez of Chicano Batman, who also recorded and produced the track, followed by a 7-inch vinyl in the summer. Most importantly, I will have the honor of having Adrian Quesada of the Grammy-nominated  Black Pumas producing my next full-length record. 🙂
Those sound like some exciting collaborations. Is there anyone specific you have yet to work with but would love the chance to create with in the future?
I would really love to work with El Guincho or Steve Lacy one day, who knows, maybe even Erykah Badu if the planets align.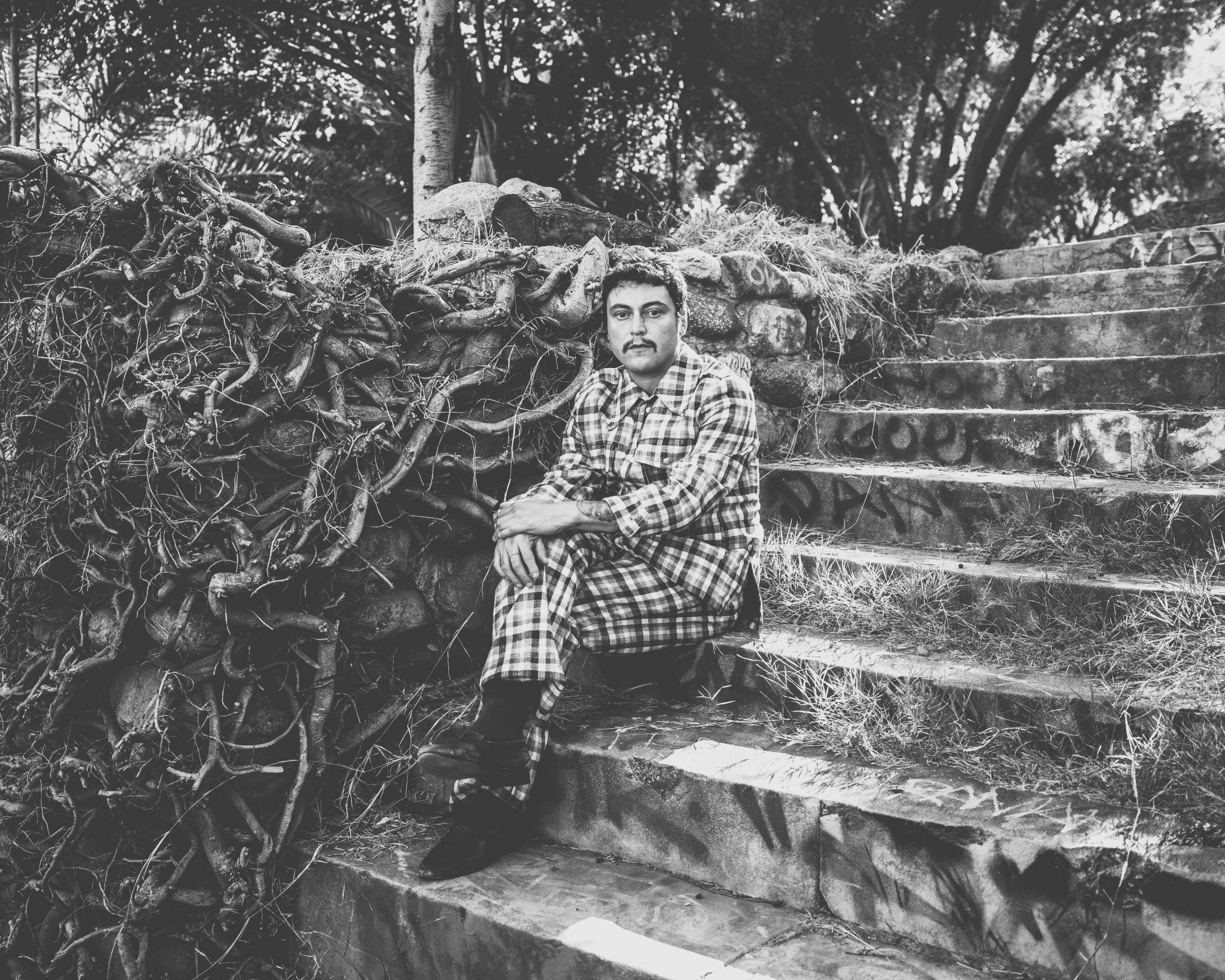 CONNECT WITH RUDY DE ANDA
INSTAGRAM // TWITTER // SPOTIFY
photos / courtesy of artist
story / Samantha Singh