Having released her debut EP 'white light' last year, which has amassed over 6 million streams globally to date, rising singer-songwriter emie nathan is already excitingly making 2022 her year to shine. Looking ahead to her performances this month supporting fellow powerhouse Lewis Capaldi, the soon-to-be household name has truly paved the way for the release of her second EP "deep down" later this year with her stunning new single 'static'.
To begin with, your discography so far is so lyrically clever and so I was wondering what is your song-writing process like or does it vary from track to track?
I think generally speaking I've whittled my process down to going into a session with an idea of what I want to write about as I tend to focus specifically on situations, things or people – although sometimes myself too! For me, it's very much concept first, lyrically driven and then the melodies and track will follow. I work a lot with a producer called Joe Wonder who has actually produced this whole next EP! We have a bit of a system now – I'll come with the concept and he'll probably have put a little loop together. Weirdly enough, it's usually the perfect vibe! It's like we've worked too much together!
What has been the most rewarding thing about writing your own music?
Writing music is something I've done for a very long time but I haven't necessarily always done it with a goal in mind so I think the most interesting thing for me has been playing shows and seeing those songs exist in a room where people are there to listen to them and react in real-time. It's actually quite a new experience for me as the whole last EP was released in the height of lockdown so that has been very rewarding!
It must be so magical to finally play those gigs and see real people react to the songs in front of you!
Absolutely! Actually, there was one moment in a gig earlier this year where people I didn't recognize were singing my lyrics and I was like… sorry? That has never happened to me before unless it was my best friend or something! It was very cool.
Conversely to the rewarding nature of writing your own music, have there been any challenges to being so vulnerable?
Yeah I think so: You're kind of putting your heart and soul on a plate, which is something I've definitely tried to finesse in a way that makes me feel comfortable. I write fairly ambiguously, quite metaphorically, and with lots of image-heavy stuff. However, in this next EP, I think I've leant into being a bit more straightforward in what it is I'm saying, which is funny because when I was writing summaries of what the songs are about for press, I was actually wincing when typing them! I've tried to use this EP as a bit of an exercise and test to push myself a little bit more.
Thinking about the work of other artists, is there a song that isn't one of yours that you would say represents you?
Oh my god… what a question! I don't know if it best represents me but every time I listen to '715 – CRΣΣKS' by Bon Iver, I find something new in it and it just never fails to put me in a very deep emotional place. Also, there's an A cappella performance on YouTube of Bon Iver singing 'Heavenly Father' with the Staves at the Sydney Opera House which is unbelievable and so maybe due to my background in choirs and my love for arranging voices, that would actually be my choice.
This has been an insane period of growth for you both as an artist and as a person! As you look ahead to supporting Lewis Capaldi on a few of his upcoming dates for example, is there a lesson that you've taken away from this quick transition?
The lesson for me is that you never really know what is happening under the surface. It's interesting to hear you say it has been a quick period of growth because to me, it has felt like a 100 years and a really hard grind but to the consuming eye it probably doesn't seem that way. So, my lesson would be that you never know what conversations are being had, you never know who is listening to your music or putting it forward or the kinds of things that may come from that. The Lewis supporting slots were a total surprise to me, and it was purely because he heard my song and liked it! You just never know and I think that'll be my little takeaway that will keep me going into the next period where I feel like I'm not growing at the rate I'd like to be.
Moving onto your beautiful new single 'static', what does the song mean to you?
This song is definitely more personal – it's about something that I experienced as a late teenager but I've not really been able to write about it until now because I had to find the right people to delve into it with. It's talking about the aftermath of something I experienced and the bit that nobody really saw. I read a line in a book that reminded me of that time and made me think about the perspective of the other person whom I had this moment with and I just thought, "Wow – you really never saw any of it." The whole song is me taking ownership and giving the power back to myself where I'm like "this is what happened, this is how I was feeling and this is how much it sucked".
Is there a colour that you think best represents the song?
I'd probably say electric blue! Ironically, it doesn't really feature in the music video but electric blue.
What was the most prominent thing you learnt about yourself throughout the writing process of  'static'?
I guess that I'm good. Things can be terrible but you will be move through them.
Excitingly, you have an EP called "deep down" being released later this year, do you have three words to describe what's to come?
You're just full of hard questions – you're keeping me on my toes! I think womanhood, as I'm now older and have been in the industry for a little bit, transitions and introspection. They're some of the themes of the EP as it is capturing the past two years and sort of what I need from life now. I just want listeners to hear it and find an emotional connection with it.
To conclude, where would you like to be in 5 years time?
I would love to have an album under my belt and to have toured that album.
Whatever capacity it ends up being in, for me as a human with musical ambition, I just want to say that I've done that!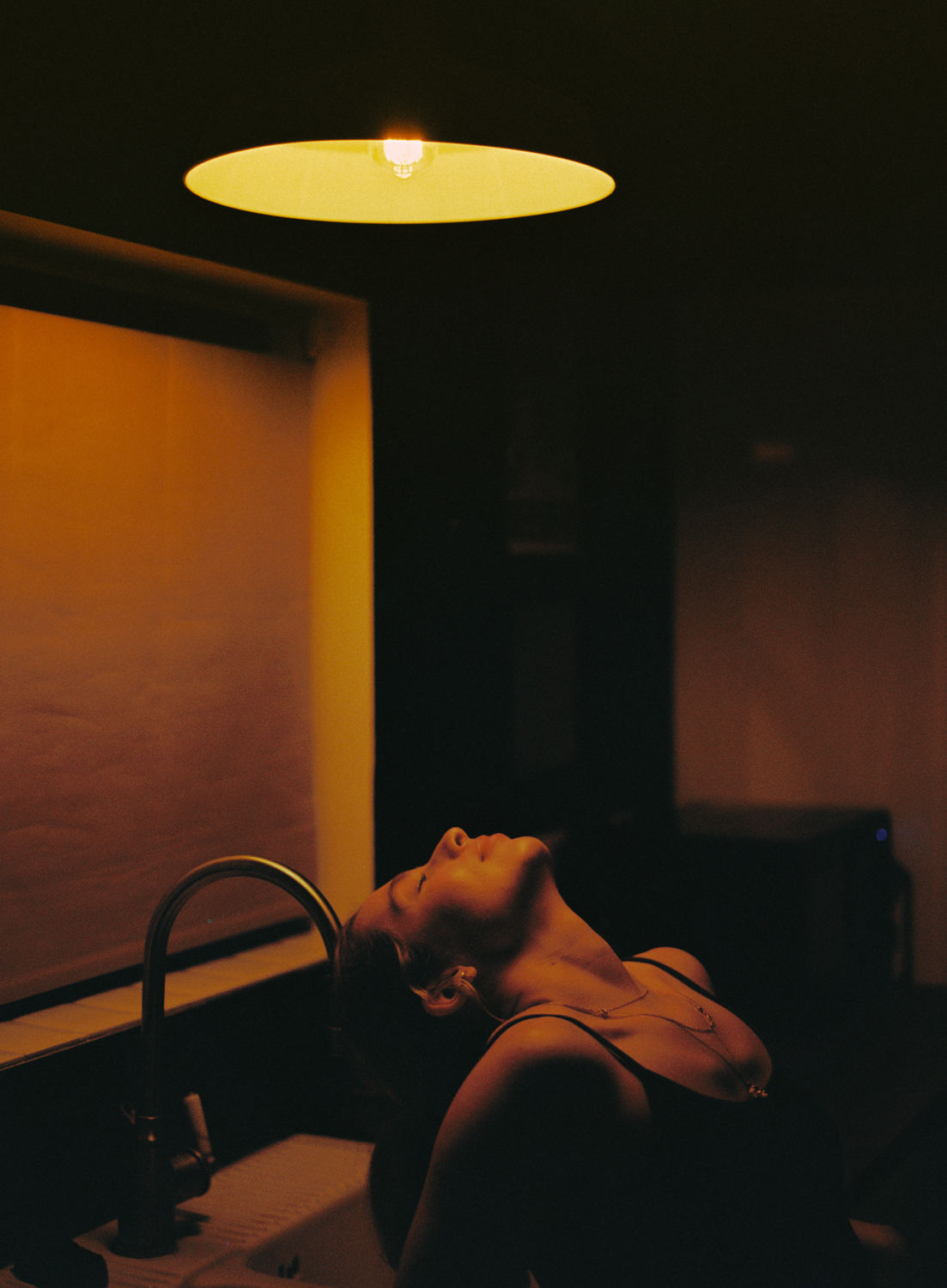 Story: Issy Todd  Photographer : Jennifer McCord  Glam: Chloe Rose
CONNECT WITH EMIE: