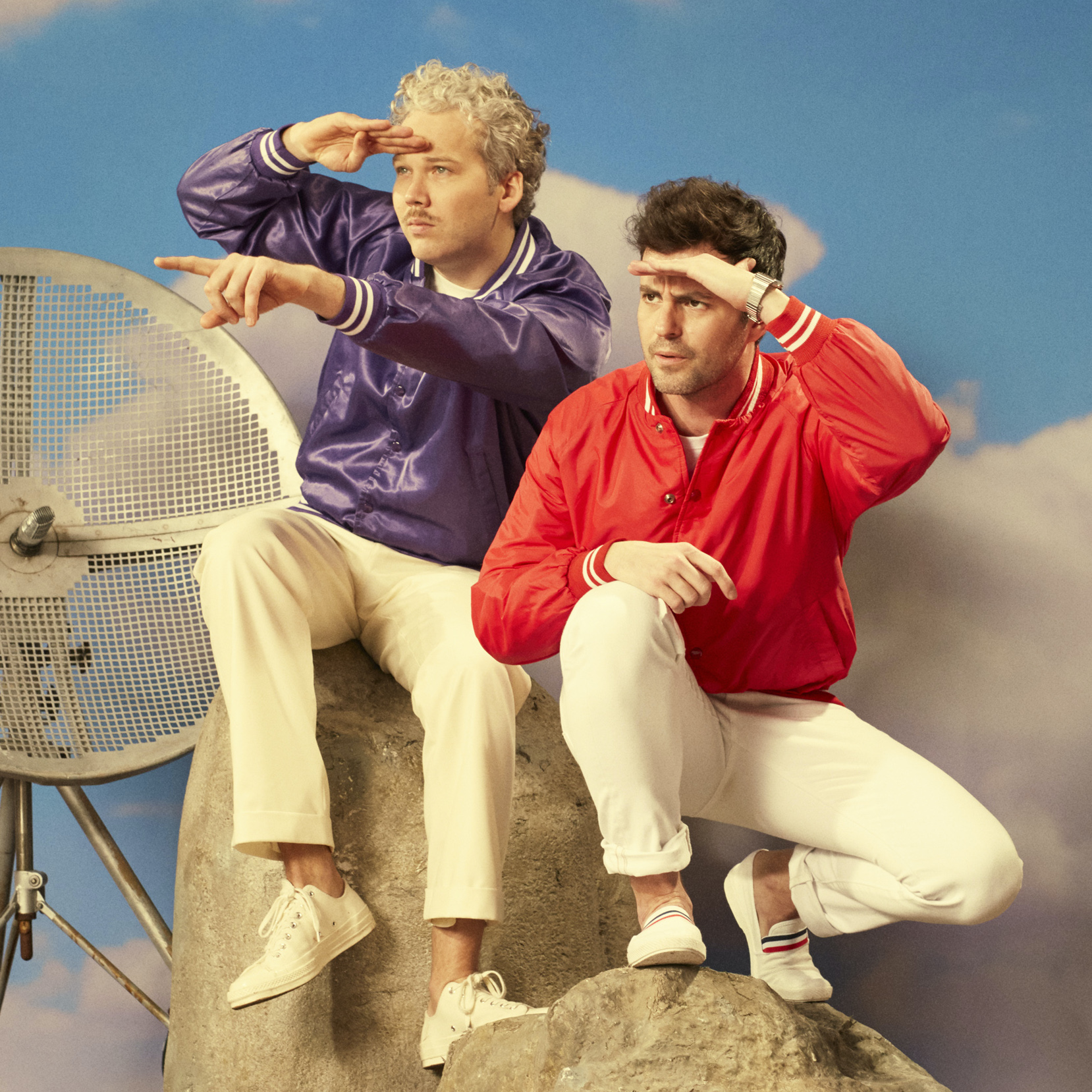 Polo & Pan, known separately as Paul Armand-Delille (DJ Polocorp) and Alexandre Grynszpan (DJ Peter Pan), met while they were both residents at the Parisian dance club Le Baron and officially started collaborating in 2013. Together, they create an ethereal experience, full of pop culture samples and enchanting club beats. Their sound is contagious, and their ability to melt their unique sounds into one is admirable.
The duo's newest album 'Cyclorama' is no different. Within the 15-track album are high-energy sounds that are eclectic and quirky as their other material. We chatted with Paul Armand-Delille about the duo's plans for the rest of the summer, their musical processes, and their unique aesthetic. 
What are you up to this summer?
We're teaching! We were teaching yesterday in Paris and yeah, we're enjoying being able to return. We don't have a live show ready anymore, we just worked so much on the album. We're going to Mexico next week to do a few shows and we're doing a small DJ tour, we're also deejaying a bit solo and taking some vacation in August as good Frenchmen should.
Alex is going to stay in the south of France and I'm going to do a water fast in the Alps to drink water for 10 days, water fast. Just water for a few days. I did it once, it was really good. It's crazy. You feel hungry the first couple of days, but then you tap into another part of your energy. It's really cleansing and it's you feel great after I was at the end of it, I was so creative and really energized. 
I heard you say once in an interview that you don't get nervous when you release new music. Is that just the confidence or would you still be just as proud of 'Cyclorama' wasn't received well?
I think we've been lucky we've been pushed by success and there's something that's costlessly building up. It would be hard if it wasn't the case and I wasn't stressed, but by the time I finish an album, I don't like it anymore. I've listened to it so much that it doesn't produce any emotions. I was really thinking why would anybody listen to this more than once? People are gonna listen to it out of curiosity. But it was a great surprise to see that people really latched onto the songs and it really worked. And like now we're performing and we're getting that energy. But after the pandemic, it was weird. Like it was a weird vibe and we're like, was, was this just a dream? You're never sure and I think 
I think external success is, uh, is an important part of our project, especially maybe at a, on our edge. Also, we're trying to build families and like, you know, it's not just, we're not just out there to play the mandolin and we're trying to make a living and, and enjoy and share something. And if it didn't work, certainly it wouldn't, it, it would be tragic for us, but I'm not afraid of it. If it happens, it happens and I've rebuilt from scratch before. I don't stress. Alex is maybe more psychological on that level.
How did you and Alexandre meet?
We were both residents in the same club Le Baron and we were deejaying there for a couple of years and we ended up playing back to back there a couple of times and I had a studio back then and Alex was already working on a few tracks also on a, on his side and he came to the studio and it clicked right away, you know, from, from day one, it kind of worked. 
How did you combine your musical processes and your sounds when you first started?
I mean, our process is that there are no rules, there's no specific process. We can both write lyrics and we can both produce, so one of the big rules is that we're always trying to mix it up, to keep the creative edge. We're writing a lot on the road, we're always trying to catch ideas when they come fresh.
Then when we actually work on an album it's a lot of work, a lot of process. We like to put the tracks aside for a few weeks every time and come back to them to see how they age. It's really good to see if the song is aging well. So that's part of our process, it's trying to catch ideas when they're there and we're always traveling with our laptops and we have a lot of pre-recorded sounds like samples and stuff that we use. Then we sit down in the studio and we put in a lot of hours. It's just very regular, we work in the afternoons and we do about five-hour sessions, no more otherwise we start making bad decisions. We like to play a game of chess or play a bit of ping pong or something in between, like every two hours we take a break and we try to do something like that, and it's pretty cool. We have a nice little thing going on. 
You said you have a collection of stuff at the ready. Do you have projects and songs that you've been working on for years and one day you're like, "oh, here are the lyrics for the sample that I just thought of" and it becomes a song years later?
Yeah, more and more so. I mean, not on the first album, but for this album there were old songs that we assumed that we finished and then we said, "hey, let's invite this guy to play these instruments on this song." Obviously what we do with the laptop is limited, but you've got a lot of the ingredients of our sound, like the drums and the bass sounds and stuff like that. Sometimes we do edits with samples and we're like, "okay, let's kick the sample, let's re-record something in that style or in another style." I have a folder with a lot of poems and texts and ideas of stuff to sample and edit. And a massive folder of songs that are unreleased material.
So is that  if you're watching a movie and you hear something and go, "oh, I'd love to sample this line or this song?"
 Yeah! That's how "Magic" happened. The "oh, oh oh it's magic." is a sample in Happy Gilmore. I had that other sample, which is from the movie, Telescope, it's a 1982 movie, and I joined those two samples. I made this purely as an edit to DJ and after we played it a couple of times Alex really loved it and said, "okay, let's try to do something more. Let's try to work on it together." We ended up not rerecording the samples because they were too strong, so it's a song with massive samples. It's the first time we do that with two big samples, but it works that way and that's the way we wanted to release it.
What's your first musical memory?
Well, my dad used to play the guitar when I was a kid and he lived in Brazil so he played some South American music. But also he'd play some classical music. The song "Artemis" for example, was based on one of the songs he played on the guitar from Bach, it's the C minor prelude. I learned that on the guitar, my grandfather played it too so it's kind of a lineage thing. But I remember my mom got me a little tape recorder when I was six and I had a Run-D.M.C. tape that I would listen to. 
Has music always been something you knew you'd pursue as a career?
No, it kind of hit me when I was 18 and I listened to the album 'Moon Safari' and for some reason I got really fascinated, I got really passionate about the album and  I bought a computer, I was like, how can you make music like this? This album kind of changed something, it blew my mind. Before that I loved music, but I was drawing a lot, I competed in rollerblading, I had a lot of passions during my teen years. Then l focused on music and  it never stopped.
What made you realize there was a possibility that you could make a living doing this?
I wasn't really projecting into anything else and at some point when I started working for Microsoft I had a moment where I was like, "shit I can't do this. I don't want it, it sucks." So I got lucky after that and I focused and I was reading Paulo Coelho's "The Alchemist" and it was talking about looking at the signs and how there's going to be signs. So I started talking around, I started deejaying a bunch in San Francisco and I was writing more music, I was meeting more people. Then when I came back to Paris I had the aura of a DJ playing in San Francisco, and then I started playing cooler stuff in Paris… I met some people in Paris and we moved into this old factory outside of Paris, I lived for five years in a factory only with artists. And I kind of put myself on the line and you know, from Microsoft to there had already been five years and I was going full-on, you know, just dedicating all my life to creation. After a few years, Alex came and it all happened then. 
Can you describe your guys' aesthetic?
I think the aesthetic is a lot. There's a lot from the cartoons that we watch when we're like, you know, in the eighties when we were kids and our sound has a lot of that. We use those sounds also from that, from that era. We love bright colors, there's certain references or themes that we have in common. 
If you weren't pursuing music, what do you think you'd be doing as a career?
I think I should have done coding. I love computers, I'm an introvert, so I should have done that before, but I really didn't study that. 
Do you have a favorite song to perform?
I love performing "Couer d'artichaut." It's the only song where Alex and I both sing on vocoders and that's always a fun moment to both be on stage singing back to back. It's a cool moment. 
CONNECT WITH POLO & PAN
TWITTER // FACEBOOK // SPOTIFY
photos / courtesy of artist
story / Sam Berlin