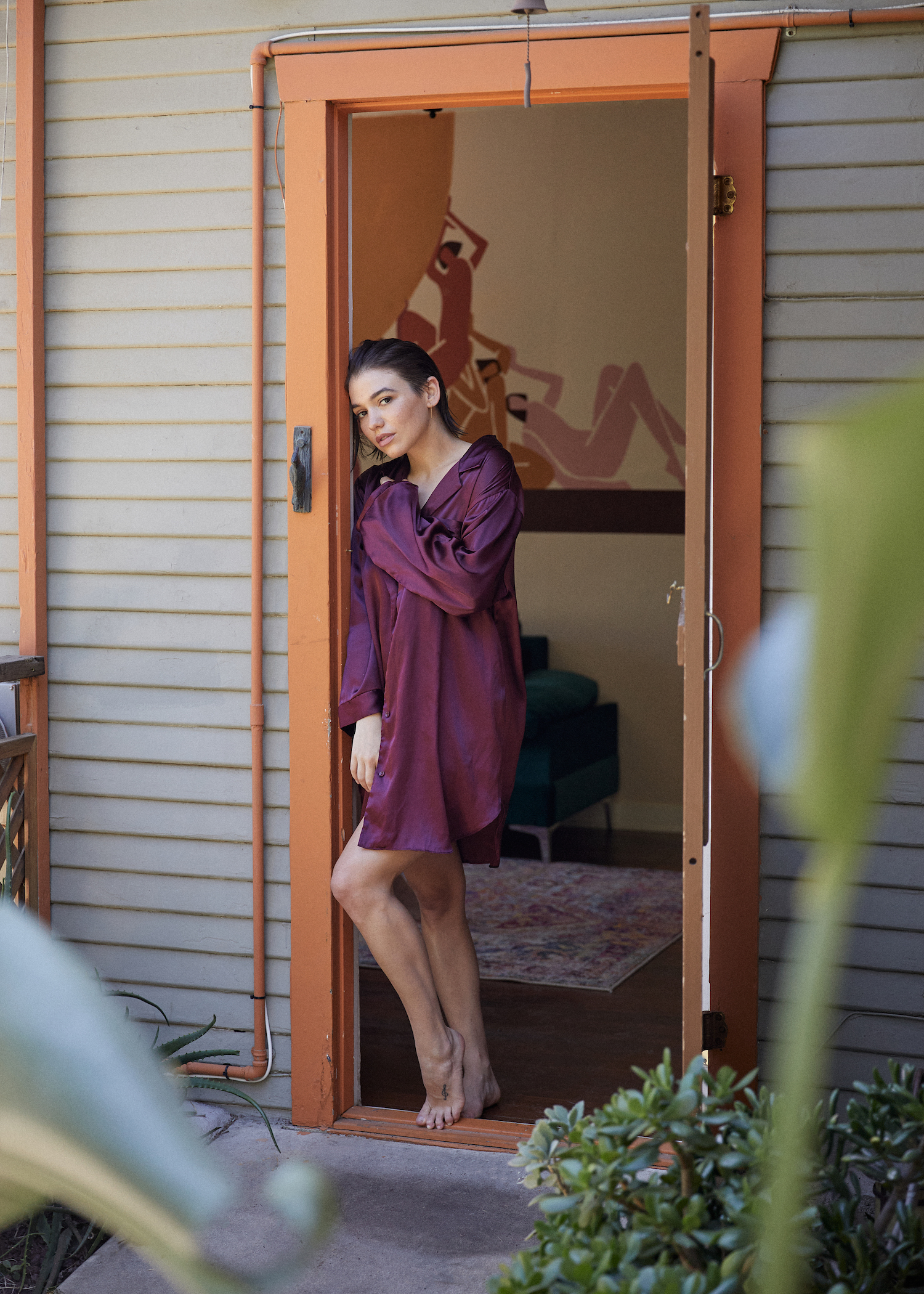 Fresh off her release of "Them," FLAVIA called on her friends to celebrate the community they've fostered with a playlist to "empower identity." The LA based electronic singer/songwriter set out to spread awareness about the underrepresentation and mistreatment of the trans community by showcasing their faces and sentiments in her newest song and video. That said, FLAVIA wanted to extend the message even further, and the result is a playlist that was carefully curated by each and every person platformed by the "Them" project.
These times of uncertainty and disconnection can be isolating for so many, making the narrative of visibility and universal acceptance even more monumental. Not only did FLAVIA's project highlight people of all pronouns and preferences, she has now given a platform to their taste and artistic aesthetics through their contributions to this tremendously powerful playlist. There is so much to say both about the people involved in this playlist and their song choices, but I think it's best to let them tell you all about it. As you listen to the "Empower Identity" playlist, read all about the inspirations below from this badass group of people. Through "Them," FLAVIA has made one thing clear: collective empowerment of the trans community has the power to change the industry one song at a time.
Flavia: "Woman" by Diane Gordon
"Her lyrics are so empowering and strong. It encompasses so much of what women are capable of. When I need to get sh*t done, it raises hell fire."
Tay Richardson: "I Like That" by Janelle Monae
"I have so many layers, interests, and lived experiences. This song empowers me to live authentically within all of my identities no matter how messy or complex."
KR Rose: "In Or Out" by Ari Difranco
"As a teenager I remember loving this song and relating to the fact that I could have, 'more than one membership to more than one club.' A validating reminder we don't need to chose boy or girl, gay or straight, in or out…"
Zelda Vinciguerra: "Who I'd Be" by Daniel Breaker and Brian D'Arcy James
"I've always liked 'Who I'd Be; from Shrek the Musical.  Despite everything about how that sounds on paper, it really helped me figure out what masculinity meant to me and that I could be ANYTHING I wanted, not just the things people encouraged me to become."
Emily Jinxx: "Girls/Girls/Boys" by Panic! At The Disco
"I really like Girls/Girls/Boys by Panic! At The Disco for myself…"
Aurora: "Girls Just Want to Have Fun" by Cyndi Lauper
"It's less about the song itself and more about the way she's always lived as herself with wild abandon and complete openness. I used to look at the cover of She's So Unusual album and run around the house singing and dancing trying to be everything I saw there – weird, happy, free, and wearing a crazy red dress."
Cam Schroeder: "Coming Clean" by Green Day
"A song that empowers my identity is 100% 'Coming Clean' by Green Day. I first heard it when I was an angsty twelve year old and the line "I found out what it takes to be a man" made me feel like there was someone who understood how I felt being LGBTQ."
Johnny aka Vjohhny: "I Won't Back Down" by Tom Petty
"I like this song because it represents standing up for yourself and the strength and conviction to do so."
Nina Hawkins: "Mary Magdalene" by Fka Twings
"In general, I can relate to FKA a lot, especially being a mixed race female, I support and truly feel everything that she speaks/screams and stands for from deep inside of every inch of my soul. Those Ethno/futuristic strings in the pre-chorus also hold so much power in them, definitely a sword/ laser chopping sounds. But most importantly, The 2 specific lines from the lyrics: 
"I'm Fever for the Fire," and "True as Mary Magdalene." I am personally a triple fire with 6 total fire signs in my planet chart, so any song including fire just powers me up and charges me up, because fire is the embodiment of me, or vice versa. Come just a little bit closer till we collide – that's how I generally feel when I'm in love, in fact I did write lyrics using collide in that sense before as well."
Ann Thomas: "Wild Hearts Can't Be Broken"  by P!nk
"Too often we have those who want to confine us, to build walls around us, to put us in a box, to gag us. We have to realize many times it's a bluff, and we end up living within self-imposed walls."
Francis Juarez: "The Bitter End" by Palcebo
"This is a song that is most relevant  to my story today…it's lyrics mention my Birthday (Second of May) which just passed, while I was under interrogation in high security with LAPD (scotch-free now) . I'm awaiting rights to their music for the soundtrack of my film."
Grey Centauro: "Chanel" by Frank Ocean
"This AND that is not only totally okay and normal and functional, it's also kinda fucking badass."
Londyn Williams: "Flaws and All" by Beyoncé 
*editors note: enough said.
Daniela Hernandez: "I'm Gonna Love Me Again" by Elton John and Taron Egerton 
"This is truly how I  live life after finding me after being lost for 32 years." 
Angel Arpornrat: "Tooth & Nail" by Dengue Fever
"Sung by a Southeast asian artist about a complicated love enjoyed by ME, a southeast artist that has yet to experience complicated love."
CONNECT WITH FLAVIA
photos / Megan Miller & Nina Hawkins
story / Paulette Ely