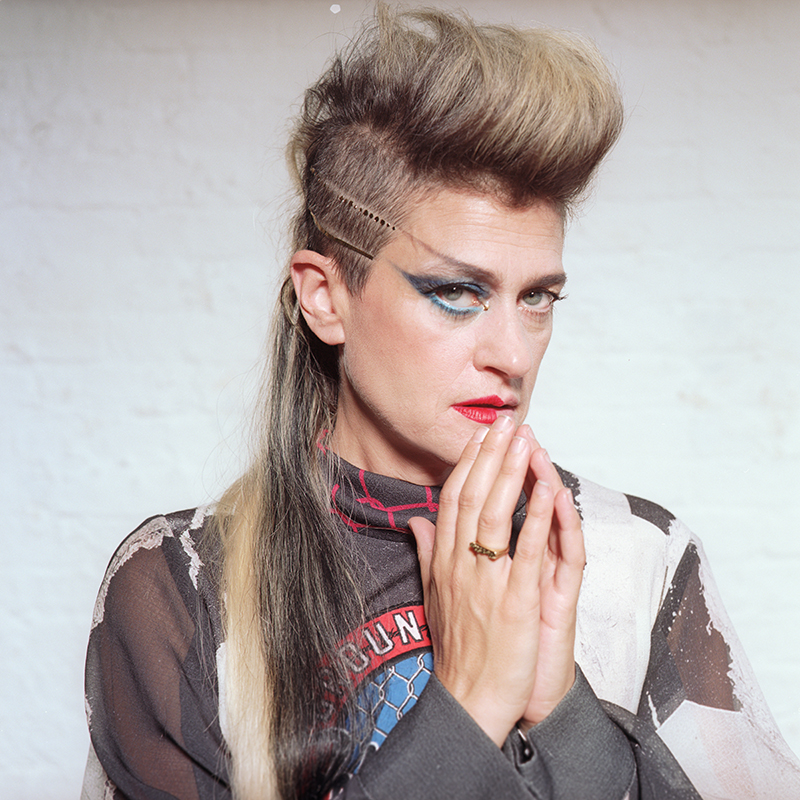 story / Amy Berkowitz
photos / George Pitts
styling /  Alison Isbell
makeup / Colby Smith
hair  / Michael Moreno
Throughout her long and prolific career, Peaches has steadily courted controversy, from 2000's breakthrough electroclash hit "Fuck the Pain Away" to her most recent release, Rub—an eclectic pop album that features tracks with titles like "Dick in the Air." But Peaches isn't just out to shock. Instead, her predilection for profanity and pornography is in service of a radically wholesome goal: She's interested in dismantling the toxic orientation our culture has towards the human body and preaching a gospel of self-love and acceptance. And if lyrics about dicks and clits happen to garner attention, well, that's even better.
Recently, I had the opportunity to chat with Peaches on the phone about her commitment to body positivity and how it's expressed in her work.
I started by asking the musician about the way her performances address the objectification of women's bodies, and she quickly turned the conversation to men's bodies. Why? Well, because nobody really does that. "The focus on body issues has always been on women," Peaches explained. "The fact that we're even having these conversations is way more advanced than two straight men having a conversation about their body image because… it wouldn't really happen." Indeed, patriarchal culture is damaging to men as well as women, and as the more privileged, less objectified group, men may lack the words to talk about their own oppression.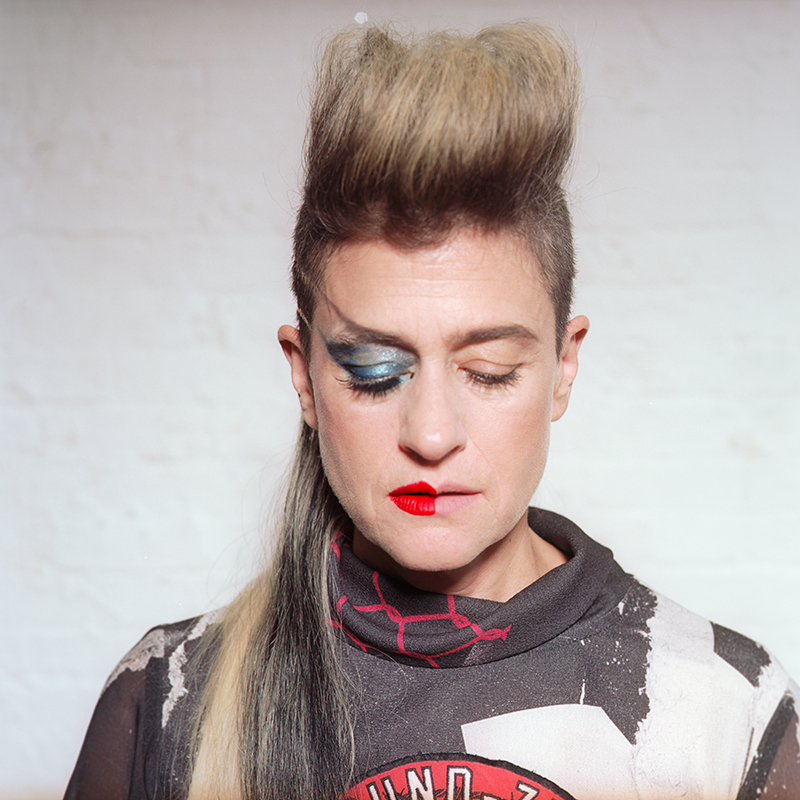 Peaches has taken it upon herself to change this. In "Dick in the Air," she puts the focus on a body part infrequently addressed in pop music, with lyrics that explain the change of pace: "We've been shaking our tits for years / So let's switch positions, no inhibitions, fears." The accompanying video is pure fun: She and comedian Margaret Cho gallivant around Los Angeles dressed in pink and yellow full-body yarn suits complete with pubic hair and genitals.
"Shake Yer Dix" is a song on 2003's Fatherfucker with a similar message. "There's a million of those songs [for women]," Peaches said. "This one is empowering men to shake their stuff. To have a way in." But a way in to what? Does an invitation to shake something (I think of Booty Bass's "Shake that ass, bitch / And let me see what you've got") offer empowerment, offer anything more than objectification? I have the sense that Peaches thinks it could, in her relentless body positivity. But her statement can also be taken as a sly "invitation" for men to experience the harassment women do. Maybe it's something in between. Regardless, her turning the tables results in a refreshing change from the status quo.
Speaking of a refreshing change from the status quo, the video for "Rub," her latest album's title track, sets the sleazy, beat-driven, no-inhibitions anthem against the background of a decadent and surreal Joshua Tree orgy that features bodies of various sizes, races, and genders writhing and grinning together. I wish this representation of diverse embodiments of sexuality wasn't rare enough to feel as revolutionary as it does, but I'm still grateful for it. I was glad to see some Vimeo comments echoing my appreciation ("WHOA. BOLD. It's about time! Refreshing to see some real bods doing some real bod part things."), and unsurprised to read the less-respectful comments.
I asked Peaches what she thought about viewers' responses. "I think for some people it's definitely challenging, but I say too bad," she replied. "And I was proud of a lot of the comments. You expect it to just be 'ew gross ew hairy vagina ew trans person ew uh uh' but there were a lot of really intelligent comments going on, which I was so surprised and happy about."
Peaches is interested in visibility and respect for all kinds of bodies. The closing track of Rub includes a shout-out to a population that doesn't get much attention in pop culture: people who are chronically ill. As a woman living with fibromyalgia and the co-organizer of an illness activism conference called Sick Fest, I was excited to hear Peaches calling out my people in "I Mean Something." The chorus of the song, which features gorgeous vocals from Feist, goes "No matter how old, how young, how sick / I mean something, I mean something."
I asked what Peaches meant by the word, and she explained that she was interested in its dual meaning. It could mean "sick, like if you have a debilitating disease or you're not feeling well or you have mental health issues… or sick as a way of saying, 'I'm the sickest, I'm awesome.'" Her interest in chronic illness visibility may be related to her relationship with her sister, who has MS and uses a wheelchair. Referencing the song's title, Peaches said, "[my sister] means something, and sometimes I think it's hard for her to remember that about herself, to stand up for herself."
And that's really what her message is, if you wanted to distill it into one sentence: Peaches wants to remind anyone listening that they mean something, that their body means something, matters, deserves love and respect. It might not sound like such a radical proposition, but in our culture, with its gender policing and body shaming? It's pure rebellion.