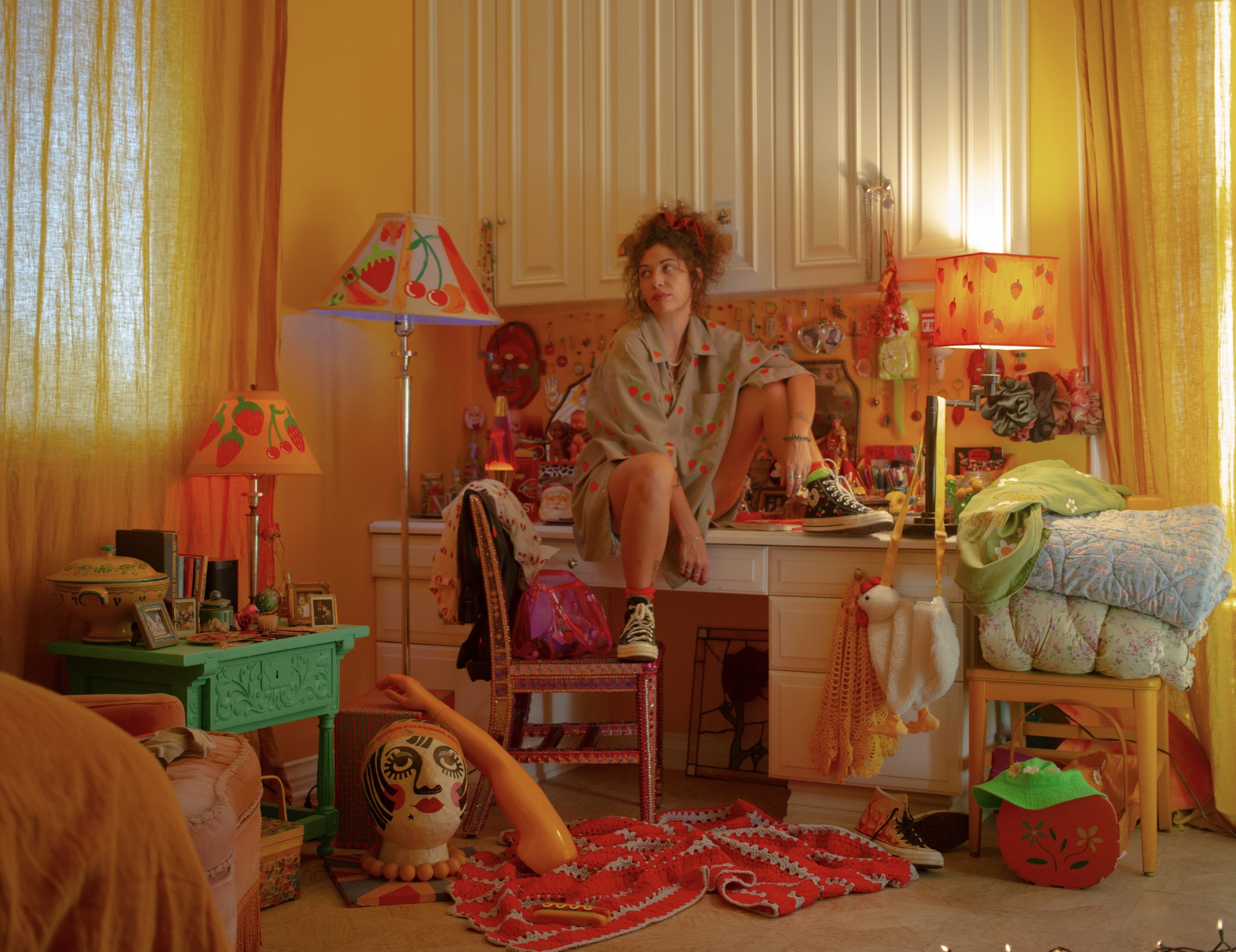 "Say whatever the fuck comes to your brain first!"
The candid call to arms remedying a stressful drought of songwriting, and instead of effort spent towards curating a particular songwriting style…sometimes perhaps we should just relax our mental grip and write the way that we talk.
Daisy Hamel-Buffa, the center mantelpiece of DAISY WORLD, the La Bohemes who are mixing jazz, punk and rb&b through music registers as a melodic fusion, and peering from the rim of a Zoom screen, the artist appeared transporting us into her world of antiquity. Within a colorful Frankie Bergstein room of eclecticism and DIY charm, the maximalist gave us the scoop.
Where are you from?
"Los Angeles, born and raised here…and will always remain here!"
She laughed, and after asking about her recent schedule in the wake of the release a jittery sigh of relief led to a rundown of all the lists of collaborations, and to do's leading up to Xmas. 'Picnic', today's new single is DAISY WORLD's most introspective work yet and is the boozy self-plead, refilling our glass and asking ourselves to chill.
With a Winehouse abandonment, the song echoes a nostalgia that is peppered by a dizzying swerve of melodrama. "Don't judge me if you love me… but everybody wants something of mine" the songs highest peak nods to Amy with a Nora Jones style of sentiment.
The relatable state of simply not knowing what to say after so much turbulence, was the impetus that sparked this latest work as being both an open letter to self and a confessional PSA—Daisy talking to Daisy. Botanically, the song title was the happy accident that occurred after discovering the synonym for simplicity and indirectly references a late spring garden laden with strawberry, acting as the palate cleanser within a menu of more relationship heavy songs.
Orangey-yellow, a favorite color was the color therapy of choice, and isolation periods spent in a yellow painted room was the reminder to water the plants.
"I was standing in my own way completely; this time I was just writing purely about how I feel about me… and I stopped trying to be this ideal version of myself."
A lack of inspiration, perhaps being the only caveat to a holistic lifestyle where toxicity is replaced by quinoa.
Having less crazy shit to talk about—the ironic ingredient for soulful songwriting in 2021.
When the word queer came up during our chat, a plentiful look of self-relief took over. Liberation and openness are integral to a queer identity because they are inclusive of all genders and are sensitive towards all sexual expressions; and Daisy, who never used to strictly identify with the term only just started identifying recently. The beauty in the term lies in the fact that people are not forced to adhere to one specific category. However peculiar for the mainstream to observe, queerness implies an openness towards everyone and everything.
"I don't know what I like but I know when I find it…to me it feels beautiful to identify with a word like that."
Continuing to preach that people that don't accept it won't. The unfortunate reality of intolerance today, where tension is the atmospheric residue resulting from opposing views towards individual and collective expression.
In addition to music, DAISY WORLD has also released a line of organic bespoke clothing available now after Friday's pop up. Hand painted, the line coincides with the artists creative scaffolding and the single.
Continuing from a high school pastime of interweaving little charms, and patchwork with studs, the line features both gender-fluid and sustainably friendly apparel with color, simplicity, and charm… naturally the three cornerstones behind the line, and hailing from the desert, the fabrics are all Cali sourced. Although effortlessly cool, DAISY WORLD includes a wider clientele engorging an already wide artistic canvas.
Contrary to the obvious, daisies were not mentioned when asked about a favorite flower, and a sunflower was named instead. A flower that stretches its petals towards the sun in an effort to absorb the maximum number of rays.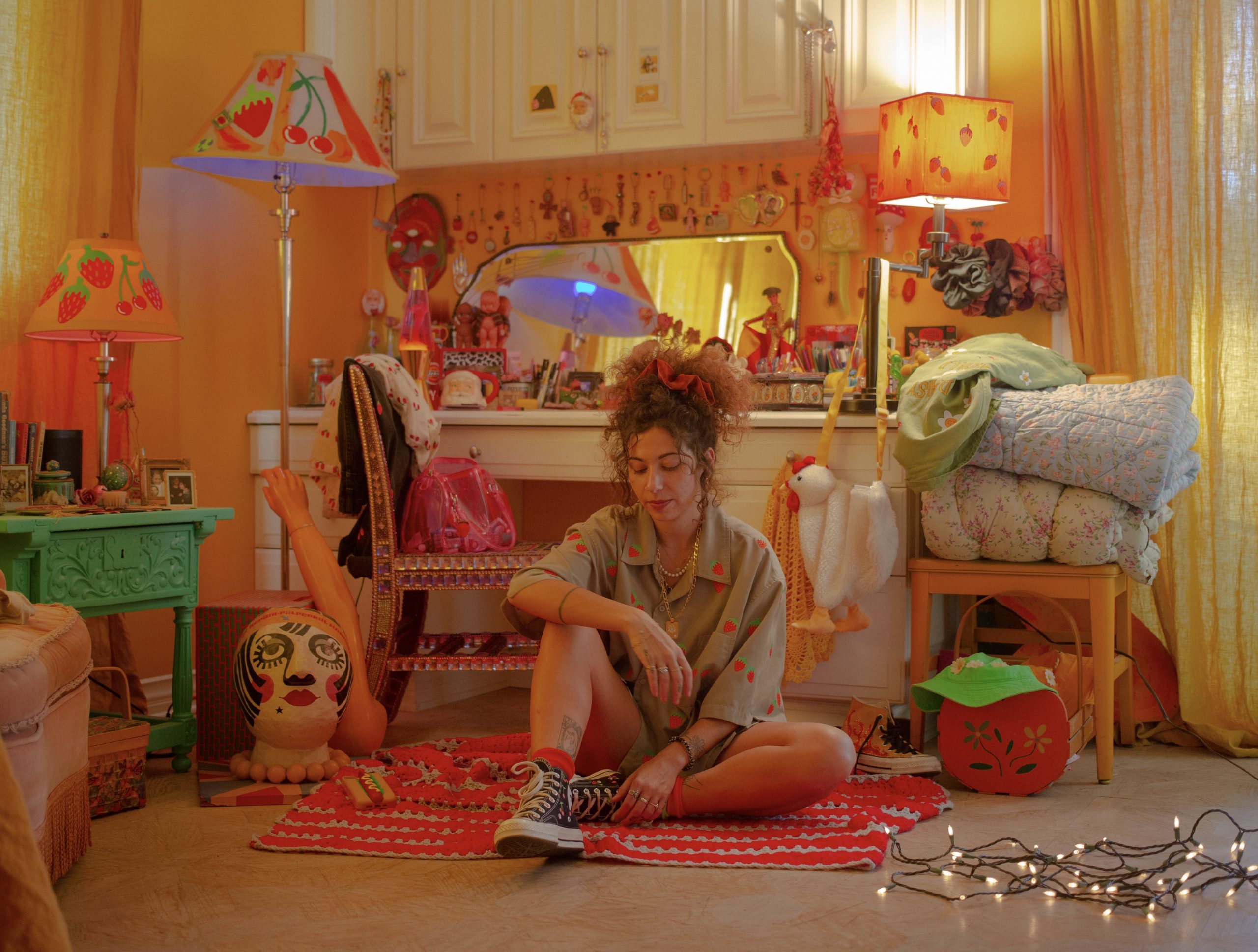 STORY: ALEXANDER MAYS PHOTOS: SEANNIE BRYAN
CONNECT WITH DAISY WORLD