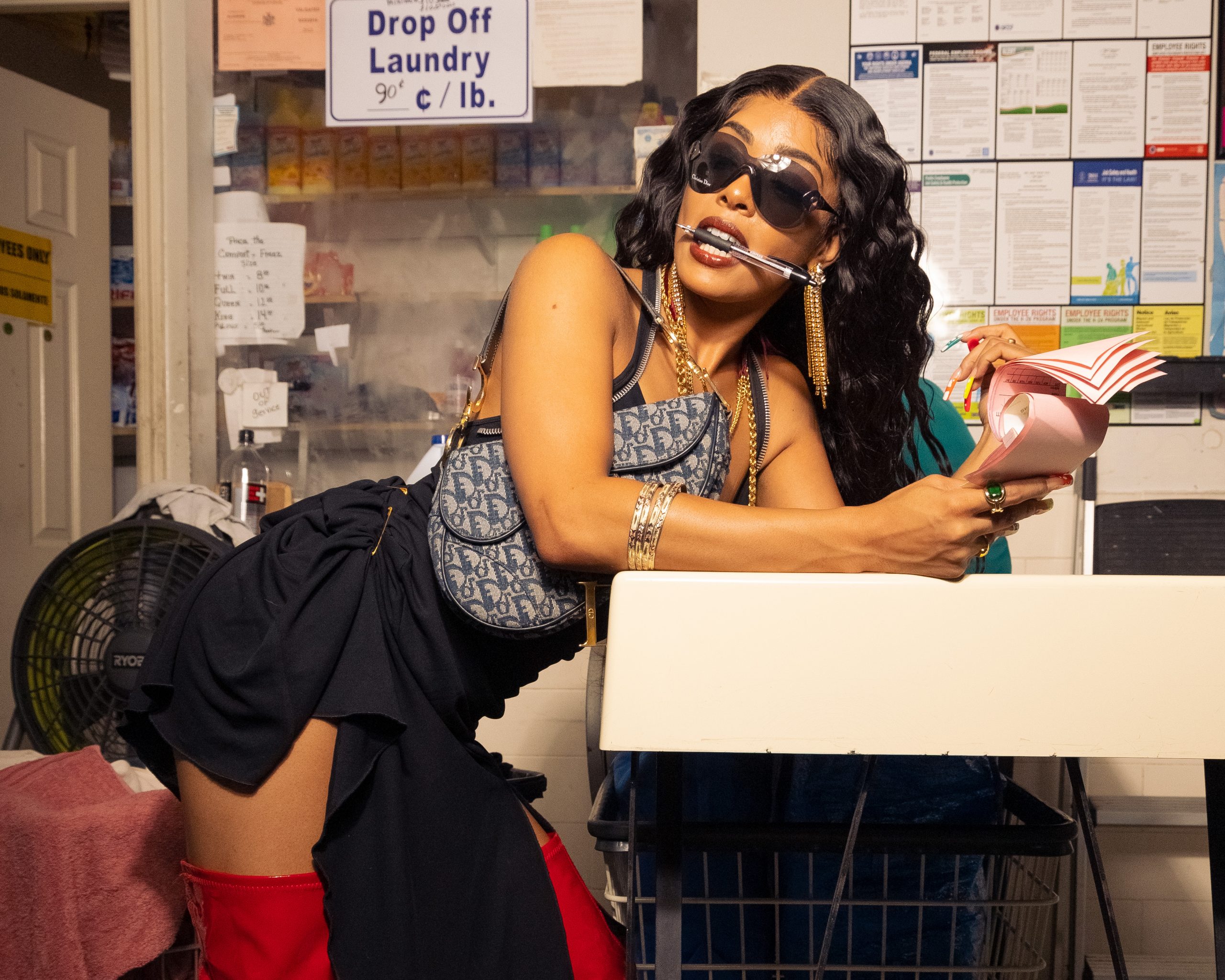 Life after 2020 has forced us to end up with a kaleidoscope of new possibilities. The old and unnecessary has been stripped away like thinning paint off a wooden floor. What was once a time where we took everything for granted, we were forced to come back to ourselves and shed new skin, like a beautiful butterfly after its natural processed metamorphosis. I had the pleasure of hanging out with and styling Brooklyn Native Nitty Scott. Scott's music background can be described as not only gifted with a stream of sounds from higher dimensions but with power punches and hard hitting lyricism. Stitching her real life experiences into lyrics that paint vivid pictures of ambition and struggle. Being a fan of hip hop/jazz with latin undertones. She tends to brew a mellow style that's infused with bad bitch energy and empowerment.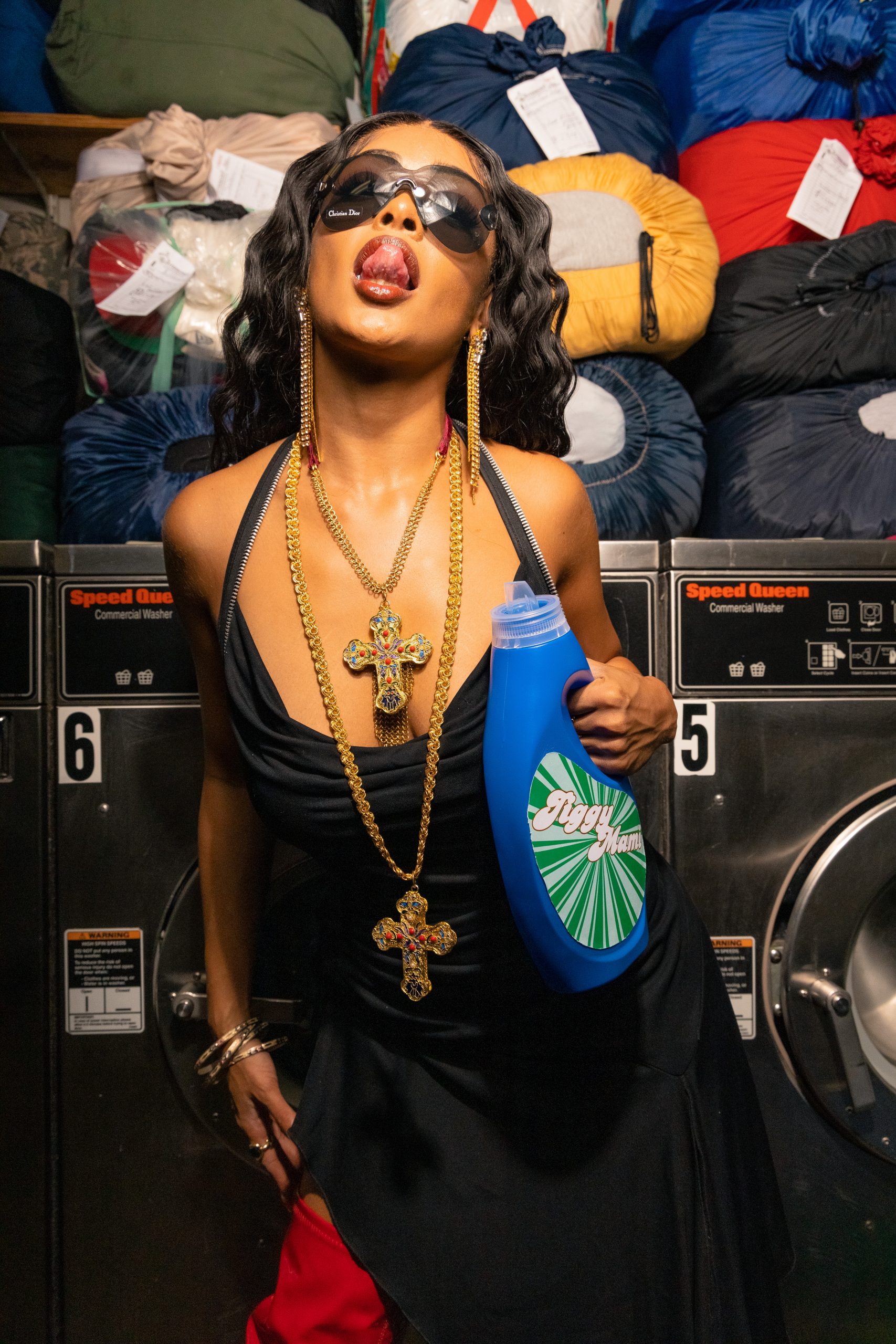 After a few weed tokes and a nice glass of wine we got down to chatting and laughing. Talking about her latest music project "Jiggy Mami" , doing shows all over again, new developments and life in 2022.
How was your day and how are you feeling?
My day was cute, actually! It was "wash day" – so I spent the day deep conditioning my hair, painting my toes & really just loving on myself.
I'm feeling like my usual moody self; in a space of being happy, hurting & healing all at once — so that looks different from day to day, right? For myself & so many people throughout my communities, the past few years have been traumatizing. There's been growth and grief, blessings and loss. I'm recovering from and surviving through, radically blossoming and deeply grateful. All of it.
I love that, what does a regular day look like to you?
Whew! That is a question with no real answer for several reasons. For one, things have been so disruptive with the pandemic & the deaths of three of my close family members that I personally haven't adapted to a "new normal" quite yet, just rebuilding my world up daily. Shit is messy to say the least, but I try to embrace it. I have a lot of freedom, so as an indie, self-employed artist I do get to make my day look like whatever I'd like or need it to be. I'm usually pretty good at being disciplined with that, although lately it's been harder. I spend a lot of time alone & prefer to be in the house! I write, read, record, browse online/social media, watch LOTS of documentaries, sit in nature, walk my dog, smoke weed & spend time with homies & family. I love to keep shit calm because when I'm not being lowkey, I'm probably doing something important, outrageous or taxing — traveling, touring, photo/video shoots, interviews, rehearsals, conference calls & meetings — it's all such a whirlwhind that when I'm done working, I like to chill even harder. And I basically have like, two modes: hat the Met Gala or completely homeless.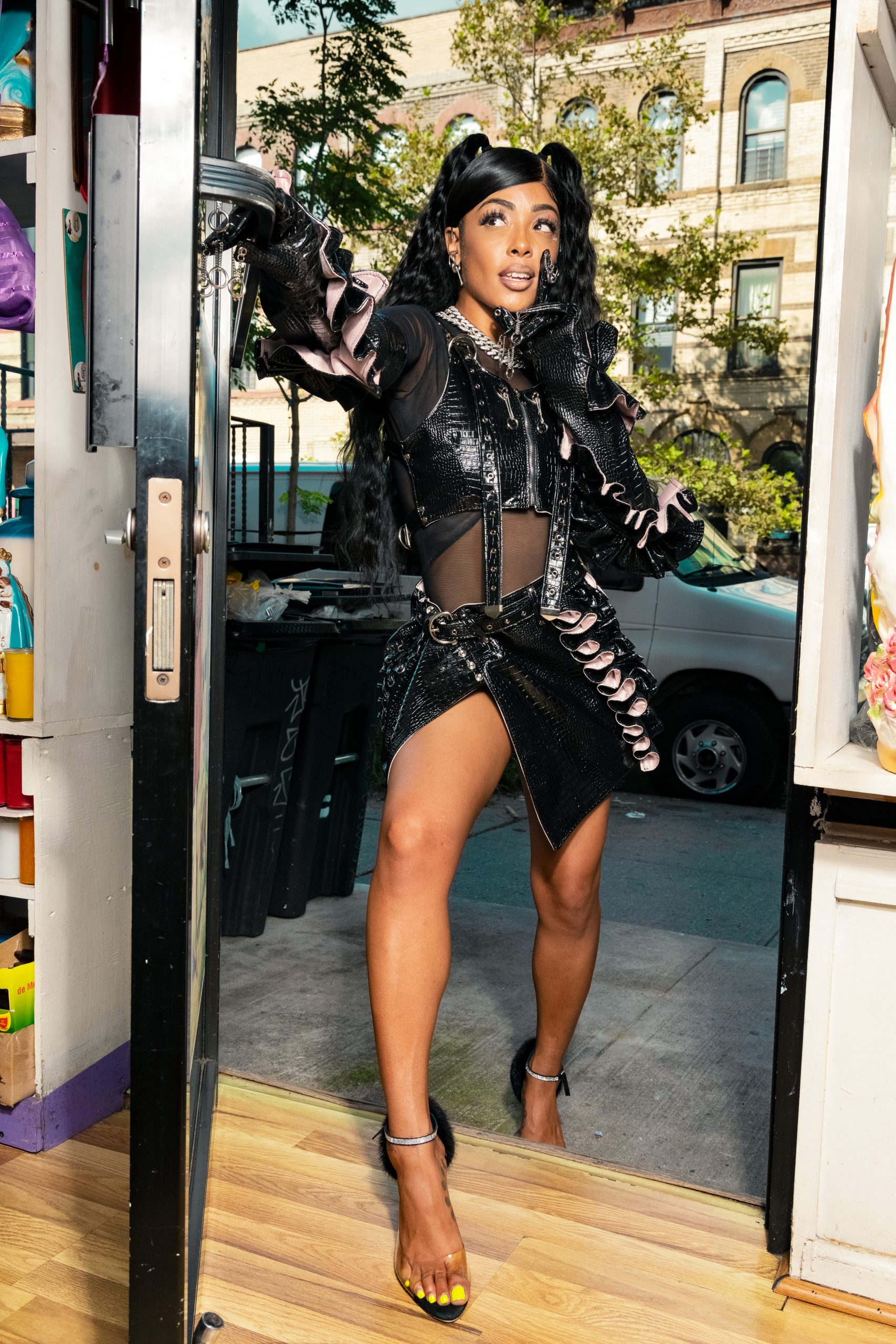 Any new hobbies or things you've learned? 
I haven't mastered it yet, but I'm learning to record myself in the studio instead of always needing an engineer on the technical side. I think women can benefit from upping our skill sets out here and create more empowering spaces for us.
Congratulations on Jiggy Mami. Can you tell us more about the process of making this incredible album?
Thank you! "Jiggy Mami" is my quarantine baby. I really just wanted to drop a versalite project that was fun and vibes in a climate where everything felt really heavy and doomed. I wanted to remember feeling cool as hell walking into the function with gang, or smoking a blunt in the whip with your new bae, or dropping a bag going shopping with your girls — all the simple pleasures that felt really far away at that time. Me and the exec producer of the album spent most of the lockdown simply taking a crack at things every day — it wasn't very structured, just waking up & making beats or listening to them, songwriting both together & alone, living room brainstorming sessions where we played drafts for feedback or explored our ideas. It was the most insular process I've ever had, drawing on moods & emotions that weren't necessarily IN FRONT of me or even accessible, you know? And having almost nowhere & noone else to bounce that off of. We were just making sounds we like in a bubble. And this was the product.
How would you describe Jiggy Mami compared to your past records ?
I think "Jiggy Mami" does a dope job of showcasing my range in personality and style. I'm such a multi-dimensional creature and I think each track on the album just embodies a different side of me, instead of just taking one thing and amplifying it as a project's entire theme. There is literally something for everyone on there without even trying. On this album we honoring ancestors, getting the bag, falling in love, flexing, crying, healing — ALL OF IT. I'm known for putting out work to be seriously unpacked, usually some type of commentary on society with lofty musings & what not … but "Jiggy Mami" is way less complex or conceptual than my previous bodies of work & not so ambitious in it's goal; which I think ties right back into the space I was in while creating it, like we're too tired & scared to try to save the world right now, let's just lean in to shit that feels good.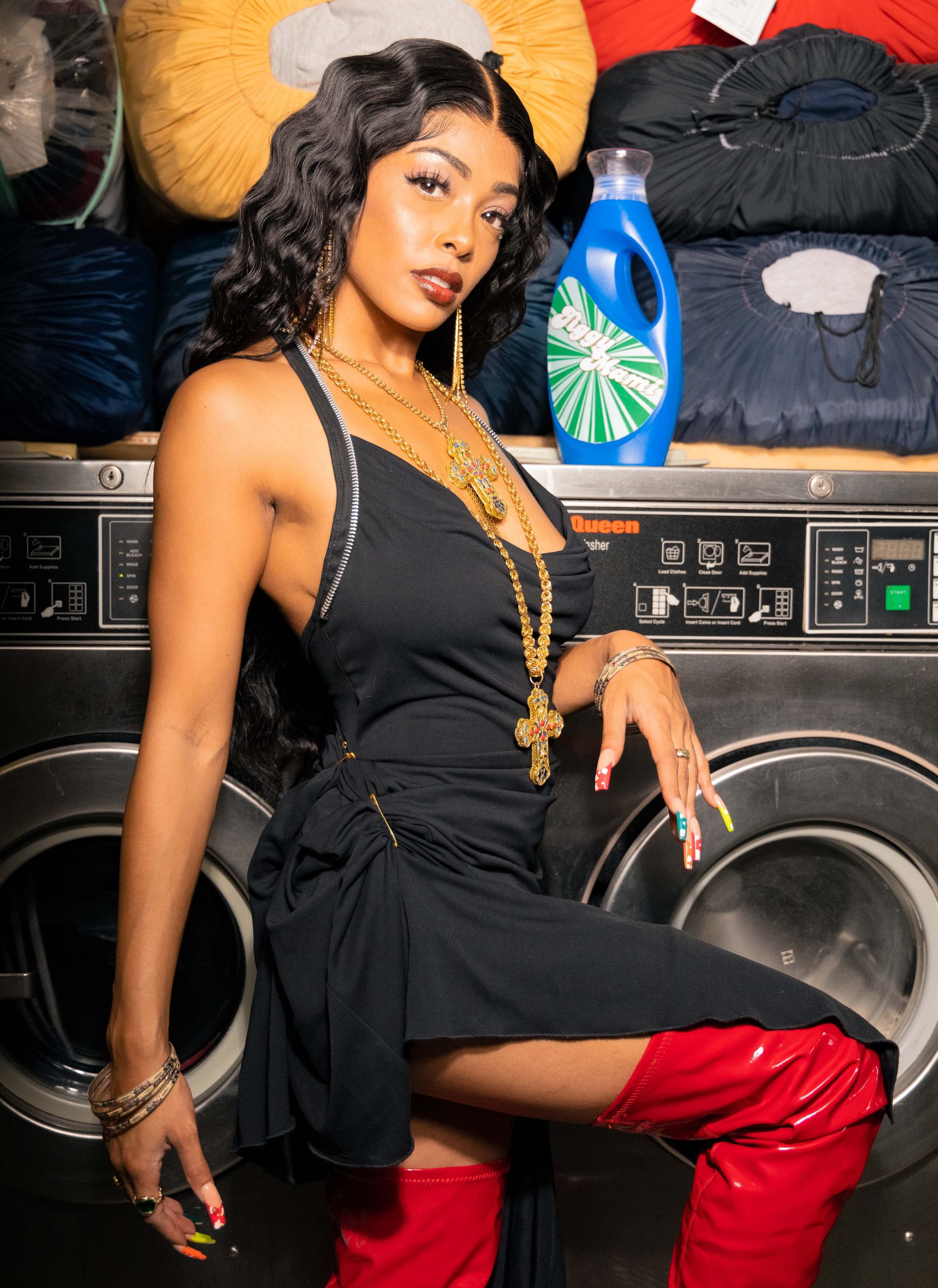 You are heavily inspired by spiritualism, especially Taino/Oshun spiritualism. Can you tell us more about what this means to you and how it empowers not just you but your music?
When I incorporate spiritual knowledge & imagery into my music, it's a deliberate act of decolonization. It's about undoing so many warped, harmful ideas that we've been fed, researching & learning exactly what we've been disconnected from, reclaiming it as our own & establishing community throughout the diaspora that is united in this experience. If you pay attention though, I honestly don't go beyond things like respectfully referencing or paying tribute to certain Orisha because most of the actual practice (prayers, rituals, oral histories) is sacred & specific; it's not some all-access pass to the deep work that people are doing. So, my message is not one of "recruitment" or to say that this belongs to everyone, because it doesn't. I do encourage everyone to pursue their own thoughtful journey. I have aunts & grandmothers who practiced Lukimi/Santeria on one side, native Natchez lineage on another & various connections to what I'm actually exploring — and it's all for the sake of generational healing, cultural preservation & identity, not exploitation for entertainment or personal gain.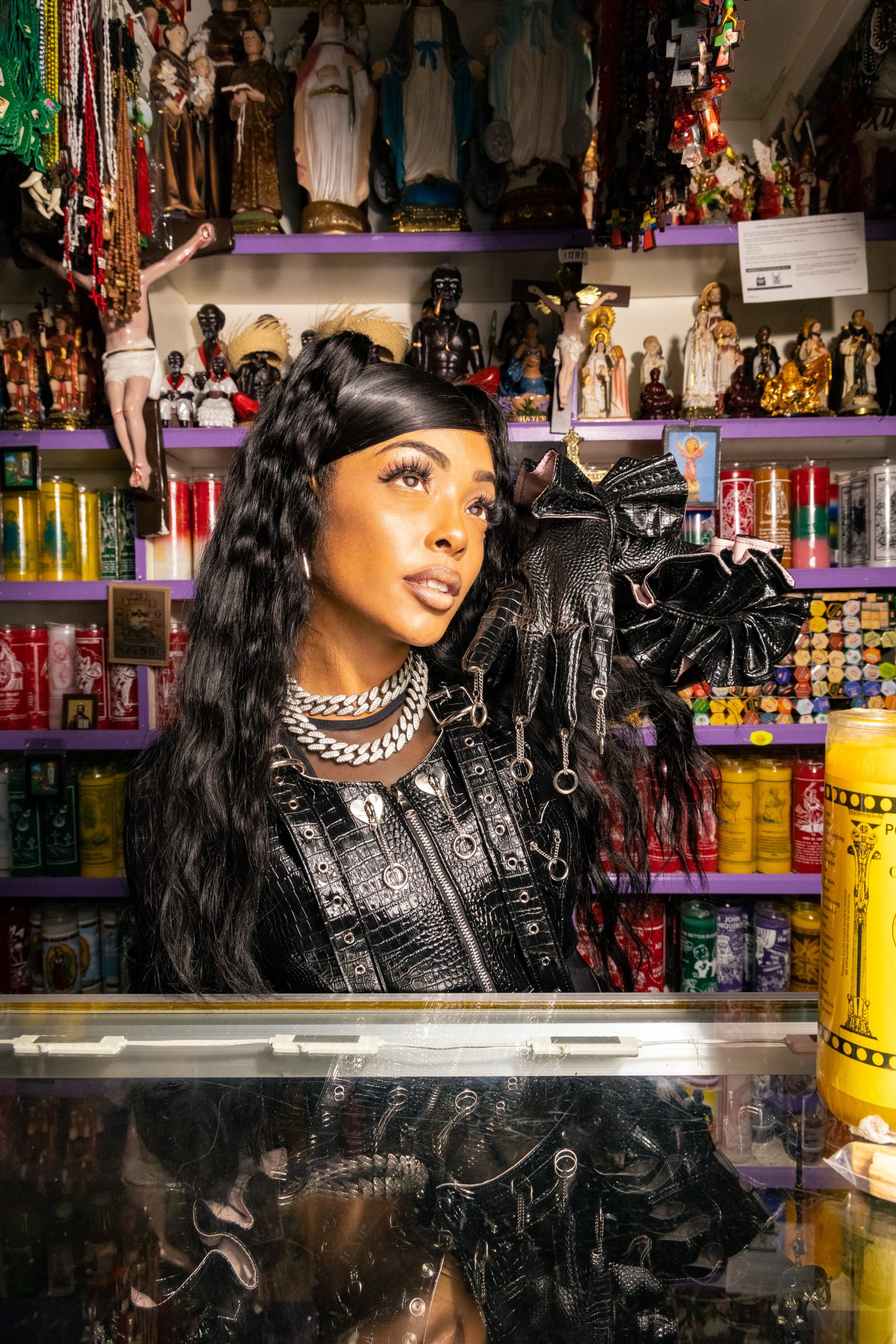 My favorite song is "Mama Universe" in it you say, "They told me be the change, told me be the light/So I just radiate it and attracted parasite/Who need a force like me to brighten up the night/Need a source like me to breathe them into life/They wanna be healed by my honey/Sit where it's sunny til they taking everything from me." This was very powerful. Do you feel that in your life there have been many instances where people try to steal your energy for your own healing and how do you handle that? 
Thank you, I was sliding on that one big-ups to Salaam Remi! Can I tell you I wrote that in the thick of some major writer's block & was so unimpressed with myself when I laid it down at his spot in Miami a few years ago?! By the time I heard the final mix, over a process of years, I thought it was one of my greatest pieces of poetry ever. But yeah … to answer your question, I've def felt like some sort of fckin wellspring of abundant qualities & experiences that wasn't always reciprocated or pursued for the purest of reasons. I think it's all a balancing act that I'm still leveling — when you emit a sense of personal peace & power, why wouldn't people just want a piece of that? Of course I don't wanna be used & abused, so I sets my boundaries & have discernment about the intentions at play around me — at the same time, I try not to lead with fear & assume everyone is some vulture-vamp here to eat me alive. In all reality, I can't really control or even prevent running into the soul-suckers we speak of (especially in my industry), so the most I can do is grasp the fact that most people will take from you what you allow them to take — I can at least not be self-sacrificing & not become that convenient supply of shit when I see it happening.
What was your favorite summer memory?
OOO, good one! I have so many! Okay I guess I would say it's not so much one memory as it is the best summer of my life that I can remember — I'm gonna cry just thinking about it, serious "take me back" vibes. Summer of 2019 was a gem of a fucking chapter for me! Me & my partner of 5 years had broken up in the ugliest way & I was just devastated on my mom's couch for months … so I took a mfn trip. Nah I'm lying — I took several trips. One to Mijas, Spain & Tangier, Morocco where my pop's family linked up for some good life — we got my 86-year old great grandmother to ride a camel in the desert. Then I bought a one-way ticket to an island off the west coast of Africa: Sao Vicente. With a pit stop in Portgual! I stayed at an AirBNB in Lisboa & wandered there by myself until my flight to Sao Vicente, where I met up with my best friend of 15 years. With no ticket home, I spent the next 3 months with her hiking up mountains, growing herbs & sugar cane liquor, making face masks out of local volcanic ash, doing the finest molly from Germany, jam sessions with the resident bands & poets, shopping in the village markets, meditating daily on a cliff overlooking the ocean, flings with the island boys. My phone barely worked. It was the happiest I've ever been in my life. I was then invited to go on tour alongside my lovely libra sister Jamila Woods, so I returned to the states to do an incredible run of shows with her. The tour actually ended up in the hometown of the ex who had previously broken me to pieces not too long ago & we sold that bitch OUT. I bodied that stage & never needed him less. On the tour bus en route to the next city the following morning, we literally rode past the exit to the home we used to share & I was so proud of myself in that full circle moment that I cried. Now that's a mfn SUMMER.
You went off performing at Miami Beach Pride this year, I have to say it was definitely my favorite performance of that day, how was it performing again and are there any new shows you are doing? 
Appreciate that! PRIDE was personal because it was my first time getting back on stage since the peak of the pandemic & my little brother's death. To be able to celebrate that moment with my community was special & invigorating. I felt reminded that the magic of what I do is still there after feeling pretty numb for a while. I may lock in some new shows down the line this year, but I'm not totally focused on that right now — I'm taking the time to cultivate all kinds of fresh ideas for my art & the brand, just living & existing & allowing myself to be inspired.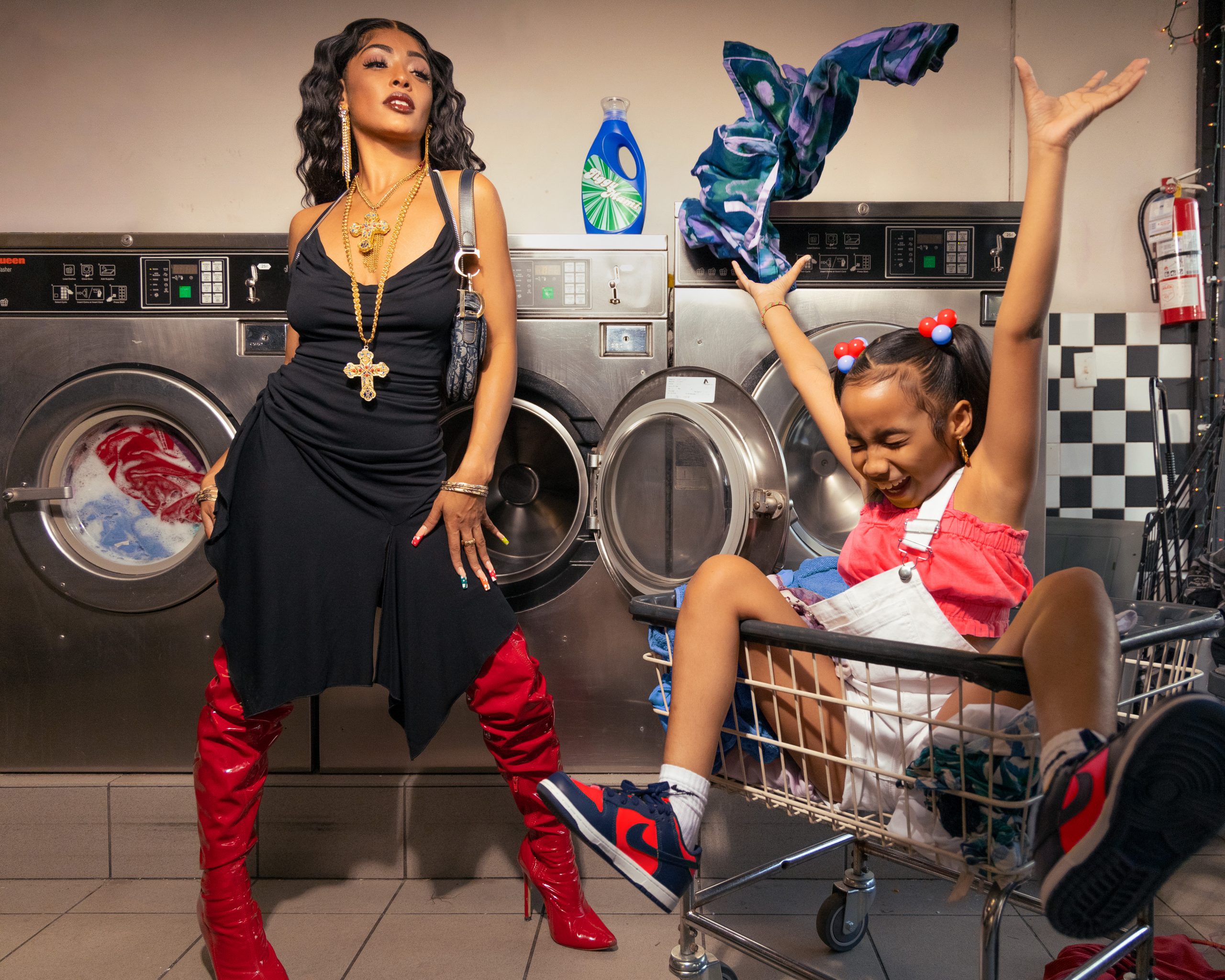 In an ever changing world, what does success mean to you?
To me, success is being fulfilled in how you lead your life and being able to say you navigated this haywire world with your soul intact.
Sonically, where can we expect to see Nitty Scott going forward from Jiggy Mami?
I'm not exactly sure or willing to commit to the next sound, but I will say that I'm currently feeling this desire to really embrace my inner darkness & shadow side lately … maybe it's apart of my mourning, but I do like the idea of capturing the slow, somber & sinister place the grieving mind can be, musically.
What's a common misconception about you?
I think maybe that I'm on my IG baddie shit on a regular basis. Son … I hate getting dressed. My nails would stay done in the apocalypse but other than that I'm tryna be in panties & a big tee with my bonnet on. I'm truly a cozy girl. I only wear makeup when it's time to stunt & as soon as I get home I'm peeling them lashes & washing that shit off so quick. Whenever I'm dolled up, it is a countdown until I can get back in my pajamas.
How would you like the world to remember your legacy? 
"Those who are meant to give light, must endure burning, and I am a fire flame!"
What other artists are inspiring you right now?
I'm honestly into so much different shit but right now my playlist is on Khruangbin, Saint JHN & Petit Biscuit! I'm also heavy on my NY drill shit … B-Lovee, Kay Flock. I really love Shensea & Koffee too.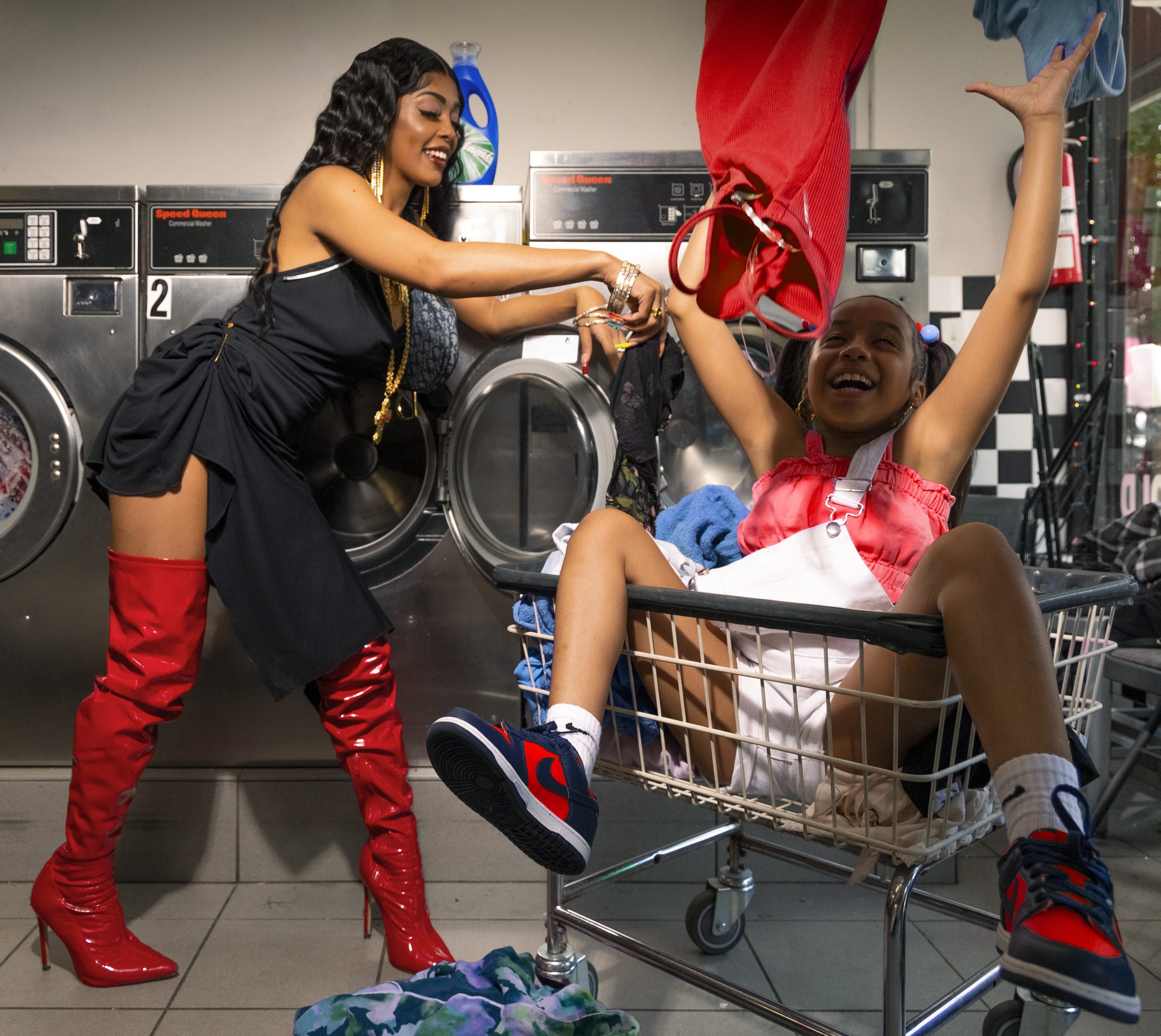 CONNECT WITH THE NITTY SCOTT
Story / Interview / Styling / Mateo Palacio
Photos + Creative Direction / Omar Soto
Hair / Shamar