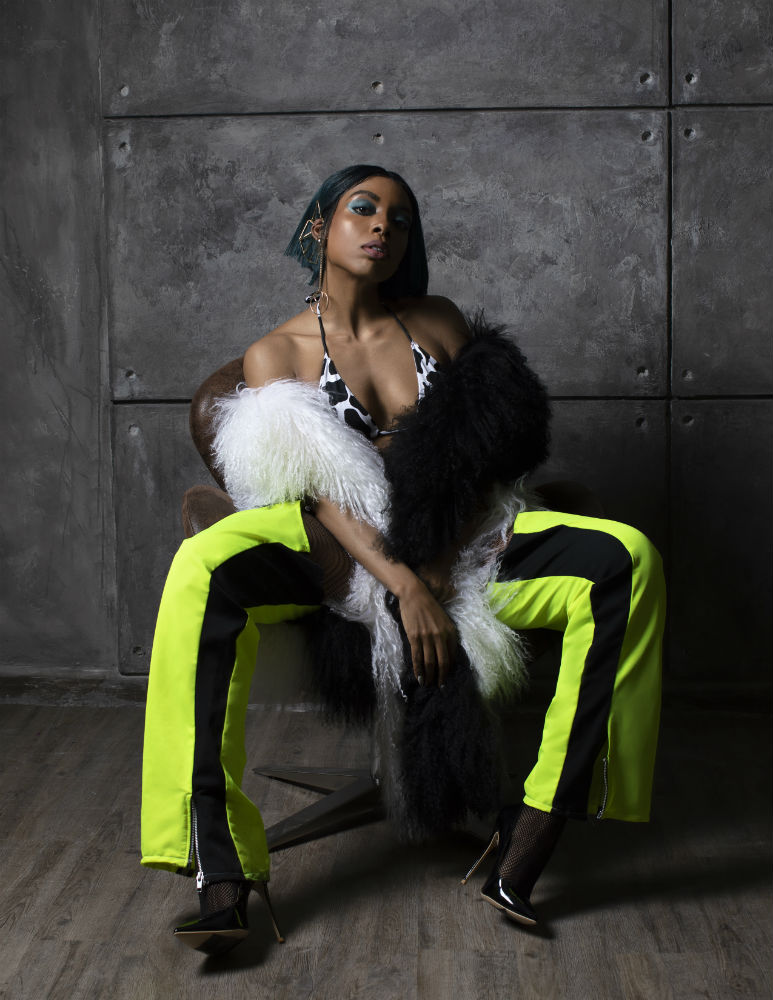 Story / Catherine Santino
Photo / Erin Baiano
Nobody is a master of many hustles quite like Ehlie Luna. Not only is she a singer, songwriter, producer, and occasional rapper, she's also a professional makeup artist who's worked with the New York City Ballet. After pivoting from her moniker Moxiie, the Brooklyn native has rechanneled her creativity into a new endeavor, Ehlie Luna. But no matter what name she takes on, her prerogative is the same: to be as truthful and real as possible.
"I'm always trying to talk about the gray areas in life and relationships," she tells me over coffee this past spring. "Like not just I love you, I hate you, I'm leaving you. But all the stuff in between." I can't help but notice that her makeup is impeccable, which isn't surprising given her impressive beauty portfolio and arsenal of Instagram tutorials. Beauty has always been a passion, Ehlie says, and she's found a way to make it one of many career ventures.
In 2011, she debuted her self-created genre "Jungle Pop" with an EP of the same name. 2013 saw her first full-length album, in which Ehlie got more involved in producing. Since then, she's released a string of singles and her most recent collection, 2019's Black Girl Magic EP. The tracks are experimental, soulful, and an interesting mix of ambient and melodic. The title, along with the five explosive tracks, is a testament to Ehlie's commitment to challenging the industry's standards.
At some point in our conversation, we start talking about Solange Knowles' album When I Get Home (it had recently come out), which Ehlie cites as a major source of inspiration. "It's more than music," she says of Knowles' work. "It's stretching what artists of color are expected to be. It's like just playing with lines and presenting concepts and stretching what's culturally available."
Ehlie continues to do the same in her own work; most recently, with the music video for her track "Personal", which premieres today on LADYGUNN. The song, a slow-burning R&B track, was inspired by "exes who confuse the love expressed in the relationship as a lifetime access pass." Ehlie exudes confidence and power as she writhes on a velvet couch in fishnets and knee-high boots in the video, beautifully shot by Yaniel Paulino. 
"For the first part of the shoot, I was doing what came natural to me," she says of the process. "I wanted to show that laid back but very Brooklyn core of me." But later, Ehlie brought in Guerdley Cajus as a choreographer to help bring fluidity to her movements. "It was my first time working that way but the experience was completely natural," she explains. "It instantly clicked and made total sense to me. She's so knowledgeable and understands movement."
Check out Ehlie Luna's brand-new video for "Personal" below:
CONNECT WITH EHLIE LUNA:
Instagram / Facebook / Twitter
Photo Credits:
Photographer / Erin Baiano
Photo asstistant / Joe Carrota
Stylist / Kasha Reavis
Styling asstistant / KiphTheStylist
Makeup artist / K. Elie