Truly a child of the world, French-Haitian pop ingenue Naïka is a breath of fresh air. Born in Florida but raised all over the globe, the singer has a unique perspective not only on music, but the human experience. Arriving in Boston, Massachusetts for college, Naïka had certain expectations about life in America — but she was met with a disappointing reality.
"I really first understood the United States when I moved to Boston for college," she tells me. "I just didn't realize that there was so much racism and segregation that still existed in this country." But despite any setbacks, Naïka was determined to carve out a path for herself in the U.S. — and in pop music. A series of explosive, percussion-driven singles like "Oh Mama" and "Serpentine" prove Naïka's ability to beautifully merge her expansive culture background with modern pop.
Her newest single, "Vultures" confronts the inner demons she (and many others) battle with daily. "You want me to be weak so you can have a feast," she croons atop an addicting beat and driving baseline. It's certainly a relatable topic, but is especially (even painfully) relevant right due to the current quarantine. In our homes for so many hours of the day, possibly out of work, we're forced to confront things that we could normally distract ourselves from.
Today, Naïka releases a music video for "Vultures", in which she personifies her six inner demons: guilt, doubt, jealousy, laziness, ego, and anxiety. The stunning visuals and carefully constructed characters portray Naïka's complex inner struggle, and eventually, she finds a way to come to terms with it.
The track is just a taste of what's to come for Naïka; she plans to release a two-part EP later this year, surely a satisfying follow-up to her already top-notch work. Check out the video for "Vultures" below, as well as my conversation with Naïka.
How are you? How are you doing throughout all of this craziness?
I'm doing good, just trying to stay busy and not really think too much about the situation as a whole, because otherwise I get a little overwhelmed.
I've been practicing a lot and just trying to make the most of it. I'm releasing my music this year, so there's a lot of work to be done there, which has been good and really distracting. 
Your newest single "Vultures" explores the concept of battling one's inner demons. Where did this stem from and what was your intention with the song?
Originally, "vultures" kind of meant any external and internal factors that are detrimental to your wellbeing. For me, a big part of that are the voices inside my head. And I thought that was really relatable to everybody because we all have this little voice telling us we're not good enough and that's making us act in a way that we don't necessarily like. So I wanted to personify what each and every one of those voices meant to me.
We came up with doubt, which is a huge one. Guilt, which is also a huge one for me. Jealousy, laziness, ego, and anxiety.
In the video for the track, we see you representing the six different "vultures" and struggling with these various parts of yourself. How did you develop this concept?
I'm basically personifying these voices and having them sit at a table with me in the middle, and you can tell that I'm being controlled by them and they dictate my movements. And then towards the end of it, it flips and I'm the one that takes over the vultures and takes the matter into my own hands.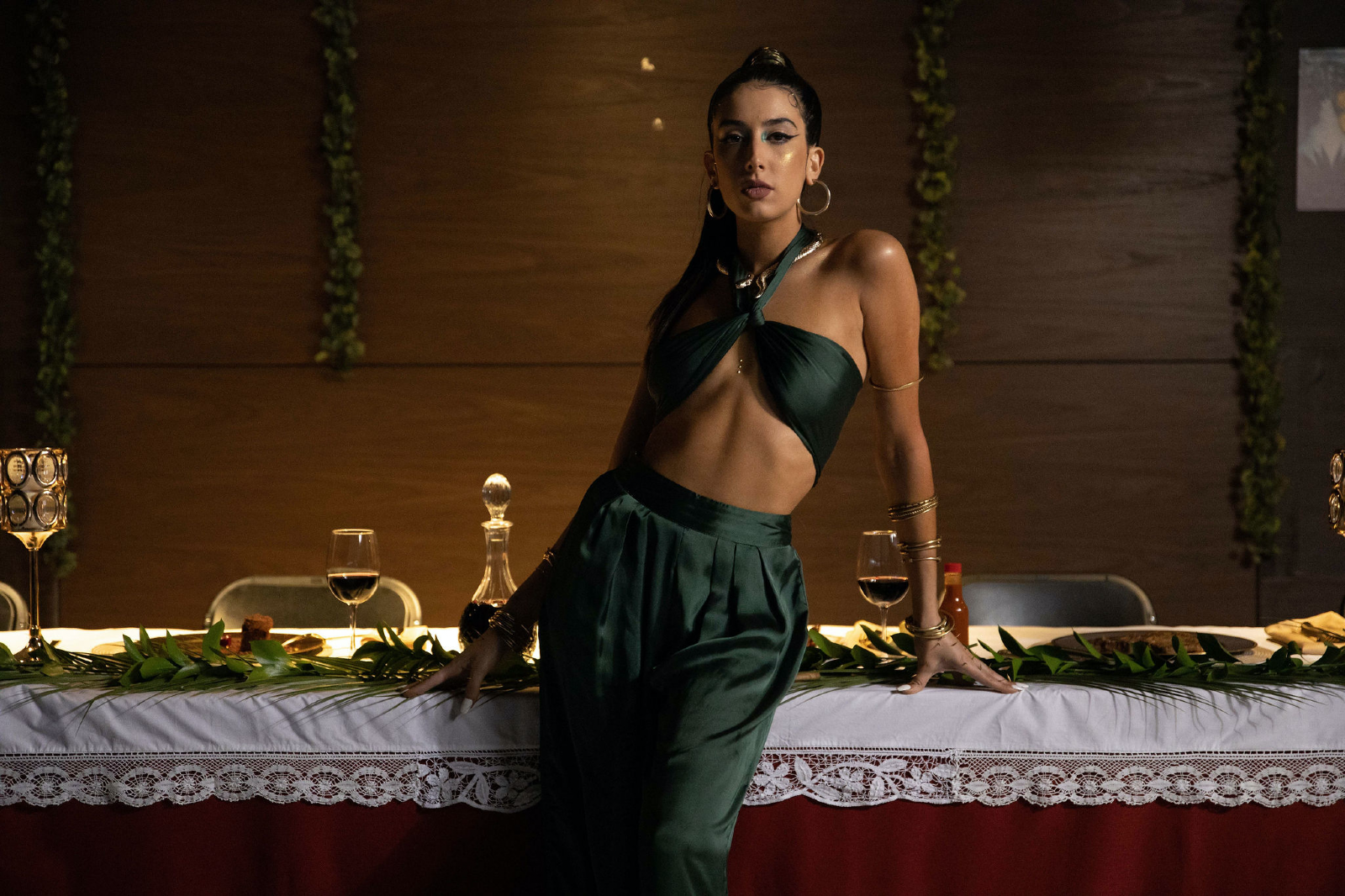 Having lived all over the world, you have a really wide cultural background. How has that influenced you artistically? Was there a lot of music in your house growing up? Was that always a part of your life?
It was. I always had a very intense connection with music. For me, it has always been my best friend throughout my whole life. The first time I smiled, my mom said that it was when she left the hospital and put the radio on in the car. 
[Growing up], I didn't really understand that there was such a thing as a career as a musician or as a singer, especially because every four years we were moving to a new country. When I was 14, we moved to South Africa and my dad bought me a piano for my birthday, and I started writing music. And that's when it kind of clicked for me that I had to do this, because I had something to share. And I was just like, 'What do I do with this? I want people to hear this. I want to share this with people.'
In recent years, we've started to see more and more artists incorporate a wider range of cultures into mainstream pop music — most notably is Rosalia, who I know you're a fan of. Are there any holes that you see that still exist in pop music? How do you hope to fill them?
The heart of pop music is still in the US, and that's what kind of dictates what the rest of the world listens to. I think in recent years, the way we've seen Spanish being incorporated in pop music has been amazing, and definitely something that wasn't as common. And now it's mainstream. But I think there's still something missing. Granted, yes, there are a lot of Hispanics in the US, but I would love to see this country embrace other cultures around the world, whether Haitian, African, Arabic or Indian. I just think there's so much to learn and so much to appreciate and connect with.
I want my music to bring people from every background and every culture together because what I've noticed growing up in all of these different countries is that we have so much in common; but also what we don't have in common is really beautiful and there's so much to learn and appreciate. 
You mentioned before that doubt is a huge "vulture" for you. What role does doubt play in your life? In what ways are you grappling with it?
Being in this industry, you're constantly comparing yourself to others. It feels like everybody else's success is thrown in your face with social media, and makes it seem like you're the only one that has problems. But it's not the case.
Absolutely. But I think songs like this one are really helping shatter that false perception and help everyone to see that we're all going through stuff. We all feel bad about ourselves sometimes. And that's okay.
Definitely. You can't have one without the other. I've realized in life, it's always a matter of balance. No matter what, you have good times and then the bad times will have to come. And then the bad times come and then the good times have to follow.
CONNECT WITH NAÏKA
INSTAGRAM // TWITTER // FACEBOOK
photos / Michael Adan
story / Catherine Santino