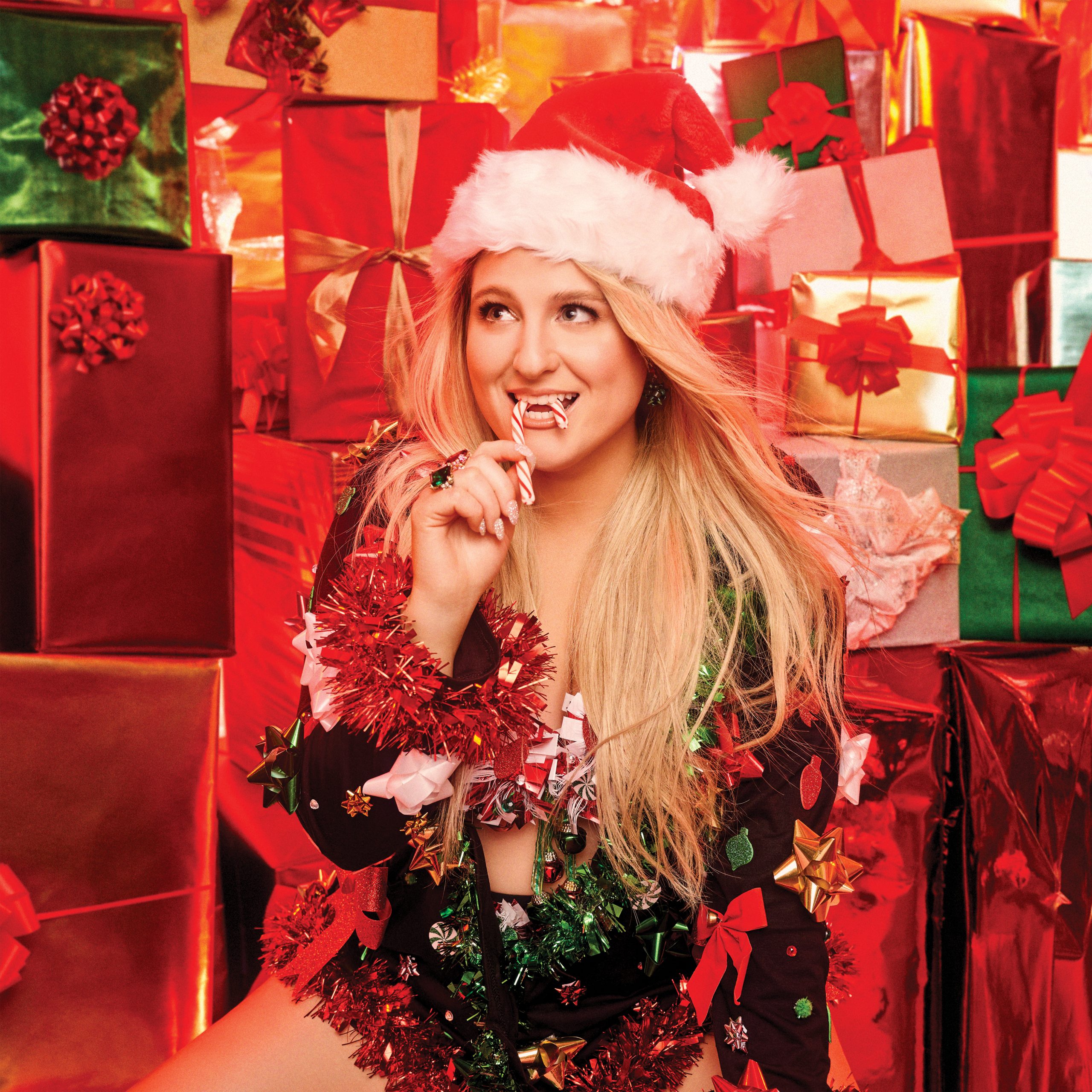 Meghan Trainor is excited for Christmas—so excited that she decorated her entire house back in October, a typically wild act that's quite understandable this year. Between the pandemic, the election, and all of the other stress and chaos of 2020, we all deserve a reason to celebrate. Back in March when we were all sent inside, Trainor realized the world would need some extra cheer this holiday season and quickly got to work on  A Very Trainor Christmas, her first Christmas album. With assistance from her husband, actor Daryl Sabara, and the rest of her family, she crafted an 18-track collection of Christmas classics, original festive bops, and show-stopping (remote) collaborations with Seth MacFarlane and the legendary Earth, Wind, and Fire. She even included a cover of Britney Spears' iconic "My Only Wish," becoming the first pop star to ever put her own official spin on the holiday pop classic since it dropped back in 2000.
It's quite an exhilarating season for Meghan Trainor, and not only because of A Very Trainor Christmas. Her 27th birthday is coming up on December 22, which is also the second anniversary of her marriage to Sabara. To top it all off, they're expecting the most exciting gift of all: their first child, a baby boy.
With everything she has going on, Meghan Trainor is clearly the perfect candidate to kick off LADYGUNN Q & HOLIDAYS, a series of conversations with musicians about holiday music, traditions, memories, and more. Check out our chat with the pop princess below.
How are you?
I am fantastic! It has been a tough year, but I am so excited to be expecting my first baby (Crazy!) and releasing my first-ever Christmas album with my entire family.
Yes, congratulations on A Very Trainor Christmas! How did the album come together, especially in the wild year of 2020?
Thank you so much! Once we realized we would be in quarantine for a while we knew it was a good time to start working on the Christmas album. We wanted to do everything we could to bring a little happiness to the world. 
Which holiday classic were you most excited to recreate?
There is something special about "White Christmas" for me. I have always loved every version of that song, and getting to sing it as a duet with Seth MacFarlane was a dream.
We LOVE your cover of Britney Spears' iconic "My Only Wish." What inspired you to record it for the album?
The Queen Britney herself! That was one of my favorite Christmas songs growing up. I remember the first time I heard it and fell in love. I have always loved her version, and I wanted to try my own version. Nothing will ever be better than Britney's!
What was it like to collaborate on "Holidays" with the legendary Earth, Wind, and Fire?
A dream come true! I have loved them my entire life! They are the most talented and kindest humans ever. 
Other than your new festive bops, what songs are on your holiday playlist?
All of Frank Sinatra's Christmas album!
Does the Trainor family have any holiday traditions? What's your favorite?
We eat everything in sight and dress up like crazy! We also hold hands together at the beginning of the night and say a grateful prayer. 
This Christmas is definitely a unique one. How are you planning to celebrate this year?
We are going to get tested, stay safe, quarantine, and spend time together. None of us will forget this year!
What's on the menu for the Trainor family Christmas dinner?
My mom's mini hot dogs! They are the best! My dad cooks the turkey, and ham, and a thousand yummy sides.
…and for dessert?
Sugar-free everything! (Trying to stay healthy for the baby!)
What do you most look forward to about next Christmas?
Dressing up my baby as a cute reindeer!
CONNECT WITH MEGHAN
INSTAGRAM // TWITTER // SPOTIFY
story / Jack Irvin
photo / Courtesy of Artist