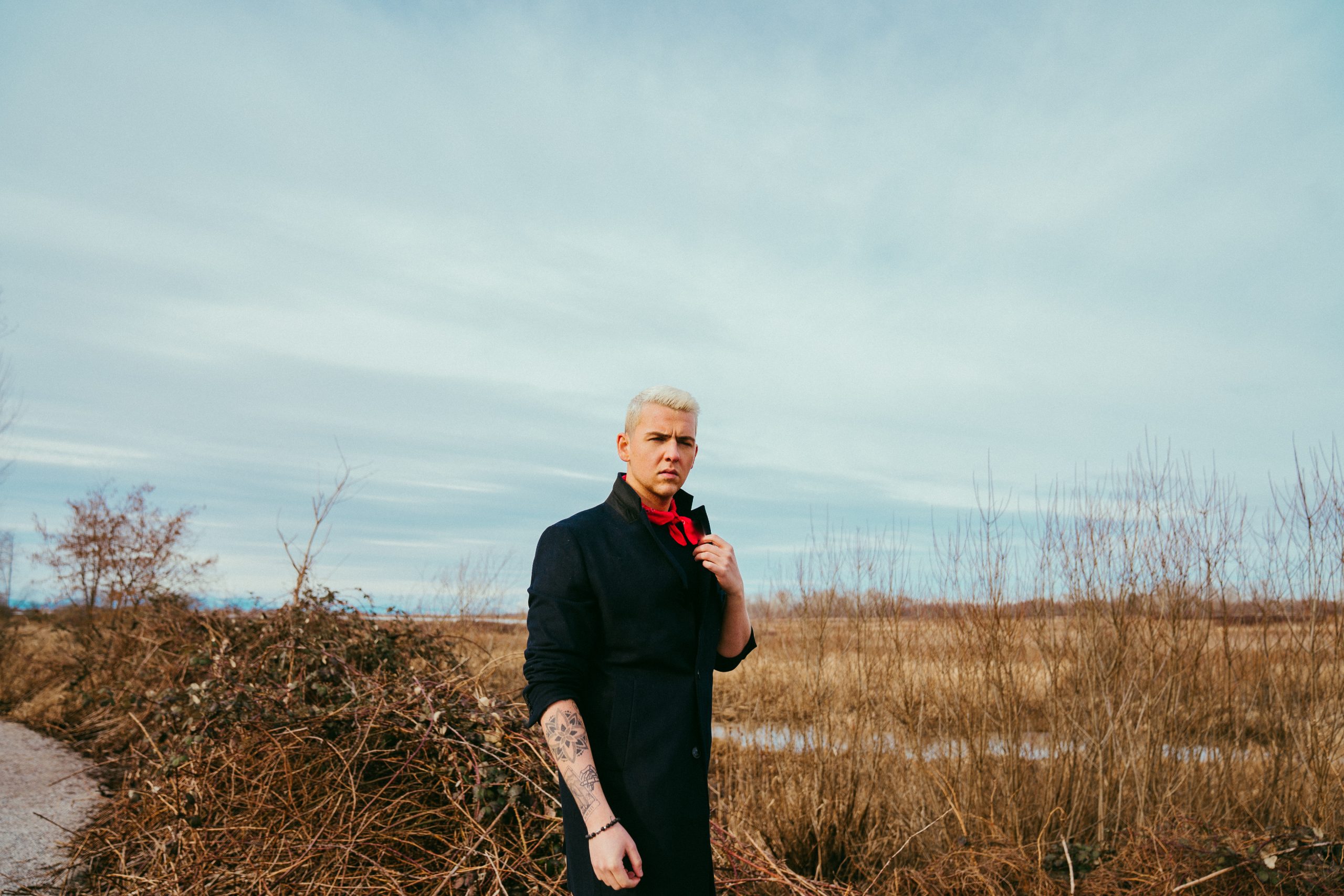 A move to London from Vancouver was rife with personal struggle. At 17, walks in Regents Park mollified grief…grief inspired by the onslaught of internal conflict. After years of vocal training, a period of formative internal conflict ultimately gave rise to Mathew V…the soulful queer artist whose emotive vocals speak authentically to the current moment and strive to heal anyone who has ever felt other.
With a voice that paints the color of premonition, Now I See…Mathew's latest single featuring house DJ Gab Hydes reminds us to move onwards into an uncertain future with greater clarity and confidence. A future that makes room for new experimental art, exploring an array of genres and that beats in unison with a non-conforming identity.
Sounds, Mathew's 2016 debut album featured a playful staccato of chords strengthened by lyrical tremors and differs from the 2018 release of pleading ballads spiked with angelic banshee. With 6o4 records citing a catalog of 15 million streams, Mathew's initial inhibitions have weakened over the past years and have inspired a range of textured songs that welcome greater mobility for fresh poignancy within the industry. Lyrical poignancy void of a conspicuous direction and that echo an authentic fragility.
In 2020 the NYT detailed the delicate thread that exists between helpful and harmful authenticity, a thread that appears thinner for underrepresented groups leading to a question regarding Mathew's artistic process.
"Everything I have to say is consistent with myself," says Mathew, who's signature melancholy currently accommodates close to 100,000 monthly listeners on Spotify. Humble defiance is the undertone… defiance that is influenced by an internal pendulum that swings between personal experience and experimental pop.
Reminiscing on past and the present, Healing the July single from the upcoming EP begins with a tickle of guitar strings, and contemplates the simple fact that…
"Maybe there's a reason we feel the way we've been feeling."
"How can I speak authentically without causing harm?" was another question that was raised when discussing artistic vulnerability in 2021, and in the wake of the subsequent criticism following Lil Nas X, perhaps the world is not entirely prepared to embrace genuine transparency; yet let us not forget the aim of the artist…
To provoke.
Art for the sake of art…the 19th-century slogan coined by Victor Cousin, suggests that true art should be void of explanation. A slogan that has subsequently inspired a slew of artistic movements.
Mathew describes our zeitgeist as "a time when artists can say what they want, when they want "and strongly believes that all perspectives are important when telling authentic stories.
Considering the amount of queer representation within the music industry and the advocacy for greater inclusion, not to mention the lack of gender inclusivity, Matthew urged that the industry "can always do better" and was quick to express his wish for the public to be able to relate more empathetically with songs that are less predictable and perhaps deviate from a traditional narrative…with lyrics that inspire greater thought.
 STORY / Alexander Mays PHOTOS /Daniel Keen
Connect With:
@mathewvmusic