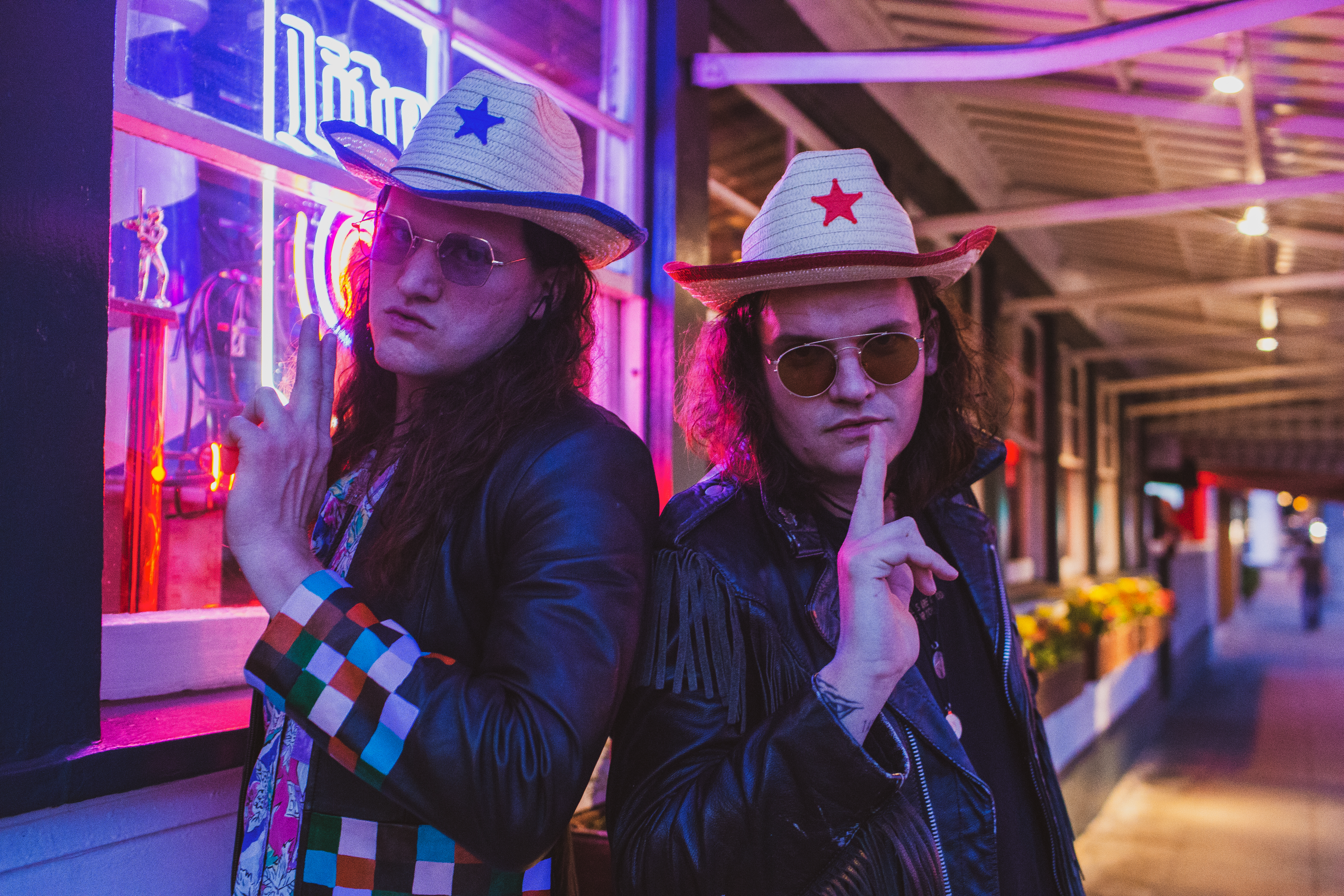 Mating Ritual may look like your ordinary triple threat boy band – talented, sexy, cool – but don't let them fool you. There's nothing predictable about this indie-pop duo, and we absolutely love it. Serving their latest album 'Hot Content,' electric brothers Taylor and Ryan recently teamed up with one of our favorite artistically kinky clothing lines, ZigZag.
Based in Los Angeles, Zig Zag is a hub for the peculiar, colorful, and bold. The ever-growing line is a flirtatious cross between the vintage and the future, with hand painted boots and pants alongside unexpectedly unique finds. "My go to for years has been all black everything, but this shoot got me out of that world for a minute," Mating Ritual told us. "And now I'm hooked."
Now they are on their first headlining national tour (get tickets here), we caught up with the boys of Mating Ritual to discuss their life in fashion. Read the full interview below to discover what they wore in high school (very inspiring) and how this photoshoot propelled them to expand their closets. 
Ok. We're digging in. What did you wear yesterday? 
Yesterday I wore the same thing I did today, which was a khaki pair of polyester Levi's, a belt from a gas station in New Mexico, wife beater, leather jacket and bucket hat. Never be afraid to wear the same thing many days in a row. You deserve it.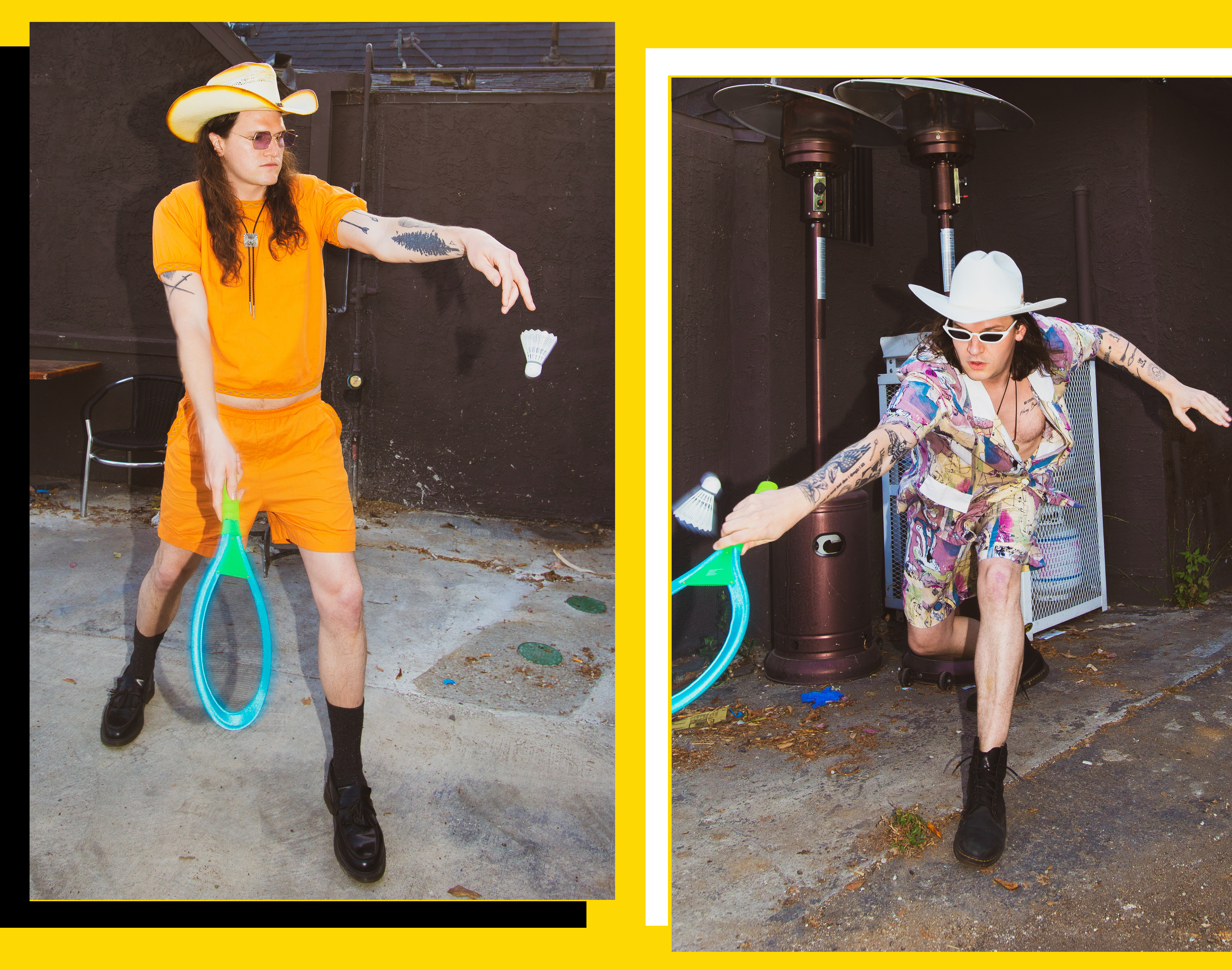 Now let's get personal. What did you look like in high school? Describe your best look: 
Yikes. Or not yikes actually. I experimented with different variations of punk rock, new wave, and church attire in high school. I was very into Seven For All Mankind girl jeans, Macbeth shoes, a black button up shirt (short sleeved), checkered or polka dot tie, and white sunglasses. A look I should bring back actually. Pay homage to the microkorg emo bands on Myspace. The real point of pride for me was my very tall faux hawk/pompadour. I was too afraid to go full shaved on the sides, so I kept them short and dyed both sides (and some on top) black all the time, keeping a bleached stripe down the middle so I could use color Iced Spiker gel and keep my look fresh daily. I wish I had photos, but this was before iPhones (or camera phones at all really) and I was "rebelling" from family photos so I have no documentation. Youths.
Clearly y'all are cowboys from the west coast. But let's say cowboy hats didn't exist. What would be your second choice?
Recently I've been living that bucket hat life, but only cuz it's hot and once the weather chills down I'll get back into beanie life, my normal go to. 
Design the most insane stage outfit you'd be comfortable wearing (be bold):
Probably my high school look.
There's something about ZigZag and Mating Ritual that just goes hand in hand! Where did you guys shoot these photos and why? 
We did most of the shoot outside of a sushi restaurant in West Hollywood, primarily cuz we were hungry. We don't spend almost any time in any of the Hollywood's so when Zig Zag suggested WeHo it seemed like a great place to get new looks and vibes from our normal "thing".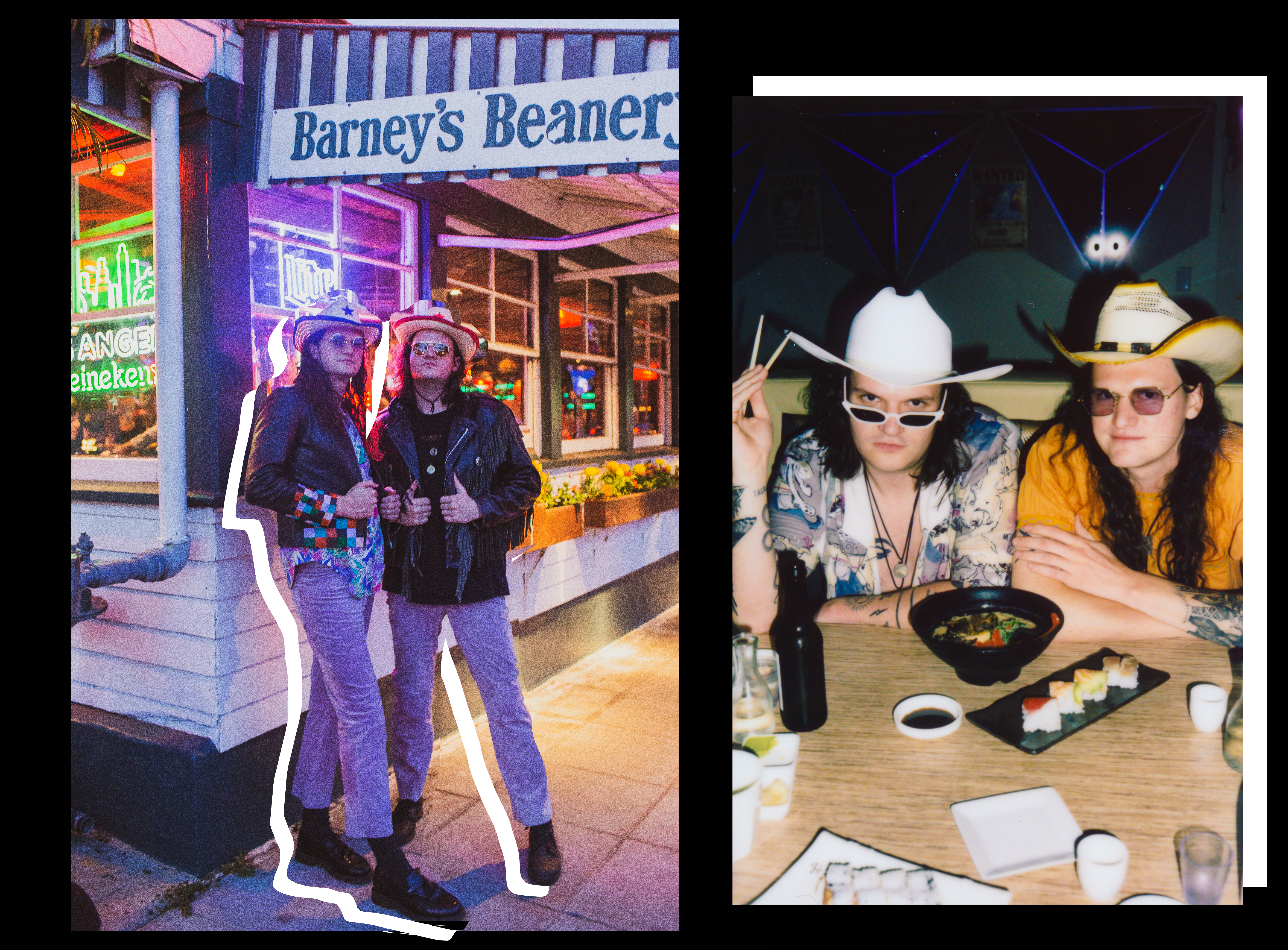 Tell us about the process of picking out the clothes: was this stylistically a venture for either of you? Or is it in the lane of clothing you'd normally wear?
Zig Zag brought a ton of options, though 100% women clothing, which is right up our alley. They were nice enough to let us keep the pieces, which I've worn at a lot of shows and at general gatherings since. My go to for years has been all black everything, but this shoot got me out of that world for a minute, and now I'm hooked. I even bought some khaki pants the other day. PROGRESS.
Last question: If ZigZag and Mating Ritual collaborated to create a fashion line, what items would you include and what might they look like? Boots, hats, colors? 
I think you hit the nail on the head: Boots, hats and colors.

CONNECT WITH MATING RITUAL:
CONNECT WITH ZIG ZAG:
PHOTOS / AMANDA ADAM
STYLING / TUFF COOKIE
STORY / ARIANA TIBI