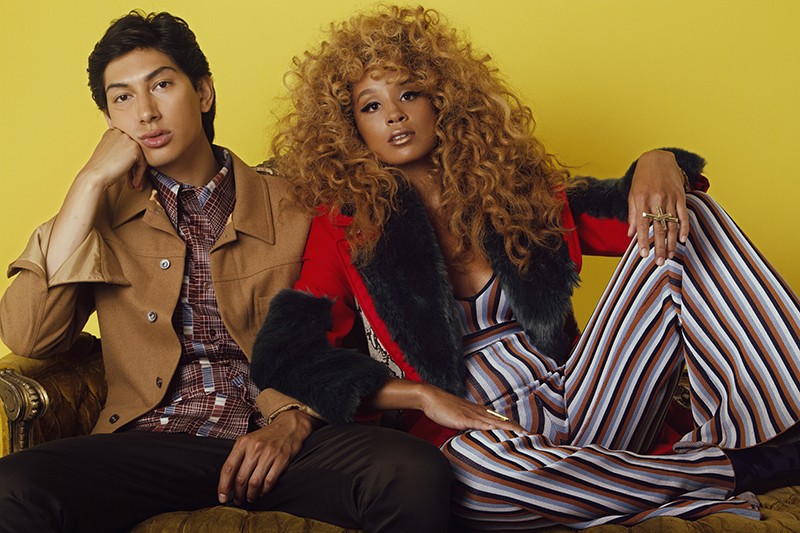 story / Alyssa Hardy & Miz Kane
photos /  Rachel Thalia Fisher
styling / Kat Banas
makeup /  Yuui Vision using M.A.C
hair / Chuck Amos for PANTENE @ Jump
creative direction / Erica Russell
Contrary to popular belief, Lion Babe is not a person. It's a band. Many who have heard of them immediately think of their larger-than-life lead singer, Jillian Hervey—daughter of iconic singer and actress Vanessa Williams—without realizing that she is actually one-half of an extremely talented whole. The full group, comprised of Hervey and producer Lucas Goodman, has taken the music and the fashion industry by storm with their soulful, transformative tracks and intrepid sense of style that permeates through genre. Onstage, Hervey sings front and center, tossing her enormous mane of curls while Goodman stands stage right, rocking out on the keyboard. They have an undeniable presence that comes with natural chemistry, and it's intoxicating.  
Offstage, the singer has become a symbol of confidence and self-love. Most recently, she starred in an H&M campaign that featured the band's groovy cover of Tom Jones' "She's a Lady." Between her expressive fashion sense and gorgeous natural hair, she has taken control of her personal style narrative, empowering many others to do the same. In the press, she has been compared to everyone from Tina Turner to Chaka Khan, but when you see the band live, you can't help but perceive her as uniquely herself. Her sound is masterfully balanced thanks to Goodman's neo-soul backbeats and her movement is as breathtaking as it is entertaining.
"I think it's nice to have a little bit of healthy tension in music sometimes," Hervey explains of their dynamic. "I think that's reflective of where we are now in the world with everything going on."
As the pair continues to release more music, they find themselves constantly evolving and melding into each other more and more. Their aesthetic and sound is only a small part of what makes them special, and their future is full of endless possibilities. Here, we speak to the band about finding balance, creating a space for representation, and, of course, big, bold hair.
You have spoken about the origin of the name "Lion Babe" in the past as a representation of strength and vulnerability. How do you believe this dynamic appears in your music?
Jillian Hervey: On my end, when I think of the lyrics and stuff, I try to write from the heart and give people a real sense of who I am. And our songs, even talking about love or issues that everyone experiences or some kind of journey of finding yourself—that whole process can be very powerful. Once you start to deal with those things, it makes you very strong. You build a resilience within yourself of being able to do whatever life throws at you. I think that dynamic is in there in what we like to write about.
There's definitely plenty of room in the sound. The silence is heavy.
JH: It's the yin and yang.
Lucas, do you feel like you're the softer side or do you feel like you both change positions as you find balance?
Lucas Goodman: Yeah, I think Jillian and I, we go in our natural areas when we're together.
JH: I would say it's a mix. There's times where he might give me a harder beat or something, and then my response might be something out there. We always try to play with that idea as well. Keep it interesting.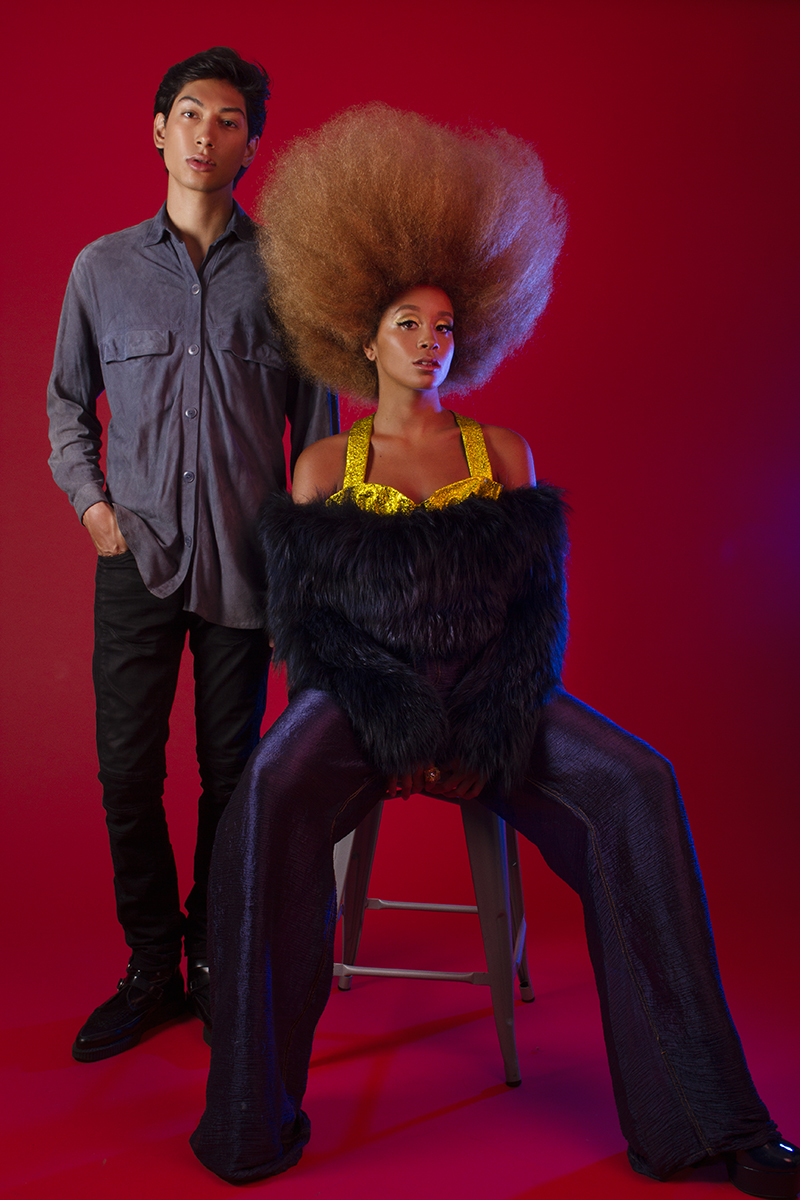 People usually bring up that you're the daughter of Vanessa Williams, Jillian, but many times when someone is the child of a well-known celebrity, it overpowers their craft. In your situation, it seems like it doesn't even affect it. Have you noticed that?
JH: I think that's always just been a life goal. I've always wanted to be my own person and have my own career, my own credibility, and my own connections—all those things. It was pretty easy because it's been in my family. My mom and dad have taught me to be very independent. They're obviously there for help, but with anything when you're growing up, the last thing you wanna do is ask your parents to help you out. You want to prove to them that you're a strong person, do your own thing. I've never been a person that walked up to someone saying, "Hi, I'm Jillian, this is my mom." It's never happened! I would never do it.
Just listening to your music, it's not like you think of your mom or anyone else.
JH: Yeah, yeah. It's nice. Obviously, people don't know my whole family, but between me and my whole family we have a lot of artsy people all around us. That's why I've been very supported to go down this road. For us, it's kind of what a lot of people do in our family: they're passionate about something and then they build something up for themselves. It's kind of inevitable that we do our own thing.
When people think of Lion Babe they think of Jillian mostly, both aesthetically and sonically: the hair, her presence, even just hearing her on the track. You guys play up that whole Blondie/Debbie Harry dynamic. Is that purposeful?
LG: For us, it's the band. Lion Babe is the two of us together. We do what we gotta do to get going.
JH: He's just really confident in general.
With you, Jillian, you're very expressive about your femininity without even having to use words. Not everyone is very comfortable with their femininity, yet you own it unapologetically. Were you always like that?
JH: Definitely not! I had my awkward girl time a decade ago, growing up. I had a lot of friends, I kept very busy, I was always out doing stuff. I've always been adventurous in that way. But of course, I grew up with body issues. I grew up in a predominantly white house, so I didn't have a lot of references to other girls who looked like me or who had my hair texture. Obviously, my family was a great anchor to [remind me] that I had a part in that world. I definitely think New York in general and growing up and immersing myself in jazz and things that I was really passionate about [helped with that]. Once I got to a place as an artist and performer, feeling comfortable, going into New York and seeing everyone… It was all the colors of the rainbow. All these people being really expressive and individual. There was a New York energy that just felt like everyone's focused. They have their hustle. You get changed somehow, but you also don't. I think it's just one of those things where you feel it and accept it. So, I really embraced that and took off with it. I think my evolution of being comfortable with myself definitely started in college. They always say, "In college, find yourself." I was skeptical, but I do think it played a big part of finding my voice and being comfortable with myself.
You said you grew up in an all-white neighborhood and didn't really see that representation of people with the same hair or that looked like you. Is it important for you to represent black women in your image?
JH: When Lucas and I started meeting and talking, we definitely started talking about our heritage and our culture. When we did the first video, "Treat Me Like Fire," that was our first time really thinking about it. But it wasn't calculated or anything like that. It just reflected the message of the song. For me, it was the first time in a long time I was wearing my hair natural, having my extensions out and all that stuff. So when I had the video, it was an opportunity to have this goddess version of myself, this otherworldly version—my hair times a thousand and saying, I feel free and wild and open! I'm coming into myself! The fact that it ricocheted off that, and people got it and that they felt that sense of representation and empowerment, it's great. It's definitely something I've been thinking about—its effect on everyone. I've been able to progress it. There's so many other ways to wear your hair and honor who you are.
When listening to your music, it takes you somewhere else. It's emotional. What do you feel is your mission as artists?
LG: We want to play shows that inspire people.
JH: I think our mission is to make everyone feel invited, accepted, loved and inspired. We don't have a bullet list of things we want to do. There are things we want to do, today and in general. But just the fact that we are able to travel around the country, play music, connect with people, and continue to have amazing opportunities… I think the goal of this is to keep making things that we're proud of. We want to keep pushing ourselves to grow and try to work things, overall, into a better place, in whatever way we can.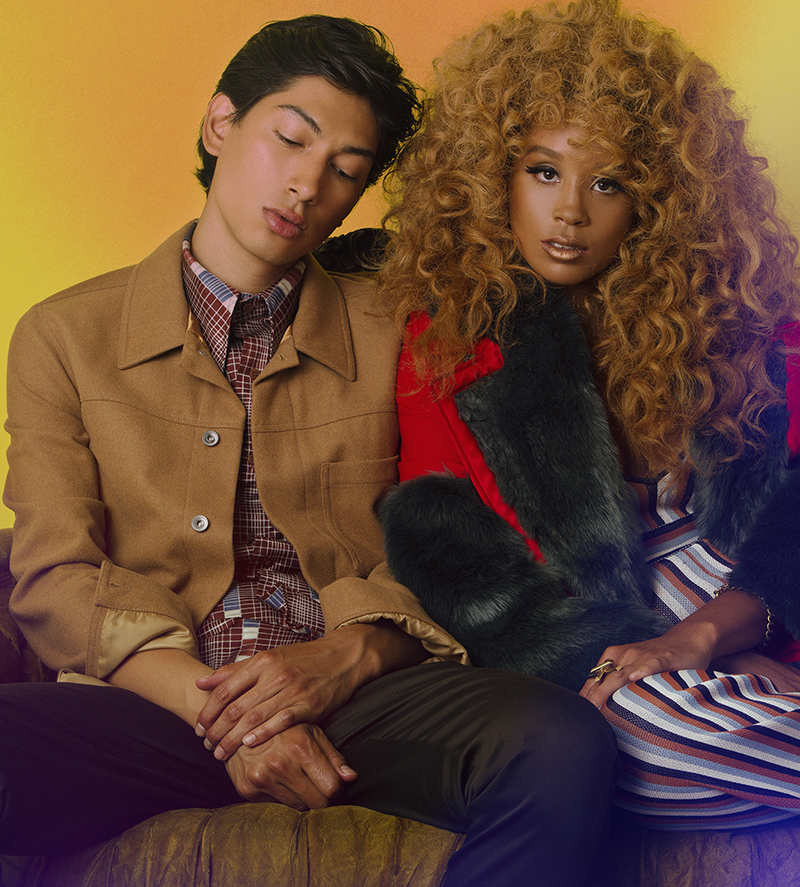 JILLIAN: Jumpsuit, PH5. Coat, Kim Shui. Rings, Syd & Pia NYC. Bracelet, LHN Jewelry.  Earrings, Tuleste. Boots, Asos.   LUCAS: Shirt, Nifty Thrifty Vintage. Jacket, Asos. Trousers, Topman. Sneakers, Converse.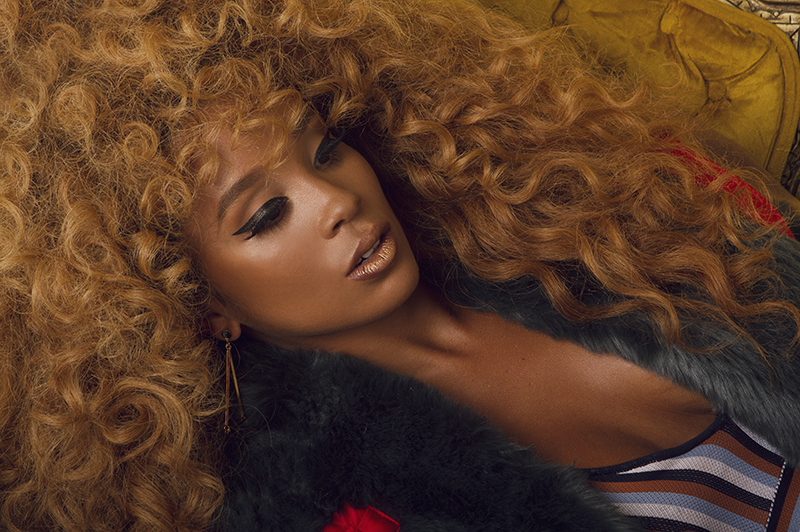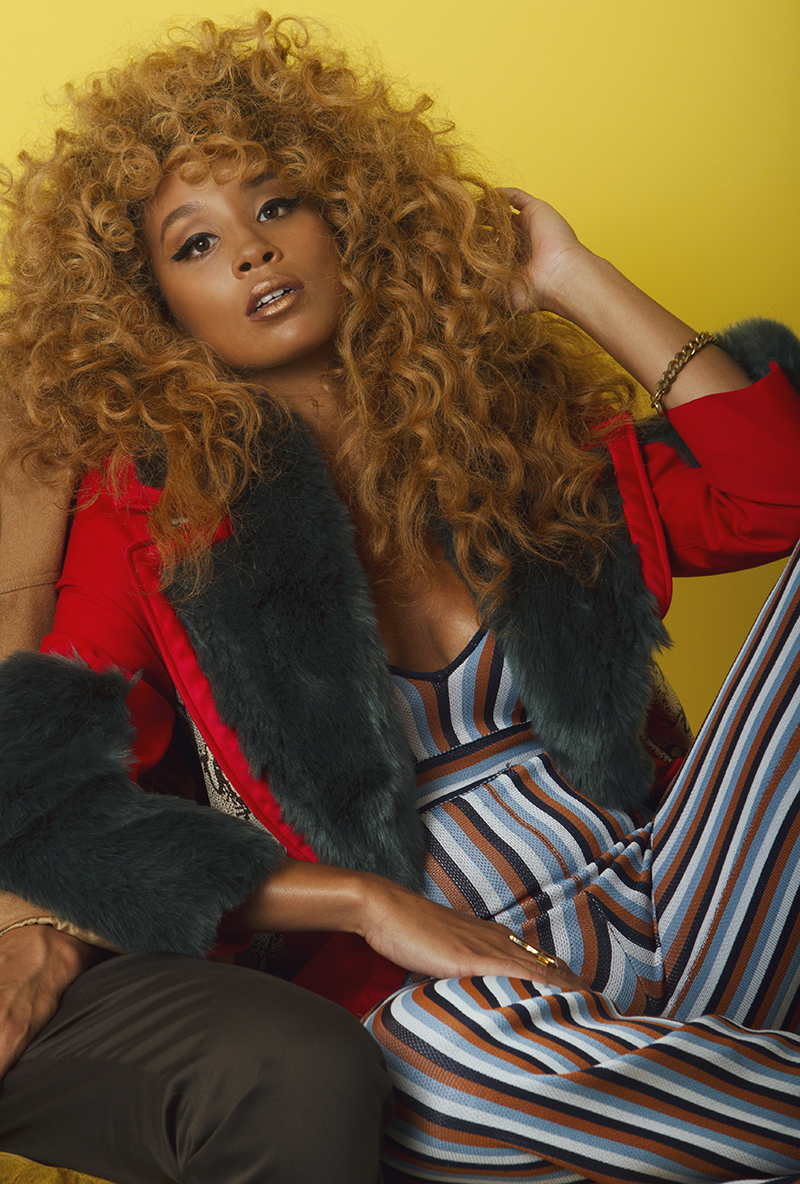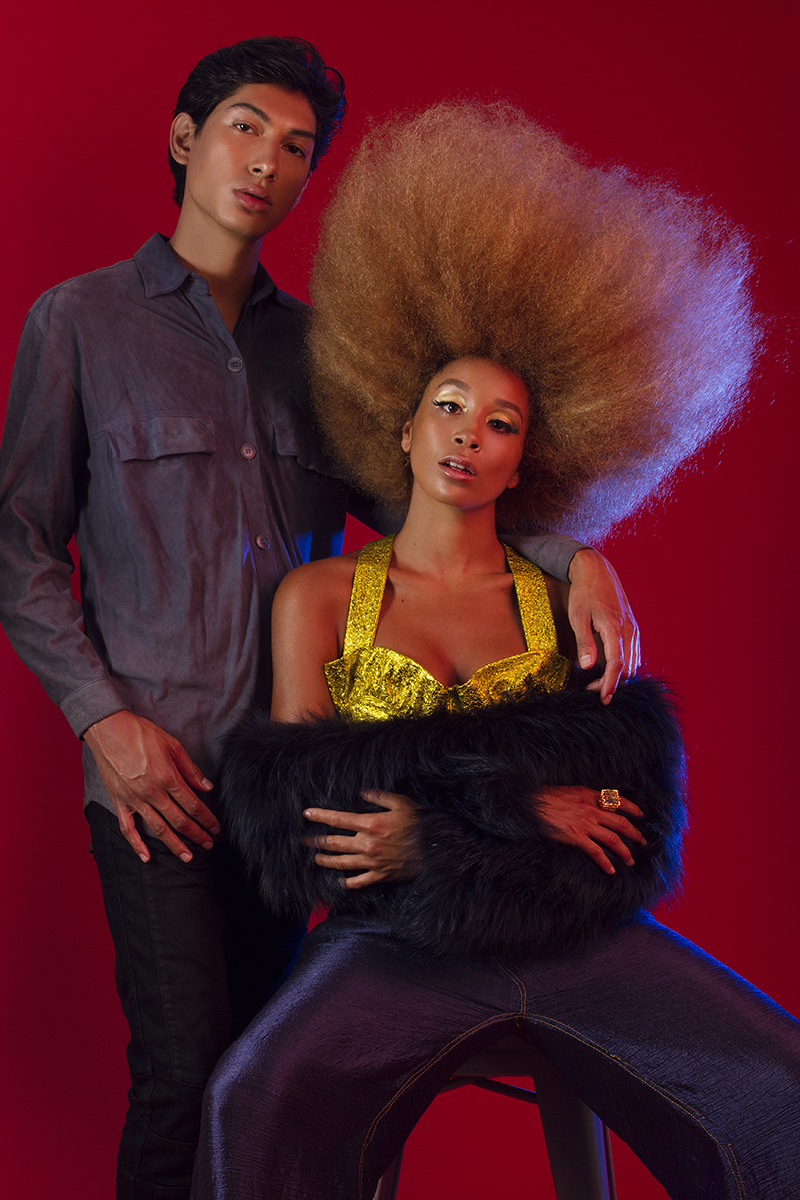 JILLIAN: Sweater, Milly. Gold top, DROMe.Pants, V Files.  Ring, Joanna Laura Constantine.  Shoes, Asos. LUCAS: Suede top, Nifty Thrifty Vintage.  Denim pants, The Kooples.  Shoes, Underground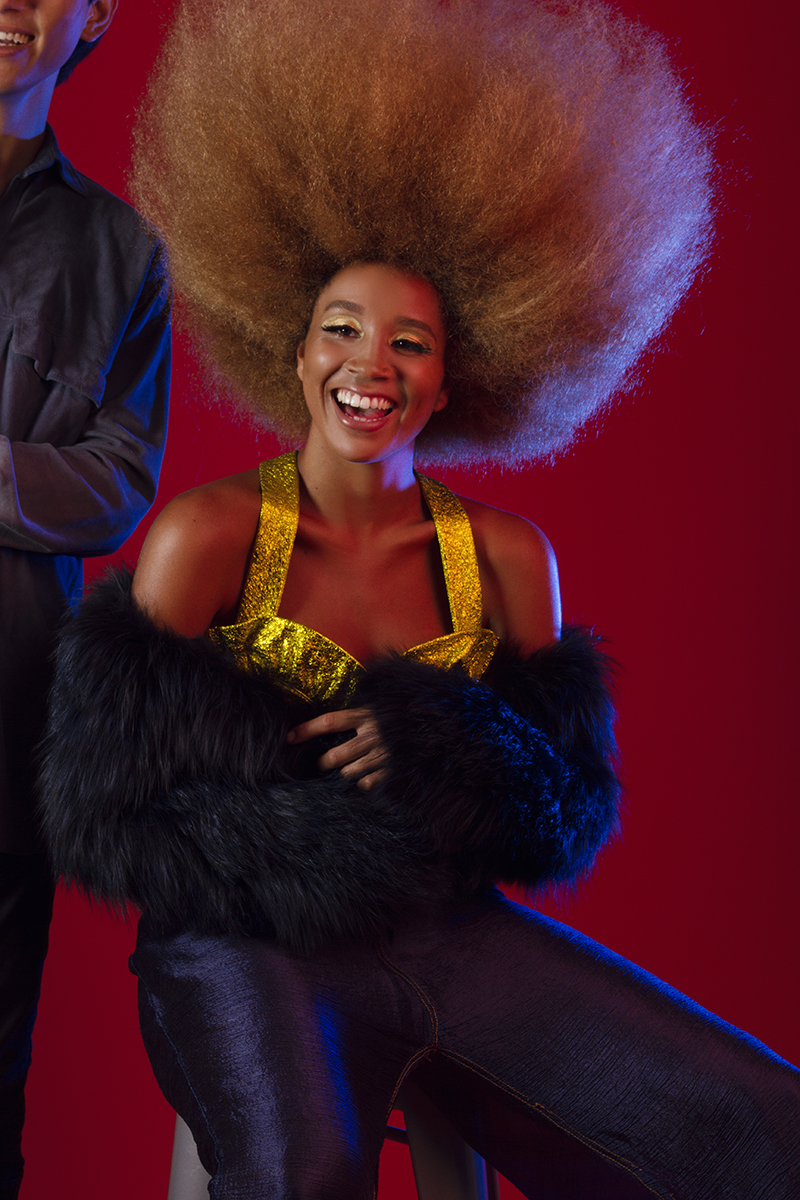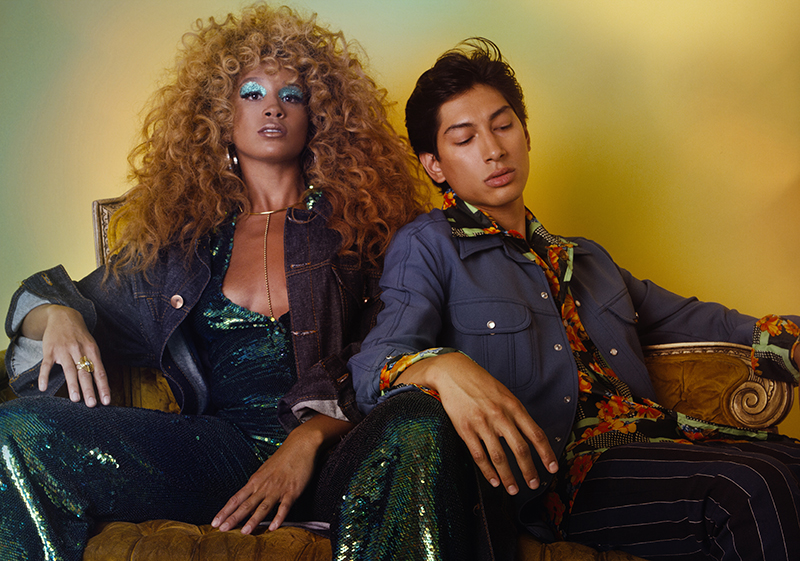 JILLIAN:Jumpsuit, Ashish. Jacket, V Files. Earrings, Tuleste. Boots, Asos. LUCAS:Shirt, Revival Vintage Boutique. Jacket, Vintage Lee. Pants, Lucas's own. Shoes, Undergound.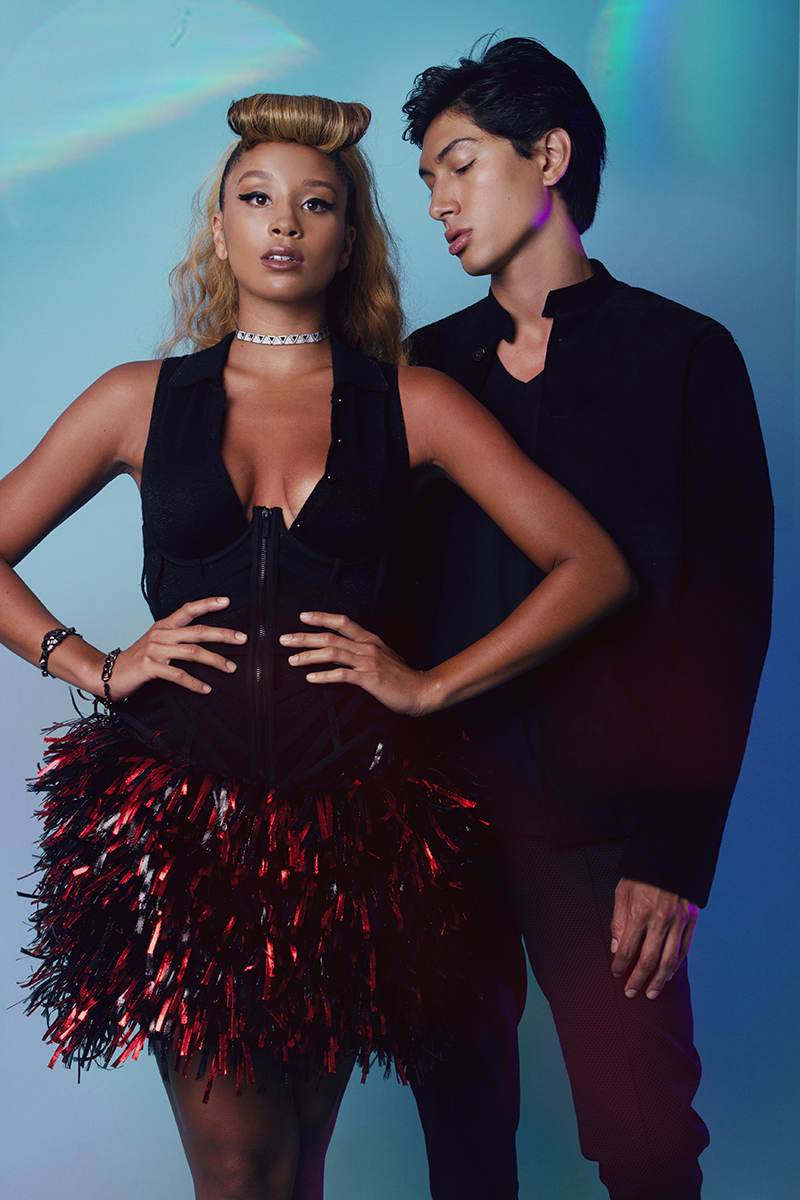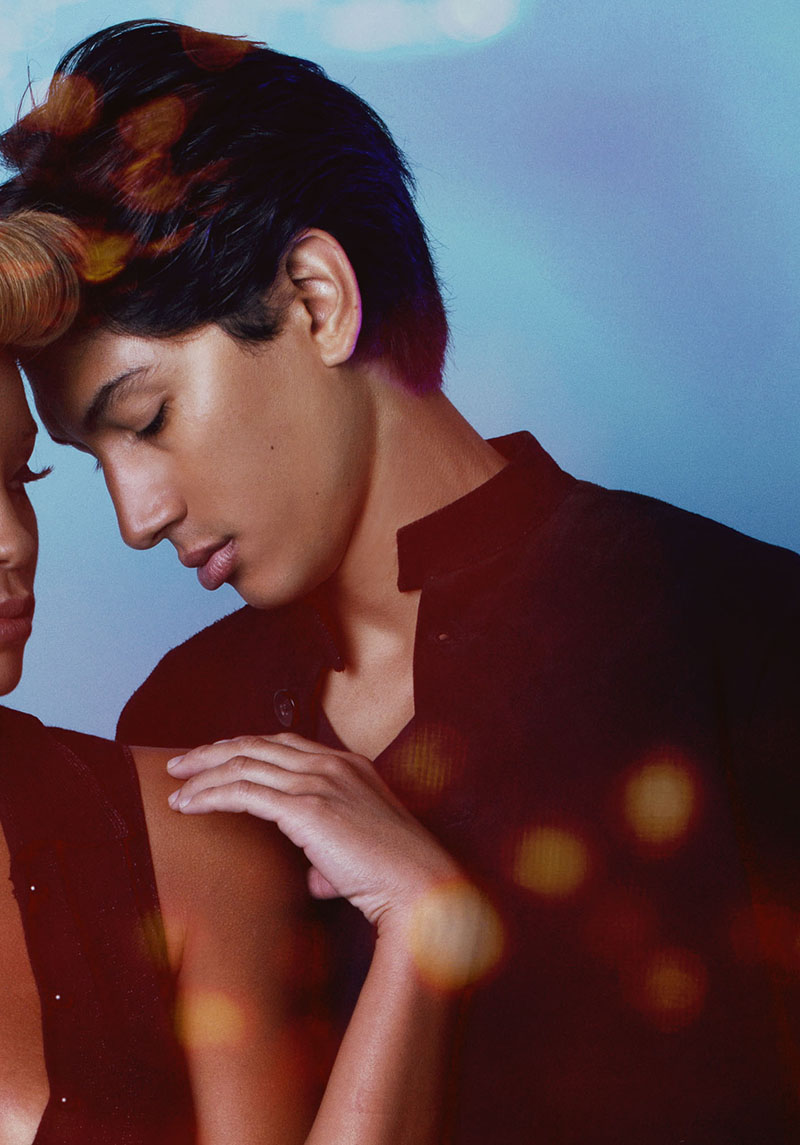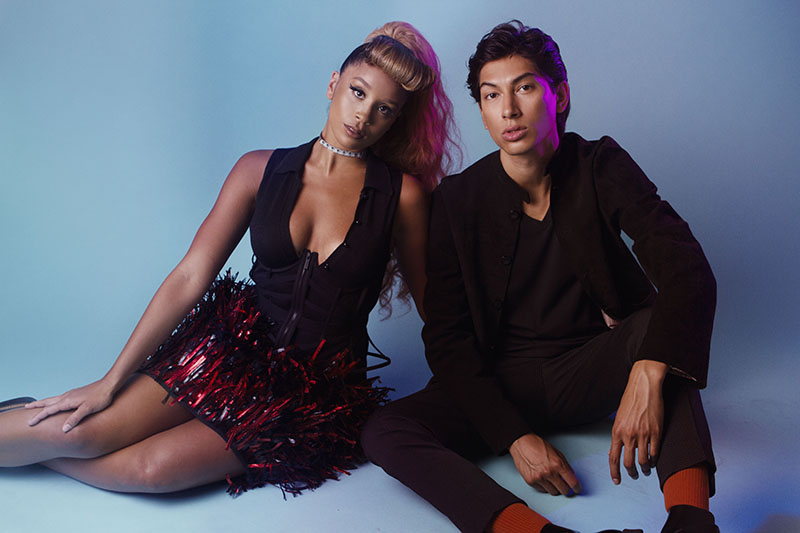 JILLIAN: Dress, Adam Selman. Bustier, Chromat. Choker, Joanna Laura Constantine. Bracelets, IOSSELLIANI. LUCAS: Jacket, Rafi & Olga.Top, Alternative Apparel. Trousers, Dzojchen. Boots, Underground.
JILLIAN.:Kimono, Rita Vineries. Bra, Di$count Universe. Skirt, 2nd Day. Necklace, Tuleste. Shoes, Stylist's own. LUCAS: Shirt, Dzogchen. Pants, Topman. Boots, Underground.
SEE MORE LION BABE IN LADYGUNN'S #14 POWER TRIPPIN' ISSUE !