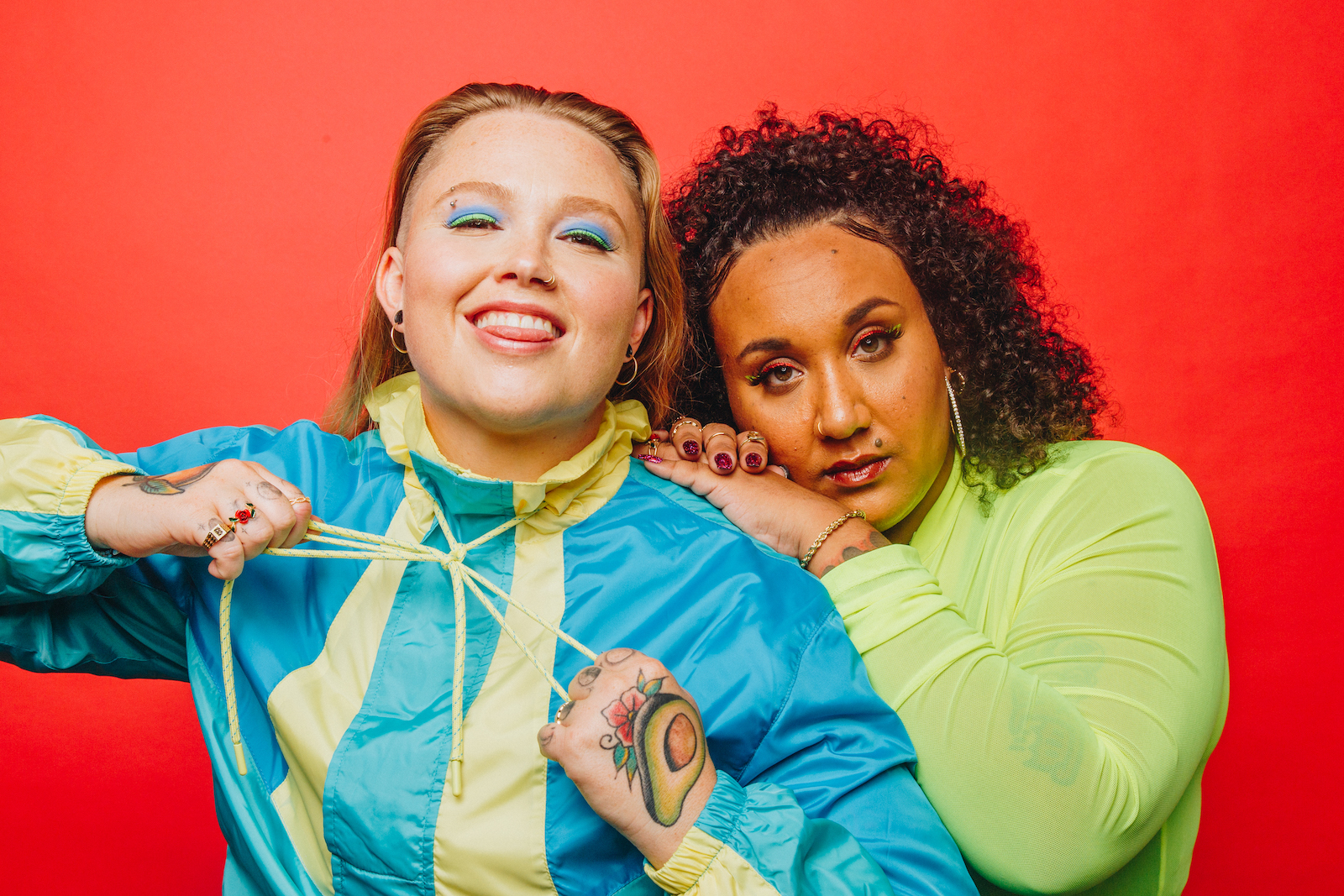 Meet Blimes and Gab: the colorful, innovative rap duo consisting of the West Coast MCs Blimes Brixton and Gifted Gab. Their single "Feelin It" – just featured on the latest season of Issa Rae's Insecure – says exactly what we're all feelin'. A light hearted, bouncy jam, it slyly foreshadowed the brilliance of their full length album Talk About It, out today (June 26th).
Featuring Method Man, Iamsu!, Bahamadia, and Jay Park, the collection is bold, epic, and charming with beats that make you lean far back. Blimes' honest articulation alongside Gabs' soulful rasp creates a landscape that is at once tough and forgiving.
The GRAMMYs hailed Blimes and Gabs' debut album as a "statement debut …" that "encapsulates the mood of a West Coast summer and their warrior-like rise while rolling out head-boppin' beats that feature funky baselines and ear-catching instrumentals." The trailblazing duo met online and immediately recorded their breakout viral hit "Come Correct" after just one day. Their forthcoming TV show directed by the legendary Nelson George documents their yin and yang friendship as one of the only female identifying, queer, interracial duos in hip hop.
Enjoy their jovial, candid Pass The Mic below and get to know your new favorite hip-hop team!
Blimes: First off, we're pretty much best friends so there isn't much we haven't talked about. We'll ask each other some cute shit we don't know about each other. If you want to get to know us on a topical and achievement level you can always peep our website or Instagram.
Gab: What's your favorite late night snack?
Blimes: Oooh love a good late night snack! Off the top of my head, it's gotta be chex cereal, or something doughy and cheesy like a hot pocket.
Gab: Hot pockets are an underrated snack.
Blimes: What's your favorite flower?
Gab: It's a tie between sunflowers or red and pink roses. What's your favorite track off our new album Talk About It?
Blimes: Either "Shellys" because it makes every single person we've ever played it for move or "My Way" with Bahamadia because that feature was a legendary honor. Okay your man's been killing it. Doing a great job as your boyfriend and you wanna make him a dinner to show your appreciation. What are you making him?
Gab: I'm fuckin' siiiiick at stirfry. Sike! But seriously, don't let there be chicken and vegetables around me or they're getting mixed! Haha nah but definitely some seafood with rice and beans. If you could pick one of the members of TLC to be best friends with who would it be and why?
Blimes: Oooh dope question. 100% Left Eye because she was hella spiritual and intuitive and we could talk about that shit all day and then turn around and talk about hip hop for the next 24 hours. Plus she was just a bad ass bitch and I feel like I could soak up so much game just being in her presence. What was your favorite song to make on Talk About It?
Gab: I probably gotta say "Shellys" too simply for the fact of how the whole song title came to be while we were recording. Life imitates art, I mean art imitates life. Same but different, you get it. We tell the whole story in the video. You'll see it next month. When you used to drink what was your favorite get down juice?
Blimes: Hahahahaha LMAO definitely tequila shots because I was an OG Shelly or Henny and Odwalla Mango Tango.
Gab: Isn't that thick? lol
Blimes: Yup! Just like I like it.
Gab: Smh lol say less! What is that an Irish smoothie?
Blimes: Nope, French.
Gab: Oui Oui!
Blimes: Do you ever have recurring nightmares and if so what do you interpret them to mean?
Gab: Damn! That is a hell of a question. Honestly, I don't think I've had a nightmare in a long time. I haven't had a "text book" nightmare since I was a kid but I'll say I've had dreams where I woke up and definitely thought that shit happened and felt the feelings of it. One time I dreamt my boyfriend did some fucked up shit and I woke up VERY angry at him. Don't remember what it was but I do remember waking up with an attitude. But it worked out because he really upset me later so I just transferred that energy. How's dad life? What's your parent pro-noun? Pop? Papa? Mama-pop? That's kinda hard… Mama pop.
Blimes: Hahaha my partner calls me Mama Sami and I feel like papa fits my energy but we'll see what Xolo comes up with when he can talk. I don't wanna discredit his father though because he's in the picture co-parenting and I'm really grateful that Xo gets to have that influence and relationship… but yeah parent life is everything those do too much over-joyous parents say it is. Sleepless and beautiful. Messy and hilarious. It's so hard to be away from them so often but the moment I smell that diaper, I suddenly miss the road again.
Gab: Thanks for having us, LadyGunn!
Blimes: Thank you! And be sure to go listen to our new album Talk About It!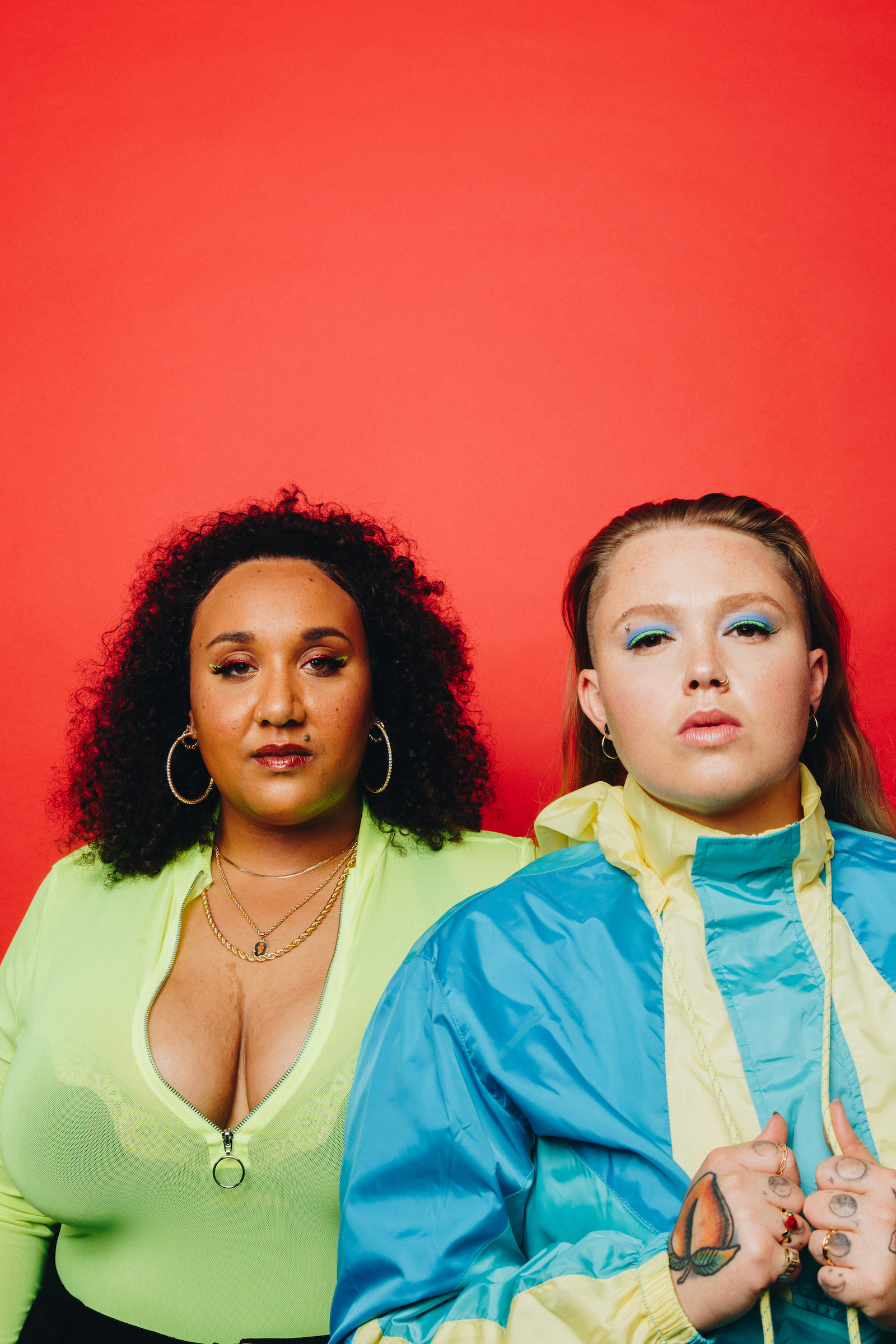 CONNECT WITH BLIMES & GAB
SPOTIFY // INSTAGRAM // TWITTER
photos / courtesy of The Orchard