Photos / Eric T. White
Styling / Shea Daspin
Makeup / Cheyenne Timperio
Hair /  Stefani Annaliese
Nails / Gracie J
Story /  Koko Ntuen
The past few years for Princess Nokia have been a dizzying tornado: "It's been crazy, fun, challenging, successful…a little painful and lonely, but more than anything, happy and very rewarding."
She's always been a subversive artist, a woman who made it to the top of a particular New York nightlife scene by way of many obstacles. But the struggle has awakened the incomparable voice of Destiny Nicole Frasqueri, a.k.a. Princess Nokia, whose stage name is an ode to the economic status symbol for the generation of kids who came up before iPhone took over the world.
At the early age of 10, Frasqueri was tossed into the foster care system. By 16 she was entrapped in the part of New York City that tourists don't see. It's gritty and sweaty, sometimes with a drumline soundtrack to carry you through the nights from rave to rave. It's the lollipop hanging out of your mouth at 5am, morning breaking on the horizon of metal and brick, with already fading memories of a delirious night spent dancing. New York nurtures artists who grow up in its fickle embrace, imbuing them with the same mystique that surrounds the city itself. As a teenager, Princess Nokia started creating art projects with friends and performed at raves, warehouse parties, club events, and punk shows. She describes a "super downtown New York," in a way I imagine is like a millennial version of Harmony Korine's Kids— a dark, raw, and frenetically sexy youth.  "Someone recently asked me, 'Did you fight a lot in high school?' And I said, 'No! I was a total boy. I had fun skating, drinking beer, going to concerts and having sex…oh, pardon my humor, I'm just being funny, love.'"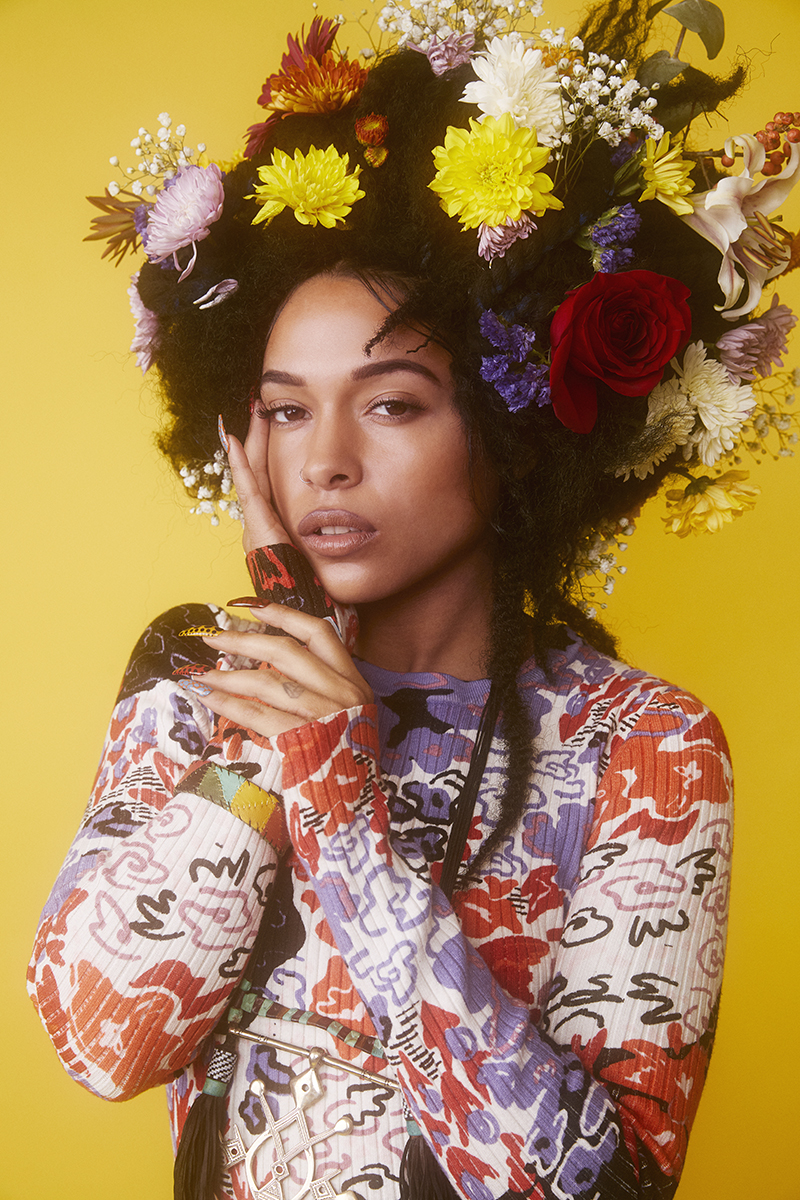 DRESS, OPENING CEREMONY. NECKLACE, MARTEAU. BRACELET, ROBIN MOLLICONE.

East Harlem and the Lower East Side were her two homes, and the queers, artists, freaks, and geeks of New York City comprised her extended family. She began performing at queer nightclubs, and she gained popularity among the gay nightlife scene for her hauntingly chill flow and beats. However gentle and calming the rhythm, she didn't hold back her message—speaking in tongues like a fundamentalist preacher—visceral, raw, overflowing with information, unsettling in a way that only the truth can be. Her music was never polite. "Ay caramba, man, you can go and suck my dick / Skating down the street, being mischievous as shit / This as good as it gon get / Always cheat on yo tests / Don't you be like the rest / I ain't no teacher's pet," she says in "Bart Simpson" from her album 1992.
Princess Nokia has developed a cult-like fanbase with no algorithms or formulas to speak of. Her success is a byproduct of her own perseverance, along with a well of music lovers who really need what she is providing right now. She has always been true to herself in her music, weaving narratives of her rough upbringing and life as a Puerto Rican girl grinding her way to the top. She has schooled everyone from her peers to suburban youth on ethnic etiquette and has provided a history lesson centered around her roots. "Heritage has a very special place in my heart," she says. "If it wasn't for the incredible communication I've had with my ancestors guiding me, I would be lost." Her family thinks it's really cool: "They celebrate it and discuss it with me all the time. There are no secrets… they all know everything, and they are just so supportive and sweet. I enjoy bringing my family to my concerts. My dad is the coolest. I hang out with him all the time…we play a lot of board games and watch nerdy movies."
"I think the most special thing in life is being a dorky, punk rock woman of color. I'm so happy to share that with you," Princess Nokia tells me about her heavy-hitting latest. In her most recent release, the emo-inspired punk rock mixtape A Girl Cried Red, she demonstrates that the honesty so characteristic of emo can be transplanted to any genre and resonate deeply. It's a collection of music that gathers incredibly intimate traits in an eclectic mix of indie pop and electro beats under catchy monotone melodies, diaries, and choruses of dark invitations to smash her heart into pieces. In a way, this mixtape amplifies the aftermath of a full life where ghosts are (at least partially) abandoned. A time in life when everything grows and matures—not only bank accounts, but also anger and hostility.  With this soundwave she navigates feminism with middle fingers up, touring countless cities in every kind of venue imaginable.
A Girl Cried Red is exciting, and Princess Nokia is excited. She's got a band and a groove going, and this creative output is timeless, pinpointing glorious ups, downs, and many shades of emotion in between. "It's very special to me… it was influenced by some of my favorite bands and music… the era of pop punk and emotion from my adolescence. It's a great project I worked on…in a house with my boys, hanging out. Using New York as my landscape during the process.  It has such a good range of new music from me. I'm excited it's out…it's everything I ever wanted. It's lovely."
Princess Nokia has an indulgent personality, the kind that motivates her to take the time to put flowers in her hair, as well as create music that sends listeners floating through it. Her adventures include Coachella sets, stage diving through a crowd of diverse arms while being completely immersed in her music, and fans that communicate with her as much as she does with them. She is generous with herself when it comes to lounging, too. "Oh honey, I'm at the spa all day! Usually I'm getting some sort of massage or beauty treatment. I'm really into having pampering time for myself. It's over indulgent. I love it."  When not on tour she loves to shop. "Honestly… I love to go shopping… I will put on Madonna's Ray Of Light album and literally shop all day. It's kind of funny. "She also recently finished reading Harper Lee's sequel to To Kill a Mockingbird, Go Set a Watchman. The novel fills her with sweet nostalgia from reading American literature in public school. "I like me some Harper Lee, I see myself in Scout a lot.  I love me some Atticus Finch, too."
Princess Nokia is notably accessible to her devotees. She's a regular in her comments sections on Instagram, responding directly to fans, where she often engages in intense, meaningful dialogue. But she also enjoys the space she has to navigate life both in public and private spheres. What does she love most about her life right now?  "Quietness. Stillness in success. The fun, the wholesomeness, the luxuries, the accolades. The dreams come true… I'm really really blessed…play a major show, couple endorsements, read a couple scripts, all in a day's work… come home… read a book, watch cartoons, play scrabble, spend time with my family…"
Then it's back on the road.

JACKET, MARA HOFFMAN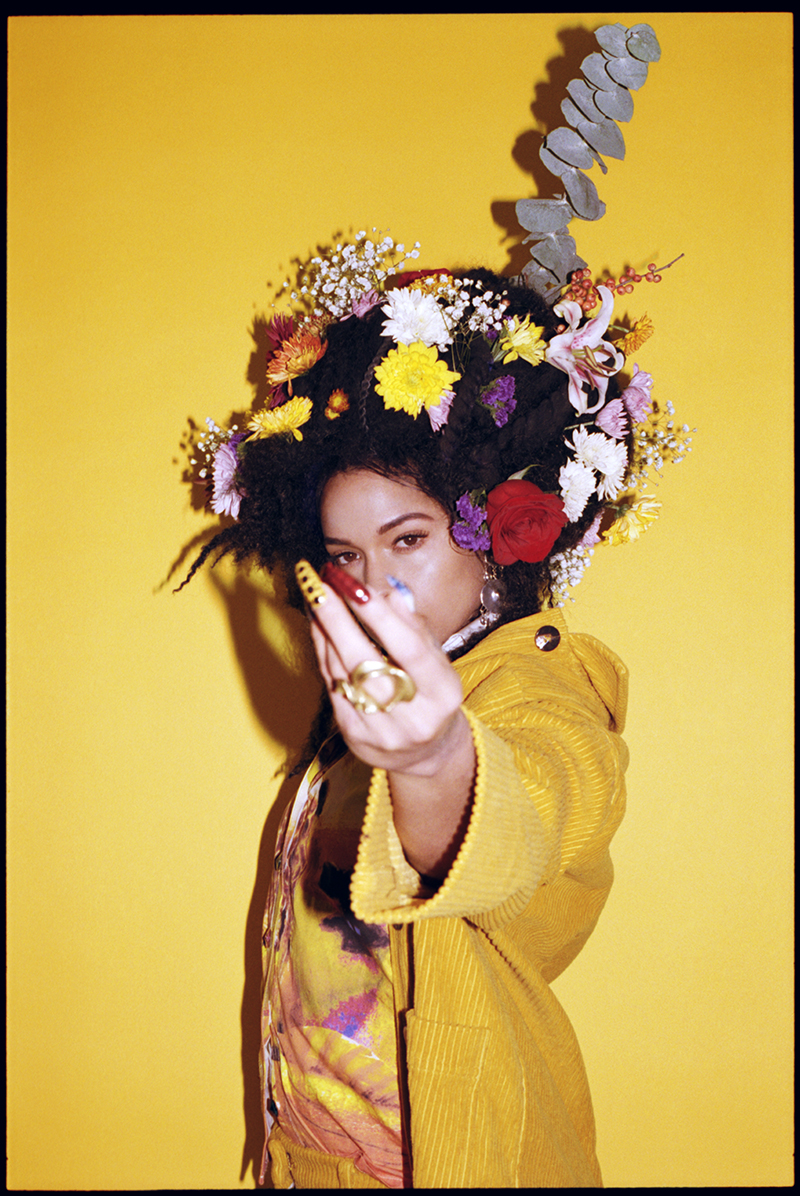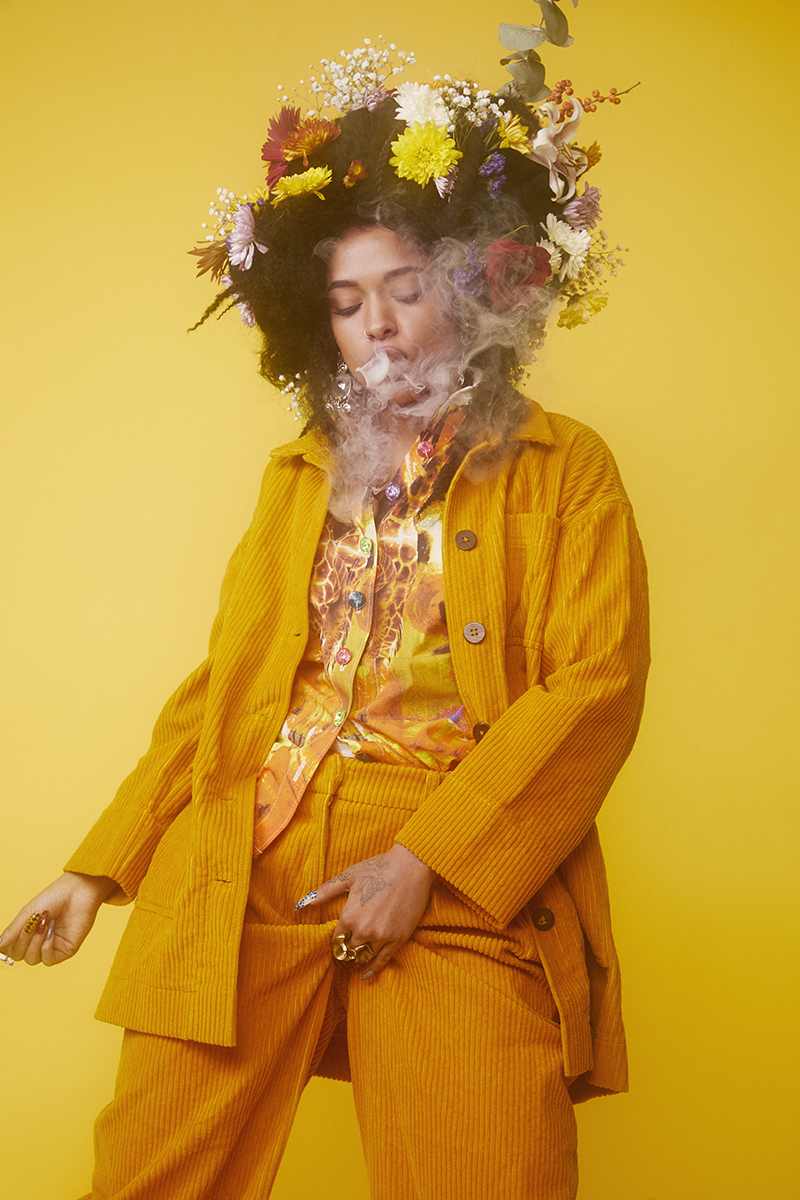 Shirt by Shireeka Devlin,  Suit by Mara Hoffman, Shoes by Mari Giudicelli, Earrings + Small Ring by Ariana Boussard-Reifel, Big Ring by Elizabeth Vallenilla
CONNECT WITH PRINCESS NOKIA: