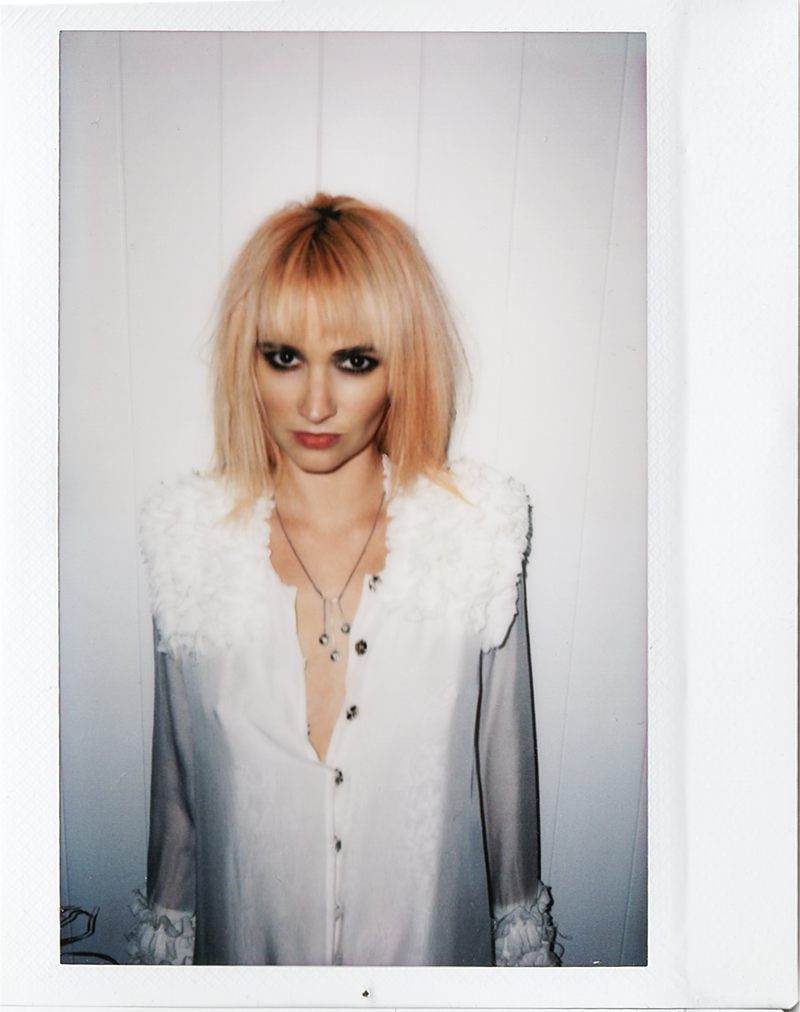 Normally, an artist records a cover album to pay homage to the musicians and songwriters who inspired their music and style. How many have had the opportunity to record with the artists whose songs they were covering?
This is the story of SSHH, a band made up of lead singer Sshh Liguz and her partner in crime Zak Starkey (son of Beatles legend Ringo). They turned a show opportunity from Sirius XM into a chance to spend a whirlwind two weeks making music and rocking out with iconic musicians and rock legends. Together with the rhythm sections of legendary bands including the Sex Pistols, Blondie, and Bob Marley & The Wailers, to name just a few, SSHH put their own spin on classic records that defined these artists careers.
Now, with a new album on the way and a tour kicking off at SXSW today, they're exploring more of their own sound — a sound that can only come from two intrinsically talented musicians coming together and doing what they do best.
What was it like to work with the insane amount of music royalty that you did on your album Issues?
It was an absolute blast. There was such a great vibe on all the sessions. No egos. Just pure talent & laughs. It was incredible to witness the magic of these musicians making music – and even better to be a part of it! It's such a cliche saying, but being able to work with such legends really felt like living the dream.
Is there anyone you didn't get to perform with that would be your dream collab?
It would've been beyond amazing to do something with David Bowie. We recorded "All the Young Dudes" with members of Mott The Hoople. A tune that Bowie wrote for them. When (the singer) Ian Hunter heard it, he said it had more balls than the original! Pretty high praise! I was buzzing for days – still am in fact! And The Purple One of course. Really dig Deap Vally… They're righteous as fuck. They sound great, look amazing, & have some killer tunes. Like it or not, rock-n-roll is a pretty male dominated world… & those ladies got some balls! Actually, better than balls – they've got boobs!
We were actually talking with the Deap Vally girls about doing something together – which would've been super cool, but our schedules kept clashing. That's the great thing about Issues – the possibilities are endless.
But up next is our original album. We're really buzzing about unleashing it into the wild.
Can you describe those crazy two weeks making Issues? What was the process like?
Amazing! And intense! It was so unexpected. We got offered a show on Sirius XM playing records by people who influenced us. We'd figured that had been done before, so what about if we played the tunes with actual musicians from the bands we were covering? So we did!
The first people we called were Paul Cook & Glen Matlock from the Sex Pistols. They had come to see us play before – so they knew we weren't shit! We ended up playing together for the launch at The Box in London. I think it's the only other band they've been in together apart from the Pistols!
Once we had those guys on board, the rest of the bands came together pretty quickly. The stars aligned & God of Rock deemed to give us his blessing. It was incredible how quickly it came together. We were at Sunset Sound in Hollywood, putting the finishing touches on our original record. And the next thing we know we cut "One Way or Another" with Clem Burke, the drummer from Blondie. He's got great showmanship. A flare for the dramatic. And great hair! Twiggy Ramirez & Gil Sharon from Marylin Manson got onboard. Whilst we were doing that session, we were riffing about reggae & Peter Tosh, and all of a sudden Gil handed Zak the phone & it was (Peter Tosh's drummer) Santa Davis on the other end. The next day we cut "Get Up Stand Up," with Santa Davis & Fully Fullwood on bass (from Peter's band Word, Sound & Power- they were also some of the most in-demand musicians in Jamaica back in the day). It was wild, but the whole record was a really natural progression.
I was at party in LA & bumped into Robbie Furze from the Big Pink. Told him about what we were doing & he was up for getting involved. So we combined forces & did "Dominos" by TBP with Twiggy & Gil. It sounds cool AF. Real heavy with a bit of dirty electronica thrown in. Apparently, they use the version we recorded together when they do it live, which is cool. Really dig the fact that they are a husband & wife on tour together, making music. They say those who play together stay together. Zak & I have been together for many many moons… although on gig days we will sometimes break up before soundcheck & be back together again by the end of the set! Music can bring out different passions in different ways. It has the power to make you or break you. Music is magic.
Back to London on the Friday, & then on Monday till the next Sunday we were recording every day with the rest of the artists. The Ruts, Amy Winehouse, Primal Scream, Sex Pistols, The Small Faces, The Pretenders, Mott The Hoople. It was wild.
The thing is that you think you know how these classic tunes go, but when it comes down to it – you really don't! We would finish mixing from the session of one day & then that night we'd be frantically learning how the tunes went for the next day's recording. It was a case of out of the frying pan & into the fire. But the heat was good! Exciting & engaging in almost a telepathic way of communication.

How did you decide which songs to cover for the Issues album? Any songs you wanted to do but couldn't?
When we first came up with the idea for the album, we sat down & wrote out a list of some of our ultimate influences & music that makes us groove. It was a long list! We started going through it, and the response was overwhelmingly awesome.
There are still loads of people we've spoken to about doing collaborations. Unfortunately, we had reached our limit for that record. But the possibilities are endless. I'm sure we'll do more records like this in the future. We try to make the songs as different from the original as we can (sometimes it's a success & other times the original formula is so perfect you don't wanna fuck with it) but it's amazing to take these iconic tunes & completely turn them inside out, back to front, & held together with a safety pin. You know it shouldn't work, but somehow it does.
Why did you choose to have the proceeds from ISSUES go to Teen Cancer America and Teen Cancer Fund (UK)?
Cancer is a cunt! And it's tough enough being a teenager – transitioning between two worlds (of childhood & becoming an adult). Before TCT & TCA, teenagers didn't really have anywhere that they could be with people of a similar age fighting the same fight. It was either childhood or adulthood.
The charities have done so much amazing work to make spaces for them. It's an honor to be able to contribute to the cause. I don't know if it's selfish, but it's amazing to feel like you can make a difference to the world. Even if it's just a little bit. A lot of us have the "I'm just 1 person – what can I do?" I know I felt like that loads of times. And sometimes I still do. Like most things, it's easier said than done to over. But if one person joins another person, and another and another, we can stand strong & united.
Is there a certain place you go to frequently to create art & write music?
Anywhere & everywhere! Inspiration can strike at the most unexpected of times. That's the great thing about modern technology – the freedom it gives you to be able to make & create on the move. For me personally, I find that music & art is at its best when it's not forced. When you get a natural flow there is a certain spark. And when that happens you grab onto it! Take it as far as you can, because inspiration can be a bitch sometimes, so it's great when everything you see, or hear, or touch can be made into something to express yourself. Even if it's just the beginning of an idea – you hold onto it. Then you gotta roll your sleeves up & put in the hard yards. But I've found the best stuff is usually done off the cuff.
Your influences come from everywhere – rock, soul, a little funk. What kind of music did you grow up listening to?
All of it! My Dad had something like 30,000 CDs when I was growing up. And my Mum was always singing. She used to drive this badass Ford Fairline & we'd be belting out tunes together. I was really into Elvis as a kid. And Madonna was a staple part of my musical diet. But I really loved Prince. I went to the Diamonds & Pearls tour when I was in 2nd grade! Loved that record. I loved all of them. Still do. Controversy, was another favorite."1999," "Purple Rain," & so much more… He was a fucking visionary. I had the opportunity to work styling his Australian tour a few years back & I didn't do it. I'll always regret that.
The White Stripes were exciting. There's a kind of rawness to what they were doing. Was really into PJ Harvey. Nick Cave was and is still awesome but what made me fall in love with his music was Murder Ballads. Which was an amazing collection of tunes about Murder. PJ Harvey did a duet with him on it. And so did Kylie Minogue!!
The Yeah Yeah Yeah's – super cool. Karen O was like this Rock Goddess with a bowl cut & red lipstick. She sings with such conviction & emotion she's just major. End Of. The whole band is awesome. They make such a massive sound for a 3-piece band. I saw them play at a festival in Australia when I was a teenager, and I was completely mesmerized. That was a great festival actually. Black Rebel Motorcycle Club played, who were another band I was into. Harmarr Superstar was hilarious. But the highlight for me was watching Jurassic 5 from the side of the stage, having a little boogie to another favorite band of mine (I was really into hip hop – too many to mention -Tribe called Quest, NWA, Public Enemy, etc. etc.) Anyway, the next thing I known the band had pulled me out onto the stage to dance with them. I was having a great time until I looked up & saw 30,00 people! That was one of my first times on a stage of that size.
How does that music influence your art today?
It's given me pretty eclectic tastes. I can appreciate all kinds of music – as long as it's good! It's the same with making art. I don't like to stick to just one format or genre. I enjoy all elements of "art." Painting, Sculpture, Writing, Music, etc etc. And then of course there's that question – "What is Art?" Argh! Who cares!? Art isn't just something.
What do you do for fun when you're not making music?
The usual!
This year you'll be dropping your first original album. What can we expect from SSHH and the album?
Expect The unexpected!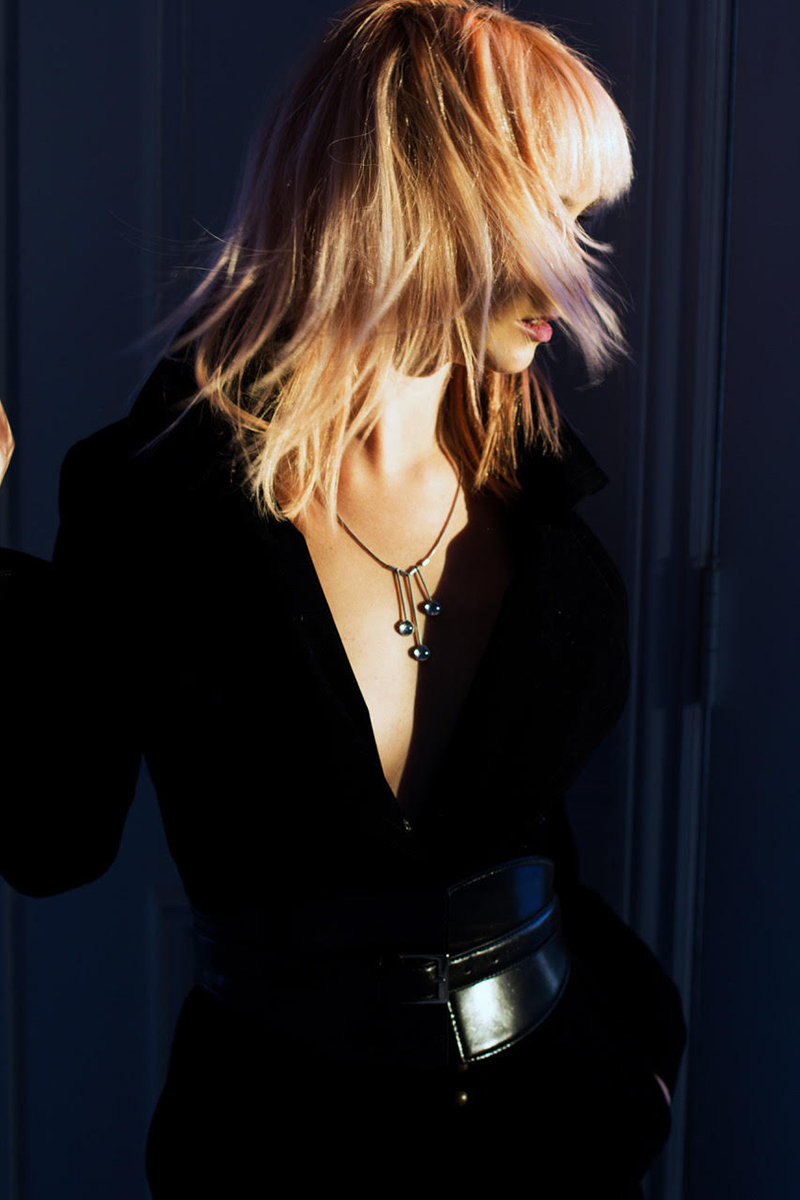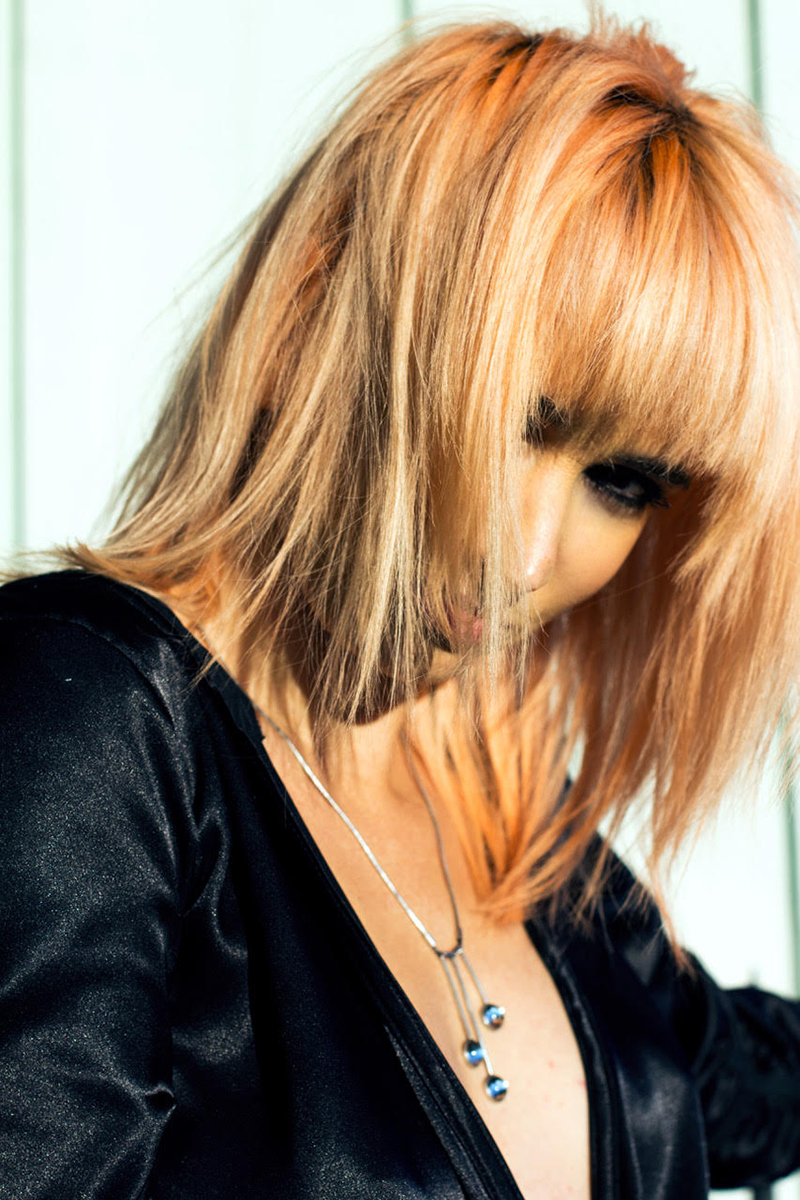 MARCH TOUR DATES
03/10 – Rustic Tap – Austin, TX –
11PM
03/12 – One-2-One Bar – Austin, TX –
7PM
03/14 – CBoys Heart & Soul – Austin, TX –
11PM
03/16 – Aryln Studios – Austin, TX –
9PM
03/17 – Pledge Music SXSW Official Showcase –
11AM
03/17 – Rustic Tap – Austin, TX –
11PM
03/19 – Justine's – Austin, TX –
11PM
FOLLOW SSHH: 
---
Photos/ Angelo Kritikos
Story / Emily Helwig
Styling /  Jules Wood
Makeup  /  Lily Keys
Hair /  Paul Rizzo for Bumble and Bumble