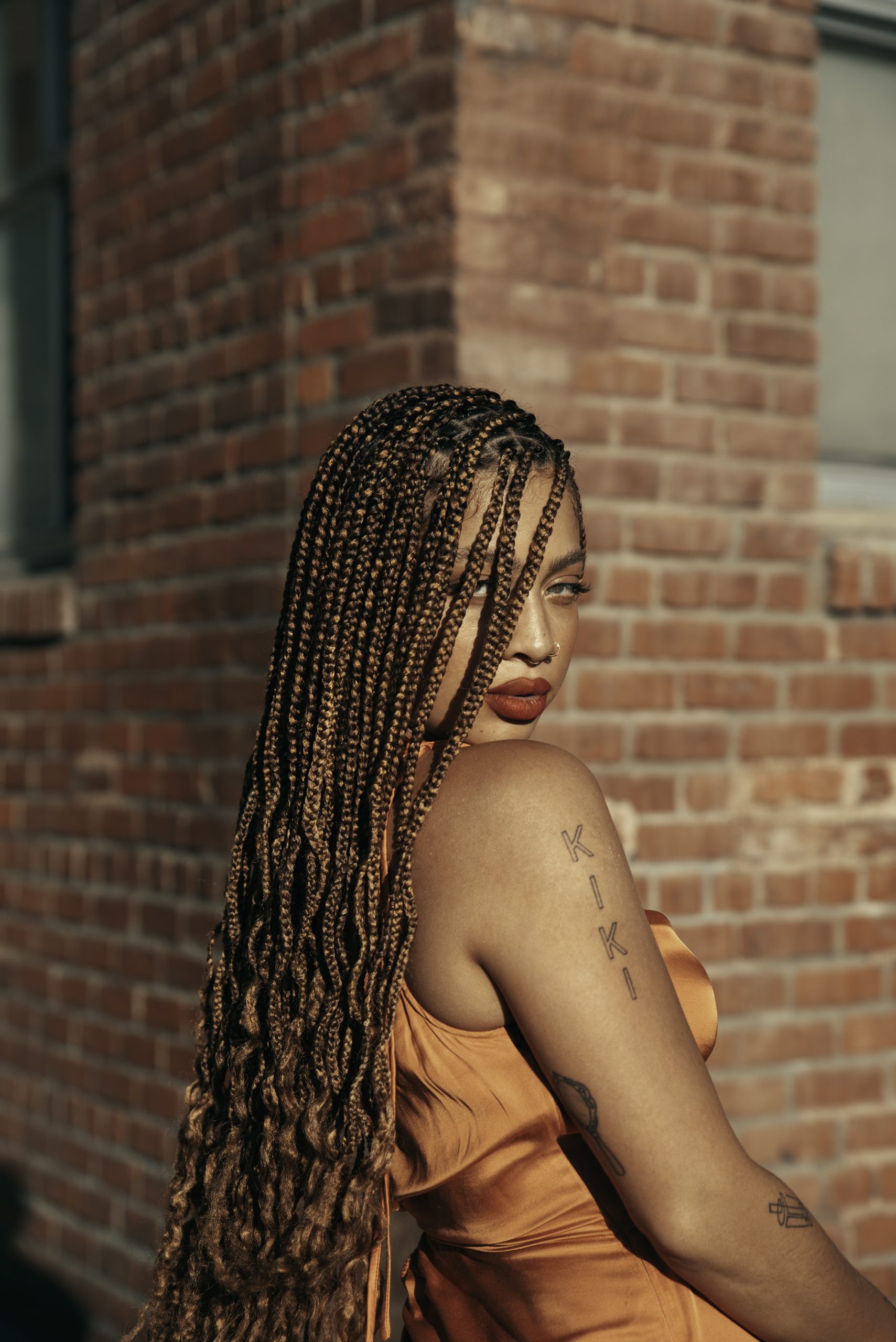 You may recognize her from her short run in the MTV adaptation of the iconic horror series Scream as Zoe Vaughn, but chances are you've been bumping Kiana  Ledé's music in your car, in the shower, or on a random Tuesday if you're healing from a broken heart. Thankfully, I was presented with the opportunity to connect with Kiana following her appearance during the 2020 Soul Train Awards virtual press conference.
From the moment Kiana Ledé was transferred onto the conference line, I could instantly tell that this girl was going to be a vibe. The 23-year-old songstress and I exchanged brief greetings not long before she admitted that she would be eating during the interview, which I completely empathize with. Not the part about being an R&B superstar, but the part about being hungry. Not too long after we talked about our mutual love for Shake Shack did we begin to dig deep into her love for music.
While she doesn't remember the exact moment that she fell in love with music, the "Ex" singer knew that music was her birth passion and calling. "The story goes I started singing when I was 15 months old when I learned the alphabet and I just was changing the melody when I would sing it all the time, make it my own and do my own little runs," Kiana reminisced with LADYGUNN, though she admitted that this tale was like folklore to her because she didn't remember it herself. "It was like a second language to me and a clutch for lack of a better term. It's something that makes me feel better and gives me comfort."
Growing up in Arizona, young Kiana Ledé had no idea that going from a sheltered art school to public school, performing in talent shows, and learning classical instruments would curate her journey to Billboard charting stardom. "I grew up in South Phoenix. It's kind of like the Wild Wild West out there," she laughed as she compared her hometown to her current living situation in California. Horseback riding, camping and other outdoor activities were some of her available options of leisure if she wasn't indoors prepping for a pageant or studying music. She credits her early studies of music and involvement and pageantry as a huge factor in who she is as a performer.
"Performance is something that I think you either have a natural love for or you just really have to practice. It's one of those things that get taught to you as a musician," Kiana told me as she praised her music and theatre background for starting her foundation of confidence in front of a crowd. Shortly after her days in art school and talent shows, she was signed to her first record label, RCA Records, at the young age of fifteen years old after creating #SoulFoodSessions back in 2016. "The number one thing that being signed at a young age taught me was nobody knows what the fuck their doing so you might as well do what you love because at least if you go out and fail, you'll have failed doing something that you love to do."
After the multicultural musician left the label, she learned to trust and believe in herself more than ever before which prompted her to kick start her career as an independent artist. From her "Hey Chica" debut in 2012 to the "Better" collaborator with Leon Bridges, Kiana recognizes her own growth in her creative and songwriting processes. "I'm getting older and I'm growing into my own person. At 23, I've decided to make decisions for myself," she explained to me about her mental and emotional evolution through the music business at a young impressionable age.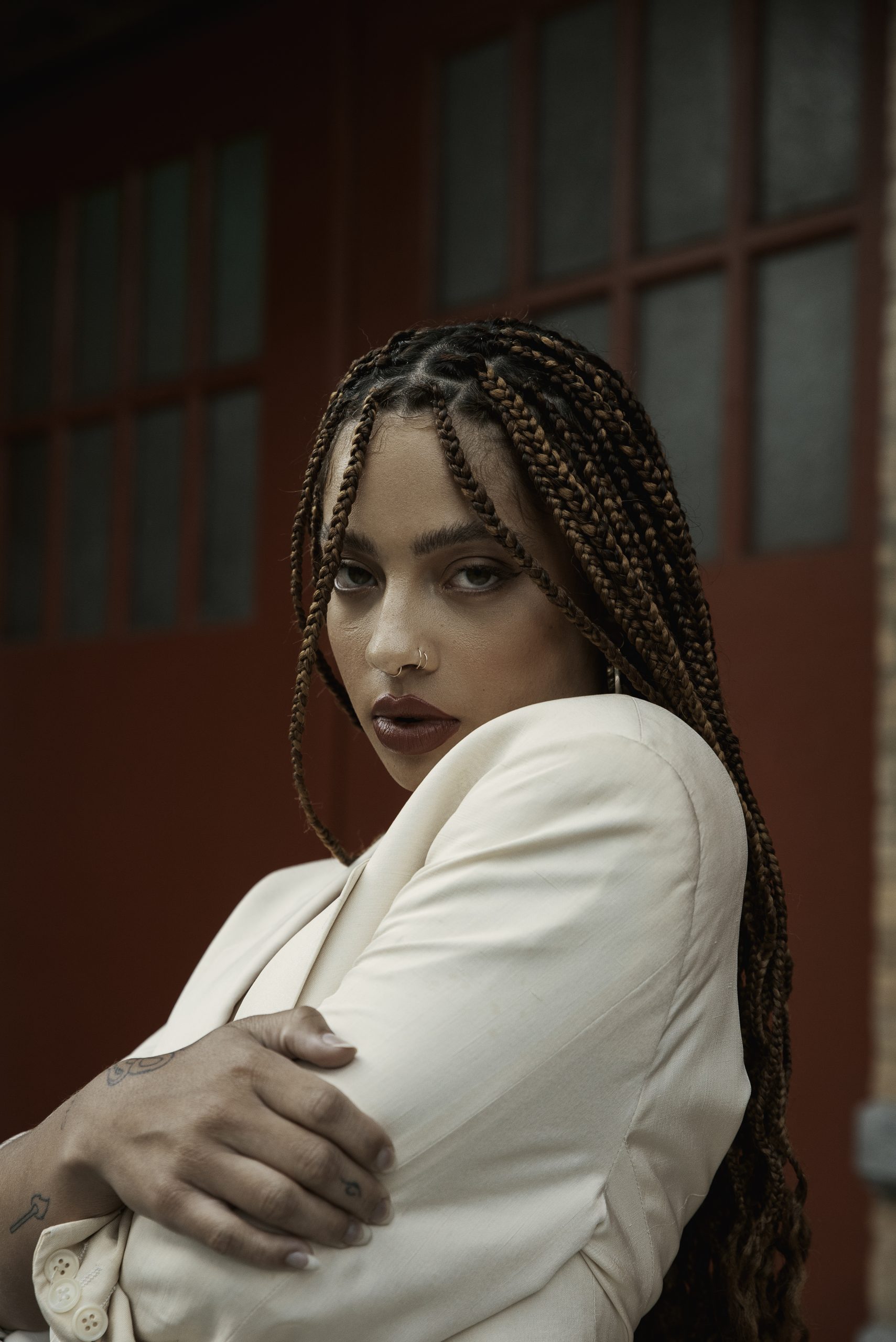 "Before, I was a teenage girl going to really big grown ass people and trying to write songs. It was such a great time for me to absorb and learn because I didn't really speak up a lot. Now that I've learned and I feel more confident in my decisions, my skills, my thought process, my creativity, and just me as a young woman, I'm able to be more decisive with more creative choices that I feel like I can stand behind." Let us be the first to say that the "Heavy" singer's creative choices have been top-notch.
As an avid lover of the '90s and early 2000s, I took note of her tastefully utilized samples of Outkast's "So Fresh, So Clean," and Notorious B.I.G.'s "Juicy" for hits "Mad At Me." and "Labels." The biggest thing for her was the feeling of nostalgia, she told me, and I couldn't agree more. "I feel that innocence and happiness that I did when I was a kid so I found new meanings in these songs now that I'm older. They mean something different to me now, but I still get that warm feeling."
In addition to the feelings of nostalgia and old school feel-good music, the "Second Chances." singer has embedded outpouring themes of self-love, self-respect and self-worth as her discography developed. Of course, where there's music, there's a story to be told so I didn't hesitate to ask Kiana about her own self-love journey as a young woman in relation to her music. "If you look at my last three projects I released, the first one was called Selfless. That was released when I was 19, I was really good at being a selfless person but I had no sense of self or self-worth," she admitted to me. 
"That led me to being in a very toxic relationship with no way to navigate through that emotionally," she continued. Already having been through a lot in the music industry at a young age, Kiana had all of this life experience but didn't know what to do with the information she obtained, thus she was "never was taught to stick up for [herself]," she said as she confided in me. Upon the release of her 2019 project Myself, the songstress had a new lease on life ready to give love to herself in ways never felt before.
"I was in a hyper self-love stage where I was like 'fuck everyone.' I'm a very extreme person so the next EP that I released was the exact opposite of Selfless and that's Myself, but I was also at that time running away from a lot of things, scared they were going to make me depressed and sad again. That's why I was like 'fuck everything and everyone' because I don't wanna feel anything anymore. I just wanna do me and become a bad bitch," she said as we laughed together over the phone. After a while, walking around with a middle finger to everyone became "exhausting," as she described it because she was starting to fade away from the truest elements of herself, "the good and bad things." Kiana made the executive decision to stop running away from fear and face her problems head-on to prepare for her self-love journey in music, love, relationships, and individuality. Hence, her debut album KIKI was born.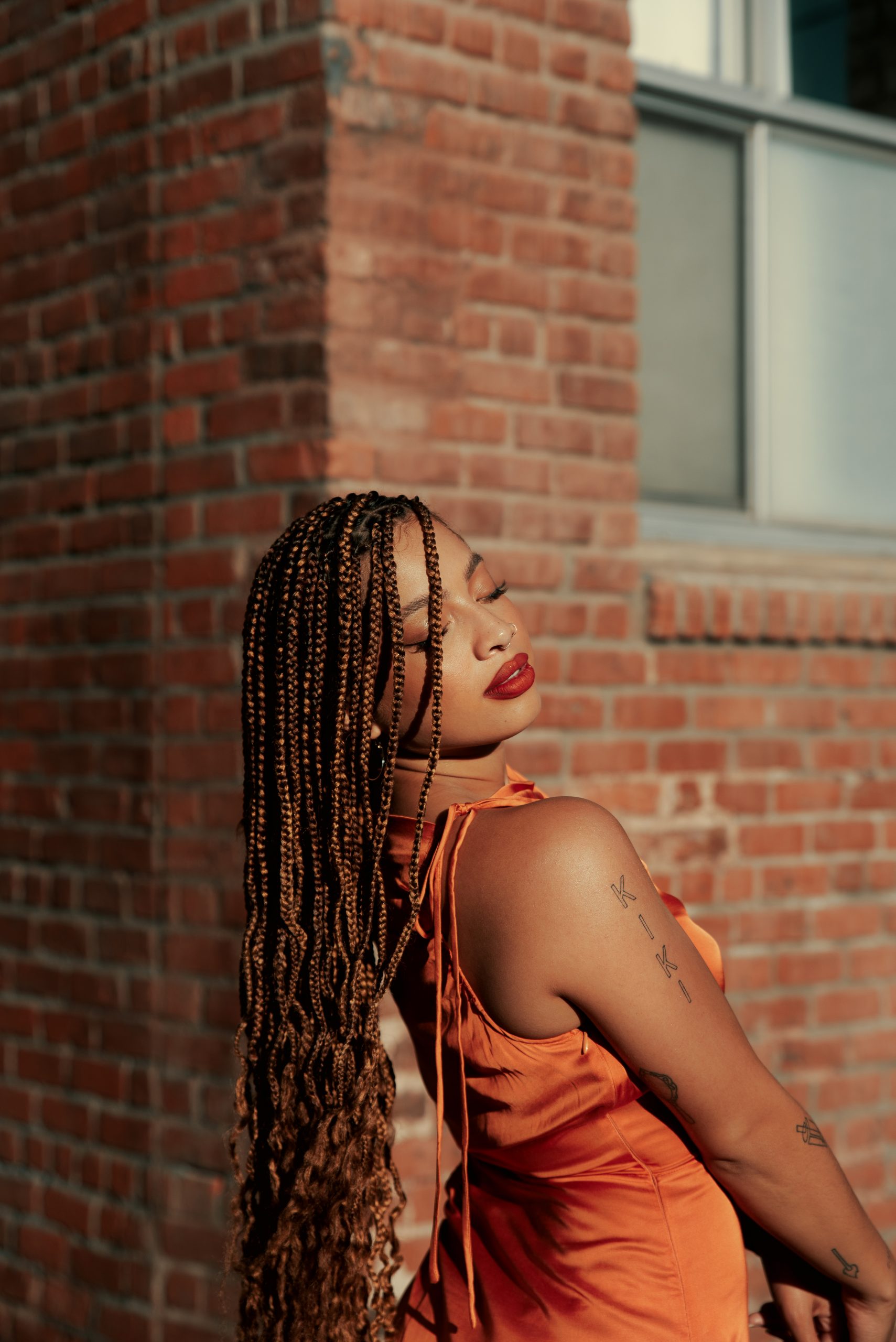 The R&B songbird found herself at the front steps of her childhood home sitting at the door when she came to the revelation that she needed to stop running away and remember exactly where she was – and she gave birth to arguably one of the best R&B albums of 2020. "I just stopped listening to everyone and really started to make my own choices at that time in my life. I try to learn that lesson a lot," she said joking but serious. "I get to be unapologetically myself without losing sight of love, looking into the eyes of love and the fear of love is really what it is. Loving myself, loving other people, and trusting they love me back and I'll love myself back."
Throughout our phone call, the topic of "love" was a recurring theme and I gauged Ledé's opinion on the fine line between self-love and the love that you feel – or give – in a relationship. She started by expressing the need to love yourself first before loving anyone else, or "all the cliche shit" as she said before further elaborating. "The thing that I'm learning right now is that I love myself however I can't trust that other people are going to love me as much as I love myself even though I expect it from them. They may not show it the way I expect them to show it or want them to show it, but there's a difference between expectations of love and compromising love," she told me.
As any artist would, Kiana Ledé pulls from experiences of lovers and relationships past. "Love is what drives us. It's the most extreme, intense emotion that we'll feel. Love can make us doing amazing things and it can make us do really fucking stupid shit and I have written songs about each spectrum. Love is everything," she said. The singer-songwriter acknowledges her musical superpower as empathy, per her telling me that she "always likes to think that it makes people feel empowered in their vulnerability and strong in their emotions." Ledé adores the idea of connectivity and deems people as her "real passion." 
"I just want people to feel shit," she giggled. "That's it."
At least three quarters into our conversation, I asked Ledé if she was an Aries – which I could tell off the bat based on her energy and the public information available to the internet about her birthday. As a Sagittarius, she pointed out that I was compatible with her sign because we push her sign to be their "psychoselves" – sounds about right. "I'm someone that's always tryna cut a bitch, but I'm also very sensitive. I'm ready to fight people but then I'll tell someone, 'Don't say that. That's so mean!"," she explained. Her astrological qualities pour into her music through her loving yet self-proclaimed bossy vibes. "I talk at people instead of to people in my songs."
Speaking of talking, Ledé has used her social media platforms to engage with new voters and Generation Z about politics and the historic Biden-Harris victorious election cycle. With her new voter initiative and Instagram Live series, #IAmANewVoter, she enlisted ambassadors from DaniLeigh to Queen Naija to spread the word about the importance of casting your vote for the first time during the 2020 election cycle. Her frustration with the confusion and classism of the election cycle ultimately sparked her to transfer her voice from the studio to her follower audience. 
"The reason why voter turnout is so low is because we don't know what this shit even is. We don't know how to vote, we don't know who we're voting for, we don't even know what people do once they get into the office," Ledé told me passionately about her thoughts on misinformation and lack of operational knowledge in the younger generation. Her personal experience stems from being turned away from voting before as well as a complicated process with her absentee ballot due to being in-between three different states at that time. "I really did try my best to vote before Trump got elected. Then he got elected and I felt like it was all my fault. All I could think about was the fact that there had to be more people like that."
The activism bug sparked in Ledé as she instantly searched within herself to create solutions for herself and others who may have been experiencing the same issue. After doing a bit of impromptu research, she soon realized that no one had the answers to basic questions or access to necessary information about the voting process, which further frustrated her.  "I wanted to make it easier where people could really break it down – that's why #ImANewVoter came into play. If I'm even helping one person understand this election cycle a little more then I feel better."
Admittedly, Ledé is now at a point where she's learning how to trust others and herself to love as well as co-existing with another person. Though she tells me she's "fine on her own," when another person is introduced to her space, her groove is thrown off. "I start getting freaked out because I don't like that I can't control how they're going to make me feel, but loving yourself is about understanding that you're human and forgiving yourself in those moments, being able to move past that and knowing that you have your own back."
Knowing that she's come a long way in her journey, Kiana had a few choice words of advice for Little Ledé.  After a long pause, she came up with the perfect three-syllable sentence, to sum up what any youngin needs to hear. "You got you," she said bluntly. "All these people that you're thinking about and all these people that you want to have your back, it doesn't matter if they will or they won't because you're always gonna be fine.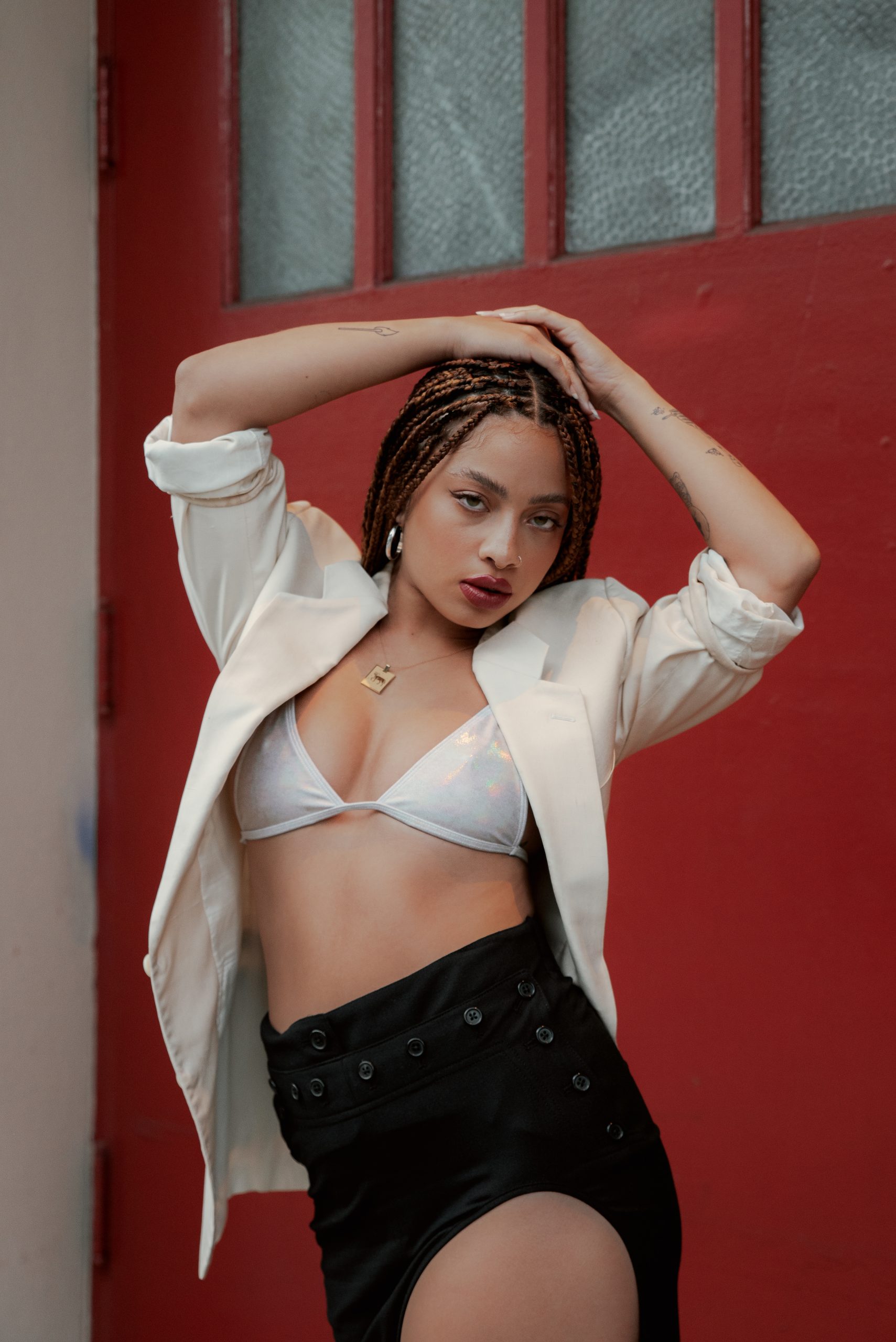 CONNECT WITH KIANA LEDĖ
INSTAGRAM // SPOTIFY // TWITTER // KIKI
Photos / Joseph Collier
Story / D'Shonda Brown (@SignedShonda)
Edited / Sam Berlin (@spberlin)