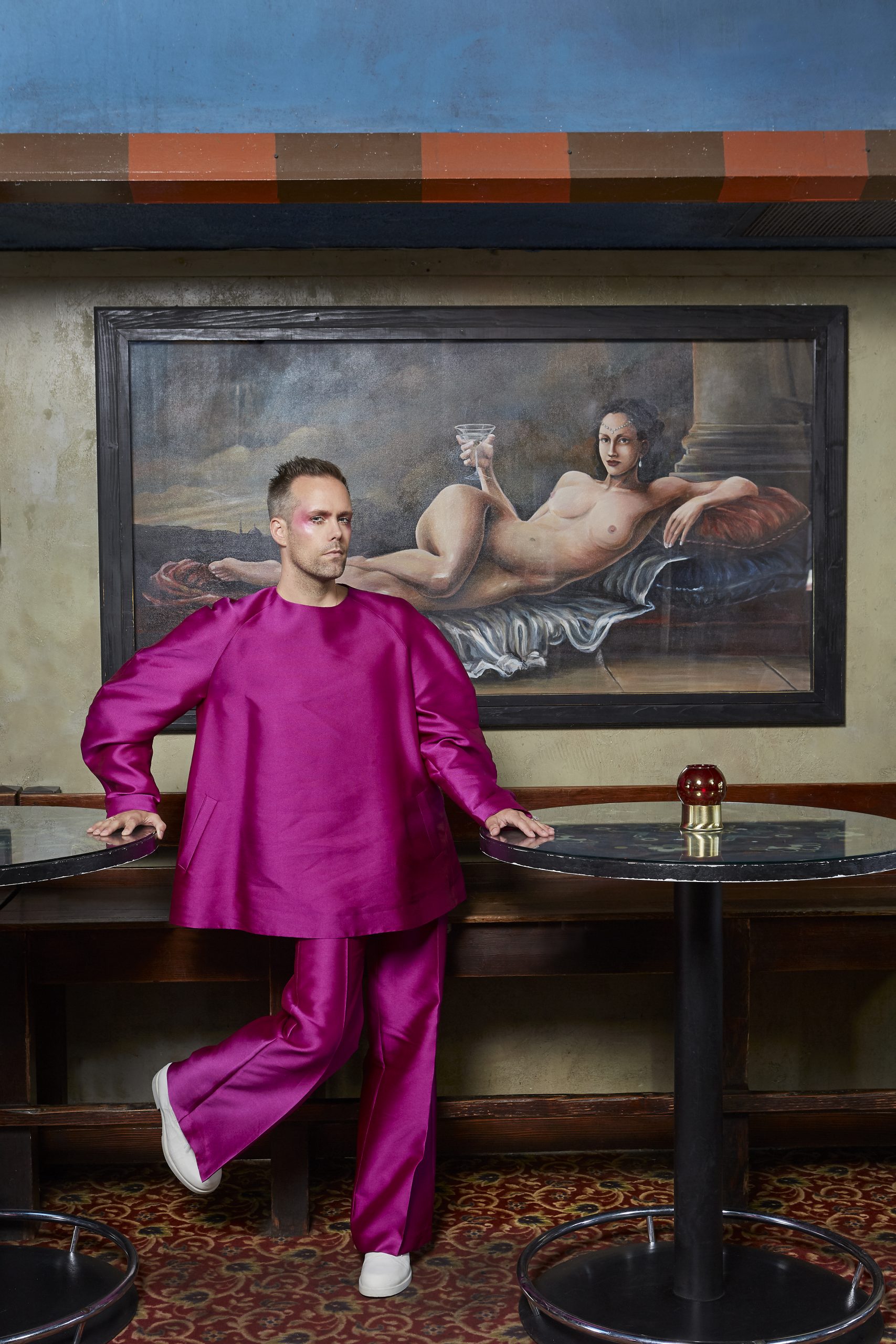 Most of us have been immensely slowed down by the never-ending mess of 2020, but not pop mastermind Justin Tranter, who co-wrote tracks for this year's biggest pop albums including Selena Gomez's Rare, Lady Gaga's Chromatica, and Dua Lipa's Future Nostalgia all before the world was sent inside back in March. Since then, safety has been Tranter's top priority: they quickly fled Los Angeles to avoid the craziness of the city, opting to stay in a second home they own outside of Julian, California. Their parents soon moved in as well, and thanks to Covid testing Tranter has been able to turn it into a pandemic-safe studio. "Kesha came up for a couple days this summer, which was amazing," the songwriter dishes.
Tranter's setup came in handy when they were asked to executive produce the soundtrack for Hulu's Happiest Season, the queer-centered holiday rom-com that's been a main topic of internet conversation since its release on November 25. The film follows Harper (Mackenzie Davis) as she brings her girlfriend Abby (Kristen Stewart) home to spend Christmas with her family—who has no clue she's gay. Tranter, who identifies as gay and gender non-conforming, set out to create an accompanying soundtrack that would do the film justice. Choosing to collaborate with queer musicians on each song, the product is a blend of holiday classics and original tracks by Tegan and Sara, Anne-Marie, Bebe Rexha, Shea Diamond, and more. 
We recently sat down with Justin Tranter for a LADYGUNN Q & Holidays chat about Happiest Season, crafting the soundtrack, Tranter's own holiday memories, and more. Check out our conversation with the hit songwriter below.
Congrats on executive producing the Happiest Season soundtrack! Tell me about how you were approached for the project.
I honestly got super fucking lucky. In a roundabout way, I owe the whole situation to Tegan and Sara because they're super close with Clea DuVall, who co-wrote and directed the movie. Clea asked them to write "Make You Mine This Season," which I am obsessed with and had nothing to do with, and they're on Warner, and [my label] Facet Records is in partnership with Warner. Warner got the opportunity to create a full soundtrack for it, and I got a call from PJ Bloom, the head of soundtracks. He gave me a very quick rundown of what the movie was, and I was like, "The first-ever LGBTQ holiday film from a major studio? Sign me the fuck up!"
I love working in film and TV so much. It's become more of my passion, and I want to always respect the writers and directors because they have spent so much fucking time on this, and then I'm just supposed to show up last minute and make some songs, so I wanted to really get Clea's perspective. In my first conversation with her we decided that the movie—and this is a compliment—it's a classic, down the middle, mainstream holiday film that just happens to be about a queer couple, which is what makes it so revolutionary and so impactful, so I wanted to make a holiday album that sounds classic, that sounds nostalgic, that makes you feel like you've heard it before even though you fuckin' haven't, and just put queer people, queer songwriters, and queer artists front and center in the album.
I'm obsessed with the Shea Diamond track, "Mrs. Claus," that highlights all the work she does behind the scenes while Santa receives all the credit. How did that track come together?
Yeah, that was a really fun one. For Covid safety, I tried to keep as few people in my home studio as possible, so Kennedi, an amazing young artist and songwriter, came up for the first couple days. It was me, Kennedi, and the producers we were working with, and we wrote [Anne-Marie's] "Think of Christmas," the Brandy Clark song "Only Time of Year," "Christmas Morning," which Kennedi sings, and I think some others. 
Right before she was about to leave, and before Shea was going to come—even though everyone was getting tested before they got here I was still trying to keep it as risk-free as possible—right before [Kennedi] left she got on the mic really quick and just freestyled the chorus: "Without Mrs. Claus, there'd be no Christmas at all." Then she had to leave and that was the end. Then Shea got here, and we first wrote "Blame it on Christmas," I think, then at some point I played her that little tiny idea, and she was like, "Fuck, we have to do this. This is so amazing." And who better to embody Mrs. Claus than a Black trans woman? I think it's just such a statement.
I just got chills hearing you say that.
Isn't that crazy? I think my favorite line on the whole album is from that song, which is, "I'm not trying to rewrite your history, but write me in." 
I think that is so powerful in a fun way when you're thinking about Mrs. Claus, but also in a very serious way when you're thinking about queer people and the holidays, and then when it's Shea Diamond singing it, when you think about trans women, and Black trans women, and trans people as a whole it's like, we're not trying to rewrite your history. We're not saying that cisgender people didn't do certain things, but you have to write us in. We have been here. We will be here. We aren't going anywhere. That song blows my mind because it's my dream music, which is that it's really, really fun, and if you aren't paying attention it just feels good, and if you are paying attention it's borderline revolutionary.
Lots of fans left the film wishing that Abby had ended up with Riley rather than Harper, what's your take?
I think it's a good sign when people are rooting for things like that because they're loving it, and they're so inside of it. I don't know! I love Abby and Harper's journey just because when I first saw the movie, in a good way I was so into it where, like a lot of people, I was like, "Break up with her! What the fuck?" But then you have to remember, and I think why the movie's so important and so powerful, that coming out is still so fucking hard for a lot of people, and we can't judge people based on how they come out. Even straight motherfuckers get real weird around their families, and I think that what's also so great about this movie is it's not making these queer people saints. There is friction, they are faulted, and that whole family is faulted as fuck, and I think that's important because as queer folks, we are three-dimensional, and coming out processes can be really easy. Mine was super easy, but I have had exes who stayed in the closet for a very long time, and I used to really care and be upset about it, and the older I got I was like, "Girl, that's your journey. Do not involve me." 
I think it's awesome that people are rooting for that, and if there were to be a sequel I'd like to see how Harper comes into her truth and how she treats Abby now that she's living her truth. We can't really judge her or the relationship because in the movie we see her in the hardest four days of her life, which is human, and I think that's great. 
Does your family have any holiday traditions? 
We had a tradition when I was little that we don't do anymore. I wasn't raised officially atheist, but it became officially atheist. My parents were very into religion, and then some crazy shit happened at their church, and they peace'd really quickly. There was no mourning period of their religion, they were just over it. Their pastor, I think, got kicked out of the church because he had an affair—I don't know. They were like, "He's still a really good guy. Everybody fucks. Whatever." [Laughs]
My mom's parents were a little more conservative. They sent a nativity scene over, and we just thought it was hysterical and stupid, and so my parents would hide the baby Jesus for a couple years every Christmas morning, and we weren't allowed to open our gifts until we "found Jesus." They would just laugh the whole time like, "Did you find Jesus?" Such a bad dad joke, but really actually quite funny to make a bunch of children "find Jesus" before they opened their Christmas gifts, but that tradition has stopped, sadly, 'cause everyone has moved and all that stuff. Maybe I should bring it back this year. Maybe I shouldn't let my parents open their presents until they "find Jesus." 
Are there any that you still return to today?
"Merry Fucking Christmas" is what we say to each other all day long, which my mom started saying at a very young age. I can't remember why. I'm the youngest of four, and my oldest brother is like twelve years older than me, so [at Christmas] there were always girlfriends around, and my aunts and uncles. There was always some sort of drama, and I think it was a high-tension moment, and to break the tension my mom just said, "Merry Fucking Christmas," and then everyone started laughing, so then it's just become a thing that we do every single year. 
What do you most look forward to about next Christmas, when the pandemic is hopefully far behind us?
That is a great question. I was supposed to take my nieces and nephews—the ones who are over 18—on a trip to Barcelona and a couple other places in Spain, so it could be cool if we're allowed to travel next Christmas. It'd be awesome. We have to do it at some point. I don't know if it'll happen at Christmas, but that is the main thing that I'm looking forward to.
I'm also looking forward to a new administration for next Christmas. That's going to be great. I'm looking forward to hundreds of thousands of people not dying next Christmas because of this disease. I don't mean to get dark, but I'm just thinking about what I'm actually looking forward to.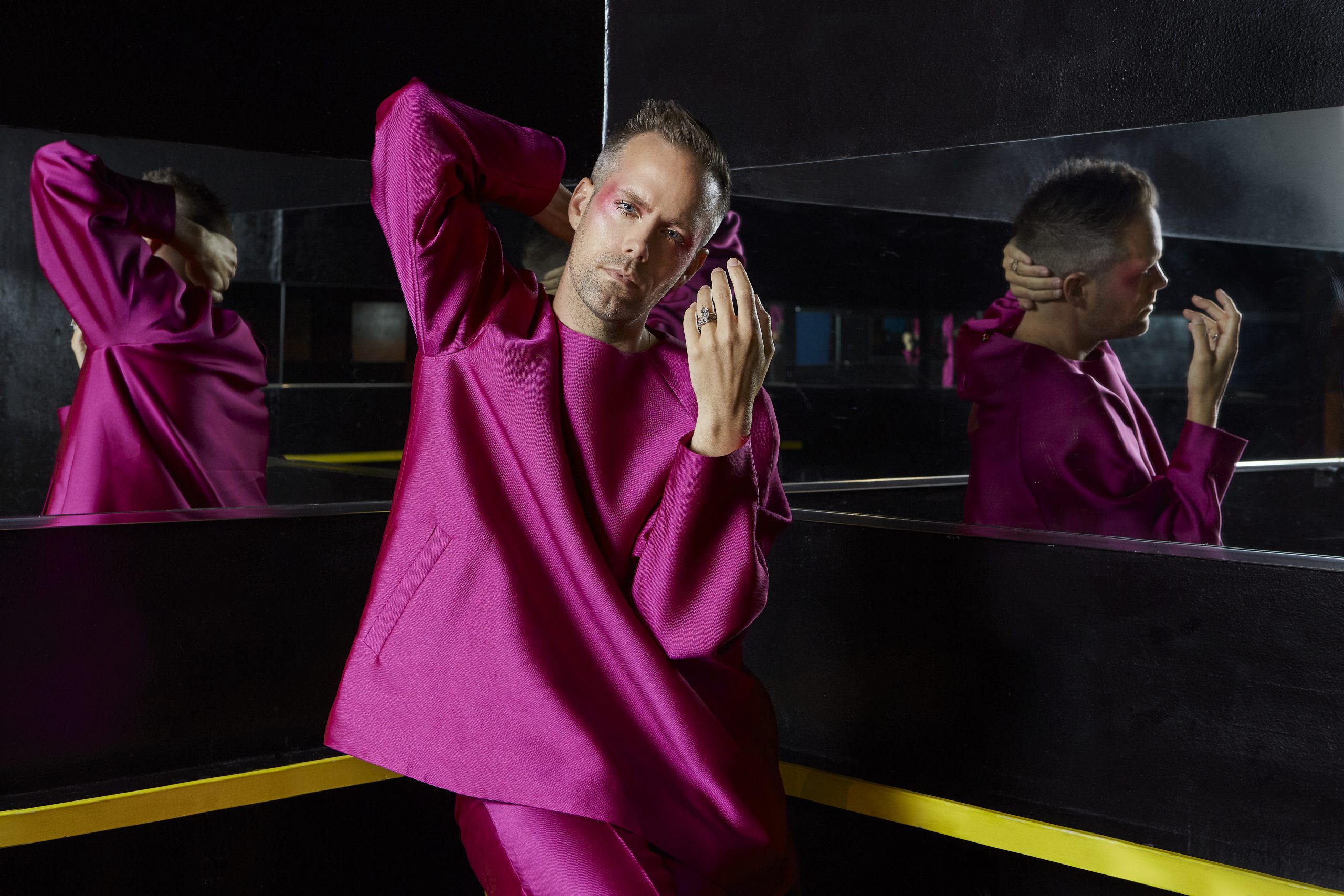 CONNECT WITH JUSTIN
TWITTER // INSTAGRAM // HAPPIEST SEASON SOUNDTRACK
story / Jack Irvin
photos / Noah Webb