*Editor Note: I have to preface this article by stating my time spend in Tokyo was filled with so much sake, ramen, amazing music, karaoke and 4am dumplings that some periods are a blur. This is my attempt to recapture some of the best moments of my life!
When our plane lands, I'm awakened from a 12-hour slumber from Los Angeles to Narita Airport in Japan. Whatever inducers put me there quickly leave my system as the excitement and Japanese vibrancy takes over my body and brings me back to the most life. Like the typical airplane ritual, the plane is buzzing and people gathering their things as we proceed to exit, and in my own personal ritual, I am the last one off the plane, accompanied by a spunky photographer, Daniela Trujillo EVB who will be attempting to capture the next 6 days of our LADYGUNN whirlwind meet and greet with Japanese pop queens Perfume.
If you haven't heard of this demi-group they are a mix between Spice Girls and The Backstreet Boys; but if those groups had angel-voiced dancing cyborg babies. Everyone in Tokyo knows Perfume. Thier stardom prefaces them with posters, magazine covers, and Perfume merch worn on the masses. It doesn't hurt that the women in the group, Nocchi, Kashiyuka and A~chan all look like real life dolls. True story, our first stop with luggage in tow, on our way to our hotel in Shibuya was a sleepy little dumpling place down the street from our hotel, then a bar where the bartender was wearing a Perfume shirt! He didn't believe us at first when we told him they were the subjects of our trip. As soon as we mention our assignment, our drunken new friends start screeching and buying us drinks and telling us how awesome it is. Our coolness factor instantly rises.
Last year marked Perfume's 10-year major label debut, a debut that forever redefined the world of J-pop and put them on a platform as international pop stars. The trio's music is an uptempo disco sensation with a hint of traditional Asian folk. It's glitchy and fast-paced like the theme music to a super high-end video game. Their consistent never aging aesthetic, accompanied by their charismatic personalities and SUPER shows, paved the way for the future of Japenese pop and turned the faces of the whole music industry on their heads.
LADYGUNN was invited as a personal guest of Universal Japan for the Perfume show @ Makuhari Messe in the southeast of the center of Tokyo to celebrate their monumental success and witness one of their groundbreaking shows.

From the time we entered the stadium to the time we were back in our van on the way back to Shibuya, I was filled with some of the most excitement I've ever had. I'm talking about a stadium filled with superfans eager for the show to start and buying Perfume merchandise by the basket full. It was the same anticipation, I imagine makes the hairs stand up on ends on the likes of Beliebers, Lovatics, and The Beehive. I was unsurprisingly enough the loudest person in the arena, and probably the whole of Japan for that matter, but I was able to get a few WHOOS in from a few other fanatics! It was so easy to be excited. I get why we were all here. It's so fun to root for these ladies.
Soon after Perfume starts to perform, it's obvious why the stadium is filled with fangirls and boys alike. The ladies know how to put on a good show. I could have easily been watching them at the biggest stadium on the moon and felt just as excited. The stage was super high-tech and as big as a small village.  How the ladies managed to outshine the most cutting edge technology, with a larger than life stage presence, confused me more than any technological advancement. They danced through the air, while cyber like graphics exploded behind them. While they were dancing and singing their asses off , I was too and so was everyone else in the audience. I have to admit I had no idea what I was singing but it felt so good to go along with the wave and let the world they created takeover. Right after the show, Aya and Cara some of the best PR ladies in the industry, lead us to meet the girls backstage. When they show up to the green room Perfume looked as happy and fresh as if they just went for a light jog, I, meanwhile was drenched in sweat and mascara a mock from dancing like a crazy person. Shout to my date for the night Cara, who rooted me on like Perfume was about to call me on stage for a special guest solo.
Perfume is now touring their fifth studio album aptly titled Cosmic Explorer and are bringing their magical act stateside this week. The tour kicks off August 26th in LA at The Wiltern. Perfume will hit San Francisco and Chicago before heading east for two shows at New York's Hammerstein Ballroom on Saturday September 3rd and Sunday September 4th.
Check out more of these cosmic angels in the US and in LADYGUNN #14. Till then Sayonara!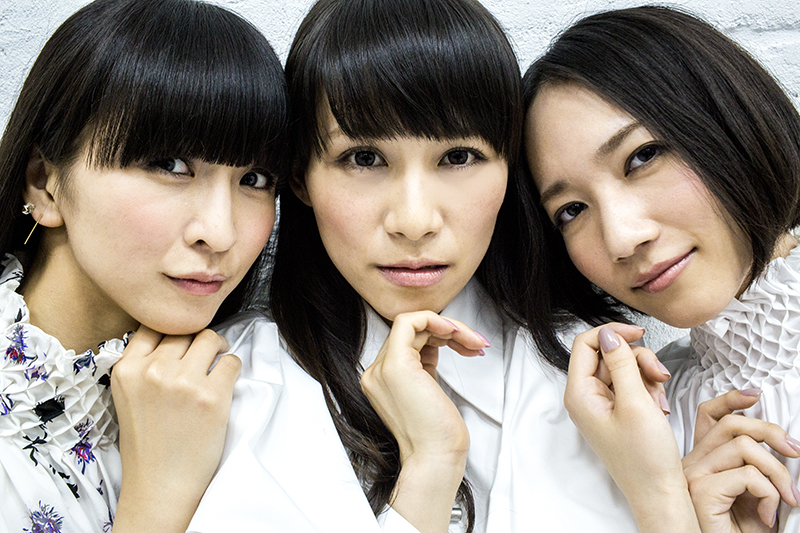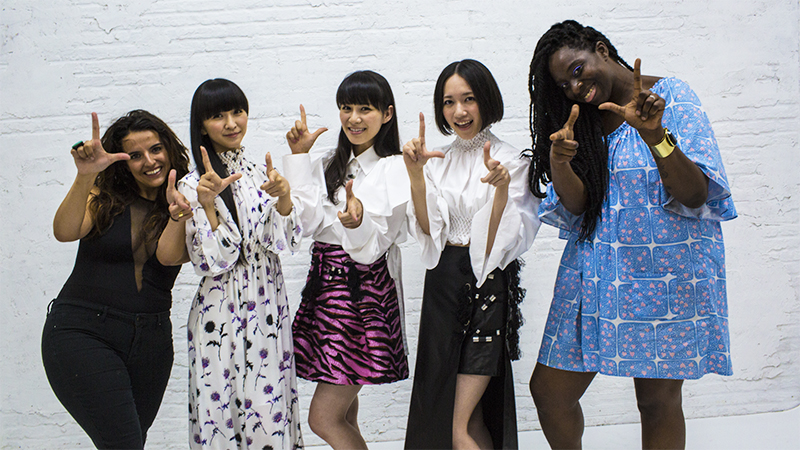 Perfume | US Tour Dates
Fri 8/26 | The Wiltern | Los Angeles, CA
Sun 8/28 | The Warfield | San Francisco, CA
Wed 8/31 | The Vic Theatre | Chicago, IL
Sat 9/3 | Hammerstein Ballroom | New York, NY
Sun 9/4 | Hammerstein Ballroom | New York, NY
story / Koko Ntuen
photos /  Daniela Trujillo EVB
styling / Toshio Takeda
makeup /   Masako Osuga
hair / Yuki Shimajiri
retouching / Koko Ntuen