Story/Interview By : Mateo Palacio
The year is 2008., I'm at a birthday party grinding on my friend Yessica as Daddy Yankee's "Gasolina" plays. The room is hot, we're drenched in sweat and the walls are covered in blue stains from denim Paco jeans as we danced profusely against the sheetrock. It was a night of perreo intenso. We were 12 years old.
Perreo (peh-rreh-oh) : a form of dancing that focuses on grinding. Mainly the guy dancing behind a girl.The word translates to dancing doggystyle, and it comes from the Spanish word perro, meaning "dog"… you get the idea.
Reggaetón was born in the "barrios", the lower class areas of Puerto Rico. The genre infuses Jamaican musical influences of reggae and dancehall with those of Latin America, such as bomba, plena, and hip hop combined with rapping in Spanish. The music was mostly mixtapes about drugs, violence, poverty, friendship, love and sex. The genre broke into the mainstream with artists like Tego Calderon, Daddy Yankee, Don Omar, and Wisin & Yandel. But it was Daddy Yankee's "Gasolina" which made the genre an international phenomenon.
The 2000s was when Reggaetón was at its peak. The raw influences of sound and style was something a lot of people had never heard of, it was refreshing, powerful but most of all sexy. Fast forward to 2022, and the genre has become commercialized and mainstream while adopting pop sounds that are palpable and easily digested by the masses. It's like Reggaetón got a cheap face lift and moved to the suburbs.
Luckily for us who are stuck in the realm of nostalgia we have found our savior La Goony Chonga.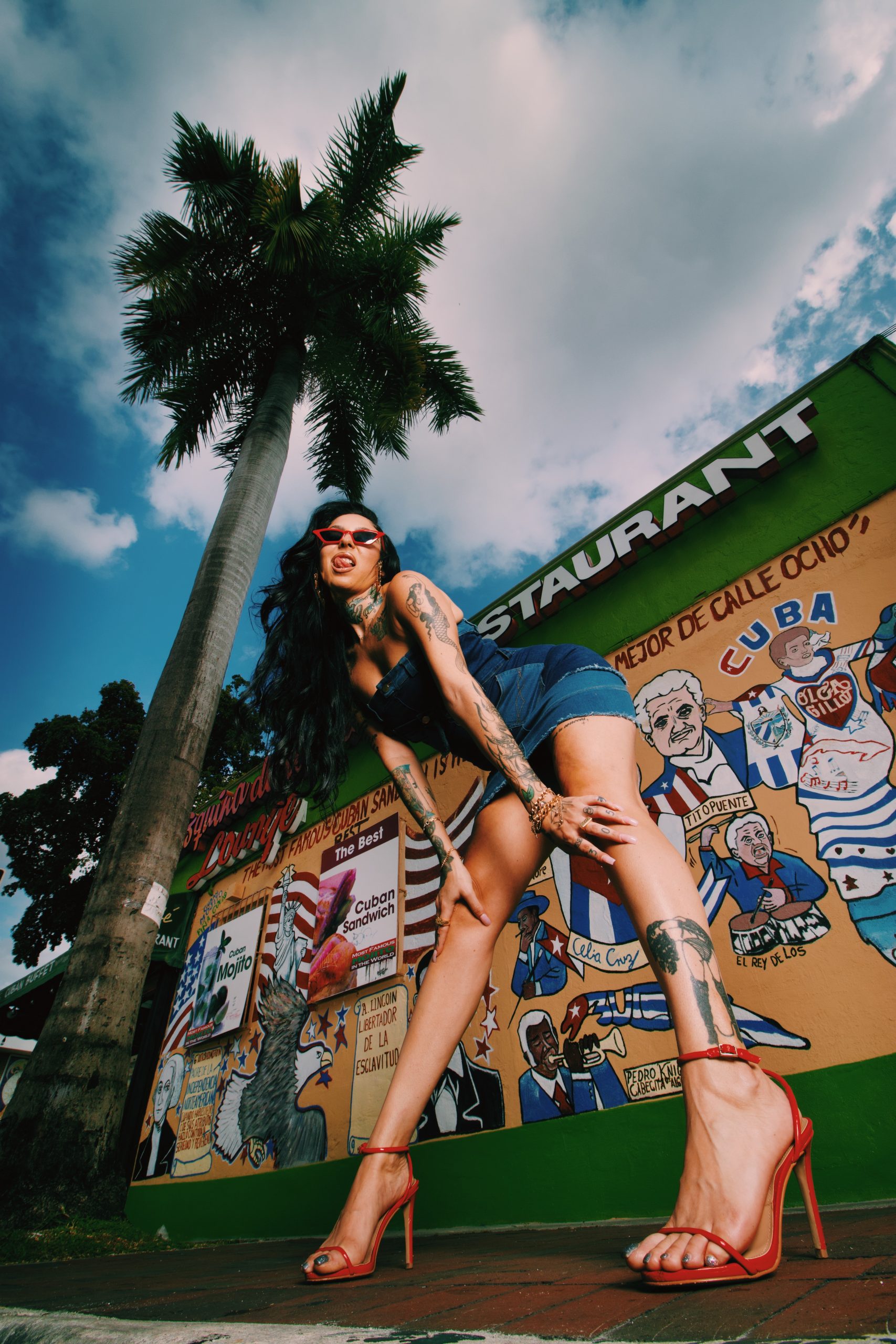 The Cuban-American rapper, singer and songwriter was born and raised in the sexy 305 that is Miami. Growing up she was influenced by rap music and Latin culture. A trailblazer and creator of the musical subgenre that is "traggeton" a fusion of trap/tread & reggaetón using fast paced instrumentals with trap music vibes instead of a typical reggaetón beat. This is what separates her from others and gives her a unique sound — paving the way for many of the latin female rappers we see emerging today.
La Goony Chonga dropped her debut latin album in 2018 titled Dinero which included hits like "Modelo" "Otra Vez" and "Criminal". Following "Dinero'' she released her album "Dimen5ion", which blends latin trap with west coast sounds. In contrast to her debut Latin album, which lacked any features, she worked with a variety of musicians on the Dimen5ion LP, including Brooke Candy & La Zowi. Her most recent EP, Descontrol, which focuses primarily on an electronic, dance mood, was released in July 2021. where she alludes to some of her favorite reggaetón songs. demonstrating that she has an unequaled range.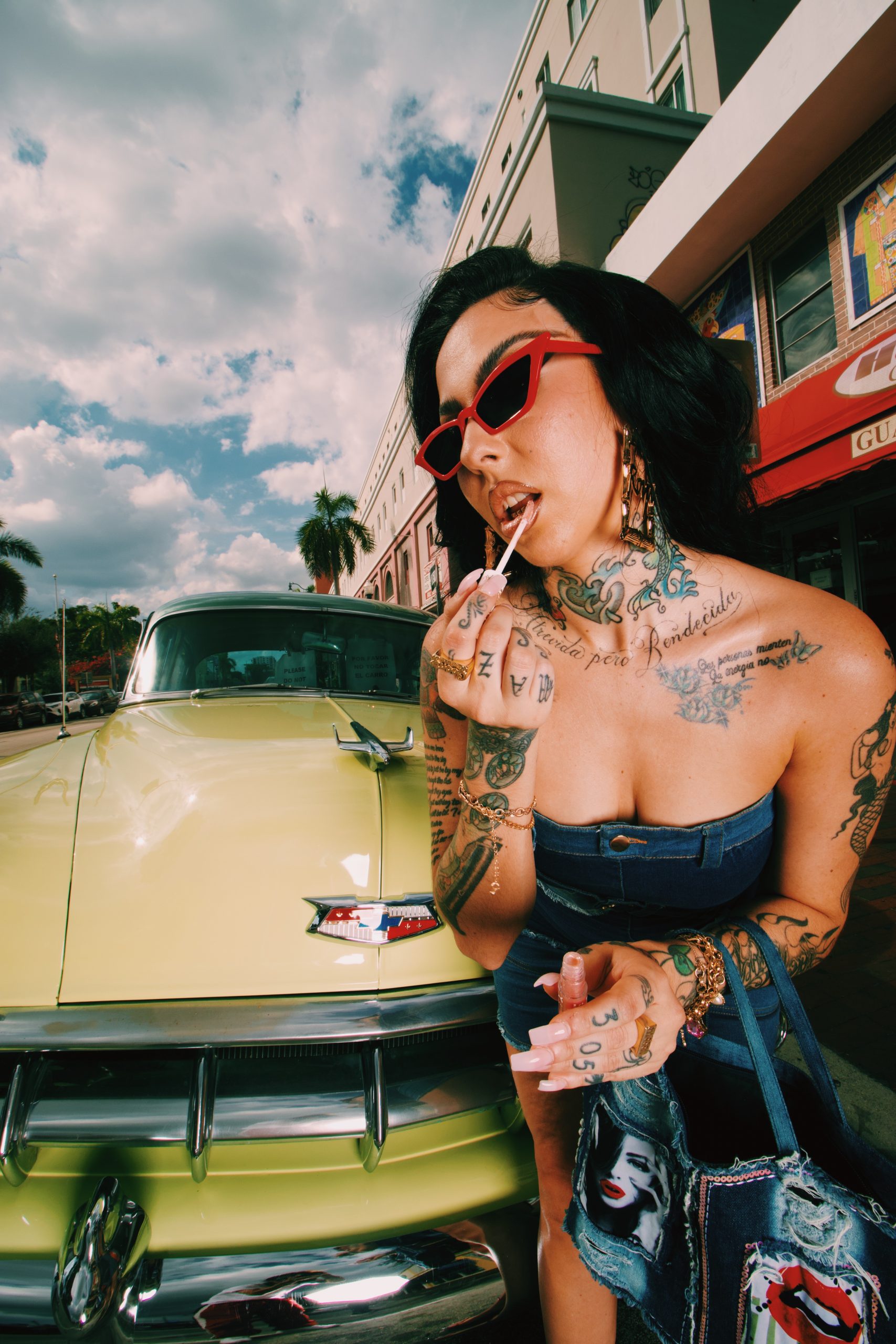 A year later La Goony continues to evolve and shapeshift announcing her upcoming reggaeton album "La Hora De Perrear'' coming later this year. This would be the third studio album in Spanish and the first album that is all reggaetón. The album's name pays respect to one of her favorite reggaetón musicians, Plan B, and the song "La Hora De Perrear," which is a single from her favorite album by them, "El Mundo Del Plan B," which was released in 2002. La Goony's objective was to evoke nostalgia and produce a collection of songs that were intended for "un perreo intenso", hence the title "La Hora De Perrear," which is largely influenced by early 2000s reggaeton.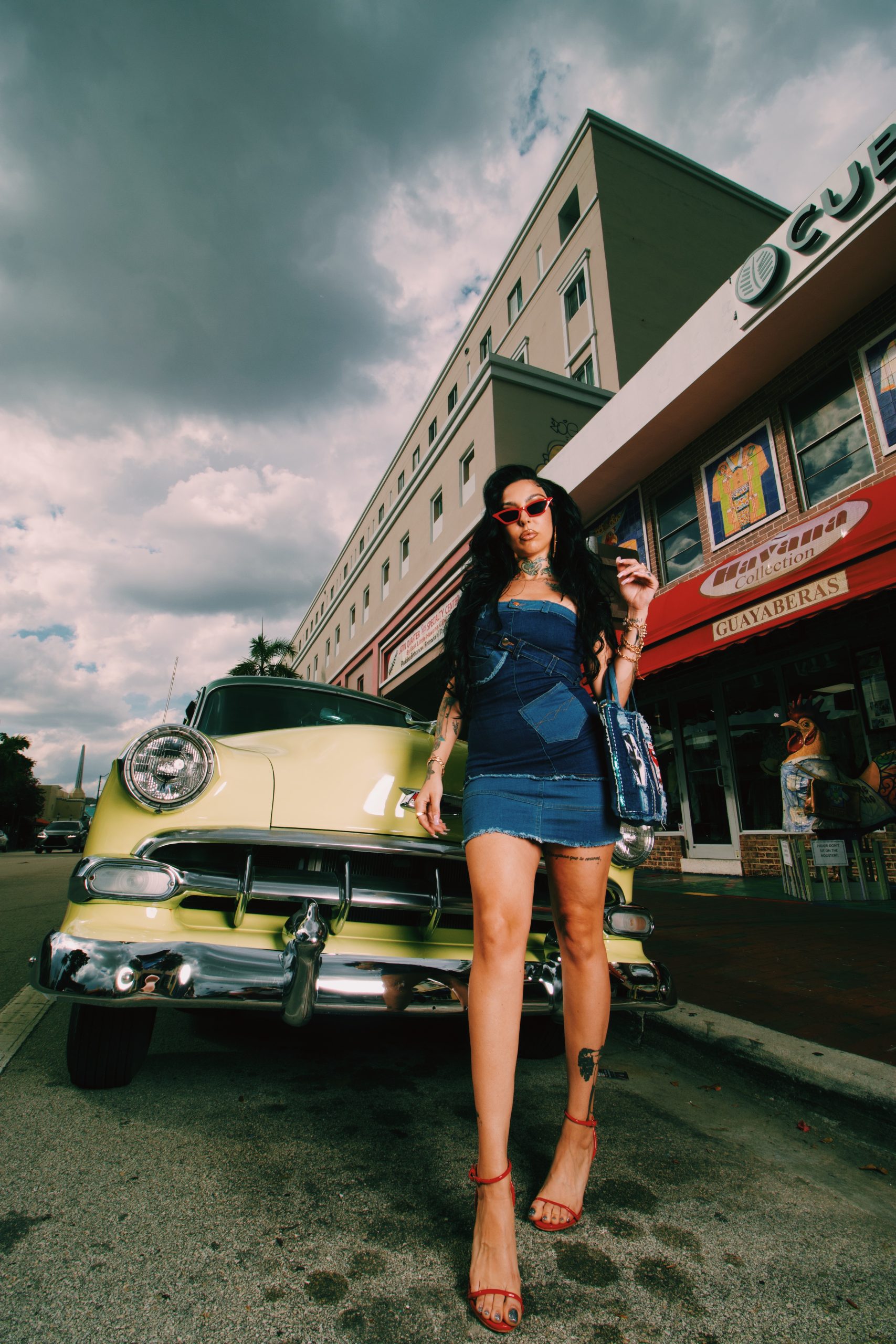 "La Pachanga", the album's first single, is a party song that was released in late May. La Pachanga is a colloquialism for "the party" or "the function" that is popular among Latin Americans, including some Cubans. Another 1960s-era Cuban musical style recognized for being extremely celebratory is "pachanga"
Today she drops her second single from LHDP, "Abanico". The song is a catchy summertime hit that emphasizes how important it is to always carry an "abanico," or hand fan, with you to fan away the sweat and the haters. Along with this track she is also dropping abanicos (hand fans) in two color waves that say the album's title "La Hora De Perrear". Get your fans and wave them at every perreo and Goony show, but mostly store this collectible and pass it along to your grandkids and teach them about La Goony and the Queen of perreo and remember to stream "Abanico" out now!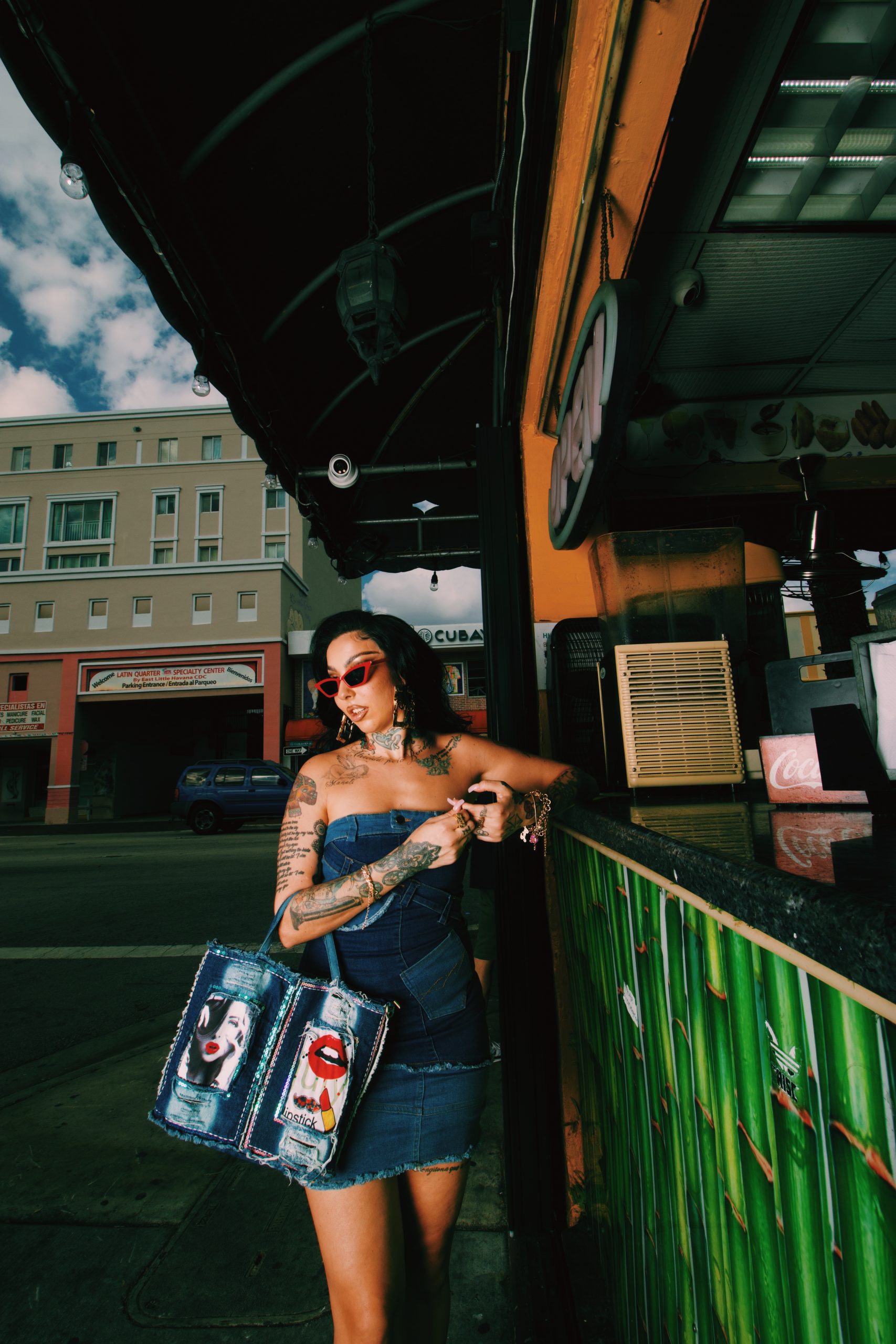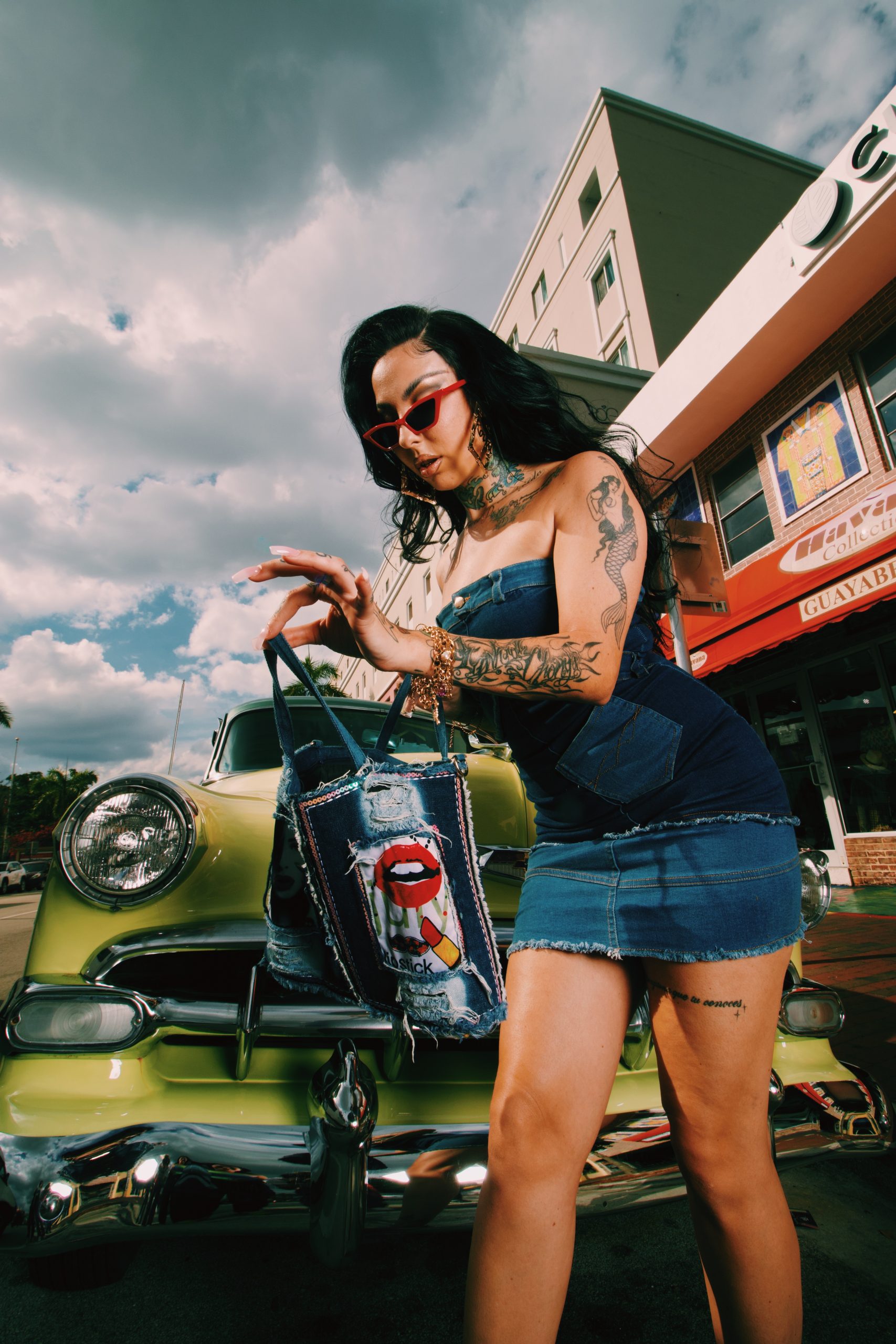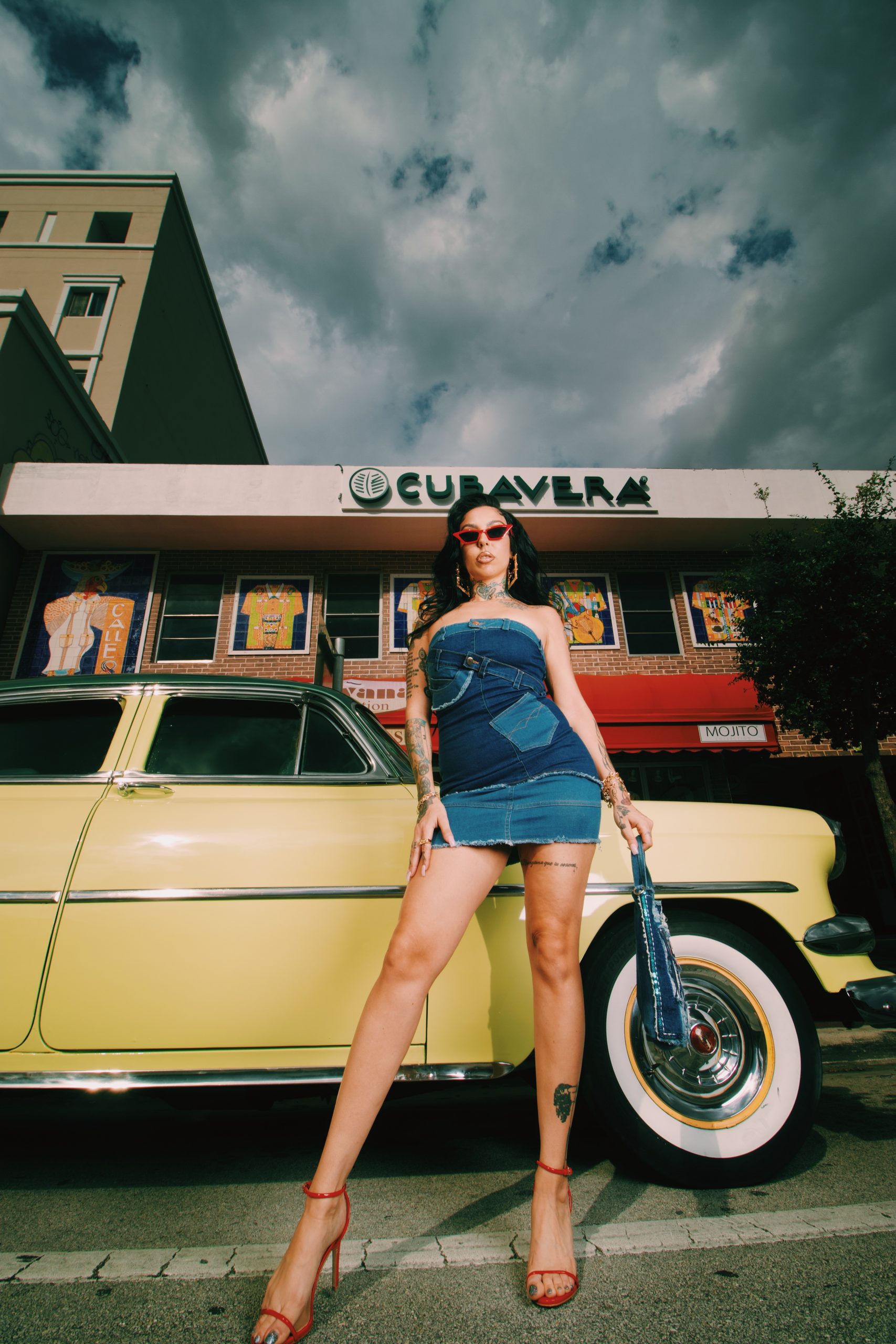 What was your first introduction to making music?
Honestly, I've been making music since I can remember. Not recording it, but writing music and coming up with songs since I was a child. So, yeah, my mom has notebooks of me writing little raps with my friends in middle school, I always was  doing poems and I liked making music or coming up with little melodies. I've always loved music. As far as me making music to the world, that started when I was about 20 years old. Wow, it was a long time ago. It was about ten years ago, right?
What is your earliest memory of a reggeton artist/song or a moment in reggeton that influenced you the most growing up
I would say maybe in middle school when we would have the little middle school parties at school, those parties at the basketball court, and everybody would be grinding, and the security would be breaking us up because we're little kids, 14 and shit. But yeah. Yankee, Ivy Queen. we were all listening to that shit growing up here in Miami, along with hip hop and rap. So it was always for me a mix of those both worlds. Which is why when I started making Spanish music, when I first did it you'll say, it's not like on a traditional Latin type of beat. It's a trap, like a tread. It was a different type of beat. So I went in on I'm going to do something different. I'm going to rap the way I do in English or like the way these hip hop artists do, but I'm going to do it in Spanish but on the same type of trappy beats.
You're the queen of the "traggeton" genre, what elements make this sub genre unique compared to regular reggaetón?
Honestly, when I was a striper living in Washington Height from 2014 to 2017. And I danced in New York. I lived in Washington Heights, I remember that I used to walk to Bodegas, or by my neighborhood, I would be hearing them playing, like, fuck up some commas. But in Spanish it was remixes that they would do. They were making all these remixes so when I heard that, I was like, this is hard.  I was like this this shit is actually cool, I want to fucking rap like this but do my own song. I was also seeing that there wasn't a lot of girls that I knew of that were doing that type of sound. Everything was more on Latin beats and Reggaetón but as the years have gone, I feel like I've evolved and experimented with different things. My first album in Spanish was Dinero in 2018 was very trap like and then in Dimension was super experimental because the producer I was working with had me singing on beats.
Give me some background on exactly where "La Goony Chonga" name comes from and what it means?
Well, I've always been a Chonga. In Miami, the word Chonga, is a known thing more so from my generation. Everybody who was a cool was a Chonga and then at one point, it was an insult to be called a Chonga. Like after it wasn't cool anymore and everyone started being preppy and scene. If you're a Chonga it was an insult.
I think that came after that. Do you remember that iconic YouTube Chongalicious music video?
A little bit after that, it kind of became like a parody. Like, we're going to make fun of them, you know what I mean? I love the Chonga girls. I actually met them in 2017 because one of them, I saw in the crowd at my show. I was like, hold on. You're from the chonga girls. And it was a mind blowing moment for me. And now we're  really good friends. The name comes from, I guess, me growing up, being a Chonga. Kind of always stuck with that aesthetic. Even though I did go into a little preppy stage in high school. And I did go into a little scene phase but I would mix it up with Chonga. And I was a fake scene because I was only seen in the looks. I didn't listen to any of the music. I didn't listen to none of those bands. I would wear the shirts because I was like, this is cool. Like some Hot Topic. But I wouldn't listen to shit. I'm wearing that. But in my headphones, it's Ludicrous and Pitbull, right? I had a homegirl that she kind of dressed like that, and me and her kind of bounced off each other.
what are 3 things a Chonga can't leave the house without?
Lip liner. Number one. Money, obviously. Even though I don't really need money because people can buy me shit. Hoop earrings, lip liner and her abanico, if it's a hot day outside.
Your new song "Abanico" is such a fun, unique summer bop, what was your vibe when making this song and what made you decide to get fans as merch?
So this song is super inspired by so many different things. It's a mixture of things. I was going to this drag brunch, and they were giving out all these fans to the people to wave at the drag queens and just like drag culture and all the fans everywhere all the time kind of inspired me to also, like going to Spain and flamenco. I saw that they just had fans everywhere. It was a point where I was seeing all these fans and I was at a party I was like, I need that. One of my friends gave it to me. And I was just like, hey, I'm going to make a song about Abanicos. It was definitely like a moment like, oh, shit, this is the song we're going to do. The whole song is about having my fan and how it makes me feel powerful and how I have one for every outfit. You'll never see me without it. It's my friend.
This is your 3rd studio album in Spanish, and the 1st album that's all in reggaeton, what is your reasoning behind this ?
I started seeing how much my fan base grew and all the support I got, the majority of it is from the Latino community and from people overseas and Spain and all these places. So, yeah, for me, naturally, I was just like, yes, if this is what's working, this is what I'm going to do. Also, I kind of found my own lane doing it and I kind of became addicted to it because when I first went to make Spanish music, I was kind of nervous because I was like, I don't know what my fans are going to think. I used to just rap. So I was kind of like, I don't know what people are going to think or maybe they're going to think I'm crazy. Like, what the fuck? She's switching on us. But honestly, the results were amazing and I kind of got super excited because it felt like I was starting all over again. I started putting out music in the beginning of 2013 and then by 2016, I had made my first Spanish song. And then from there, it was history. You know what I mean? At this point, I've been making Spanish music longer than I've been making English music
What would be at the most iconic/lit Pachanga that you could possibly attend ?
For me, I'm like an outdoorsy girl, so it's not like the club. It's more like a barbecue, a block party outside. It's hot, sweaty. There's chicken on the grill and little steaks, and we're eating mangoes and coconuts. For me, it's like the block party vibe and ratchet salsa music. Just family fun, friends and family.
You were previously an exotic dancer and we've seen you do it so beautifully in some of your music videos, how has dancing and that environment influenced your music?
Being a stripper really helped me a lot. I was making music before I was a stripper. So my main purpose of being a stripper was to finance my career because being an artist ain't cheap. And also it was fun. It was a way to make money where I could be on my own time. I was my own boss. I had freedom, so I loved it and it helped me. I was never shy, but it helped me even more to be able to talk to anyone, not caring what anyone thinks. Because when you strip, you can't care what nobody thinks. You got to have confidence because it'll show, you know what I mean? Like, it'll show and it won't attract the money. So it's kind of helped me really build up another level of confidence and help me because I work, I always have to be going up to guys like, hey, you want to dance? Or talk to them or entertain them to get the bag. So since I was always dealing with strangers and always interacting with different people all the time, it made it very easy for me in networking situations to be easily able to talk to people or feel comfortable with myself. Because if I was going up to people, half naked, comfortably, and I don't even fucking know them, I was like, if I could do this, I could do anything. You know what I mean?
Okay dream song collab ???
I would love to work with Daddy Yankee. Nicky Jam and Nicki Minaj !
What's your sign besides dollar?
I'm a Pisces with the Aries cusp. I claim Pisces, but I'm not an introvert. I'm an extrovert because I was like two days away from being an Aries, but I didn't make it to the Aries game.
What is something we should all look forward to?
I'm already working on the album that's after this album, but I'm not going to reveal much information about it. But I will say that I'm already ahead of myself and I'm always evolving my sound, which I guess people can notice if you just listen throughout the years. Just expect me to keep evolving and to keep just breaking the boundaries of genres because I just love experimenting and mixing and just seeing what else I could do. Since I've been making music for so long, it's like the more I make music, the more things I discover. So I would just say I'm not going nowhere and everyone can just expect for me to keep going crazy.
Photos / @xavierluggage