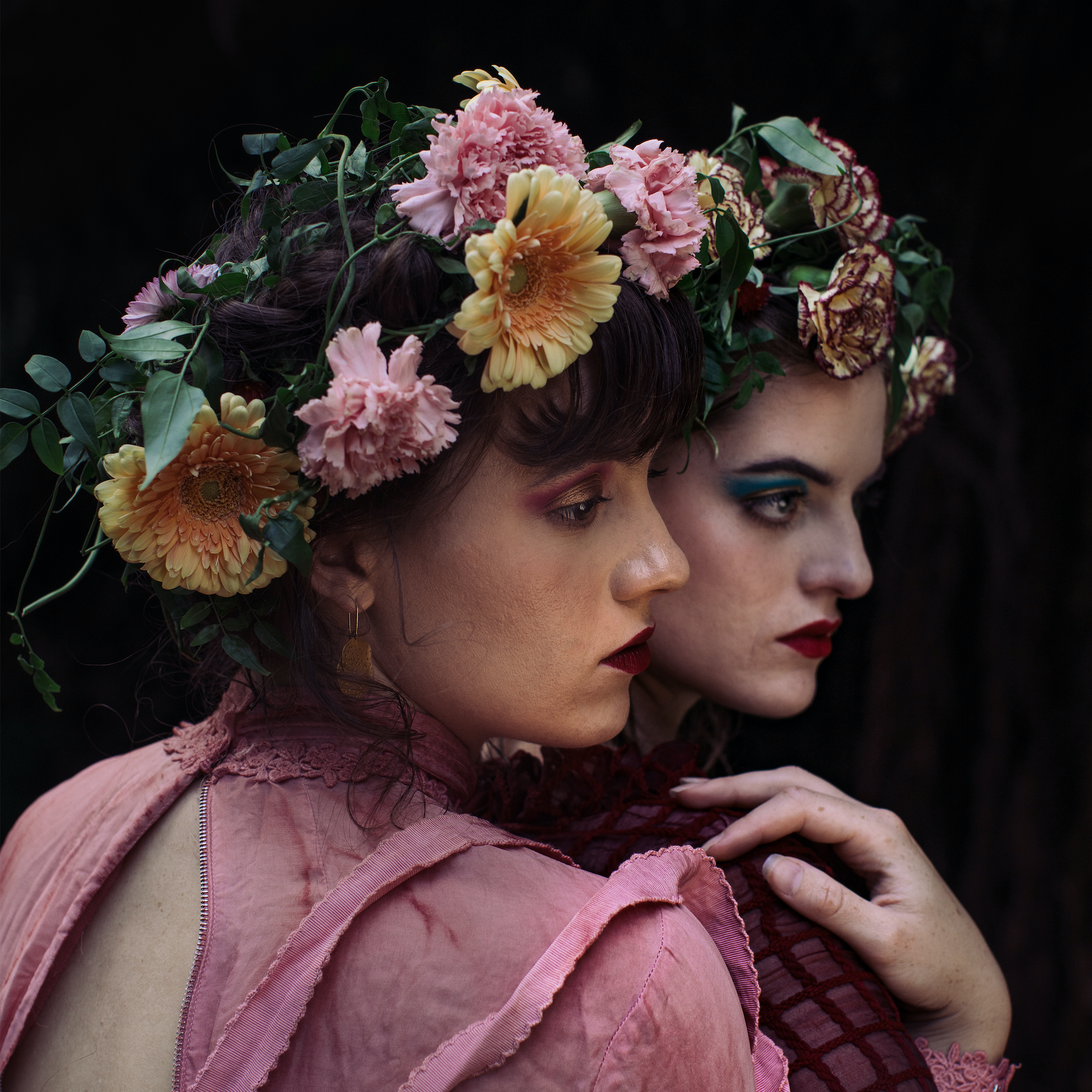 What's better than two siblings getting along? Two siblings who create amazing art together, of course. Aussie Sisters Ivy and Mabel Windred-Wornes are fantastic multi-instrumentalists with deep roots into Celtic folk and Buskin music.
Their career started out very early, their first album "Staring at the Starry Ceiling" came out in 2016 before either sister had reached the age of 17, and "Treading Water" is the preamble to heir upcoming 3rd full-length album out later this year.
Thanks to the sisters, we now know that a group of Finches is called a "Charm", but that was not the only thing we learned:
There's "The Bridge", "Deep Water", "Where Do the Ducks Go?", "Slip like Water" and now we're listening to "Treading Water". Do you think Living in Melbourne subconsciously influenced your songwriting like that? or do you feel like you have a personal relationship with the ocean, rivers, ponds etc.?
Haha, yes! We do tend to write a lot of songs with water involved – water is so connected symbolically to the emotional life. Whether it's floating, floundering, drifting or drowning, this is something we gravitate towards when trying to express a feeling in a song. We've always loved the beach, and on a hot Summer day we love to jump on a train and go to Half Moon Bay, explore the cliffs and swim out to the shipwreck just off-shore. For us, certain places in Melbourne have a distinct memory, and feeling, attached. "Treading Water " is a storytelling song, centred around the inner-western suburb of Footscray, which is surrounded by water and vast industrial work sites. There's also a particular river in country Victoria that is mentioned, which holds significance because of fond times we've had there. These are now just distant memories. Some of my favourite songs carry the essence of a place. This song is definitely one of those.
Is "Treading Water" written from personal experience or from sheer creativity alone?
Yes, Treading Water is written from personal experience. Most of our songs are. The journey is across a city, but also across the somewhat trickier terrain of navigating the transition from lovers to friends.
…and where do you write most often from: experience or Imagination? Does that vary between the two of you?
We mostly write from our personal experiences. Ivy has written a lot of songs about her experience of grief when her best friend passed away when she was 14. Songwriting was a way for her to express and process grief. Mabel, on the other hand, tends to write a lot of songs inspired by relationships. When we write together we often combine our experiences in the song with a common theme, for example one of our upcoming songs is about toxic positivity and the culture of denying acknowledgement of difficulties and limitations.  We both wrote from our own experiences – of being in a relationship and using hope to avoid facing the realities of what was not working and then, using hope to cope with the fear of losing a dear friend to a serious illness. We have written more fictional songs inspired by books, films and tv shows – like our song "Where Do the Ducks Go?", inspired by a scene in J.D. Salinger's novel "The Catcher in the Rye", where Holden Caulfield is contemplating the ducks in Central Park as he passes in a cab: he poses the question, where do they go and how do they survive the harsh winter? The song then meanders around all sorts of other musings, both childlike as well as a more adult introspection.
As you've fallen into the groove of crafting an album together, there must be different roles that each of you've filled naturally as you figured out each other's strengths and preferences, what are those roles?
Yes definitely. When writing the songs for the album, we've come to find that Ivy has a real knack for making catchy and pretty melodies, while Mabel deep dives into the poetic, lyrical realm.
In terms of production, we've taken on the huge task of recording the album from home while working remotely with our producer Daniel Ledwell who lives in Nova Scotia, Canada. We've always loved having as much control as possible when creating our music and it is very fun and empowering to do most of it ourselves.
We also like to play as many instruments as possible on our recordings, including cello and violin, and collaborate closely  with arrangements.
We also love creating music videos and consider it an intrinsic part of our arts practice. Our most recent video for "Treading Water" was conceived on the road when we dipped out toes back into interstate touring. We invited an amazing videographer to shoot it for us, but we storyboard, direct, design and gather the props ourselves. Ivy always edits the videos.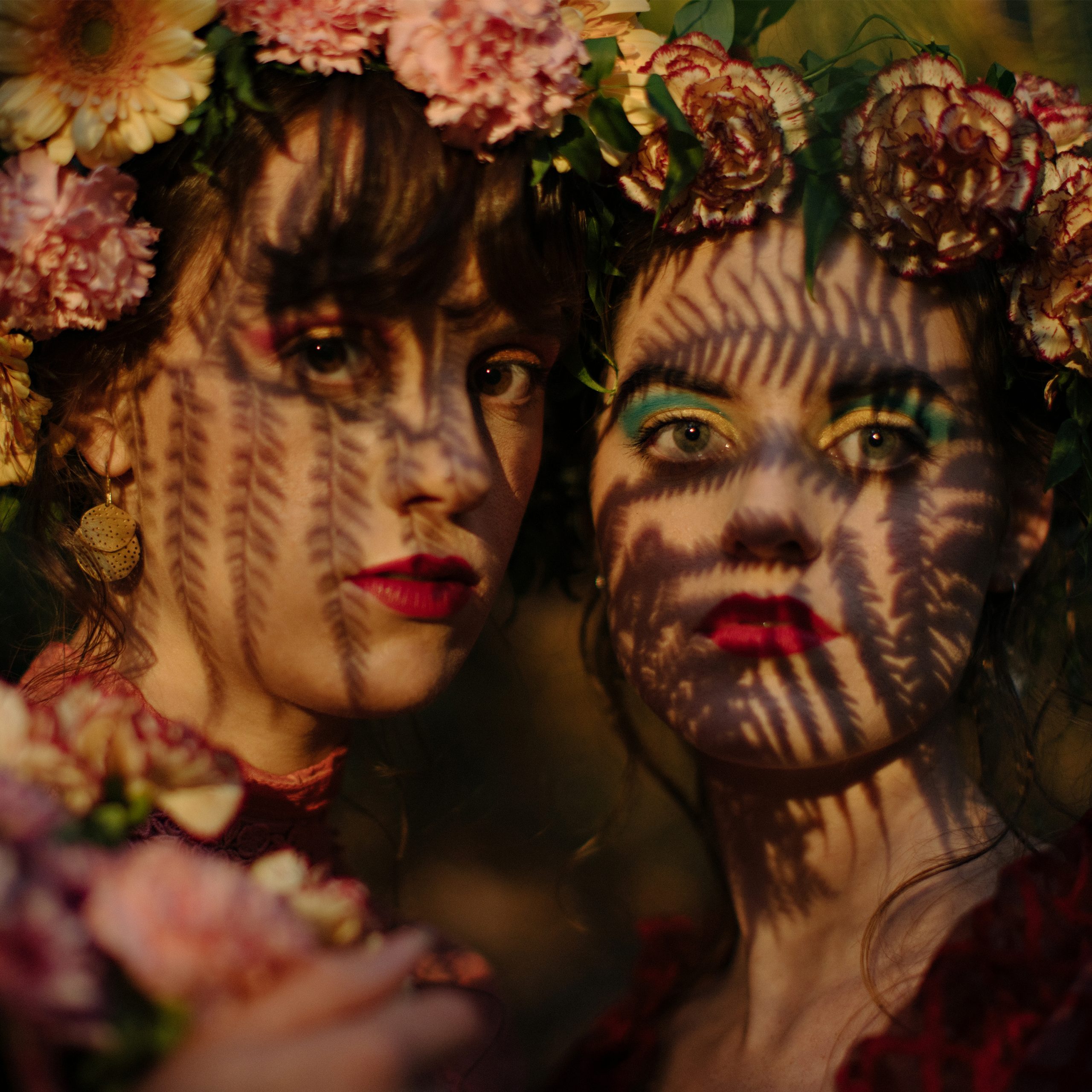 Do you have any habits, rituals or even must-have-snacks you like to engage in before or after a day in the studio?
Ivy and I are always drinking herbal tea before recording vocals as we find it helps limber up the vocal cords – lemon, ginger and honey, and mint and licorice tea, are all very good for this. If we are working on editing or sorting tracks, on the other hand, we will chug English Breakfast Tea all day (or night) long. We like to snack on these little energy bliss ball things containing dates, nuts, coco and coconut sprinkles and probably some kind of superfood. Sometimes if we're in need of extra confidence and sass – before recording or before doing a live show, we stand with our arms outstretched, chest out and a big smile for about 2 minutes, and seriously, it works!
From your name, your lyrics and some of your videos, I get the impression you like to spend time outdoors. Any favorite activities?
We do love spending time in nature. We've both been on lots of hikes in the mountains and along the coast. Hiking and camping is something we both love. Experiencing the quiet of nature – hearing insects, birds and the breeze and smelling fresh, cool air makes us feel centered and alive. It's a lot easier to feel inspired in that state. We really love finding beautiful outdoor places to shoot music videos. We ended up submerged in a freezing lake in winter to get that mysterious, witchy shot in "The Bridge", for example. More than once we have walked out of a forest in the dark, past glow worms. These are special memories!
One can't help but notice how suspenseful and even eerie some of your music videos get at times. Coupled with the "Goth-Folk" label you've been given, something tells me that you're fans of horror films, right? what films/directors might those be if so?
Haha yes! We're huge fans of David Lynch, particularly "Twin Peaks". Also we both love the series "Six Feet Under" which inspired the last track on our upcoming album. The video for "Lies" gives a big nod to filmmaker Peter Greenaway, and in particular the incredibly creepy and brilliantly designed "The Cook, The Thief, His Wife and Her Lover".
Art also inspires us – our styling for photos and videos draws heavily from the paintings of the Pre-Raphaelites, for example, the painting of Ophelia from Shakespeare's Hamlet by Millais. She lays singing in the river amongst flowers and reeds before drowning. It has an eerie beauty, which we also try to infuse into our music.
Ivy, you got directorial credits in the "Lies" music video a while back. Was this your way of dipping your toes into film-making or was it just something you felt like you had to handle personally that time? Tell us a bit about that experience.
I wrote Lies about the damaging effects of social media, when, especially as a teenager who is still forming a sense of self, these images of so-called "perfect" faces, bodies and lifestyles can be really unsettling, and sometimes, all-consuming. I had a real vision for this video. Also, Mabel was in Europe studying Shakespeare acting at the time we were in pre-production for that shoot.
Having started out so young, you must have at least one piece of advice for others who might be in a similar position as you were back then. What is it?
Welcome new experiences. Stay creative and playful. Reach out for opportunities and keep reminding yourself that your art is a worthy gift to share with the world. Practise your craft, keep exploring and honing your skills and try to find your own voice in your work. If it comes truthfully from you, people are sure to connect with it.
CONNECT WITH CHARM OF FINCHES
photos / Laura May Grogan
story / Samuel Aponte