Music is meant to unify, to console, and to counsel – to serve as a mirror to our society, to teach us about ourselves – and most of all, to put sound and voice to our innermost thoughts. LA-based multi-instrumentalist and producer, Biianco, teams up with rising indie pop artist, Jax Anderson, to create a song that harmoniously communicates the angst and desires of every passionate teen – to break free from one's childhood bounds and soar into the world of adulthood.
Ladygunn had the absolute pleasure of interviewing the team behind this beautiful and inspiring song and video.
First up we have Biianco – a multi-faceted, queer-indentifying, electronic-chill wave artist who is one to look out for. Hailing previously from the indie rock band, Smoke Session, this artist is now being authentically herself – bleeding truth and passion into all of her work. While "Eighteen" is her newest release, she also has many other catchy, tuneful hits that are more than deserving of a listen.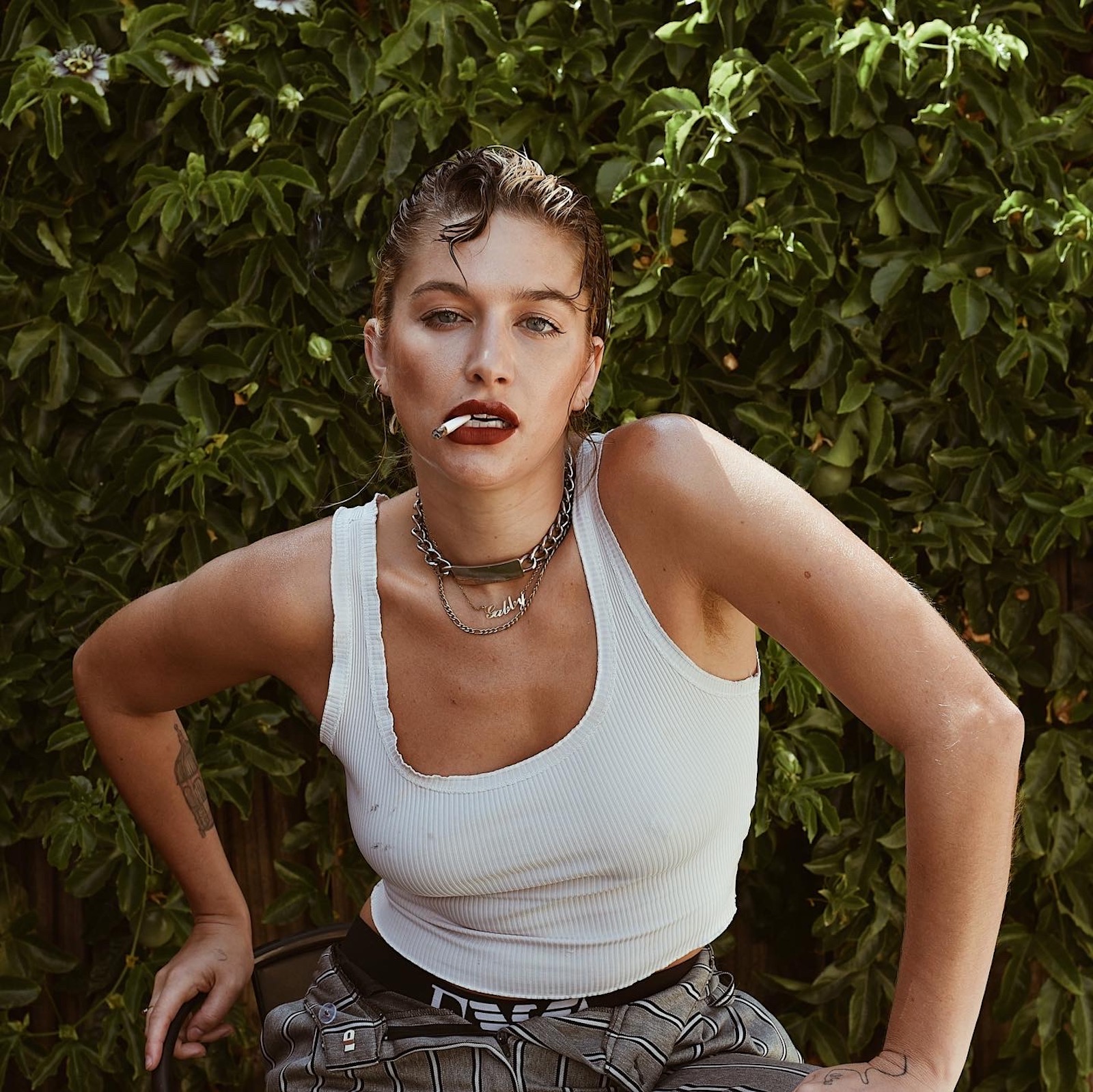 How are you? What has your quarantine been like? 
G — It's been a wild ride.  Periods of extreme creativity and productivity and periods where it feels like there's nothing to get out of bed for.  I think everyone is processing this very strange time in different ways.  Positivity comes in waves.  Trying to ride those waves for as long as I can.
Being such a unique and original artist in terms of sound and innovation, how did you get into music? Who have served as your musical mentors?
G — There was never a time in my life where I wasn't into music to be honest.  I started playing keys at the age of 5 and moved on to singing, guitar, composing and producing in the 2 decades following.  I think part of being a creator is that literally everyone is a musical mentor.  If you can't find something valuable in what the artists around you are doing, then you're not listening hard enough.  A couple artists I'm looking up to lately are — Kito (for her production), Jessie Reyez (for her lyrics), and Scary Pool Party (for his virtuosity).
Having released sundry singles and amassing acclaim, what has been the most pivotal moment in your career thus far?
G — It's really hard to quantify "success" and I'd rather place value on something I can control.  So, I'd say the most pivotal moment in my career thus far has been finishing a mixtape that I wrote and produced myself.  That has been a massive undertaking that I never thought I'd finish and, now as I'm wrapping it up, my jaw is pretty much living on the floor.
What is the most important message you wish to convey in your music?

G — I want to compel people to stand inside their emotions and let it take them wherever it takes them.  We are entering the era of full feels and I want to unlock that door for people.
What type of artist do you strive to be?
G — The kind who people listen to on repeat
Your new release, "Eighteen" is beautiful and relevant in message, lyrics, and sound. What was the inspiration behind this new song and what did the artistic process look like?

G — Jax Anderson and I came together and wrote this song on a rainy Tuesday in my studio.  We were really moved by the idea that our childhoods are often the thing that damages us the most and simultaneously shapes us as people.  We wanted to capture that longing.  It's an ode to the kids who are silent superheroes and look forward to break out of their circumstances.
Does "Eighteen" reflect any personal experience in your life? 
G — My childhood unfortunately was marred with some abuse and so in a lot of ways, this song is a near and dear story to me.
What did the casting and creative process look like for the beautifully-made, accompanying music video? 
G — My amazing friend, Doug Haley, helped us cast this video.  It was important for us that the message behind the song could resonate with all audiences and not just women (because the lyrics reflect the voice of women).  So, we wanted a diverse cast and were interested in diversifying the voice.  Once we saw Alex and Nathan, we knew we had captured gold.  We really let them be and do who they are naturally in the video and it shows.
What is your hope for "Eighteen?" In terms of audience, who do you wish to reach? 
G — Everyone.
What is next for you? 🙂 
G — SOOOOOO much new music.  Oh, and that full length I was talking about earlier 🙂
Second up we have Jax Anderson.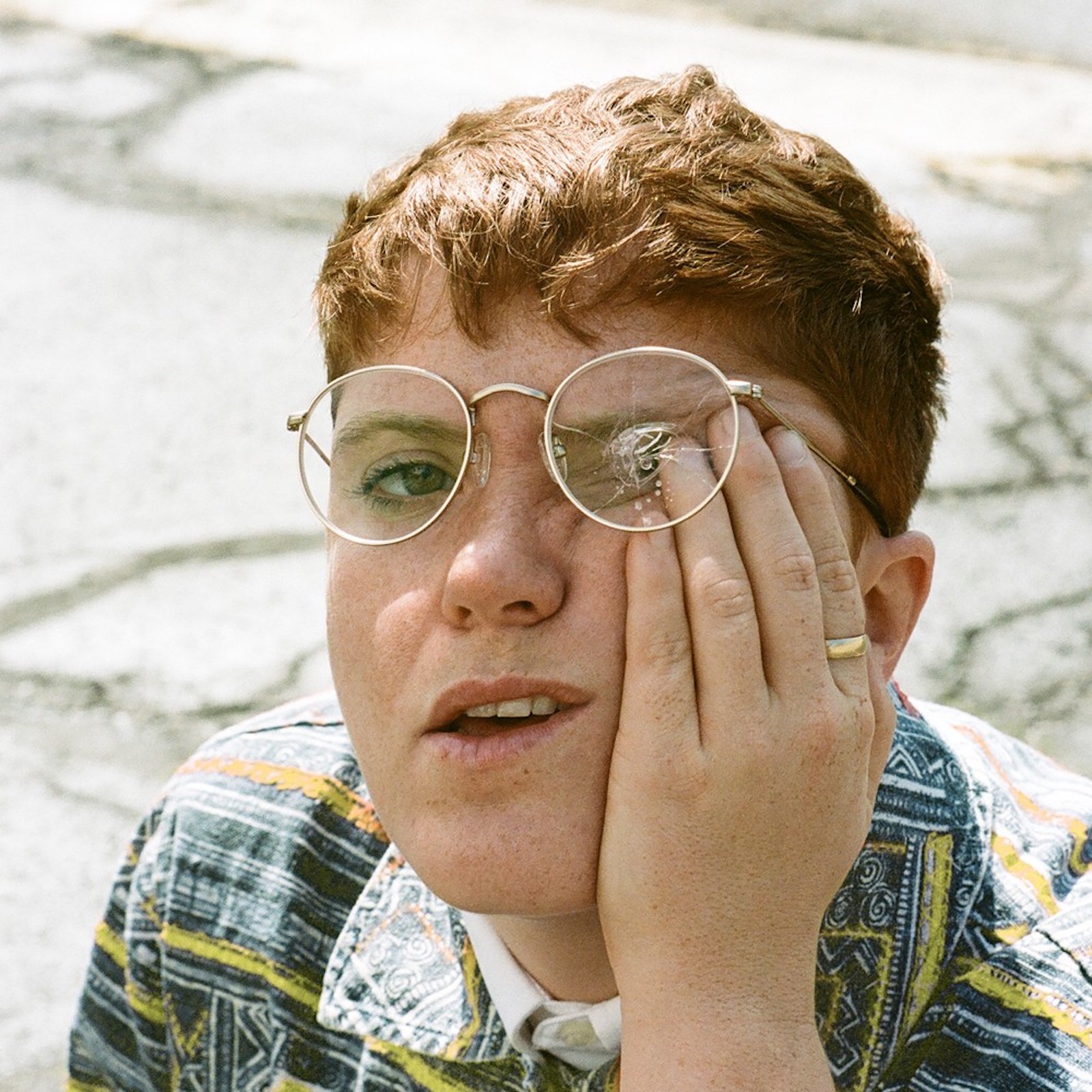 She's an indie legend. Founder of the former alt pop project, Flint Eastwood, featuring her brother Seth, and taking on an original and innovative path of her own, Jax has released a boat load of fantastic music with a style often categorized as "spaghetti western inspired." With an album, EPS, and several singles under her belt, she is one for the charts. 
How did you get involved in "Eighteen" and what did the artistic/creative process look like with Biianco? 
I've known biianco for awhile now & the first time we hung out she read my tarot & it was eerily specific & on point. she was a good hang. we had wine. & shared demos. & about a year later I visited LA & we wrote this song in her bedroom while biianco produced & I sat next to her pitbull. 
What does the song mean to you?
when I was kid all I wanted was to get the hell out of my hometown. I was a queer kid in a suuuuper conservative setting. high school was okay, but I knew my life wouldn't start until after I was out of it. so I'd sit in my English classes & write poems & fantasize about being 18 & living in Chicago & drink a lot of coffee on terraces & being free. I pretty much do that now which I think younger me would love. except I'm not in Chicago. I'm in Detroit.
Having released a lot of music, where do you wish to be as an artist?
I want to create art that I enjoy & release until I'm dead & to bring my friends along with me & eventually do more gallery stuff & video stuff & maybe become one of those old ladies that make crafts that are like super weird but I like em a lot, I dunno we'll see.
Third up, we have the actors : Alex Waite and Nathan Rueppel.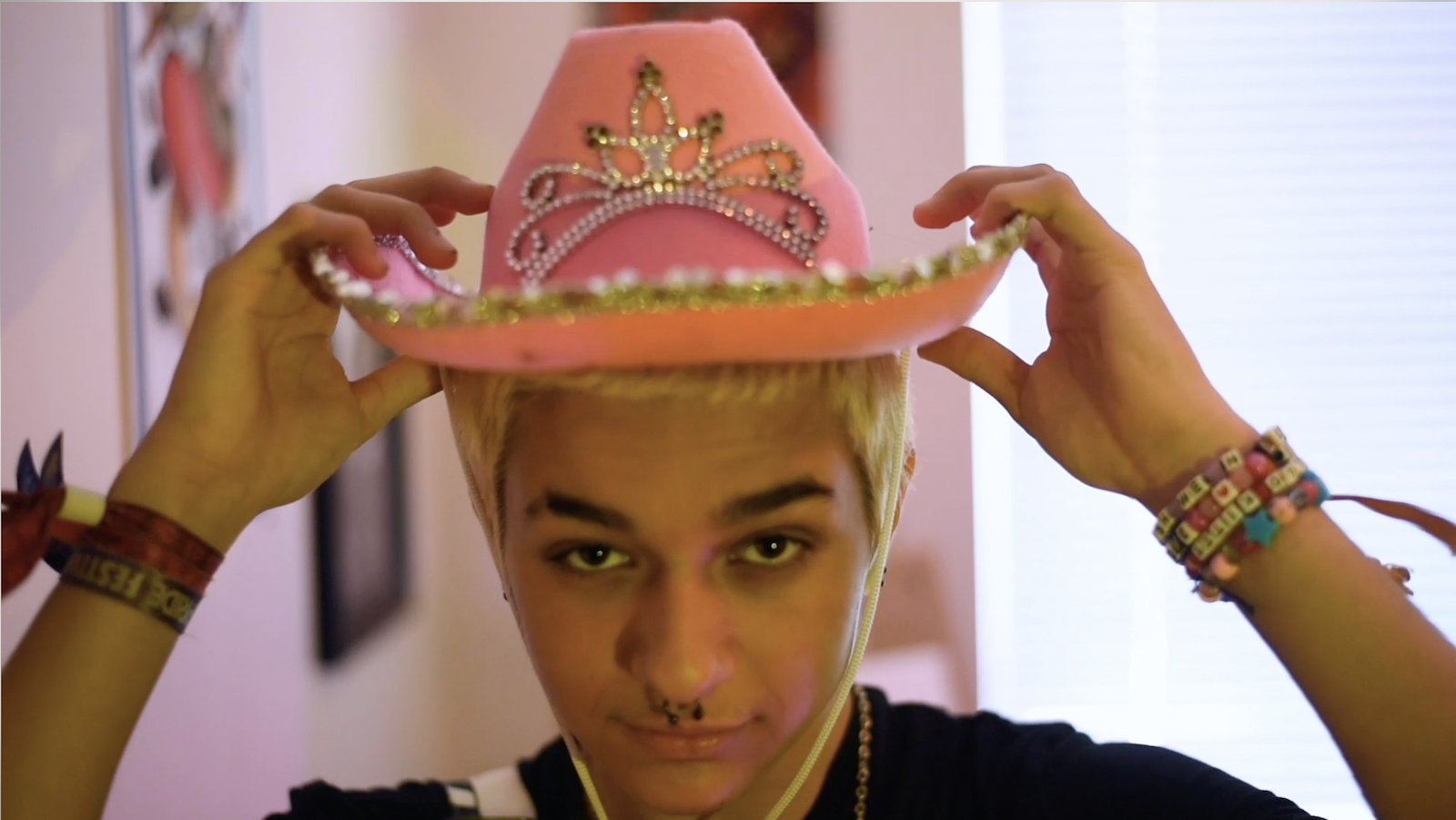 Alex.
In casting the video, the creators explained, "Alex, who is LA based and a transgender boy, really dyed his hair during filming and actually made some of the clothes he wears in the video. Nathan, who is Santa Cruz-based, really made his knight costume and is known for hand making super unique things like this. And, while we are both womxn and include a lot of lyrics of "she", it was important for us to include teenage boys in the video to really show this story transcends gender.  It's really the story of adolescents in America who can't wait to break out and chase their dreams." 
How did you get involved in "Eighteen?" 
ALEX : I originally heard about this project from my agent Doug. He texted me to let me know who Biianco was and about the music videos concept. I was really psyched from the beginning because i think music videos are so cool and i spend a lot of my time analyzing music videos to learn about the story behind them. I really loved Biianco's style that i could not only hear from her music but also see on her instagram. I said yes right away and just waited to be sent the song. (which i LOVED from the start btw) 
NATHAN : I got involved in ¨Eighteen¨ because of my awesome agent Doug who booked me this amazing role! Even though I've  been an actor for some time, this was the first gig that was booked through an agent, which felt pretty cool ngl
Do you resonate with the song and with the message? 
ALEX : Yes and no. I don't think that life is going to be easier when i turn eighteen unfortunately probably will get more difficult but that comes with a lot ups as well it's not all good or all bad. I think i'm going to move to England for university so i really resonate with wanting to move to a city far away and just start over new. I've always had this "i want to be eighteen" attitude and as much as i am excited for the new piercings, tattoos and freedom that comes with it i'm nervous for all the responsibilities. 
NATHAN: I really vibe with the part of the song talking about just not wanting to be judged for being yourself. 
What are your dreams and goals? And do you think someday being "Eighteen" will aid you in achieving them?
ALEX : One of my bucket list things to do would be to model in a magazine but a bigger one i want to do is model on a runway. i think this could help that because i have more work to show for myself. i also think this really helped me with experience and calmed a lot of my anxiety that came with doing something new! This part isn't for my future necessarily but it was also always a dream of mine to like be in a music video cause i really appreciate the art and just music in general. i've always loved concerts and singers so this was cool to be on the other side of the screen for a change. 
NATHAN: Well, id love to keep pursuing a career in acting, but I also would love to go into animal studies and eventually become a vet tech. I don't think that becoming eighteen will be a turning point in my life, but I'm excited to grow up and see what the future holds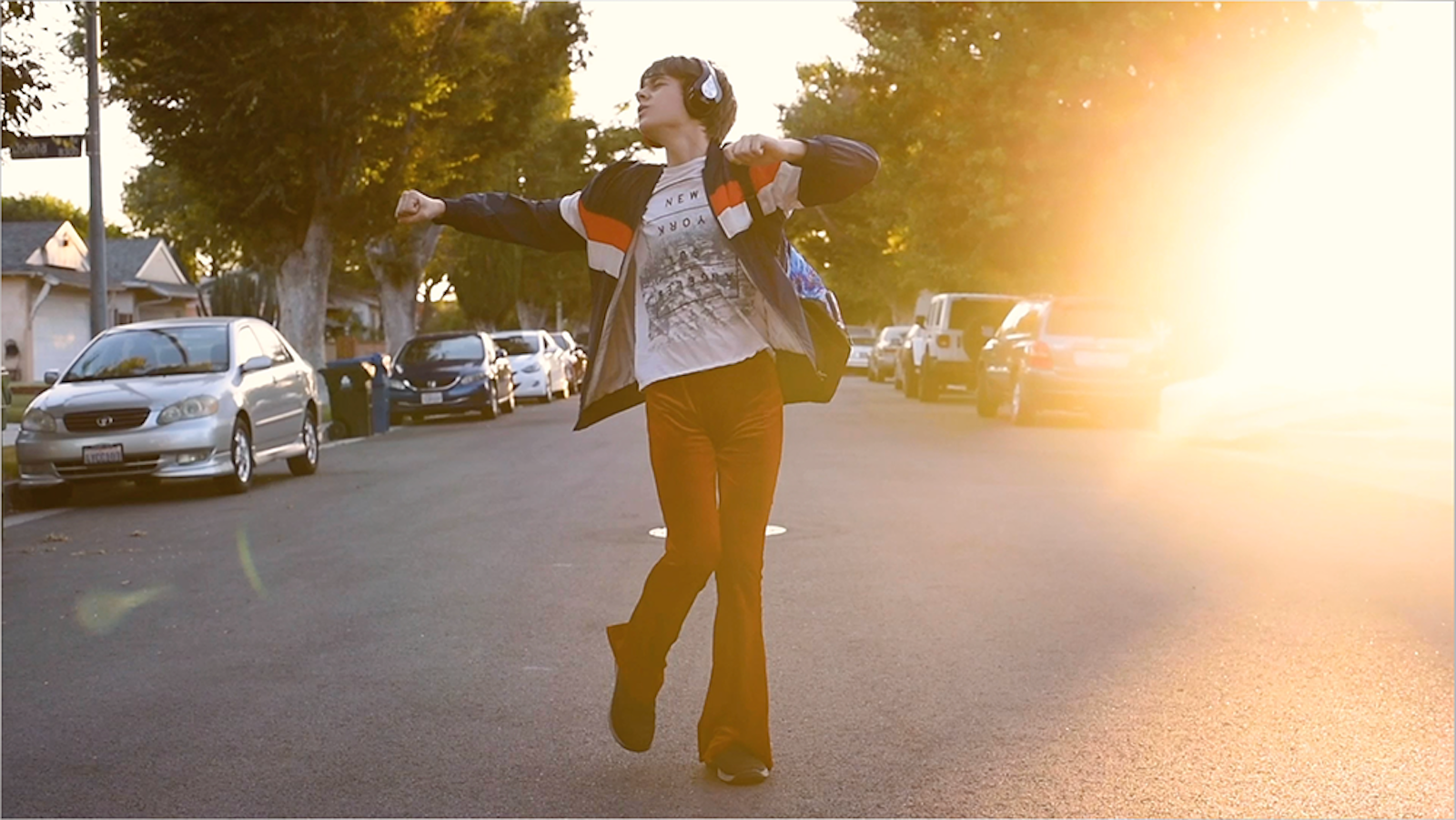 Nathan.
CONNECT WITH BIIANCO
INSTAGRAM // TWITTER // SPOTIFY
CONNECT WITH JAX
INSTAGRAM // TWITTER // SPOTIFY 
CONNECT WITH THE ACTORS
story / Taylor Thompson
photos / courtesy of artists