We first met Serayah McNeill as Tiana on Empire, but we can all confidently say that she is not the same girl that we met opposite Yazz The Greatest in Lee Daniels' critically-acclaimed FOX series. Though we've been in a worldwide pandemic for a year, Serayah has admittedly been on her hustle mode when it comes to her acting and singing career but is learning to spiritually, mentally, and emotionally put her well-being first.
"There's a lot going on on social media where I'm having conversations with my friends," she told LADYGUNN about debates and arguments with friends about the current state of the culture and where it's going. "It's just this beautiful moment of this whole new awakening of energy that's ready to attack purpose versus just material. That's the coolest thing ever that COVID is part of the seed for the new wave of consciousness or energy." While preparing for several movie roles and the release of her highly-anticipated album, Serayah is definitely one to be watching out for in 2021 – pandemic or not.
LADYGUNN spoke to Serayah about her life as an actress and musician, how quarantine has allowed her to grow in her personal and professional life, and her role in Envy, which is executive produced by T.D. Jakes on Lifetime Movie Network and BET's Favorite Son directed by Robin Givens.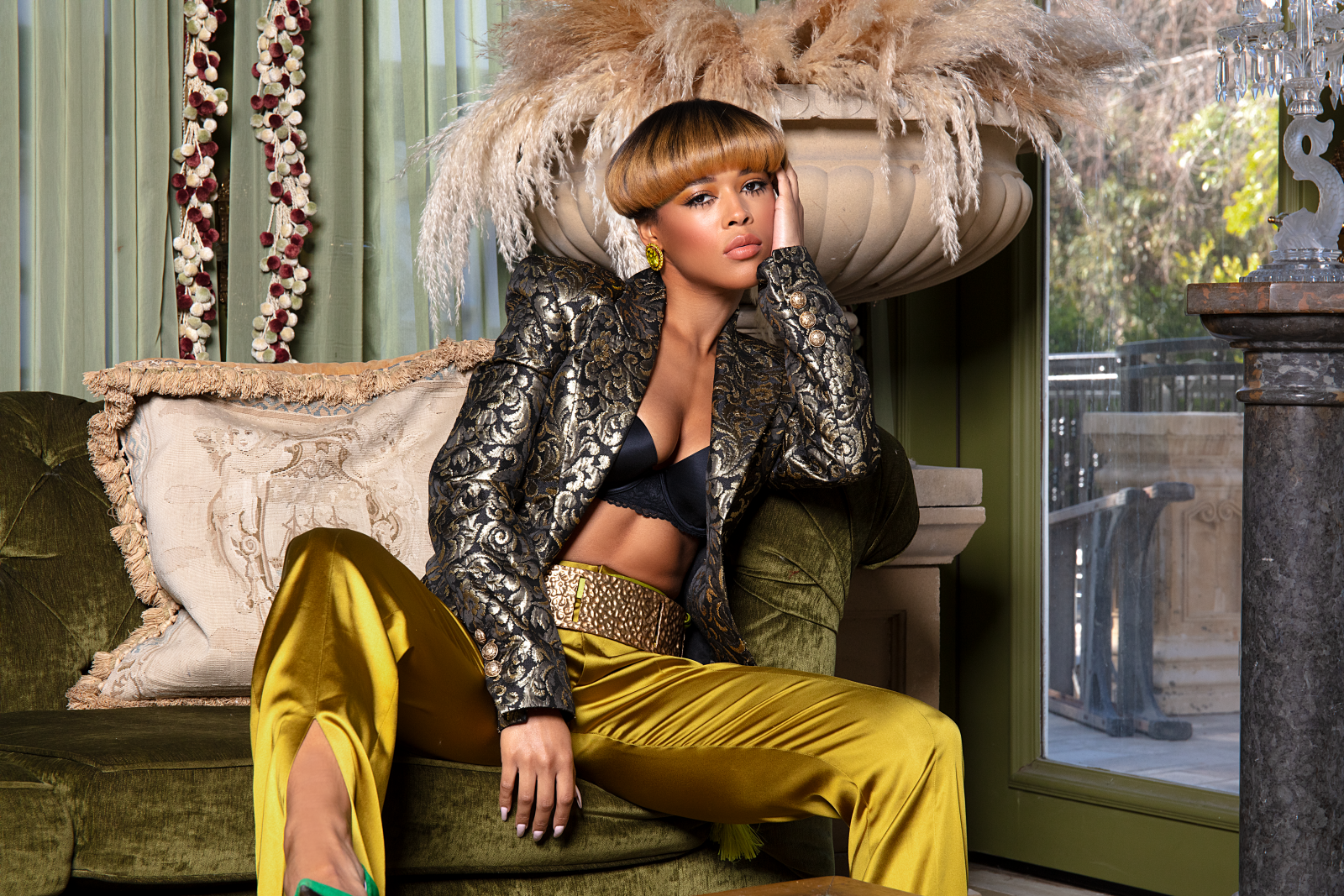 TELL ME ABOUT FAVORITE SON AND ENVY.
I just did an automated dialogue replacement for Envy. The little snippets that I've seen look really, really good. That was my first lead role. She's an interesting character that has a lot of past trauma and is working through that, but has a jealous streak to her, hence the name Envy.  It's so cool that I got to be part of Favorite Son [because] I knew a bunch of people on there too before getting into that movie. That was a super awesome moment to be directed by Robin Givens because she's obviously the GOAT and Rotimi, and there were so many other people that were there.
Favorite Son is so cool because you see the internal drama and stuff that goes on inside of the church. You're dealing with two sons that are the leads in the movie and they basically fight for their dad's attention, who is the pastor of the church. You see this journey with my character, you see this journey of her fighting between flesh and being sanctified. She's kind of like a late bloomer. You kind of see her go throughout her relationship and find out that life is the same for all of us and you see her redemption towards the end. So I've been really excited for these two movies because they have a different tone and I'm able to show a different range of emotions while playing these characters, much different from my character on Empire.
HOW HAS LIFE BEEN ON SET AND FILMING DURING QUARANTINE?
I just go along with the rules that they put in place because obviously, we're all trying to keep each other safe and corona is very real. It puts a dent in getting to know some of your cast a little bit, but the main part of it is the safety of everyone. There's been so many shutdowns and things like that because once one person gets COVID, you have to shut down. At the end of the day, I think there's this common thread of just gratitude because no one has worked for so long, so we're all just happy to be there and whatever we have to do precautionary-wise, we take care of it.
HOW HAVE YOU KEPT YOUR SKILLS AS AN ACTRESS SHARP WHILE STAYING INDOORS?
Oh my gosh – So many self-tape auditions, so many auditions. I'm kind of in constant boot camp and just switching it up all the time, whether I get it or not. It's good practice for me, and obviously being able to be involved in those movies that I did and take time to really dig into a character. I feel like being on set is always the best teacher because when you're in those real-life situations, you find out how to adjust. I do love to read books about acting and things like that, so I just try different things and see what works for me.
WHAT HAVE YOU LEARNED ABOUT YOURSELF AS AN ACTRESS BECAUSE OF QUARANTINE?
In general, I learned that we all share the same emotions more often than not. Also, just getting into the other side of acting, which is producing and being behind the cameras and actually coming up with ideas because, if you're auditioning and you're not really booking or anything like that, why not create your own content? That's what quarantine did for me as an actress. It was like, "Okay, how do I capitalize off of moments when I'm not necessarily in front of the camera?" And I think everyone kind of had that wake-up moment of entrepreneurship, like what can I do? I've come up with some cool show ideas and we've been working on some things. It really taught me the importance of the whole business versus just the acting.
HOW DO YOU FIND TIME TO PRIORITIZE REST AND RELAXATION IN YOUR SCHEDULE?
I really try. Some days, I'm not going to lie, I fall short, depending on how crazy life is getting, but it's definitely my goal to wake up and have my cup of coffee or tea and water and get in that 15 minutes of meditation and stretching and mental gratitude. I feel like that's what keeps me just present. in the moment and just creates a certain type of stillness for the day to where, as things get hectic and crazy, it's okay. Nothing's going to ruin my day. Otherwise, you're just run by the clock. You're like, "What time is it? What time is it? What time is that?" There are all these deadlines and you're not even in tune with inside, everything is external.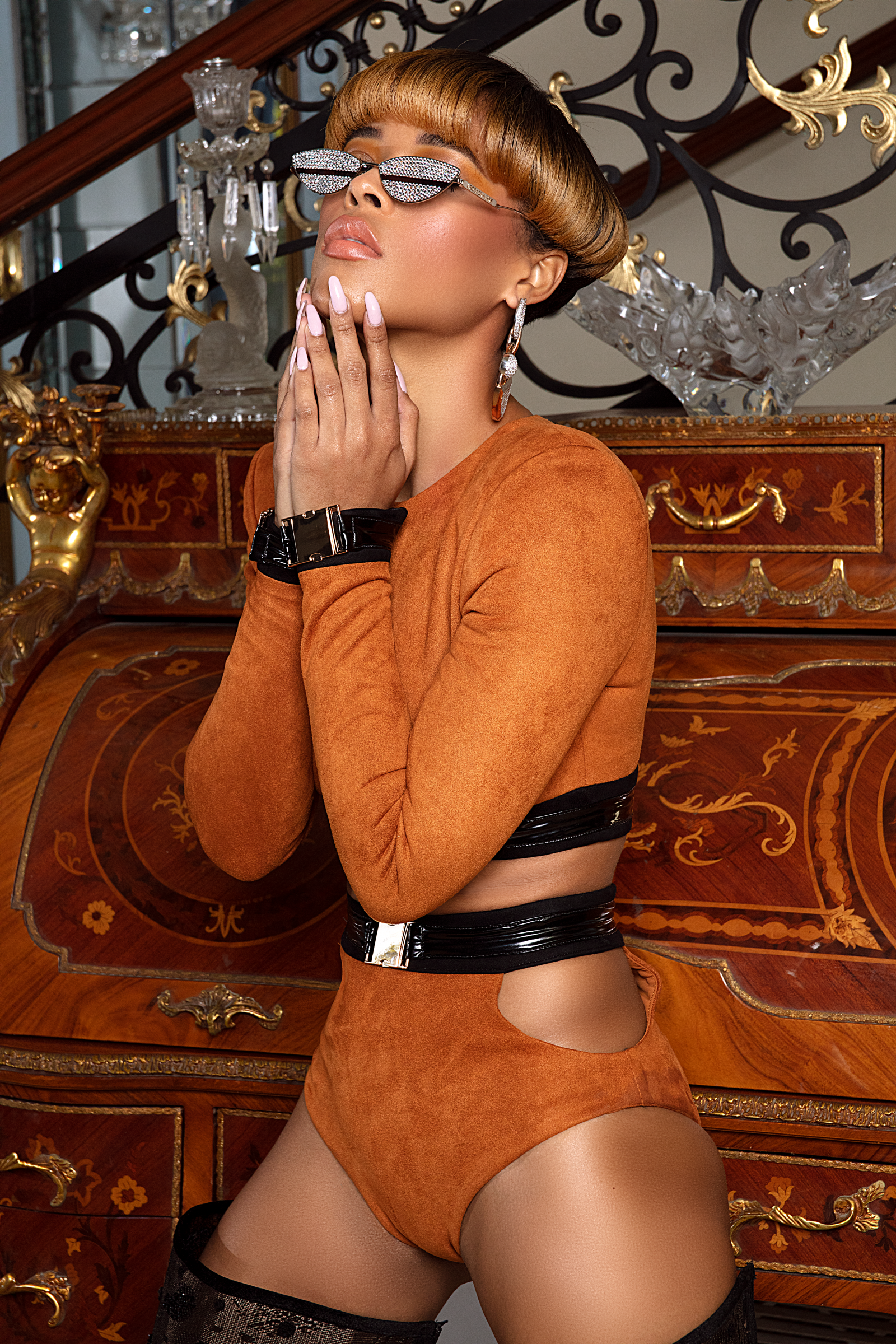 HOW HAVE YOU BEEN ABLE TO REMAIN CONSISTENT WITH YOUR MUSIC?
It is really difficult, but I definitely have expanded my team so that I have a lot more help in strategizing and putting dates and ideas together, so it can come to life in the best way possible, I can have a little bit of creativity time and I don't have to feel like I'm juggling between business and being creative. It really helps to have a team and I can't leave them out of my everyday success, if you will, because there's so many people that help put together the final product.
I can say that when I'm in that space, it's really fun. I feel like even through quarantine I've been recording and ideas have just been blossoming. I'm really excited because I think as an artist, and also the successful artists that we've seen be successful, they have these moments where they have an identity and it runs for a while and then they recreate themselves in a way. I think that process is so cool and I feel like that process is what I'm in now. It's creating the new me, if you will. As you grow, you change, your narrative changes, your story changes. 
HOW WOULD YOU DESCRIBE YOUR SOUND, AND HOW HAVE YOU EVOLVED IN YOUR MUSIC?
I would say that it's very much trap, soul, pop-ish. It's definitely evolved, sonically. I'm just really into the live instrumentation, as close as we can get it to live or having someone really replay the instrument live. I'm more mature now and the content is going to be more of what I'm going through and that real story. That's what I'm putting together now for the album, building that whole story so that people can get to know me better. From my voice, to the tracks that we're picking, to the content that we're going with, to the narrative that we're creating – it's coming for the Billboard. 
WHAT CAN WE EXPECT FROM THIS ALBUM?
I'm still narrowing it down and playing with sounds and recording, but I do have a single and it's called "Tell Me About Myself" featuring Rick Ross. It's my story and mainly it's about that in and out with the dating life. I also wanted to include my perspective on the rise to fame, from nothing to something. I want to include all of the real elements of my real life in my music. And it's my intro to the world, my re-intro. Because we've seen Tiana, but it's an intro of Serayah.
HOW HAS YOUR RELATIONSHIP HELPED YOU GROW INDIVIDUALLY, AND HOW HAVE YOU HELPED EACH OTHER GROW?
It's been a mirror from day one. When I say mirror, I mean I've been looking at myself in so many different ways, assessing myself, checking myself, being more mature, not being toxic, and trying to be understanding. I turned 25 and it's like I'm becoming a real adult now, I guess. In the relationship, I really do feel like I've matured just spiritually. We've helped each other do that, too, and get over past traumas or things that you've dealt with before and not bring that into the new. Then it really creates a space of just a clean slate, if you will. 
We help each other by being honest and upfront, but also in the most caring way so that you're not attacking each other. It's not perfect. It's really important to be a Black male and female doing their thing in whatever business that you're interested in, whatever you do. It's so important to have each other's back and have each other's best interests. Because we are all we have, at the end of the day.
HOW DO YOU TWO MAINTAIN THE ROMANCE IN YOUR RELATIONSHIP WHILE STAYING FOCUSED ON YOUR CAREERS?
It's just understanding and trying to have patience. My biggest thing was creating a level of privacy to where each person can feel safe in that environment and you can really be you. If you don't feel safe, I'll probably still have a wall up or you'll probably still have your wall up and then what are we doing? For us, it's definitely about keeping that safe space, that bubble, that circle of trust. Whatever we're comfortable with or not comfortable with, we let each other know. The best thing is communication, honestly. Communication is the best thing and respect because everything is on social media, so thank God.
Sometimes it is hard with guys, dating the, I guess, the ambitious girl, which I don't understand, but I think that's his interest. He does like that I'm goal-oriented and ambitious. We figure out times to see each other and if we want to do any projects together, we will in the future. Right now it's about us both building our own blocks so that it'll be stronger together.
SPEAKING OF SOCIAL MEDIA, YOU'RE SO CONSISTENT WITH YOUR CONTENT AND ALWAYS INTERACT WITH YOUR FANS. WHAT DOES YOUR DIGITAL WELLNESS ROUTINE LOOK LIKE?
There are times where you should take a break from social media. I did that after the New Year. I took a month or so off of socials, as long as I could before I had to start posting again. There's this thing of just habitual things we do. You grab your phone, you wake up, you grab your phone, you click on whatever – Twitter, Instagram, email, whatever it is. I feel like we would probably have more sanity if we just took a moment in the morning to not even look at it and take that moment to yourself, or at any time of the day. If you had a moment just without it, it creates that healthy balance. Depending on what you do, you probably need social media, but how do you make it work for you and not take you down?
WHAT FACTORS HAVE BEEN SOME OF THE BIGGEST CONTRIBUTIONS TO YOUR GROWTH THROUGHOUT THE PAST YEAR?
Probably COVID and the lockdown, as horrible as that is. Being busy for the first half of my adult life, every day, all the time for nine months out of the year, for six years, I was doing this, doing that, going here, going there. I have two months off, now I'm back to it. We're back in this, we're doing this. We have to do this and we're going here. 
To sit down abruptly and be like, "Okay, now what? Wait, who am I? What do I want? What's going on? What's happening? How old am I? Shit. Time's flying. Golly." All of those things began to hit. It was being in this house alone by myself and being like, "Okay, we're going to work out. We're going to get this meditation going. We're going to work through all of the fears and the doubts and the this and that, that we all have." This was the time for me with the most growth.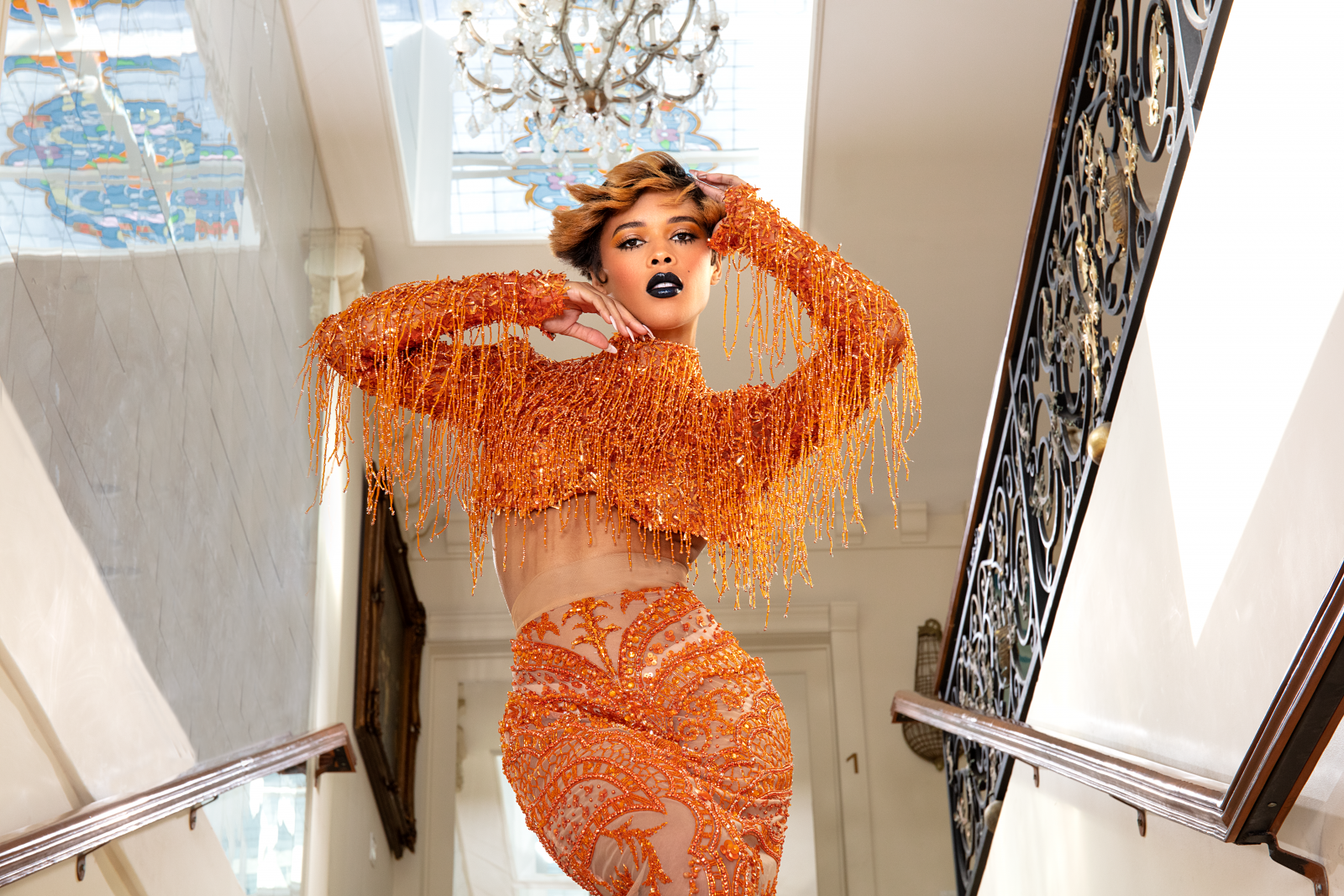 CONNECT WITH SERAYAH
INSTAGRAM // TWITTER // SPOTIFY
Photography / Michael J (@themichael_j)
Photographer Asst. / Rion James (@rionjharris)
MUA / Pauly Blanch (@paulyblanch)
Hair / Anittria W. (@anittriaw)
Wardrobe / Winnie Stackz (@winniestackz)
Location / Sunset Estate (@sunsetestate)
Production/Project Coordinator / Rose Newlands (@handzdirtypr)
Editor / Sam Berlin (@spberlin)
Story / D'Shonda Brown (@SignedShonda)