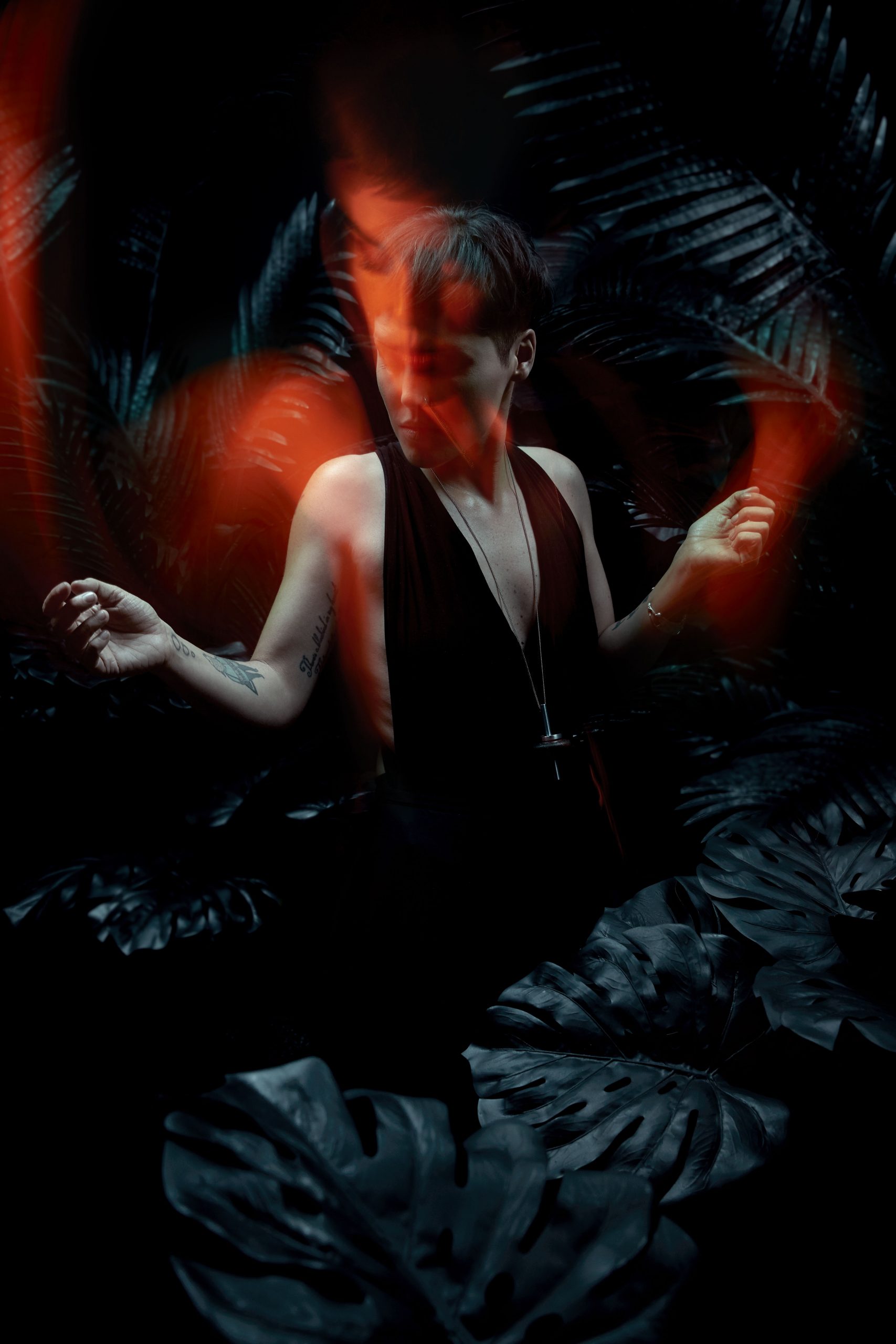 Renowned Chilean drummer, producer, and front-woman Francisca Straube has announced the release of Mango Negro, to be delivered on October 15, a hard-hitting electronic-infused follow-up to her first full-length PEZ in 2018. Smart experimentalism and catchy backbeats unite to deliver this futuristic project, teased by the preceding singles "Oro" and "Nudo," released earlier this year on La Pérdida, the first installation of Rubio's upcoming album.
"Oro" is an electro-trap earworm, elevated by out-of-the-box production choices and Straube's hypnotizing vocals. The accompanying video, created by Blahblahblasfemia, brings life to the track, allowing viewers to enter into Rubio's dystopic dimension, which, in this case, is a 2000's 3D video game. The video's neon colors and graphic lines bring the artist's meditation on greed versus inner contentment to the fore, playing with ideas of fanaticism and eroticism to create a stark think-piece.
"Nudo" singularly rejects the notion that Rubio can be limited to one gear. While "Oro" begs to be blasted on high definition speakers, "Nudo" is its slow-burn counterpart; equally, shiver-inducing, it attacks from a far more intimate and emotive place. Featuring vocals from Montreal-based artist Frannie Holder, the track weaves her familiar narrative of letting go of fear and attachment to the material.
Speaking of the forthcoming album, Rubio states: "When we started working on this album, I imagined myself emerging from the water towards a journey of encounters. Naturally, it got confronted with mundanities, existentialism, sorrows, and, of course, death. Mango Negro reflects on experiences throughout this journey called life, and on the importance of treasuring our present".
Check out our conversation with Rubio below, as she fills us in on the inspirations of the record, how she's coping without live shows in the wake of Covid-19, and how the prolific artist is staying inspired.
You released La Pérdida EP in March, which you have said was inspired by humanity's greed. Has your experience of the COVID- 19 outbreak left you feeling more optimistic about people's willingness to help each other, or has it confirmed your suspicions?
That's right. Greed is a part of the inspiration, but I also drew from my imagination. I see myself arriving for the first time to Earth, dealing with emotions, pain, death, and all mundanities that humanity brings with it. I'd like to believe that while the world is paused due to the pandemic, people are using this time as a period of reflection; of looking inwards, observing our fears and demons, our lights and shadows, searching for the meaning of our own life. I have been seeing people help each other along the way. Some very good people use the frequency of love, and that encourages me to continue. That being said, there's this other sinister side to the world. People with great power dominate the population through fear and seem disinterested in the urgent need to take care of the planet. They have formed a consumer society that is disconnected. We must observe this to keep ourselves aware and connected.
The psychedelic music video for "Oro" and the video for "Nudo" are both set in somewhat dystopic dimensions. What do you want to convey with these depictions?
Through the psychedelic animation in "Oro," we pursued the idea that the search must be within oneself, not outside in the material world. Disposable happiness leads us to forget about the importance of that beautiful internal light that we all have. "Nudo" narrates the internal struggle of being caught up in our emotions. We should face those emotions and accept change as it comes, so we can evolve, germinate, and shine.
Where did you film "Nudo"?
In Mantagua, which is 2 hours from Santiago de Chile on the coast of the V Region. It's a beautiful place where the forest merges with the sea. It has some dunes that are very characteristic of that area.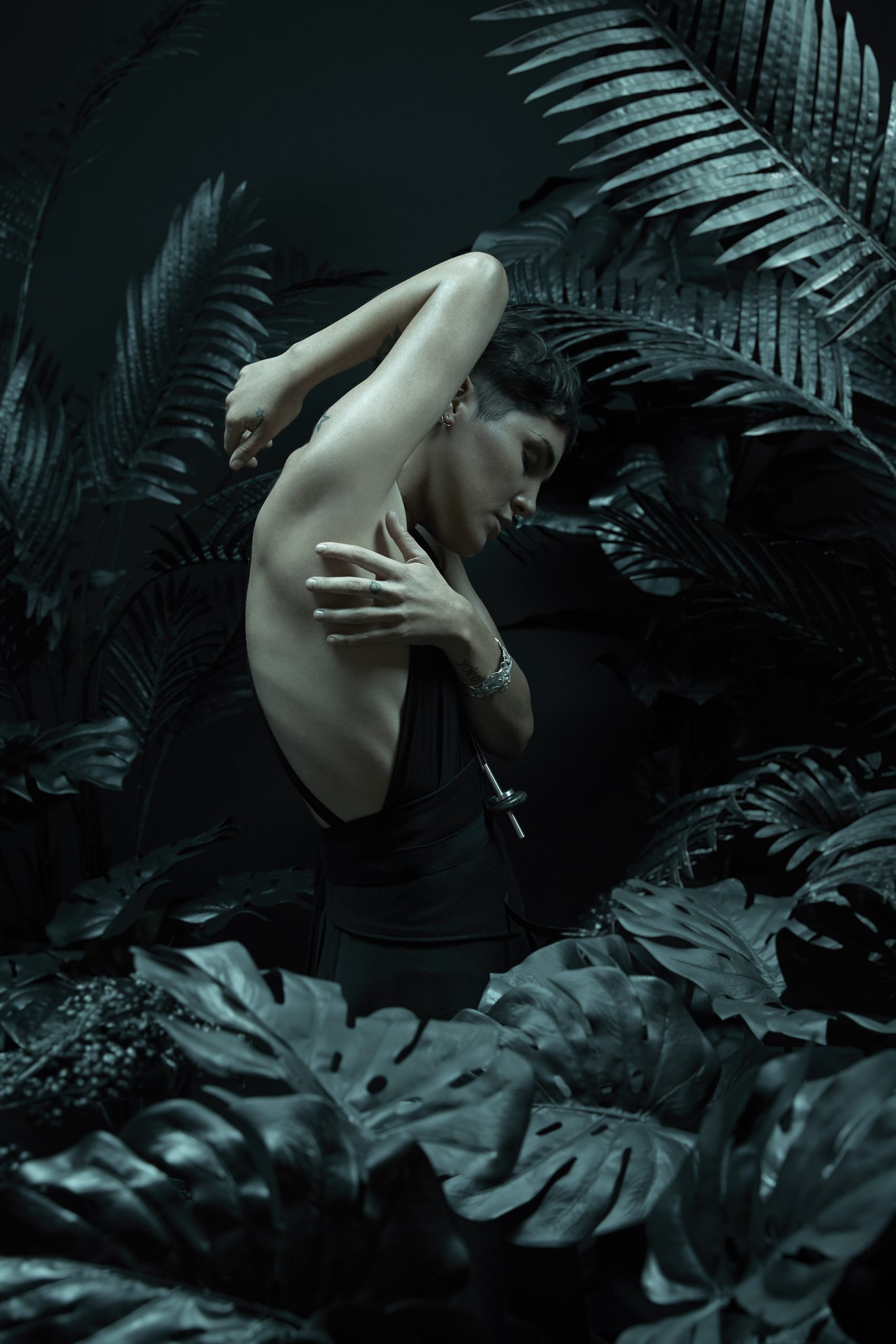 "Oro" has a distinct dance, almost trap undertones; what were some of your musical inspirations for the track?
The track was an experimentation that incorporated silence. I made the main synth with my mouth, and from there we tried to build up—together with Pablo Stipicic, my producer— something exotic, dirty, and psychedelic, achieving those undertones.
What tends to come first when writing your music, Melody, lyrics, or beat?
Usually, the beat comes first, that gives me immediately a feel for the song. The melodies of the voice appear through an invented language, like a 'soul language', in which I canalize the invisible. It's the most magical part of my process. At the very end, I write the lyrics which are an interpretation of my feelings into words.
What was it like working with Blahblahblasfemia on the animation for "Oro." Was it fun to see your vision come alive?
It was fun and beautiful. We met on social networks, I loved her work. We got together and  I told her what I imagined for the song. She interpreted me perfectly and took it to a wonderful dimension. Animation allows you to play infinitely with imagination, and that was precisely what I needed for "Oro".
How important are the visual counterparts to your music?
Visual counterparts are incredibly important for me. Rubio is as much about the visuals as it is about the music. The project is a creative bridge to explore all artistic areas and forms of expression. I see Rubio as a cell; anyone who approaches the project can be apart of it because they have their own talent and light to share.
It might be a while before you are able to perform at festivals like Lollapalooza again, what are some creative ways you have begun connecting with fans and your music community?
It distresses me to think that it might be a long time before I can vibrate with people for a live show again. Playing live gives you allows for such unique and irreplaceable energy. However, this moment allows us to rethink the ways of connecting. Virtuality opens up possibilities to explore creativity. I look at it as a beautiful challenge to communicate a powerful and bright message. I have made some live-streams so far that have turned out to be an amazing experience, thanks to a brilliant technical team with excellent lighting and sound.
CONNECT WITH RUBIO
photos / Gabriel Shcolnik
story / Olivia McAuley