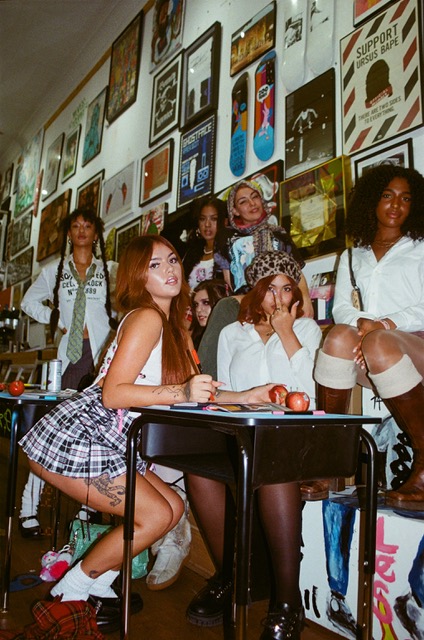 The devil works hard, but pop-R&B newcomer Remi Lewis works harder.
When she isn't modeling for major fashion brands or curating collections of vintage clothing, Lewis focuses her energy on her lifelong passion: music. Effortlessly blending the lines between 90's-inspired R&B and futuristic pop, the young artist has already begun to make a name for herself in the New York City music scene. Having already cultivated over 34 thousand followers on Instagram, Lewis is definitely one to keep an eye on in the next coming months.
Having started writing her first EP at just 13 years old, the UK-born musician and model has made creative self-expression a life-long journey. Lewis first tapped into her musical talents in high school, where she slowly began gaining confidence in her ability to write, produce and perform her own music in the public eye. Now as of 2021, Remi has garnered tens of thousands of views on her music videos -including the official video for her debut single "Spacey". Remi has no plans of slowing down either; new music, videos, and collaborations are on the horizon for the talented singer.
Despite being only 21 years old, Remi Lewis perfectly channels the Y2K aesthetic that has skyrocketed in popularity in recent years. Her closet is stocked with flare pants, Baby Phat purses, vintage Bebe -and just about everything else a seasoned thrift shopper dreams about. With auburn hair, full lips, and upturned eyes, she is a walking talking Bratz doll. It's no surprise that the artist draws inspiration from legends of the 90s like Mary J. Blige and Aaliyah; it's almost as if she was teleported straight out of one of their music videos.
Even though she's busy balancing 3 careers, Remi still managed to sneak in a quick chat with her friends at Ladygunn:
Tell me a little bit about growing up in London!
Remi: I grew up in Tottenham, which is North London. I moved to New York when I was 9, so I moved at quite a young age. I loved it. I still go back every year and see my family. It was cool -I don't remember very much but I was always into the music, and the culture out there made me love music. 
What was the transition like for you when moving to the US?
Remi: I was always living in the city in London so it wasn't too different. It's kind of a melting pot in both places, so that was basically the same for me. I feel like I started to be more inspired artistically. Obviously, I was only 9 in England, but everything -especially the people I met- kind of started inspiring me to make [my career] a thing. It wasn't just a dream, it was every day. 
Has living in New York affected your creative process at all? 
Remi: A perfect example of that is the store I work in right now -LAAMS. It's a creative art compound in the Lower East side. We all have our own things going on. Different people are artists, everyone does something different. It kind of just clicked. I was just around so many creative people all of the time, and I had a space to showcase my art and my music -a place to just come up with ideas. Just having so many people who do the same kind of thing just helped so much. Once I started putting myself in areas where other creatives were, it just helped so much. Especially with confidence too. I learned to be about my art and be confident with it. It took me a while to get to that point. 
What do you do with your free time in NY when you're not working?
Remi: A year ago I picked up a hobby of taking film photos. I love doing that, it's like my favorite thing besides music. Other than that I love thrift shopping. At the store I work at, I actually curate women's clothing there. I'm always thrifting, shopping, hanging with my friends, and taking photos. In New York, there's this one spot in Green Point called "Tired Thrift". It's run by these two 20-year-old girls, they have the coolest thrift store in New York. But my secret favorite spots are the Goodwills in Miami. They have the best Y2K clothes -the purses, jeans- that's my go-to. If I'm ever in Miami I'm going to all the Goodwills (laughs).
How did you first know you were interested in creating music? 
Remi: Well I have a funny little story. I was about 7, and I really wanted this dog. I had a flip phone at the time and I started playing the ringtone -I made up a song to convince my mom to get me the dog. I didn't end up getting it (laughs), but I always felt like I loved writing songs. I slowly started teaching myself things on the keyboard. I was just really into [writing music]. It was an emotional outlet and it always felt that way. I would say 13 was when I started really writing songs. When I moved to New York I went to an arts high school -which was really where I got my confidence. I was in musical theater, I was in choir and I was singing every day. That was when I started thinking 'I want to be on the stage'. I started to perform shows for my music at a few venues around New York. That's when I knew that's what I wanted to do forever. 
Was it hard cultivating your confidence in performing?
Remi: It was easy for me [to perform], but when it came to being confident in my own songs that I wrote that were important to me, that's where I struggled. Finding my sound and being comfortable with that had taken me a while. I really only found it in the last year and a half since I've been working with my producer that made the single I just put out. It's taken me a while to really like my music. 
Let's talk about your new single you just dropped! Tell us a little bit about Spacey.
Remi: Spacey! I just felt like that track hit. I wrote it, and the video came to mind -it all just came together. Just having that space theme was so cool to me. I was inspired by Barbarella -things just started popping into my head. I was honestly so surprised in a way -obviously, it was my first single so the reaction just made me so happy. Hearing people say "Oh, it is good" was so important, you know, getting that validation. I would never feel like people would have liked it, just because of my own insecurities as an artist. Getting that reaction was so amazing. I'm excited for the next one, I'm already working on the next video. 
Can you tell us anything about the next video you're working on? Or is it hush-hush?
Remi: I'm actually working with this amazing director from England, and she's going to do everything from there. It's going to be a super cool zoom-call-directing thing. She does CGI and a bunch of really cool edits, her name is Augusta -she's amazing. I'm super excited about that. 
What artists do you draw influence from when you're working on music?
Remi: Oh my gosh, Aaliyah -she's one of my favorites. Gwen, she was always my favorite. I also really love the New York girls. Princess Nokia is so dope because she really did her own thing and built such a great fan base. I love Kali Uchis and Doja Cat…I love all the dope females that are out right now. 
What's your sign? Are you a Pisces? 
Remi: I'm an Aquarius! I have a Taurus rising and a Virgo moon -which explains my work ethic. My Virgo moon makes me really analytical. But I'm such an Aquarius. If we get to know each other you'll definitely see that. 
I was going to say…Aquarians are creative leaders!
Remi: Mhmm! Very dreamy, always head in the clouds. 
Tell me a little about how you branched out into the modeling industry. What was that experience like for you?
Remi: I enjoy it a lot. When I first signed to my agency they asked me to write down my dream jobs. Fenty Beauty, and Fenty in general, was at the top of my list. That actually ended up being my first job. I felt like I manifested that. I've done a few shoots for them, and I love it. I definitely like beauty. Makeup brands definitely seem to be into me more. I really love [modeling], it's fun for me. 
How would you describe your style? 
Remi: Y2K-Gwen Stefani-J. Lo meets 70's Farah Fawcett and Charlie's Angels. If that makes sense (laughs).
Do you have any articles of clothing you're currently obsessed with? 
Remi: I just got a Baby Phat mini denim dress. I have a bunch of vintage Bebe flare pants. I love a vest moment too -like a fringe vest. And cowboy boots! 
Why is fashion important to you?
Remi: I just feel like it's a way of expressing yourself. I've always been into it since I was a little girl. My mom used to get calls from my school -"Remi's having a tantrum because some girl has a bow and she doesn't". I just love dressing up. I love putting together outfits, and I like the creative control of that. It's always been something fun to me. Fashion is self-expression.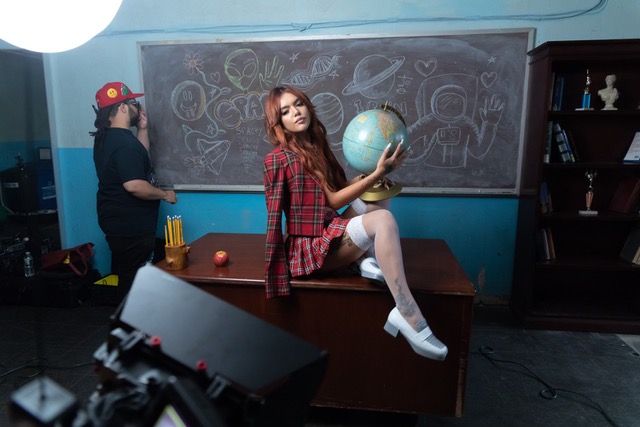 CONNECT WITH REMI LEWIS:
Photos / Courtesy of Artist
Story  / @anahamri
Edit / @that.taylor.chick