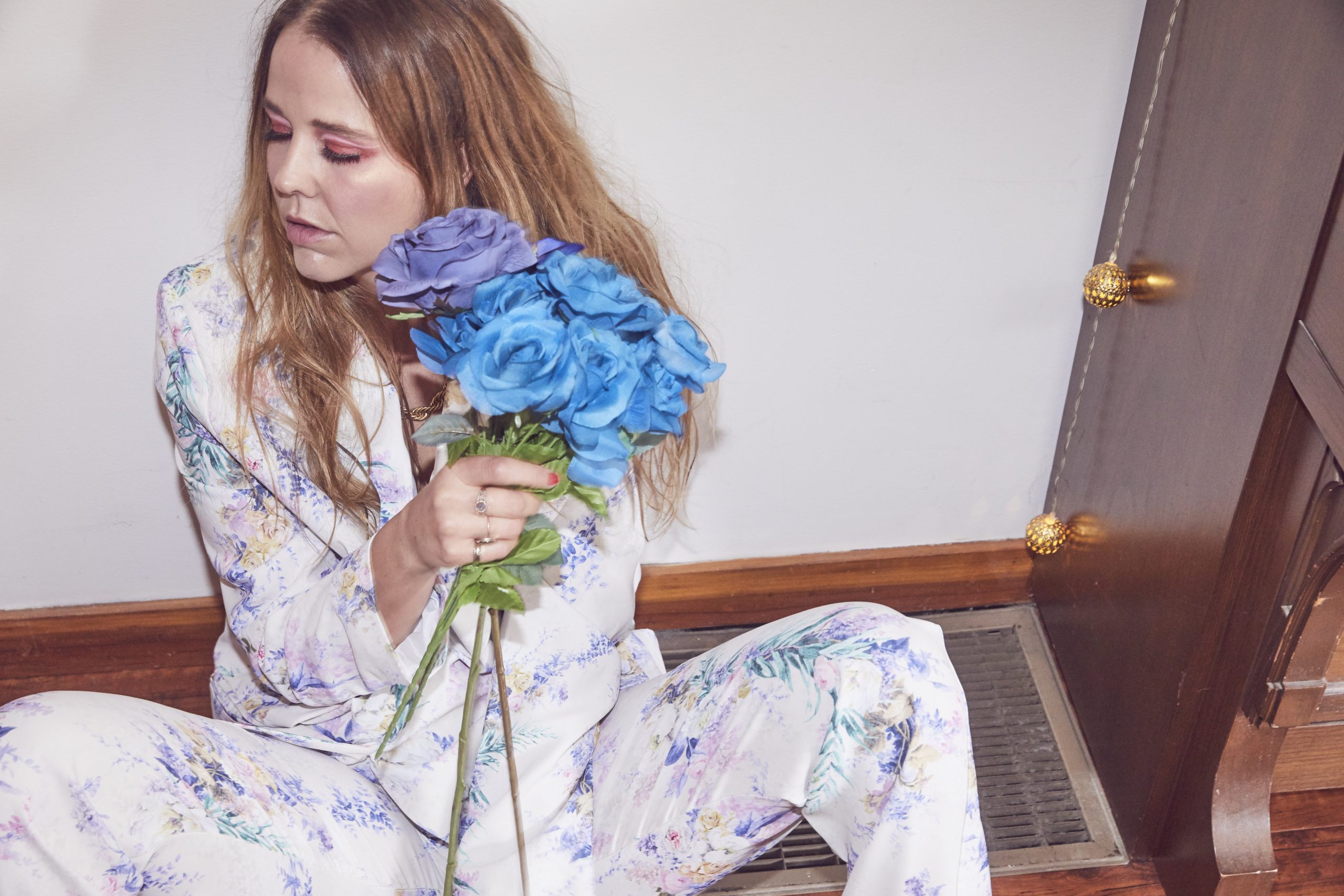 Moxi is a husband-and-wife, pop-inspired dream team and we're all very jealous of their love story. We all want to find our future husband randomly in a session, and then a friendship grows and one thing after another, next thing you know, you're married and making music together. That's what happened to Anna and Andy Toy. The duo has released a new single "Blame It," and it is a blurry dreamlike song about drinking and blaming everything on you. We love a good drunken fight.
There is a music video out for the synthy single, and it was filmed at their East LA home. Reminiscent of a night out stumbling home, the video is filled with glitter, strobe lights and neon colors. There's no question that the duo serves all the feelings. Anna's strong voice paired with Andy's out-of-this-world beat make the perfect pop song. We got to talk to Anna about creating with her hubby, writing "Blame It," and shooting the music video.
What's it like creating with your husband? Have you learned new things about each other since working together?
It's honestly a total dream.  Song writing can be a really intimate vulnerable process especially the kind of stuff I'm writing about lately.  I'm the type of artist that needs to feel really safe if anything good is going to come out.  I love writing with Andy because my guard is already down.  I trust him fully and I respect his opinion more than I do anyone else's.  I can throw out crazy ideas and know it's a safe space.  I also truly think he's one of the most brilliant humans alive so I feel like I hit the jackpot in an artistic partner.  I think we've learned how to utilize one others strengths.  We know when to push one another.  He surprises me constantly by how good he is at things.
How did you two meet? Did you always know you'd end up collaborating?
Andy and I met 9 years ago in a dingy little recording studio in Orange County.  I was a hot mess, newly heartbroken and stumbling through the early stages of adulthood.  At the time I was writing and recording singer songwriter folk music and Andy had been hired to play keys on my very first EP.  We became fast friends; he started playing in my band.  Eventually we started hanging out on the weekends, recording cover songs in his tiny studio apartment in Fullerton.  I loved working with Andy because I felt like he was the first person to understand my vision for the songs.  At one point I got hired to write a song for a housing development commercial.  I had a super tight deadline so I called Andy, he wrote a track and sent it over, I scribbled down lyrics on my drive to Fullerton.  By the time I got there I had most of the verses and chorus to "In my dreams" which would become the title track off the first EP we released as Moxi.  After showing a few close friends what we'd written we quickly realized we had found something special.  The rest is history.
You've talked about dealing with the inner voice inside your head. How do you silence it and how do you use it for inspiration?
It's a very fine line I walk with it.  I think for a really long time I was afraid of getting better because I felt like the "dark and twisty" parts of me were so key to the art I was creating.  But eventually I reached a point where it was all just too much and I knew I needed help.  I know now that the art inside me is so much bigger than all of it, it's not going anywhere just because I'm healthier.  I'm now the healthiest I've ever been in my life both emotionally and physically and I actually feel like I'm just starting to tap into the deepest most primal creativity I've ever experienced.  That being said I still try to keep a little bit of the noise around for the sake of the art.  I monitor it myself and I'm usually pretty good about it but I also have a few close friends who I can check in with when I take it a little too far.  I've fully leaned into who I am as an artist and I'm ok with my struggles with mental health being apart of that.  I try to just be honest about things because I know so many people can relate.
How was the process making "Blame It?" How long did it take to come together?
When I first heard the track Andy had written for Blame It I was immediately drawn in.  I think I wrote the whole song (lyric and melody) in one night.  The songs that spill out quickly are usually the best.  I wrote the song about a lot of the things but I do remember Andy and I had gotten into a fight the night before.  The song was really cathartic to write.  I felt like I was getting so many things in my head out and it felt really therapeutic.  We both loved Blame It so much that we sat with the song for a while, trying out different things, and we waited until we really felt like it was "right".  Andy wrote the track originally on electric guitar, then it evolved into a super synth-pop version, then finally we stripped it down to its core, which is the moody, minimalist version you hear now! The entire process probably took a year or so and we actually pushed our release date once, but I'm so glad we held out until we landed on what the song is now.     
What was it like shooting the music video? Where did the inspiration come from?
The music video was so fun to make.  I'm extremely visual and I can almost always see a complete visual narrative come together for a song by the time it's finished.  I love the process so much, it's a lot of fun for me.  I like to create a world surrounding the songs and I'm inspired by so many things.  Fashion, art, film.  Horror movies inspire both of us a ton, we love the honesty in them.  For Blame It, I wanted to create visuals that felt like a peek into my brain because the song is totally that.  A lot of the lyrics in the song bring up strong images, like "water on the white walls, a picture of you in your car, drinking gin out of porcelain till I started seeing things again".  When we finished the song I envisioned a chaotic video that moved fast with really cool fashion and experimental makeup.  We pulled inspo from Neon Demon and Blade Runner.  I love putting creepy visuals into our videos I think it fits really well with our music. I also wanted my feminine energy to come across and I think we accomplished that with Blame It. We shot the entire thing at our house in East LA with a small crew of close friends.  My friend Nick Alfaro shot and edited the whole thing, I did all the styling/art direction and I'm so incredibly proud of the way it turned out.
What have you been listening to during quarantine?
I listen to a lot of classical.  I love Lang Lang.  Truthfully I don't listen to music that often but I did really love Taylor Swift's Folklore- I'm obsessed with the story telling on that record.  I mostly listen to podcasts about murder, NPR, or opera.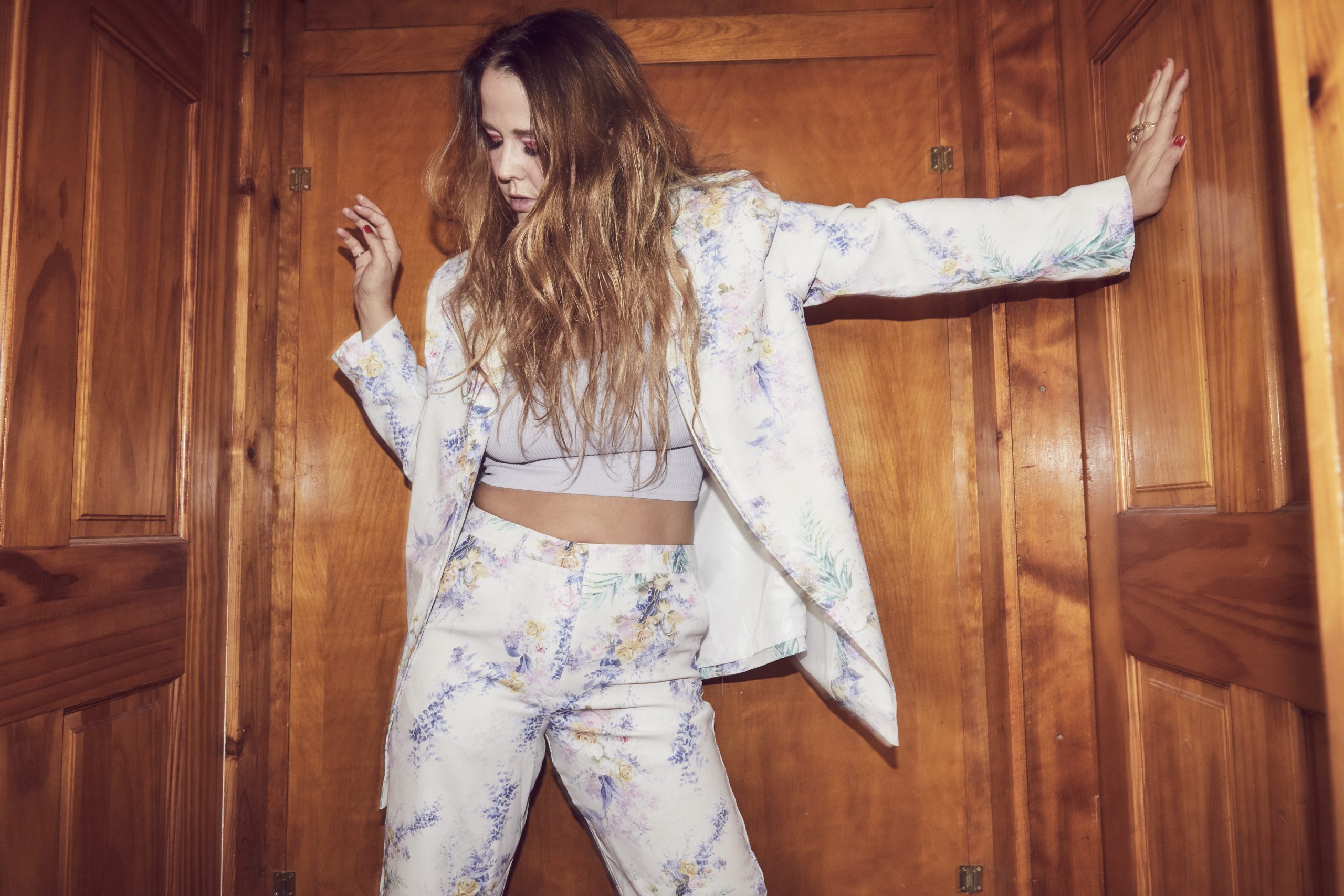 CONNECT WITH MOXI
photos / Nick Alfaro
story / Vogue Giambri