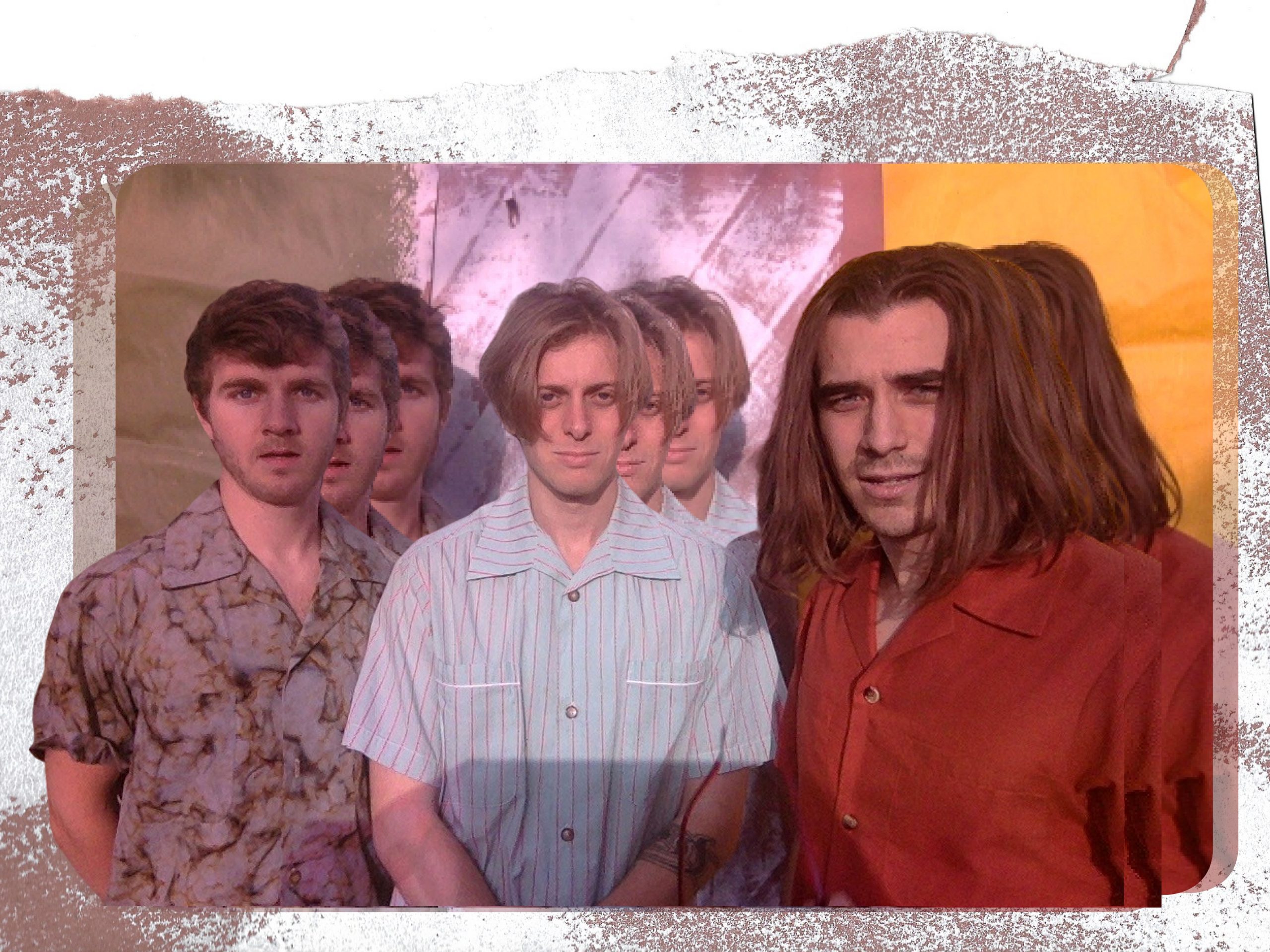 Indie-electro outfit Moontower craft a vibrant, elevated sound enticing listeners with their highly energetic releases. Their new single "Got My Way" is a heartfelt track that pays homage to Jacob Culver's mother who nearly died from a heart attack. From the traumatic experience Culver recognizes that he should really cherish the time he spends with her. The song is a poignant reminder to appreciate your loved ones before it is too late.
The infectious three-piece has seen success touring with major acts like YUNGBLUD and The Cold War Kids and are now getting ready for their innovative virtual tour. Complete with LED lights, art installations and some very special guests, it is definitely an event that's not to be missed. Ladygunn spoke with Moontower discussing their emotive single, virtual tour, the pandemic and more.
We hear you're about to embark on your first virtual tour. Can you tell us more about what audiences can expect from your show?
Jacob: We are working with our insanely talented production manager Jacob Fishman and Eastside LED on these shows. When our venue tour got canceled due to COVID, we just kept building the production for our tour till we made something WAY bigger than anything we could bring on the road at this point in our career…this is our dream set not just a constellation prize for not being able to play shows in venues right now.
Devan: Thanks for reaching out to us! We're very pumped for this virtual tour, it's been fun to make it happen. I'd expect the same that you would from a typical Moontower show! Us jumping around like idiots, putting all we can into these songs. Expect some previews of new songs that will be coming very soon too!
Tom: We also are structuring the shows to be as special as something we could put on in person – there will be a 4 different openers, all groups that we were supposed to have opening for us on our West Coast tour, there will be a virtual merch table, you will be able to see and dance with each other in the "venue" – all in all it's going to be really fun.
You are obviously adjusting well and finding new ways to interact with audiences during a global pandemic. What else are you doing to maintain connections with fans?
Jacob: I think now more than ever we're all part of the same community. We're all fighting for our health and social change and it's not about listening to celebrities or putting people on pedestals, it's about realizing we are all in this fight together. The conversations I've been having with our community have been more 1 on 1 than "hey, everyone listen to me". We are using our platform to speak up and speak out, but we are also doing a lot of learning, donating, and activating privately.
Tom: We started a discord server at the beginning of the year called "Moontower Take Care Incorporated" and it's been a really nice place to have community and conversations when we are all so physically distant from each other. There are threads for emotional support, music recommendations, memes… all the good stuff. Everyone is welcome if they are feeling like they need a place to talk and feel together right now!
Devan: Personally, I haven't been the best at connecting with our fans during this pandemic, except occasionally opening Twitter to find some great messages and happily responding. My reaction to the virus has caused me to be away from my phone more than ever, which has been great for my mental health, but it comes at the expense of not feeling as connected with the Moontower community. I was really looking forward to talking with everyone in person during our headline tour (which was supposed to start in late March and go into May), and having that taken away still has been a really big bummer for me. What's caused me to leave my personal bubble and engage with people has been us releasing content, and I hope what we've been putting out there is making people happy.
Do you think the pandemic has allowed you to have more time to get creative, or has it put a lull on your songwriting? 
Devan: We finished a big batch of music at the beginning of March and as a result were really excited to get into live mode – rehearsing for tour and building stuff for the stage. Quarantine hit a week later, and like most, we weren't in the best headspace initially. We definitely were not in the headspace to get back into creative mode, so it was great to ideate on the What Day Is It performance video and make that a goal. The live show and the studio feel like they require separate parts of our brains, so we're pretty happy when there's a balance of the two, or we can find ourselves pretty exhausted. At the end of the virtual tour in a couple weeks here, we'll be ready to get back into the studio, and could not be more excited to share the new music that's coming.
Jacob: At the start it was tough to write without input from being able to go out into the world. Also like Dev said, we just finished a big batch of music. I tried not to put pressure on myself that anything HAD to come out of this time. Now things seem to be coming out of nowhere. I never really know why or when I'm going to start a writing streak, just do my best to make sure I give myself time to write when it happens.
Tom: We always say songs are like Pokemon – you catch them randomly by going out into the world. So we are all excited to work on new stuff but also, if you force it, it is immediately apparent. The best stuff always comes when you aren't forcing it, right!
How do you think the music industry will adapt in the future, particularly with live performances and what will be the first venue you'd like to play as soon as it's permitted?
Tom: The Troubadour!!! There is just magic inside of that room.
Jacob: We were supposed to headline there, at the Troubadour, that's always been a dream, so that's first on the list for me when things are open. Whatever happens I just hope the industry puts safety above profits.
Devan: We're hearing that venues are likely to open at 1/3rd capacity or less, which makes sense. For content, I hope that venues can open their doors with the amount of staff it would take to make a filmed live performance video, as I think that would be a really cool opportunity for everyone involved. Regardless, we could not be more excited for a vaccine so we can all pack into a room together and gather around songs that are dear and true to us. Really any of the venues on our original headline run would be so fun to play as soon as it's permitted/safe! Beggars can't be choosers.
You recently released a new single "Got My Way". The track talks about not taking people for granted and was written after singer Jacob Culver nearly lost his mother to a heart attack. Would you say most of your songs stem from personal experiences and how important is it for you to be honest within your songwriting?
Tom: I think, like I was saying above, whenever something is forced or unnatural, it is so readily apparent. A surefire way to not fall into that trap is to be heartfelt and speak candidly – I don't think any of us know how to do it any other way.
Jacob: For me the goal of writing music isn't the song at the end of the process, it's to grow as a person and learn about myself through the process. I do that best by writing about my life, and even more specifically the parts of my life that I don't look back fondly on.
Devan: Jacob says it all the time – honesty is so vital (in songwriting definitely, but hey, also in life). I don't think we've ever gone down a route that has felt ingenious when creating, as we naturally pull from what we know, what's going on around us, what we're learning, etc. For me, sometimes finding the words is tough, but I'm so lucky to have Tom and Jacob for that.
As a trio, what does the songwriting process entail and how do you work out any conflicts within the band?
Jacob: I'm so lucky to have Tom & Dev. They challenge me (verbally and also just with their presence) to strive to always put my best foot forward. That's not always comfortable, but why would you want to be around people who let you settle for less than your best? We hold each other to a very high standard, because we know what's at stake; we're putting art into the world that's going to live there forever. We know we're gonna grow and that we can't get too precious about every little detail or we'd never put anything out, but we have immense respect for the project we're building together and think it deserves us to always go above and beyond. Sorry – I didn't really talk about the songwriting process…it's never the same. I like to sit outside and write songs on guitar or a little battery powered keyboard.
Devan: The process is collaborative, and we try to not subscribe to many roles. Each of us have our strengths and weaknesses, and somehow the three of us fill the gaps. For the next musical project, we want to seek out an Executive Producer, as we love the idea of the Brian Eno/Rick Ruben figure who pops in the room when it's important and leaves when the band can handle the rest. When there's conflict, both the band and the larger team operate democratically. The most important thing to us with any conflict is that your voice is heard and understood. Conflict is inevitable, and we don't necessarily seek it out, but we invite it, as it creates something unique in the end that otherwise could be very ordinary (that scares us more than anything). Healthy relationships also operate on honestly, and we're fortunate to have that environment here too.
Tom: Yeah, like Dev is saying, we always say the best idea wins! I could work for hours on a synth part or Dev could work for hours on a guitar line or Jake could have worked on a verse for half a month but at the end of the day, when something can be beaten, we are going to challenge ourselves to do it. And it's weird, if something is wrong, we all know it in our guts. Fortunately, there is no ego in any of the parts – if an idea is going to be challenged, that is beautiful because it will either be better or won't make it!
Do you have any advice for artists who are struggling to find inspiration during such strange times?
Tom: Now is a GREAT time to try something you have never done before. Get radically weird with your process, that's how I've been coping.
Jacob: You don't have to write your magnum opus right now. It's okay to not be inspired.
Devan: In terms of the pandemic, don't be too hard on yourself! No one's got the answers to what's going on – whatever you can do to find your groove is essential for getting through this. I'm a person that (for the most part) likes being productive, and some days just aren't that, and I've been learning to tell myself that's alright.
Lastly, what's been your go to isolation meal and Netflix show?!
Tom: I have been perfecting my secret spicy turkey burger recipe. Ask me about it and I might spill the beans while I'm watching Letterkenny.
Jacob: Isolation meal…more pizza than I'd care to admit. Netflix…When They See Us
Devan: Truly whatever is left in the pantry or fridge. With quarantine, I've been less inspired to cook, which is sad but just a reality of how I'm feeling. If I had to pick a quick food, it would be popcorn (made on the stovetop). For a Netflix show – Ozark is great, highly recommend it.
CONNECT WITH MOONTOWER
INSTAGRAM // SPOTIFY // WEBSITE
photos / Brit O'Brien & Carina Glastris
story / Chloe Robinson