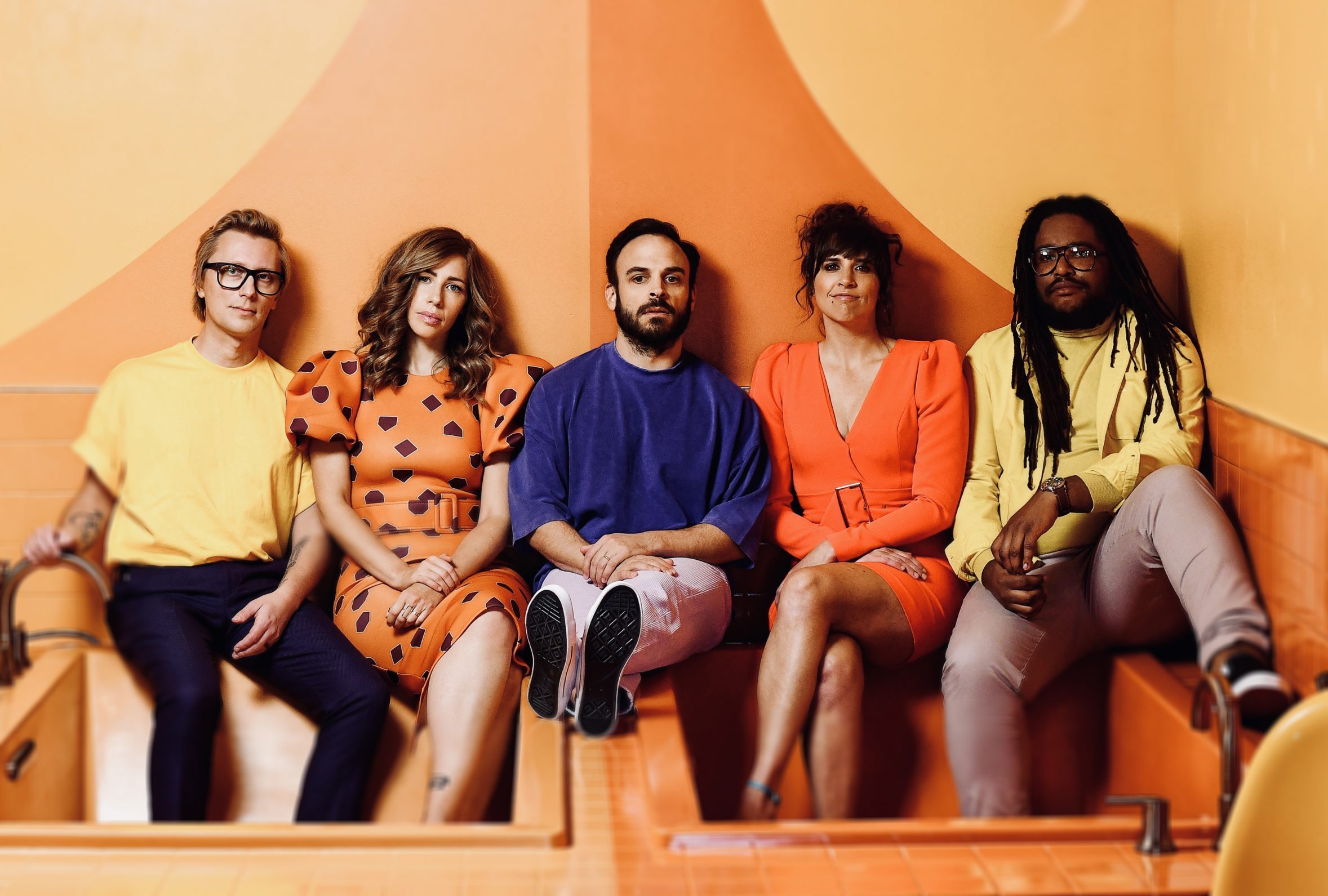 Although she's been cooped up in the city away from her bandmates for nearly a year, Lake Street Dive's front-woman, Rachael Price, seems as optimistic as ever as she watches the snow fall softly outside the window of her small Brooklyn apartment. After deferring the release of their latest studio album due to the circumstances of the past year, the four-turned-five-piece genre-bending pop/jazz/R&B group is now rearing up to release Obviously to their patiently waiting fans.
The new record comes after the success of their 2018 album Free Yourself Up, which debuted at No. 8 on the Billboard Top 200 and houses the band's smash hit "Good Kisser," which has since amassed over 35 million streams on Spotify. Since their previous record, a lot has changed for Lake Street Dive, including the permanent addition of keyboardist/vocalist Akie Bermiss to the band's lineup. Joining drummer Mike Calabrese, bassist Bridget Kearney, guitarist Mike "McDuck" Olsen, and lead vocalist Price, Bermiss' artistic flares weave seamlessly into and uplift that of the band's original 14-year-long quartet.
Recorded a week before the world shut down almost a year prior to the album's current March 12th release date, Obviously is a testament to just how pervasive the issues facing our society can be. Tracks like "Making Do" realistically reflect on the generational impacts of climate change, while "Being a Woman" chronicles the never-ending inequality facing women at every turn, as the track's monotonous verses explode into a bridge of pent-up frustration.
Lake Street Dive's very own Rachael Price caught up with LADYGUNN ahead of the release of Obviously to chat about the making of the album, reflecting on her younger self, and how she feels this record could be the band's most confident one yet. Check out our full conversation with the soulful lead vocalist down below and be on the lookout for the release of Obviously this Friday, March 12th!
Congratulations on your new album, Obviously – we are obsessed with it! What's it like finally getting to release the album into the world?
There's this honeymoon period right after you make an album [when] you're just so excited about it and the way it sounds because it's like seeing yourself in technicolor after black and white. That was really cut short because we finished making the record and then the world shut down, and everything was so surreal and weird. We made [the album] last year, flew home from the recording session, and a week later the pandemic started.
So now, to sort of come back around a year later and to be in a very different place emotionally, having gotten a lot more accustomed and adjusted to this weird life that we have to live right now and hearing [the album] with fresh ears, I'm just really excited about it. I think it's one of our most confident records that we've ever made. And I feel like that has been reflected in how it's been perceived so far [with] the songs that we have released. Usually, we would be on tour and getting immediate feedback for the songs while playing them live. It's still nice to have the feedback online.
The sound of this album is a little bit different from some of the band's previous work and we know you worked with producer Mike Elizondo on this album – what was it like to work with him and experiment with the sound of Lake Street Dive?
It was a really good experience. We had produced our last album ourselves and that was a very exploratory process because we had never done that. We sort of figured out along the way that we needed to self-produce in order to get to know ourselves a bit better as a band. So, we felt ready to pass that role back onto a producer this time. We were also a little lost as far as song choice going into this record because we just had a lot of material. We had like 35 demos of songs that we gave to Mike Elizondo and he whittled it down. It was nice to sort of go into the studio with a more detached "Let's see what he does with us" type of attitude.
Mike Elizondo was and is in a lot of ways the perfect producer for us, because he's so well versed in the world of hip-hop, which sonically and musically [is] the music that we're most inspired by. When we're listening to records and we like the way that they sound, it's almost always hip-hop. And Mike Elizondo works with Dr. Dre, he's produced 50Cent, he's produced Eminem – he understands that world. He's also an upright bass player, he also plays jazz, and he also plays folk music, so he really gets a lot of worlds and can put on a lot of hats.
While making the album, did you guys pull from any specific inspirations, whether it be specific eras of music or different artists?
I would say almost decidedly no, which I think was helpful; it was why we had such a range of songs to choose from. We weren't really thinking in any specific frame of mind. A lot of the demos and a lot of the songs that ended up on the album are co-writes, so one person had an idea and then they'd pass that off to another member of the band and someone else finished it for them. I think that this process became something that we started to rely on for making the songs for this record. We knew, "Well if whatever shitty idea I have, I can just see if someone else wants to sort of shine up that shitty idea" and that happened a lot.
That's what happened to "Nobody's Stopping You Now." That was a song that I was writing in a style that I never assumed would fit for Lake Street Dive. I was like, "I don't really know how this song fits into my life at all, like, when would I ever perform this song?" And then I gave it to Bridget and she had a totally different approach to how the song should be felt, to the groove, and all these sorts of things. If you sat down and listened to all the demos you'd be like "I don't know how you guys are gonna make a cohesive record."
In general, you guys cite a lot of artists like The Beatles and sounds like swing era jazz as musical influences – are there any contemporary artists that you pull influence from?
Yes! There is a lot. Anderson .Paak…I think we consider Fiona Apple to be contemporary even though she's done a lot for a long time. Gosh, there's so many I could share a whole playlist of our inspiration that we had with you and it's all kinds of stuff.
You're all formally trained and extremely knowledgeable about the music-making process, but at the same time, a lot of your songs are very fun and energetic – what's the process like when you're coming up with new material?
I think a lot of our song choices early on in this band's development came from playing in shitty bars where we needed to get people's attention. It's such a small and subtle thing that we picked up on that, "Oh, they respond more when we play this song that has a chorus," because we used to be a really weird band. [We had] like long trumpet solos, strange songs, and we didn't have a lot of background harmonies. And I do think that observing the success of a catchy, happy, three-and-a-half-minute pop song in the space of playing a bar is still kind of what informs us today.
We're so obsessed with the art of recording, but as far as our experience as a band is we are such a live music band. That's what we've spent 90% of our time doing. We've been on the road constantly for 10 years. So, I think that's a big part of it. When we're writing a song or when we're arranging a song, we're sort of already imagining how it's gonna feel live and how it's gonna fit into the set.
You guys did the

Lounge Around Sounds Variety Hour

a couple of months ago which was super fun – what's it been like trying to connect to people and bring out that crucial live aspect to your music in the virtual world?
There's a happy and a sad answer to this question. The sad answer is that it hasn't been that much fun. But, I think that the happy answer is that what I have learned is that there really isn't any replacement for live music. There's been a lot of things that I've learned can stand-in during this time for things that we've lost, but I don't personally think that anything has really stood in for being in a room and hearing the music live. That is a happy thing to discover because it's what I do and it's also what I'm most passionate about on and off the stage. It's nice to realize that the thing that you've invested your life in is irreplaceable and unique and very special.
This is the first album that the band has produced with Akie Bermiss as an official member – how did his presence during the making of the album influence Lake Street Dive's sound?
When we made "Free Yourself Up," Akie made the record with us, but he had only done a few tours, so it was definitely still in that period where we were all still feeling it out. Therefore, I think foolishly, we didn't really let Akie shine on that record. But on this record, [he] started with the songwriting process, so from the beginning, he was much more involved in the process. He co-wrote "Same Old News," he wrote the song "Anymore," and we wrote the song "Lackluster Lover" together on the record. Then, once we got into the studio, in a lot of ways he became one of the lead soloists in the band. It was nice to let Akie take over that role and shine in that way, to be a lot more experimental with whatever keyboard or synth sounds we were using. The solo on "Hypotheticals" is a great example – I think that part is super catchy and I sing it over and over in my head and that's all Akie Bermiss. We didn't have that really before.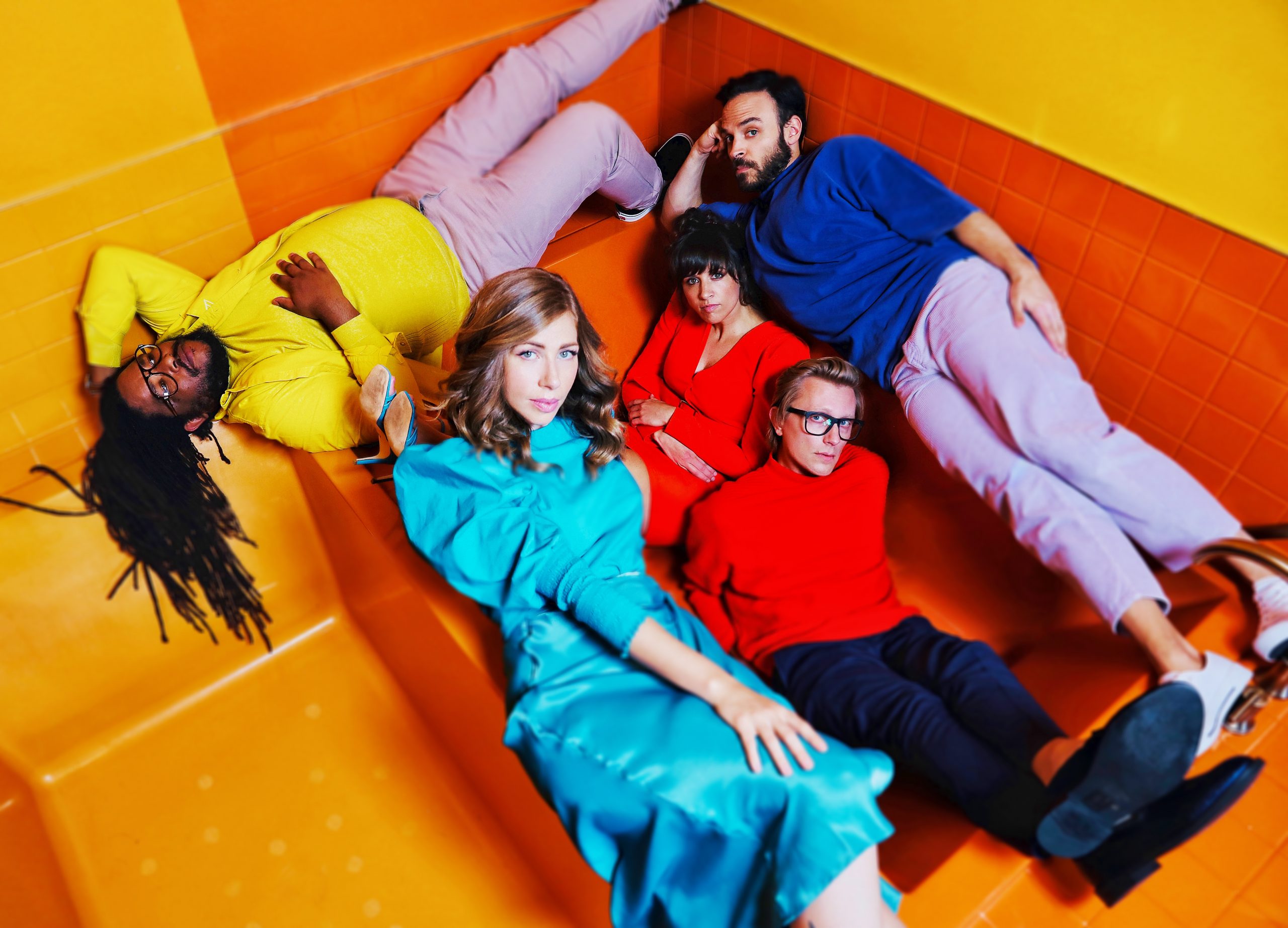 "Nobody's Stopping You Now" is a very earnest letter to your younger self, which actually resonates on a much larger scale. What was going through your mind during the songwriting process for the track?
I was going through old journals of mine from when I was 13, 14, 15 when I was an obsessive journalist. I found that the person who I was reading, this voice, was very unfamiliar to me. I was in some ways very surprised and impressed by some confidence and some funniness, and also a little heartbroken at the level of insecurities that I was discovering in myself and scribbling in this journal. So much of it had to do with these sort of societal pressures of gender roles. I wanted to [talk] to that person in a way to get to know them a little better, to get to know my 14-year-old self, to sort of tap into some of the things that I'd lost, but also have this sort of reflective moment where I was giving them advice.
I feel like you're very unselfconscious up to a certain point in adolescence and then all of a sudden you're really self-conscious, like you're super embarrassed just to exist. And I remember [during] the summers I would just be a very free person. I wouldn't wash my hair, I would wear gigantic XL t-shirts, run around the neighborhood, and be really scrappy. And then I would feel the pressure of September coming on and being like, "Oh, I have to go back to school, everyone's gonna make fun of my clothes" or "I'm not an attractive girl. I was supposed to figure out how to be a girl this summer and I still haven't figured it out." I could remember these switches. 
"Making Do" is another really honest song on the album about the state of the world and our lasting impact on the planet. What inspired you guys to write a song about something as heavy as climate change?
That song is by Mike Calabrese, and I think what inspired him is what inspires any songwriter to write – pain and heartbreak, the way you would write a breakup song. Michael Calabrese is a beacon and really a leader for me of really understanding and feeling the effects of climate change, not just intellectually taking them in. He's somebody that it really weighs heavily on, and he talks very openly about how he's struggled a lot with anxiety and depression, a lot of which is fueled by his fear about how we treat the planet.
So for me, as one of his best friends, I heard the song and was like "Yeah, this is just Mike Calabrese writing his feelings," which is kind of a beautiful thing because it's hard to write a message song, I think. It can be often unsuccessful if you set out to write a message song, but I don't think he really did. I think he was just writing his feelings.
As a whole, the album has a lot of songs that are sort of message songs about larger-scale issues like gender inequality, climate change, and exploitation. Was this something that you guys set out to do when you were creating the album or did these songs just end up coming to the forefront?
I think we started going that direction with our songs in "Free Yourself Up" and I think it was a natural continuation. I think a lot of things came into focus for us in the last few years. If I just zoom out and think about songwriting and creating on like a grand perspective, I think that it was really hard to write songs four years ago when Trump got elected, because we were all in a state of devastation. We were just lost and wanted to say a lot, but it was hard to digest that. So I think that there's a lot more clarity in these songs and a lot more of music in general because we've gone through this and had more time to digest and see how the dust has fallen.
"Sarah," the album closer, is a very different style of composition for you guys, a song that is all about your vocals – what inspired that approach?
Every time we've made a record, Bridget Kearney has been like, "Oh yeah, we should do an acapella song. Why haven't we done this yet?" And "Sarah" was on Mike Elizondo's list, and I think we were all surprised because we couldn't really hear how that song fit into [the album]. But Bridget was like "Oh, this is our opportunity. Let's do the song acapella." Mike Calabrese is really good at vocal arrangements too. He used to do them for his sister's show choir in college, so he wrote the arrangement and it really transformed the song. I didn't hear that song's potential and [now] I think it's one of the standout tracks on the album.
As we move into the third month of 2021 and Obviously is about to be released, what are your hopes for the coming year?
My greater hope is that art continues on its current trajectory. I think that there's a lot of inspiring things happening right now because we've all been in this weird place for long enough that we've been able to process it and adjust. And for the band, I hope we can play live, basically. I hope that by the end of the year there's some element of live, as long as it's done safely. But if not, maybe we'll get back into the studio even before that.
This interview has been edited and condensed for clarity.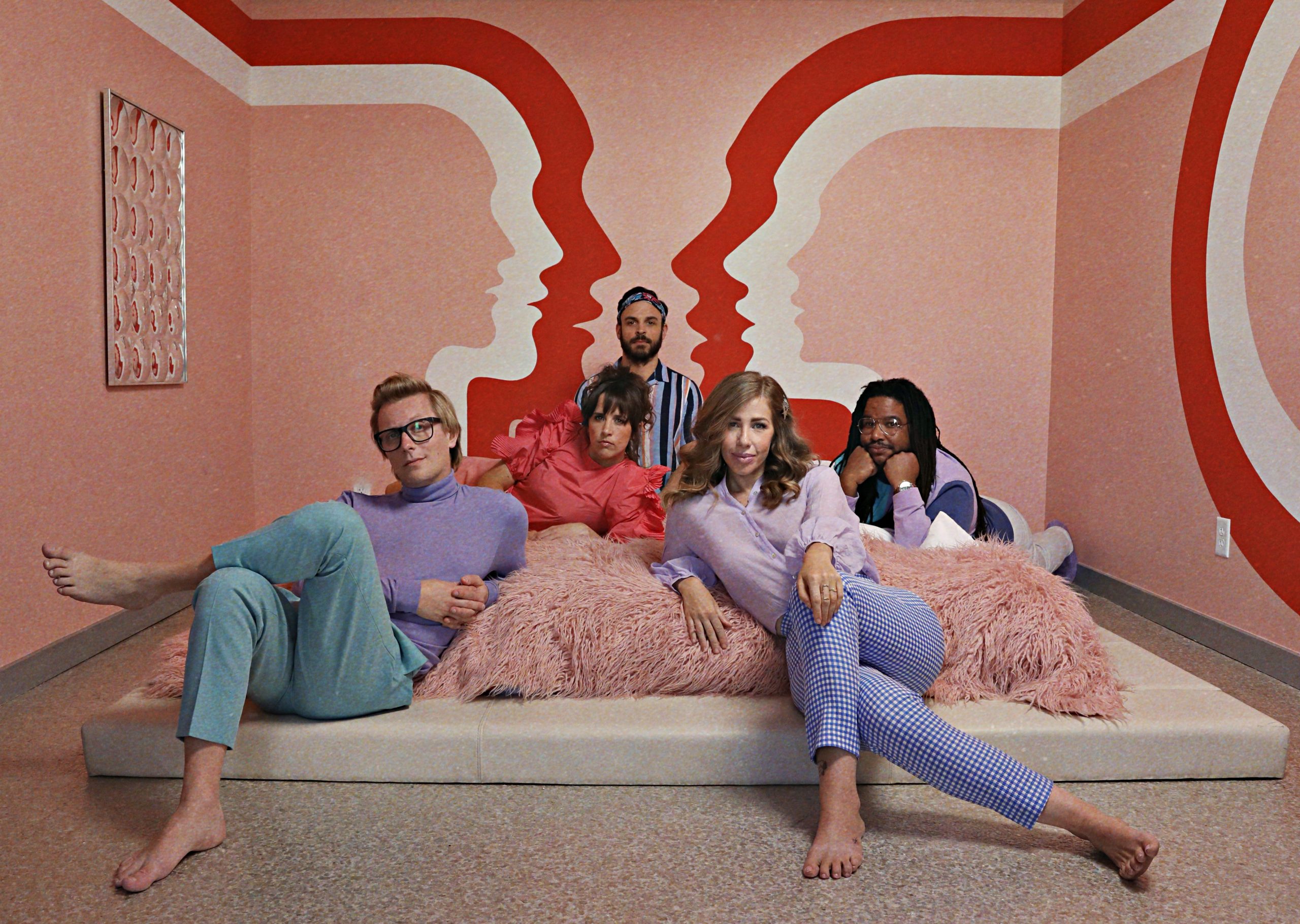 CONNECT WITH LAKE STREET DIVE
INSTAGRAM // TWITTER // SPOTIFY
story / Jack Hannon
photos / Shervin Lainez