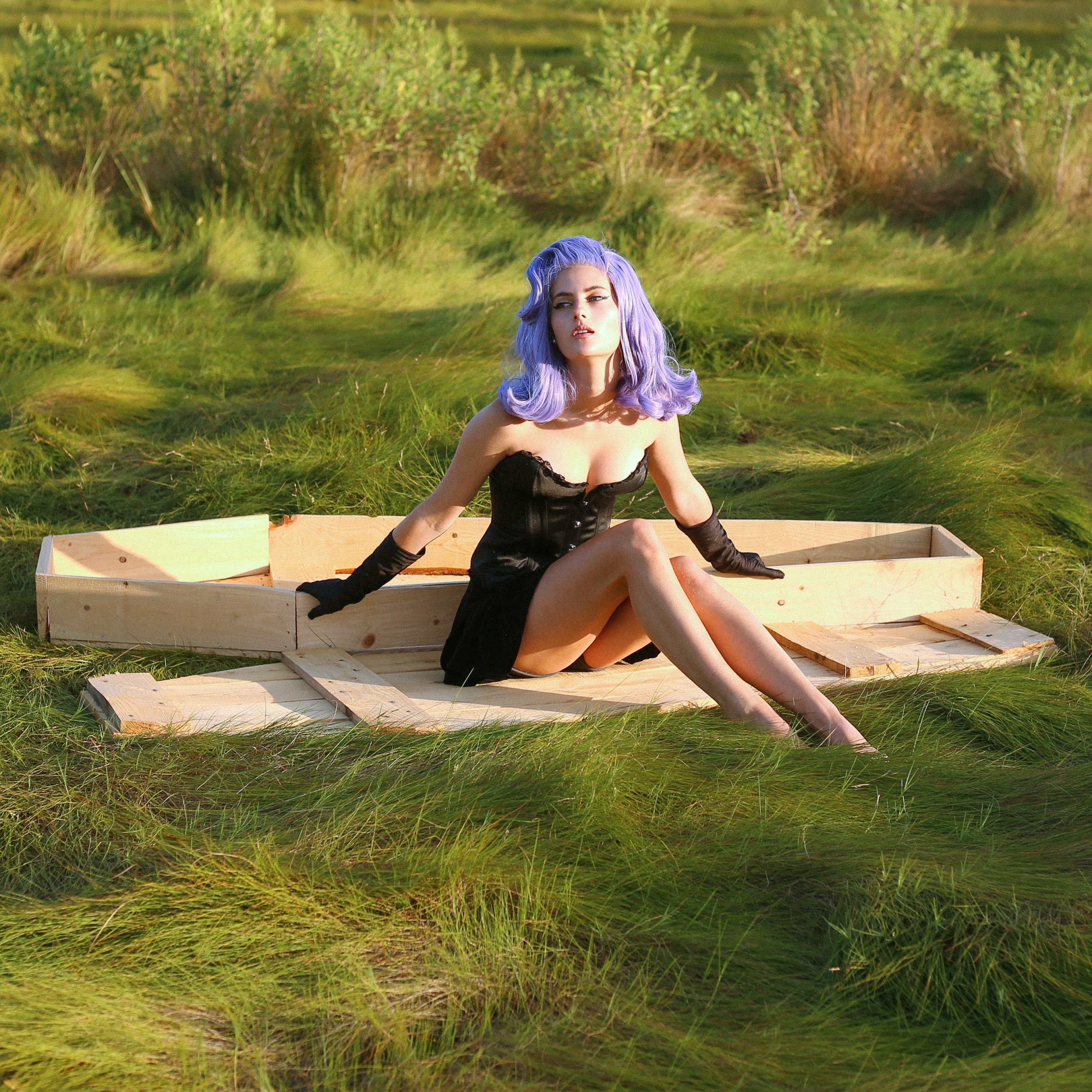 Musical goddess Emeline's new single "6 foot deep" is out now and it is spooky and sexy at the same time. Her glossy voice over eerie beats come together to give us the perfect song to murder our boyfriends to. "I know you like the view," she teases. The woman of many talents not only sings, writes and plays music. She even acts. Speaking of…
The music video for "6 foot deep" follows the purple wigged babe as she explores the haunted mansion filled with lovers of her past and present. Emeline morphs into different people throughout it. One scene she is sporting silky loungewear the next a hot men's suit. We watch her play dress up and explore different characters in the ghostly setting of a horror film. All while, of course, poking fun. You can tell the musician likes to play with us. We want to be invited over. I got to talk to the LA-based singer-songwriter about mocking people who hurt her, her directorial debut, and writing her latest single "6 foot deep."
What does your typical day in LA look like?
My typical day in Los Angeles really fluctuates for me. I like to start my day by breathing without jumping right to my phone, and then I like to drink my coffee or tea on my balcony to get some sun. I try my best to do yoga or something that moves my body every day. Taking care of my mind and body first thing before everything else really sets the rest of the day on to a good track. My time as a creator is split pretty much 50/50 between being a songwriter and being an artist. In the writing room (or zoom) sometimes I am the role of the organizer and other times I'm the one freestyling. It depends on who I'm working with and what mood I'm in. I love both roles and both experiences. I also mentor students over zoom! This started because I was helping young songwriters make music, who didn't have the tools to, and I ended up creating bonds with them and offering my guidance. I've mentors who've given me advice that made me more anxious than confident. My goal is to help my students grow at their own pace and path and to give them advice and tools they need while still being nurturing. A mentor should never project, they should just be a stepping stone to help the artist grow into who they are and what they will become.
What sparked the idea for 6 foot deep? How was it writing the song?
I wrote my latest single during a really dark point in my life. "6 foot deep" isn't about finding happy endings, in fact, it's about finding solace in a state of numbness. It was inspired by the struggles I've experienced being a woman, particularly in the music industry. I've felt quite objectified and belittled time and again and it caused me to hit a breaking point, which is when I wrote this song. Creating it with Oscar Neidhardt and growing with our art and friendship was really beautiful. Making all that we did, helped me re-realize my worth and that everything will be okay. I love throwing a bit of my humor into the music I make. I want the listener to be able to hear my eye rolls through the track when I say things like, "does it feel good to be so tall? I know you like the view." While it's a very vulnerable song and story I still manage to mock the people who have hurt me, which is especially fun to do when they're probably too dumb to get the joke.
How did the music video come about? Tell me about the collaboration. Where was it shot?
A few months ago, a band I'm in had a project in San Francisco to raise money for a venue. I didn't want to sing or do the show unless we had all got Covid tests, so Rob (Garza) brought someone in to give us all tests. I started talking to him (as he was testing me) and he told me about his house… It was everything I wanted and it fell into place just perfectly. I drove the 7 hours back to LA from San Francisco just a few days later when it was confirmed that I could film my video at the location of the Westerfeld Mansion. It was my first time directing solo, which is something I've always wanted to do. The vision was in my head for a while. It's the story of a woman who is being haunted by the men of her past and present. She's running around feeling trapped inside of this haunted house not being able to escape them until she's able to confront it when it hits a boiling point.
How would you describe your music and what you're trying to portray as an artist?
I just try to be my genuine self and share what I like because if I like it chances are someone else will like it too. I hope being genuine and fierce in who I am and what I do will inspire others to be bold with who they are in life too.
What's the hardest part about being a musician and what's the best part?
I think the most difficult thing about being a musician is having to define who you are for a branding purpose. People are ever-changing and having to stick to one aspect of a complex personality for a branding perspective can be hard especially when you're still figuring it out. I think listeners love to hear stories and music about times artists felt lost, but it's never okay for them to be lost in the present. So it's kind of a catch 22. Deciding which song to release is also a hard thing to do because there are so many different avenues a musician's evolution can go but you have to calculate it behind the scenes, and who knows what will actually hit. I would say the best thing about being a musician for me is the magic feeling and chemistry you can have with another person when creating something special… that and seeing the audience as real people who listen to your music. It's an amazing feeling to realize that you're making an impact on real people and a nice reminder of why you're doing it.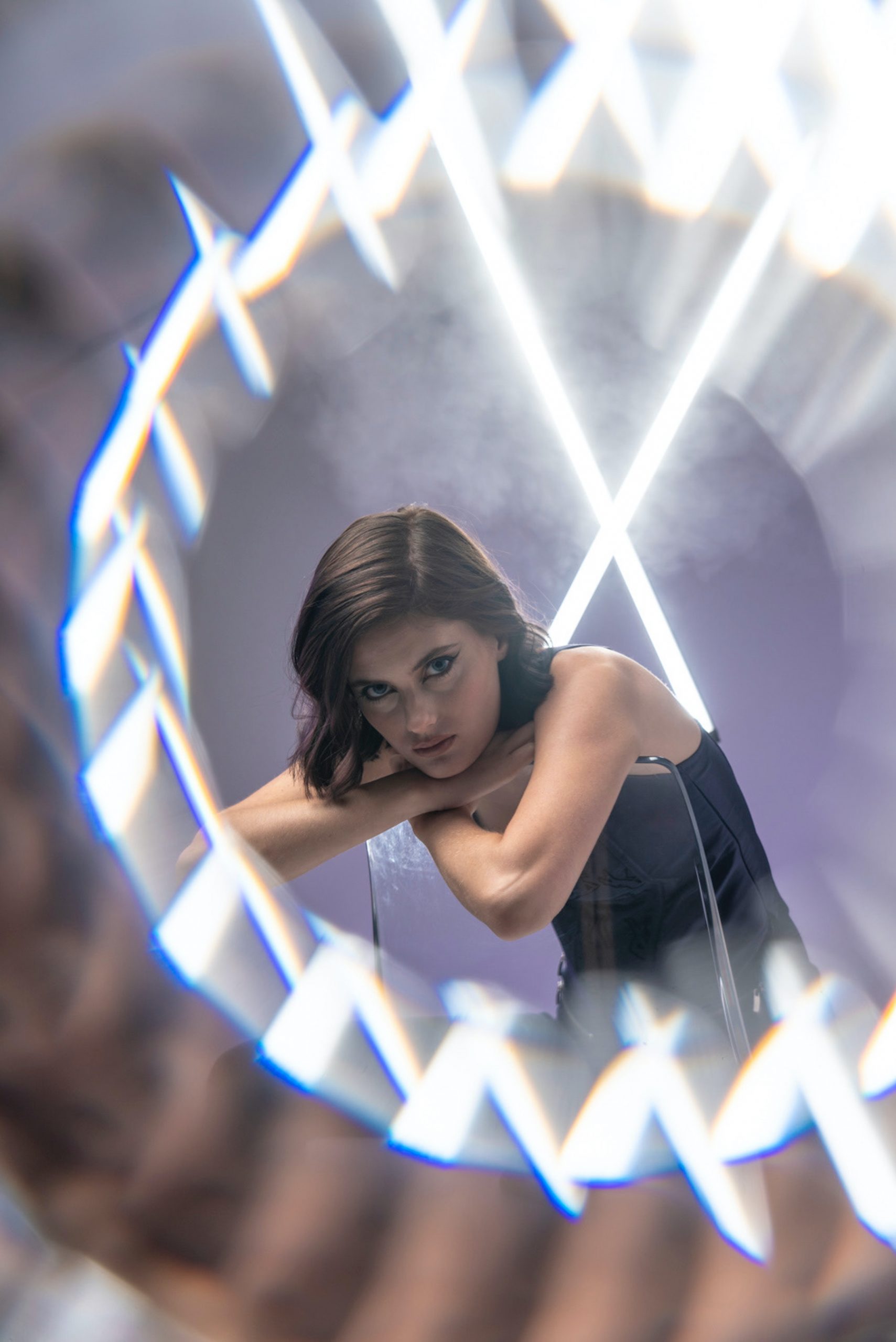 What do you listen to when you need to cry? What do you listen to when you need a pick-me-up?
Elliot Smith is my go-to when I want to lean into my sad feelings, particularly "Between The Bars" and a song that lifts my heart and sounds like a happy summer day is "Mr Blue Sky" by Electric Light Orchestra.
Who are some of your musical influences? 
Production-wise I've been really into Phantogram lately! I listen to everything though, I'm always on the hunt for new artists. Some of my favorite artists are Stevie Wonder, Alanis Morisette, Nina Simonne, and I'm also a big musical theatre fan so I'm often listening to Chicago and Cabaret.
CONNECT WITH EMELINE
photos / courtesy of artist
story / Vogue Giambri