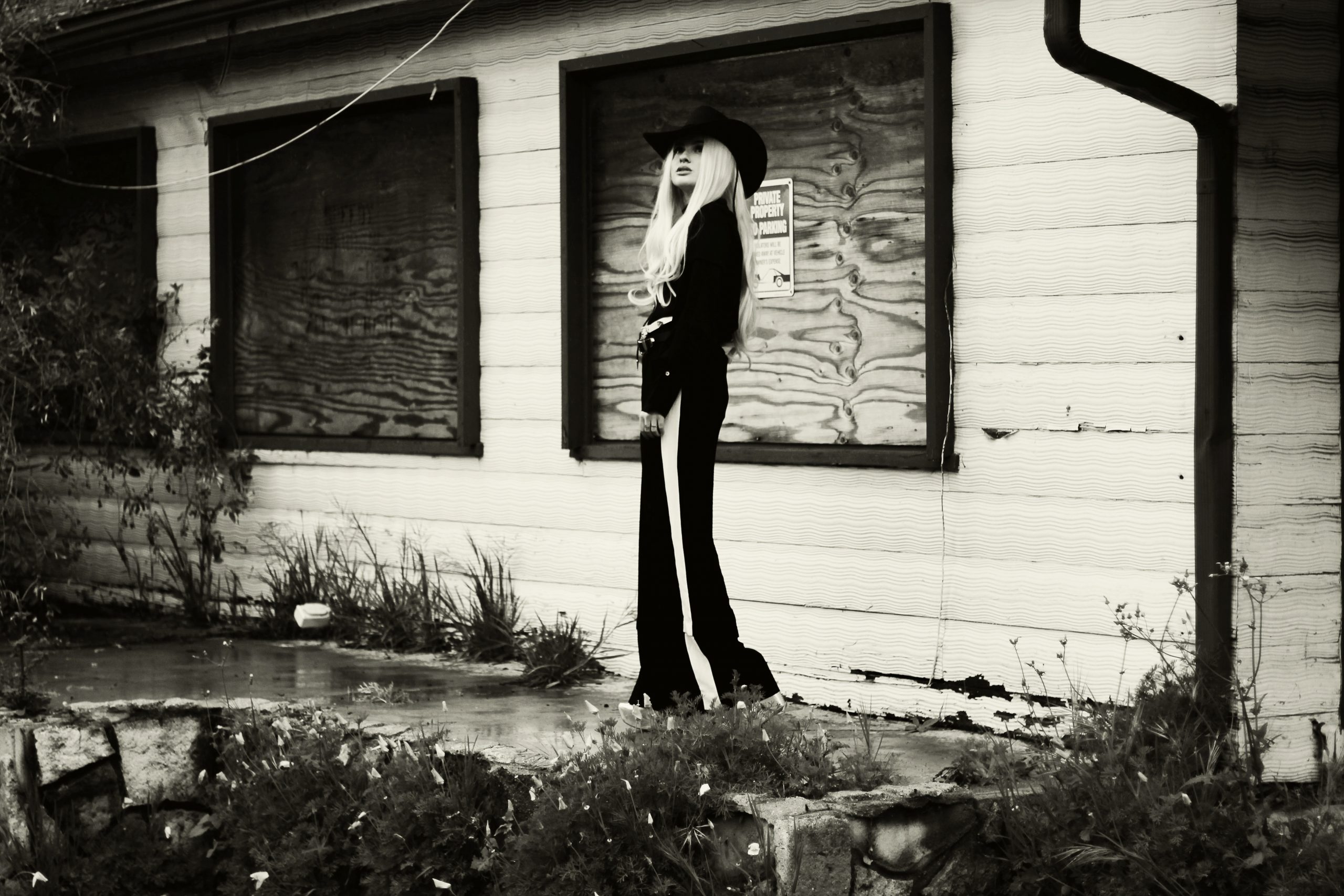 You haven't realized it yet but "outlaw pop," the expression the rebellious singer Devora coined for herself, is exactly what you need to move on. Her latest single "Not Dead Yet" is out now for all your road trip/up-and-move-out-of-your-past-life needs. A lot of us have been doing that lately. With everything going on in the world, we find ourselves realizing what we really want and trying to make it happen. I myself drove cross country in the middle of a pandemic because there's nothing worse than being stuck in a place you don't want to be. Take this idea, make it dark, turn it into a Tarantino western and you've got "Not Dead Yet."
There's a music video out for the single and it is exactly that. Devora like a gothic cowgirl settling in some hotel with her pet scorpion singing about losing herself and disappearing in the rear-view mirror. The video is filled with leather cat-suits, men in luchador masks, snakes and lollipops. A kaleidoscope of Devora's brain. She is your hitchhiking fantasy. Her country voice tinged with a rock soul come together to make the unique outlaw Devora. We got to talk to the singer-songwriter about losing herself, hailing from Arizona, and writing and shooting "Not Dead Yet."
I love the term "outlaw pop!" How would you describe what "outlaw pop" means to you and your sound?
Outlaw pop is a term I coined to describe the distinctive imagery and visual narrative for the music I write. I like to weave visual soundscapes from my dark western world .The road is my home and this is my journey; these are my stories, encounters and experiences I've had along the way.  This is outlaw pop.
Where did the inspiration behind "Not Dead Yet" come from? Was there a specific thing or moment you remember being like 'this is what the song is going to be about' or 'these are the images I'm going to portray'?
"Not Dead Yet" embraces the unadulterated sentiment of hitting the road and going your own way fearlessly.
Around the time I wrote this song I was coming out of some really dark times in my life. I realized in that moment that everything I felt that broke me actually built the resilient foundation of where I am today. I felt empowered and fearless, and "Not Dead Yet" reflects the resilience, perseverance and boldness of moving forward, while celebrating life in the fast lane.
For the first time in a while I had felt a universal sense of calm with leaving my past in the rear view mirror. I embraced the forward motion, and set fire to yesterday in the most positive and introspective way. I became a modern day outlaw and never looked back.
As a lover of all things dark, I embrace those parts of me, while now simultaneously celebrating being alive and present.
This song commemorates the ups and downs of life, while celebrating the moments that we have today, if only for today. It's a salute to going your own way in life and carving your own lane undaunted– observing one's uniqueness, honoring yourself and embracing the crazy ride along the way. This song is a salute to all of us outlaws everywhere.
There's a theme of losing yourself in the song. Do you think that has something to do with being an artist? Do you think it's necessary to sometimes lose ourselves?
There have been many times when I have felt like I was losing myself in an existential sense. However, the one commonality of it all is that no matter how far I've ever wandered, I have always found myself in music.
I think sometimes there's beauty in setting fire to the past, especially when it no longer serves you spiritually, or is hurting you on a conscious or subconscious level. There's beauty in fearlessly moving ahead and not looking back, and there's harmony In using the fire burning behind you to light the way forward.
How was making the video? Where did the concept come from? And who styled it!
The making of the video was wild. We drove to the desert and stayed at an extremely shady motel that was virtually frozen in time. It felt like we were in some sort of surrealist nightmare, but in the BEST way possible. I brought my pet scorpion and we just got real weird for a couple days at this place…
Leven Rambin of Permission Productions directed and styled the video with some assistance from Permission Production's co-founder, Taylor Nohs. Leven is an incredibly talented director and has an exceptional eye and vision for my overall aesthetic. Leven is a brilliant creative force who truly understands the artist conceptually on every level and thus creates magic.
Our creative synergy was magnificent from day one and our ideas exploded into a captivating domino effect of inspiration, ideas, and concepts.
We were really going for a Fear and Loathing in Las Vegas meets Natural Born Killers in hell type of vibe for this video and I think we accomplished just that and beyond. I am a huge Tarantino fan, as is Leven, so we tried to infuse shades of that in the imagery, cinematography, and aesthetic. It was very important to me to harness the dark side of the wild west, pervading a gothic aesthetic influence incorporated with psychedelic imagery of the American southwest.
Kevin Garcia at MixOne Sound, another brilliant force,  edited the video and tied the whole thing together.
What's your favorite thing about being from Arizona?
Arizona was a strange place to grow up— Lots of bizarre and unusual things happening out there at all times —  but I loved it all. Growing up in AZ you meet lots of strange people from all walks of life, from every place. The stories and the wild experiences—man, I could fill novels.  As a kid, going to ranches and riding horses was my favorite. There's nothing more liberating and soul-aligning than riding horseback.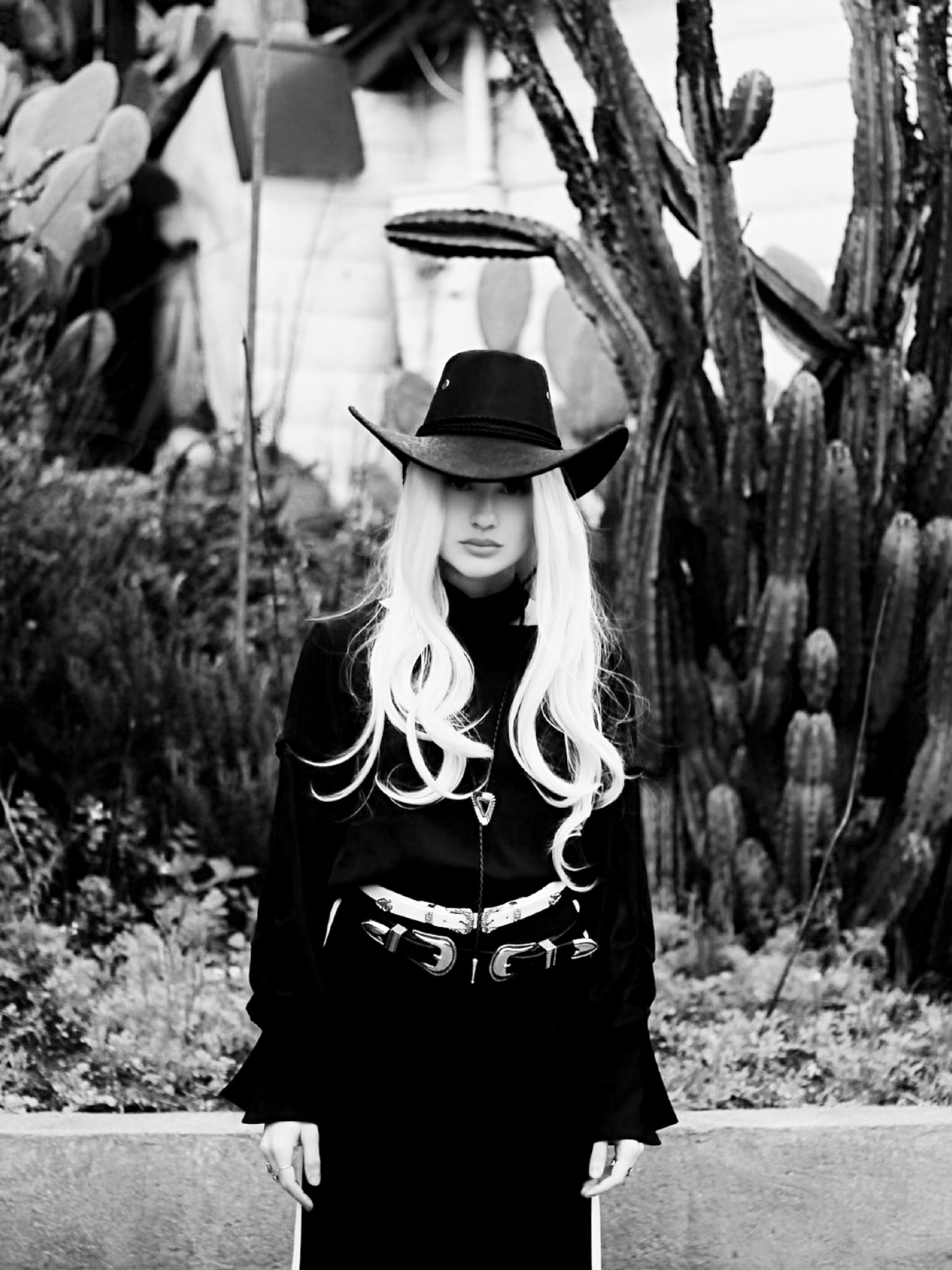 Who are some of your musical heroes? Who's the first person you'll go see when concerts become a thing again?
Johnny Cash
Nine Inch Nails
Marilyn Manson
Nirvana
Dolly Parton
The White Stripes
What have you been thinking about a lot this week?
Been thinkin' a lot about where I'm headed next on this journey. I'm looking forward to getting back on the open road, and I'm looking forward to taking you with me.
CONNECT WITH DEVORA
photos / Lei Phillips
story / Vogue Giambri