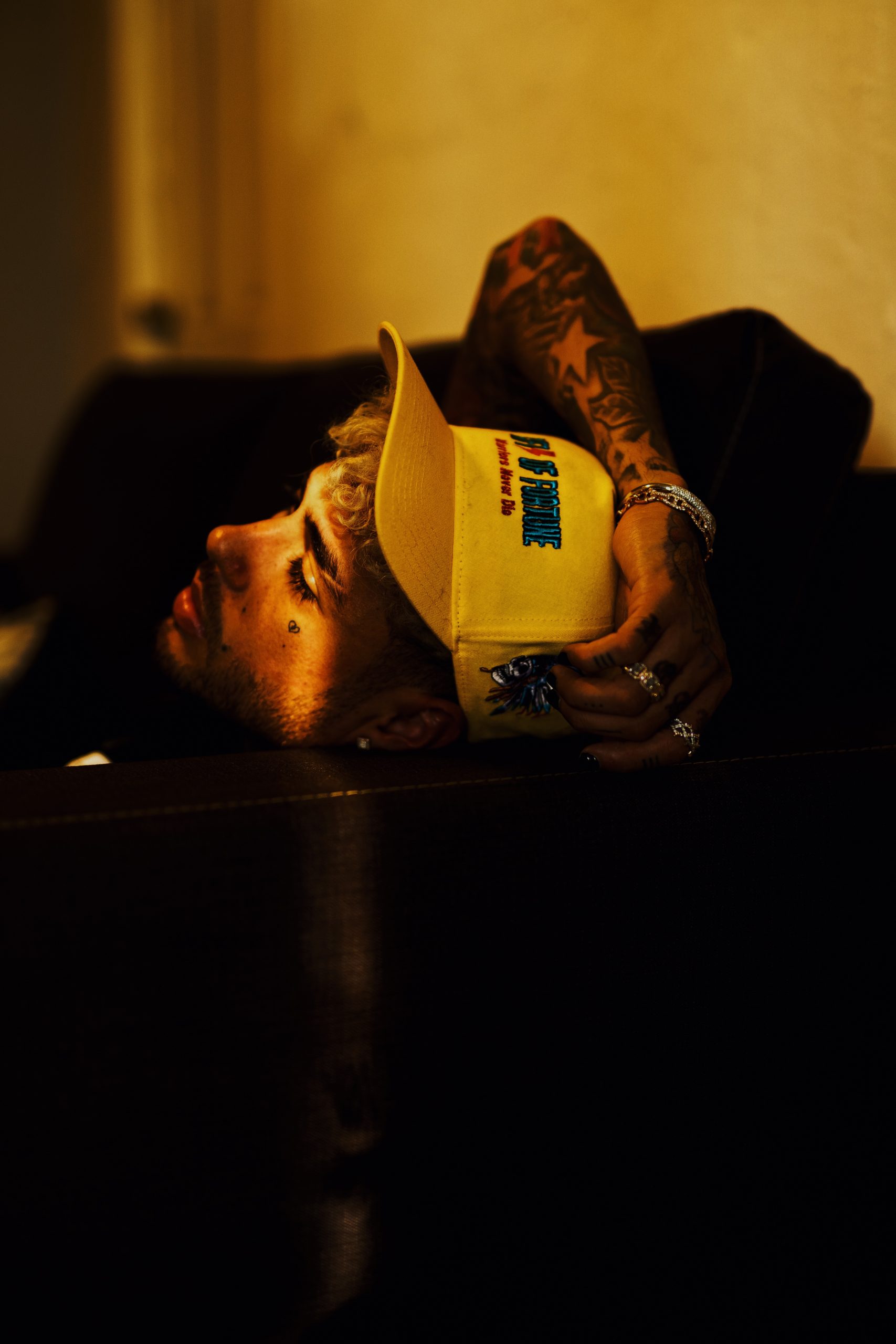 From his humble beginnings as a barber to his rise to fame as a performer, Dalex has placed himself centerstage in the urban music scene, most notably since signing onto the label Rich Music. Born Pedro David Daleccio Torres, the musician spent the majority of his life listening to artists who would go on to influence his own work, like Wisin y Yandel, Daddy Yankee, and Tego Calderón. At the age of 18, Dalex wrote his first few songs as he studied to become a barber. He eventually went on to release his debut single "Puesto Pal' Millón" in 2017 and two EPs in 2018, titled "License to Trap" and "La Nueva Ola". In May 2019, Dalex dropped his first full-length album titled "Climaxxx", earning him a nomination for Los Premios Juventud in the category for the new urban generation. Less than a year later, in March 2020, the artist released his newest EP "Modo Avión" featuring the single "Mejor" as its first track.
Despite his growth as an artist with over 13 million monthly listeners on Spotify, Dalex has used his career as an homage to the big names in urban music who inspired him, as well as the Puerto Rican municipality where he was raised and molded into the person he is now. The southeastern coastal town of Juana Díaz is where, not only did the artist grow up, but iconic cultural staples can be accessed. Among the more popular ones are the Three Kings Festival, wherein the Three Wise Men tour around the cities of Puerto Rico bearing gifts for children, and maví, a fermented Taíno drink akin to kombucha and made using bark from the mauby tree. To give us a closer glimpse into the neighborhood that shaped him, Dalex invited LADYGUNN over to his childhood home, where he talked to us about his career so far and the direction he's headed in for the future.
Let's talk a little about the place you've chosen for this interview: your house.
Well, this place, this location, is called Juana Díaz and this barrio is called Comunidad Cristina. I chose this place because it's very special to me. It's where I was raised as a kid; where I learned my values; where I lived with my mother, my grandmother, my sister. I played right here on these streets with my friends. It's super special.
What advice do you have for the aspiring artists in Puerto Rico?
I'd recommend, first, to do things right and follow the path that's best for you. At least personally, being raised in this barrio, I know the majority of the friends I grew up with and used to play with are sadly not here anymore because of their choices. Thankfully, I was always clear on what I wanted and how I'd get it. I knew that, if I went down the wrong path, I'd end up in jail or dead. I thank God because that thought has maintained a strong presence in my life. So, I recommend choosing the right path and to never stop fighting for your dreams. Never, never, never give up. Perseverance brings triumph and, sooner or later, you'll see it.
What's being Puerto Rican like for you? What have you learned from your culture?
I think I, along with every other Puerto Rican, am super proud of where I'm from. I feel like, every time we go to foreign land, we say it proudly: "Papi, I'm from Puerto Rico!" To me, being from here is a blessing. It's the birthplace of a lot of urban music and reggaetoneros. More than that, among all the kids making music here, it's that people go out of their way to stream my music. That's big for me because, out of every ten kids on the island, at least eight want to be singers and have the skill for it. They're talented. It's something that just comes naturally to Puerto Ricans. So, for me, this place is a blessing. If I had to be reborn, I'd want to be Puerto Rican again.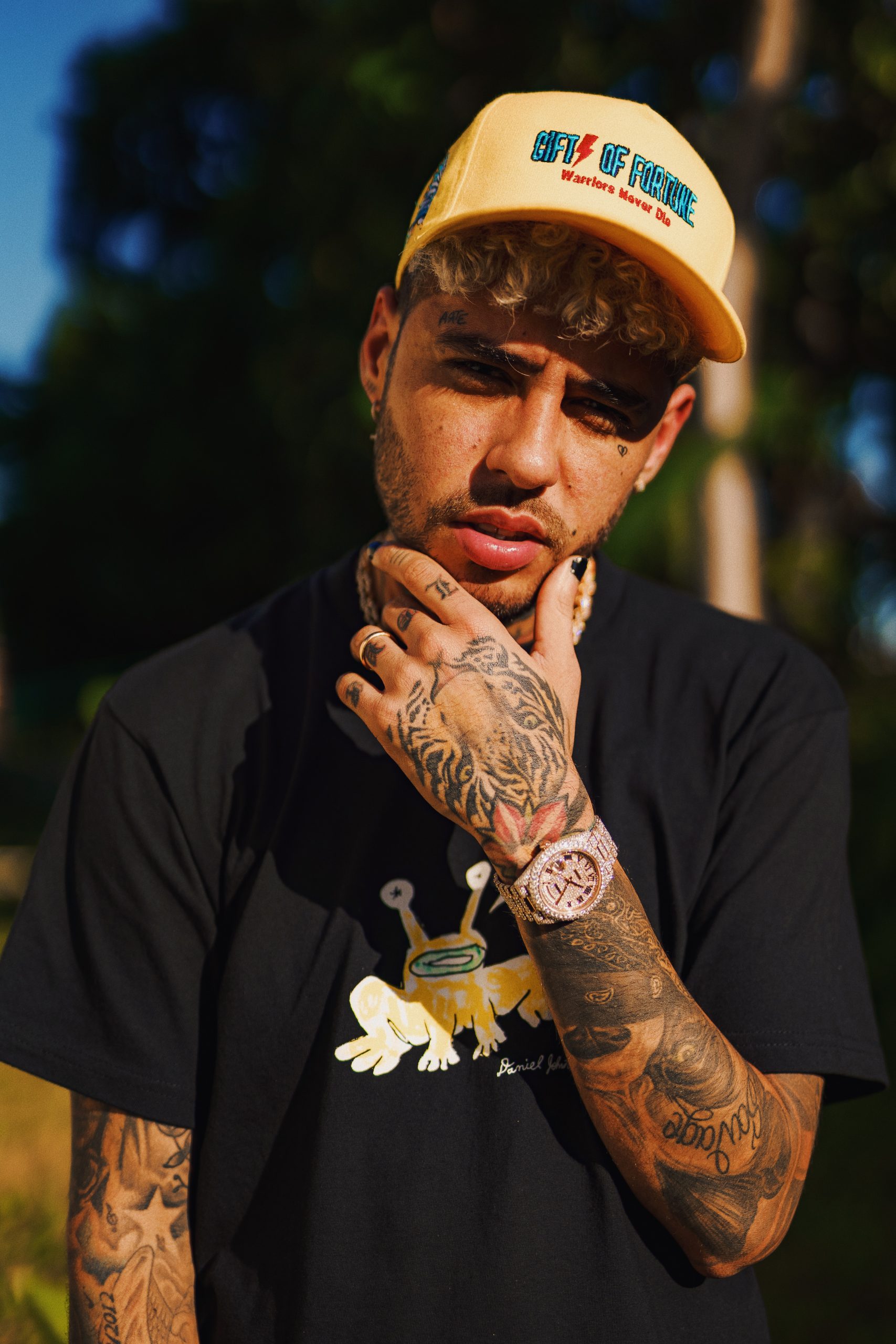 What are your favorite Puerto Rican slang words? Which do you use most?
Here, we use cabrón a lot. It shouldn't even count as a swear word anymore. It's so normal to hear these days. I think that's the slang I most use; it might be the one almost everyone uses most. There's also "acho", "en verdad, en verdad", "eso está duro", "vamos pa' encima","eso está en la madre"… I use that last one a lot. Like, if a song is good, if I like it a lot, I say "Acho, eso está en la madre."
What has your streak of success been like? Has any of it surprised you?
What can I say? I have worked a lot to get to where I am. It's been years of effort. My first hit single was released around a year ago now, but I've been working at this for nine years total. This is exactly what I've been working for. Nothing about this experience has really surprised me per se, but I was definitely surprised by which song got me that much attention. I didn't think it would be streamed to that extent, so it took me off guard. Obviously, I have a lot of growth left to do as an artist, but I had already worked enough to get to this point. I knew it would happen. Perseverance brings you success and helps you reach your goals. I never stopped — I was always working and working, even if it yielded no results in the moment, because I knew I'd see them eventually. When I finally did, the only surprise to me was which song gave me the results I'd worked for. I had so many tracks that I liked more, but it's what the people seemed to want.
What's something you like about artistic expression?
I really like tattoos, as you can see. I'm a big fan of art in general. I was in Colombia when I got this one tattoo done, but it's by a Panamanian artist. I wanted to get something small and discreet on my face that wasn't so… vulgar, for lack of a better word. I told him I wanted it to say "arte" but, when looked at closely, the "R" is backwards. Honestly, I am a big fan of art, but there are different ways to express it. I'm the type of person who doesn't like things that are too perfect, so I really like "imperfect" ideas like the backwards "R" in the tattoo.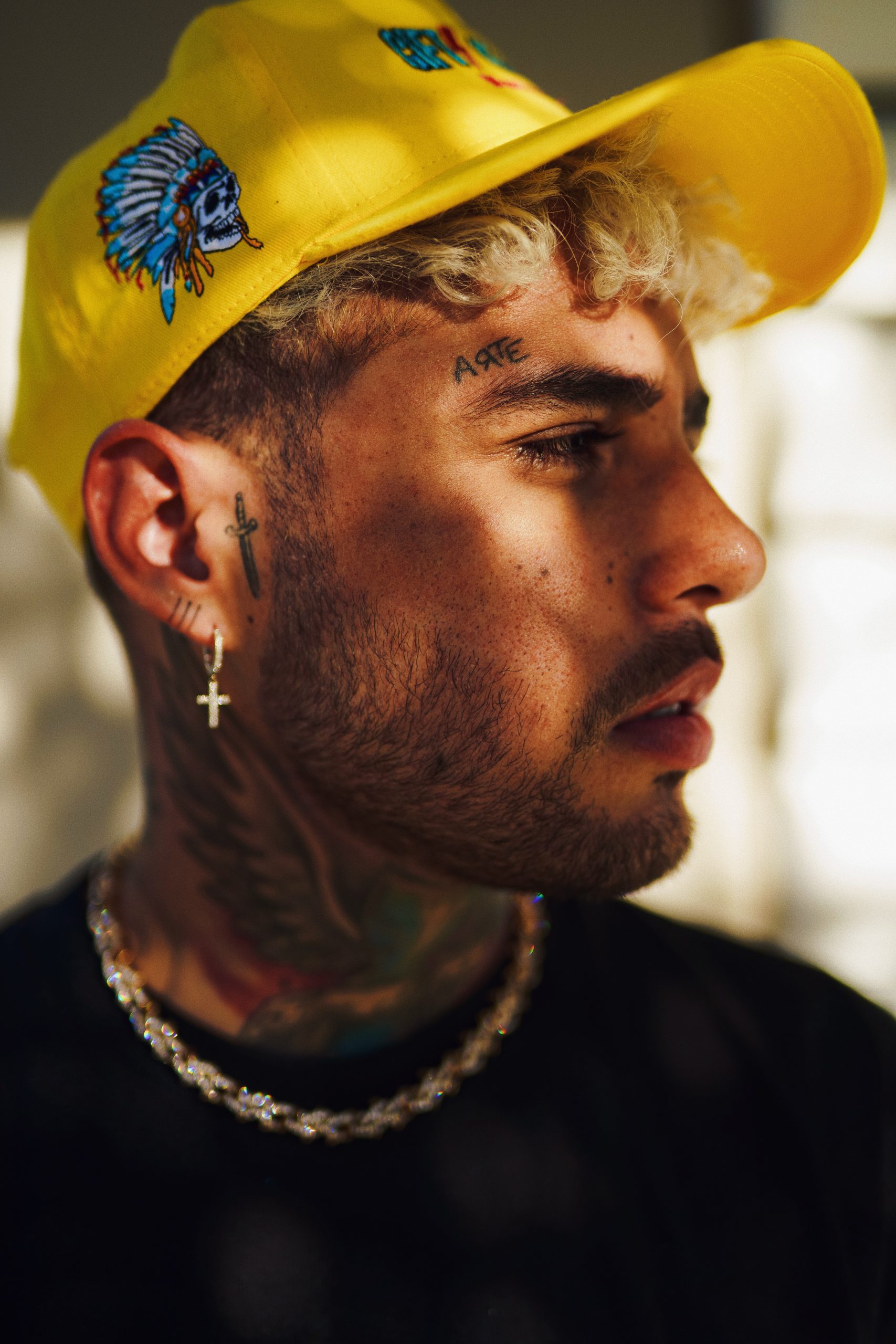 What can you tell us about your upcoming work?
I'm coming out with my second album. The first one was "Climaxxx", which thankfully went platinum. With this second project, I need to top all expectations. That said, I think it's even better than "Climaxxx". It's got more collaborations: tracks with Wisin, among others. I also worked with Lenny Tavárez and iZaak for the track "Jockey", which has already been released and well received, thank God. You'll be seeing a much more mature Dalex, musically speaking. Obviously, I already know what people like to hear from me, so I'll use that to find new sounds and ideas I can explore to keep evolving as an artist.
CONNECT WITH DALEX
photos / Vivian Colberg
interview / Mikel Corrente
words / Laura Mercado Collado