story / Catherine Santino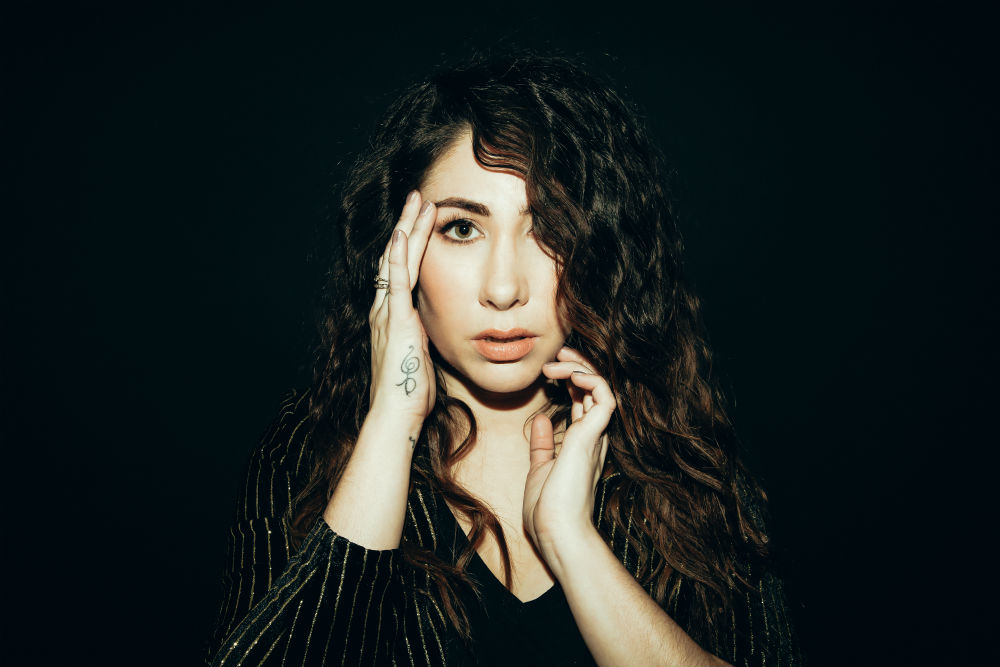 You may have never heard her name before, but RuthAnne is responsible for some of your favorite songs. The Irish songwriter has penned a slew of hits, including Britney Spears' RIAA platinum-certified 'Work Bitch' and JoJo's 'Too Little Too Late, which earned her the ASCAP Songwriters 'Best Pop Song' award. Now, RuthAnne is putting down the pen and paper and hitting the stage with her own original music.
Her recent single, "Superman" was co-written and produced by Justin Osuji (Kimbra, Little Mix, Black Saint), and intended as an empowering anthem for women who have felt men took advantage of them in their position (so, all women). RuthAnne's expert lyrical command, R&B influence, and powerhouse vocals result in explosive triumphs like "Superman" and her single released today, "Unrequited".
We recently caught up with the Los Angeles expat about her navigating a male-dominated field, the under-appreciated job of a songwriter, and her new music. 
Do you ever feel pressured to produce hit after hit?
I think inevitably when you've written one hit you obviously want to write more, but whenever I've put intense pressure on myself like that I don't write as good of a song as when I just relax and try and keep it about making good art. I think when you make something great that you're proud of then that's a hit anyway, you know? It doesn't have to be a chart-topping hit. Some of my favorite songs ever written were not hits; they were the deep album cuts.
For me, I always try to write the best song that I can. If you're literally going on what's a hit, you're going to spend your life very disappointed because only one song can be No. 1 that week. I aim high and I aim to really just make the best song possible because I feel like if you make the best song it will do great and it will connect with people. I don't really chase hits, I'm not really a hit chaser, I'm more of a "what the best song we can write?" chaser.
Do you feel that songwriters are underappreciated in the music industry?
100%. There's no 'Songwriter of the Year' award at The GRAMMYs and without the songwriters there would be no songs to be recorded. I feel like we're always treated as an afterthought, but the lyrics and melody are usually the first thing people think and singalong to.
I think we're underpaid; [songwriting] is not appreciated for the skill that it is because it is such a skill and an art form, and it takes years to become great at. I'm afraid it's going to become a dying art form. I know friends of mine have had to get other jobs. If we don't start paying songwriters properly, I think it will unfortunately be a dying career.
Your single "Superman" is about finding empowerment in a male-dominated industry. How did you draw from personal experience in writing it?
I had been having some situations happen to me where I thought I was putting these people on pedestals, especially in Hollywood where you have these mentors and people who come in and say, "you need to do this and you should do this…" I got into some toxic mentorships where I looked up to people and they abused that, something that was emotionally very toxic for me. Also, dating people in Hollywood that did the same type of thing. 
I got played this track where a section of it went "sooop!" and I had lyrics written down about Superman because I liked the lyric, "who's gonna save your soul when you ain't so super anymore?" and a lot of the time when we put people on these pedestals we think they're invincible. We think they can do no wrong and I guess I just started seeing the real side of people and I had the strength to walk away from those situations.
The #MeToo movement started way after I wrote the song. I wrote it a few years ago and I felt like it really fit into that; it's an anthem for anyone that's been physically or emotionally abused in them situations by someone that they trusted and admired. It's also a lesson for me to not let anyone get into this power struggle with me or abuse their position and always standing up for myself. It's a really important song to me.

Your newest track, "Unrequited", flips the narrative on the age-old "he's just not that into me" scenario. Tell us about the process of writing that song.
I wrote the lyrics of "Unrequited" when I was in this repetitive pattern of the classic 'He's not that into me'. But then guys would come along that were so into me and I wasn't into them at all. So I found it such an interesting concept to talk about both sides of it and how we all break hearts and get brokenhearted until we find the one. 
I went in to write with Noah Breakfast and as soon as he started playing the chords I immediately grabbed the lyrics I'd written and started singing the melody, like a stream of consciousness. I feel like this song shows more of my 90's R&B Jill Scott/Brandy influences and I have always wanted to incorporate the Jackie Wilson sample 'To Be loved', as that scene of Eddie Murphy in 'Coming to America' is my fave. It really sums up the concept of how we all just want to love and be loved but sometimes it just doesn't work that way, but it's all part of the journey. So, you take it on the chin and keep going. The love is out there.
CONNECT WITH RUTHANNE