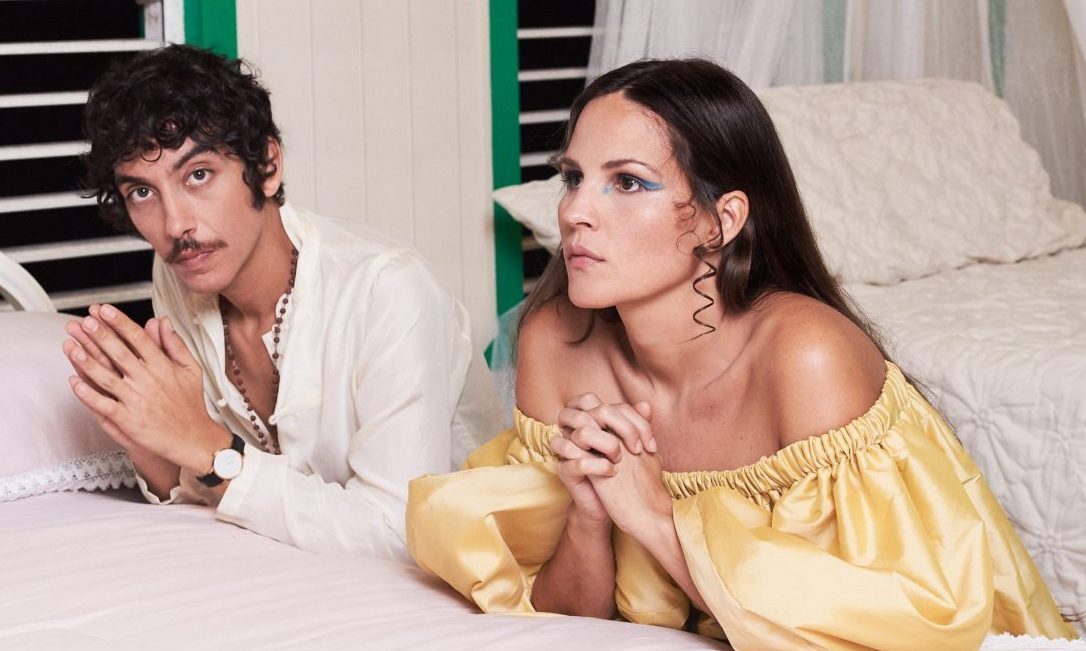 Luis Alfredo Del Valle and Raquel Berrios, better known as indie pop duo Buscabulla, have been keeping it low-key since the start of the pandemic in the midst of a career hallmark: the release of their debut album. "COVID numbers are terrible right now, but you don't really feel it because it's not urban," says Berrios of their home on Aguadilla, Puerto Rico's northwestern tip. "We've been laying  low, we're just at home all the time, working on a bunch of mixes or producing for a lot of people, which is pretty good considering we can't play live." Del Valle playfully chimes in: "We're becoming remixers."
The husband and wife duo's debut LP Regresa (Spanish for "return") deals in psychic deterritorialization conveyed through their trademark amalgam sound. Wubbing disco basslines ("NTE") coexist with ethereal trap-lite chains ("Ta Que Tiembla") and an emotional sensibility that dominate this ambitious debut, an album that deals in loss of the familiar. The pair moved back to Puerto Rico, where they were born and raised, and deconstruct that complicated gray area immigrants occupy when (or if) they decide to return to the native land. What has changed? How has one changed within the environment? What is there to be found at the source?
Regresa has been out since March, a big splash stilted by the global situation. With nowhere to tour the record, and in the midst of settling from their move to the island of Borinquen, Buscabulla set out to working on tracks from some of Latin's stars of the moment, from Jhay Cortez to Kali Uchis. They've also released a remix EP of select tracks from Regresa reimagined by the likes of Empress Of and found time to record a video for closing track "Ta Que Tiembla", which sees the duo taming a sentient tumbacoco—a van with speakers attached to it. In another timeline, it might have blasted a reggaetón-heavy remix of Buscabulla's music at an underground marquesina party; in the video, Buscabulla play dragon-slayers to a tumbacoco gone wild, eventually getting it to catch their groove.
LADYGUNN caught up with Buscabulla to talk about their upcoming collabs, the "Ta Que Tiembla" video, and how a spiritual return home is as important as a physical return.
YOU GUYS WORKED ON A REMIX OF "LA LUZ(FÍN) FOR KALI UCHIS—DO YOU HAVE ANYTHING ELSE IN THE WORKS?
Raquel: We're collaborating with Jhay Cortez, we did some vocals for some tracks that he recently put out plus we're working on other stuff for his new album. We're also doing a remix for Ela Minus and for Tei Shi that's supposed to come out soon. 
Luis: We did that one for Kali and we'll see what comes of that. She seemed to like it, she even sent us a little voice note saying she liked it, which was pretty cool. 
Raquel: The sexiest voice note you could imagine.
WHAT'S INSPIRING YOU THESE DAYS? AS NEW REMIXERS AND A DUO WHO MELDS MULTIPLE GENRES IN YOUR WORK, FROM SALSA TO DISCO TO REGGAETÓN—WHAT DO YOU SEE AS YOUR MUSICAL DNA?
Raquel: When you remix you have to be very empathetic. I come from a design background, so I tend to really analyze who we're remixing: what their recent singles have been, what their vibe is, their aesthetics, and sort of feel where we fit in between the sensibilities we have and where this person is going. The process is very much finding the common ground between the things we like and the things they like. The process can  be very experimental and haphazard; we usually have one general idea that we're vibing off and sometimes it just doesn't work and  becomes a trial and error.
Luis: You have to climb a whole mountain to see another path towards the top, you know what I mean? And then come back down.
Raquel: Lately we're in more independent music, but I feel like R&B and disco became kinda big. We've been more sensible to more traditional and tropical sounds like bachata, bolero, salsa, merengue… really trying to study that and trying to put it into the present moment.
Luis: [It's about finding] their common ground, what their lineages are. It's interesting to see an old bolero and salsa tune and see a similarity between that and reggaetón in some way as the next iteration of that.
Raquel: It's all connected. We're excited to delve into it andput all these genres in the present and in the future.
TELL ME ABOUT THE COLLAB WITH JHAY CORTEZ, YOUR MOST REGGATÓN-HEAVY COLLAB TO DATE.
Raquel: Jhay is definitely trying to evolve his genre in a way and go to other places. I feel like he's pretty open-minded.  Jhay is like a master songwriter—he's written for so many people from J. Balvin to Cardi B to Ozuna. I realized that his sensibilities lie not just in reggaetón; he reminds me of old salseross like Maelo Ruiz and Carlos Estremera, Chamaco Ramírez and all of these people that were so witty with their words and melodies and had such great voices. To me, he's a modern iteration of that, it's just that we happen to live in a moment where reggaetón is the main thing. I never really look at it like this is our "reggaetón moment"; I see it like this our moment to work with someone who does reggaetón but can give so much more. Jhay just released this track called "Koby En LA" and I do some vocals [in the interlude] called "El precio de la fama" ("The price of fame"). We're supposed to be more present in the record, but it hasn't come out yet so I can't mention that.
YOU JUST RELEASED THE VIDEO FOR "TA QUE TIEMBLA", YOUR LAST SINGLE FOR REGRESA. IT'S FITTING THAT THIS SONG ALSO CLOSES THE RECORD. HOW DO YOU FEEL ABOUT CLOSING OUT THIS ERA?
Raquel: It was a bittersweet experience. We put like three years of work and all this love. It was tied to our move here and it's such an emotional journey. We put it out in the middle of a pandemic and then we can't tour, it so it's been hard to kind of let it go. We almost didn't do this video;  I had to fight for it. We had originally thought to put it out first because it was so energetic, but then the world was changing and it didn't feel like it was the right song. Now it definitely does; in a way we're, wrapping [this era] with a bow.
I LOVE THE IDEA OF TAMING A LIVING TUMBACOCO; IT BROUGHT TO MIND MYTHS WHERE A HERO SLAYS A DRAGON. HOW DID THAT STORYLINE COME ABOUT?
Luis: We had been playing around with this idea of a menacing tumbacoco since the "Vamono" video. It felt right to do a sort of mirror image—
Raquel: —an evil twin.
Luis: Yes! The evil twin of the "Vamono" video, where there was like this caravan that, instead of bringing joy to the community, was sort of antagonizing. 
Raquel: Mind you, tumbacocos during political years are entirely antagonizing. They do a lot of sound, all these crazy political slogans everywhere. It's super annoying, and it can become menacing. It brings joy, but it also brings pain. The tumbacoco kind of also represents our music career. It can become this larger than life super-cool thing that's kind of like projecting your music out there, and then other times it can become a very loud, menacing, scary thing. I feel like personally I embedded a lot of image to the tumbacoco, both culturally but also kind of personally. This year I feel like everyone has kind of appreciated life and connected with nature and I think people have had a lot of breakthroughs, but also it's been a very scary, chaotic, unpredictable, tense year. The video is supposed to really showcase that.
THE BIGGEST QUESTION AT THE CORE OF THIS ALBUM CONCERNS RETURNING; FOR YOU, A RETURN HOME. I'M WONDERING WHAT YOUR RELATION TO THE ALBUM IS NOW THAT YOU'VE RETURNED TO PUERTO RICO. CAN WE EVER REALLY RETURN SOMEWHERE?
Luis: That is the precise question the record sort of puts up, and I don't think it's an answerable thing. It's something very different for every person. Having lived outside of our culture,  in some parts of us there does exist this sort of yearning to come back to something that we might not even know is real. Since we were born and raised in Puerto Rico, it did feel like something tangible. We have our families here. Our daughter was born in the States, and as soon as she started to grow up we started to feel it more and more as this tangible thing that called us back.
Raquel: What's cool to me is that the record can mean coming back to a kind of a cycle and what that means. In life, you kind of have to go back to certain things to find certain things about you. The record is very much about self-acceptance. It lies in being true to yourself and finding yourself even though it might be complicated and painful. What's really crazy to me is that we put out this record during the pandemic and then we saw all of these people return home, not just people from Puerto Rico but we saw people kind of leave their individual dwellings and cities and come back to their parents house and come back to family. A lot of people came back to Puerto Rico, and it was wild because it was not something that I would ever imagine happening. I'm sure that globally a lot of people did return and I wonder how this year has  impacted people in that kind of return or that look back through this crazy world crisis. In the modern world we're always told to keep evolving. I don't know if it's some sort of capitalistic view. For us, it's kind of  returning to the womb, returning to this sort of safe place, which is what we need right now. The world's becoming really weird with technology and isolating and I think we really have to return to the places that nurture us. 
CONNECT WITH BUSCABULLA  
INSTAGRAM // TWITTER // SPOTIFY
photo / Mara Corsino
story / E.R. Pulgar