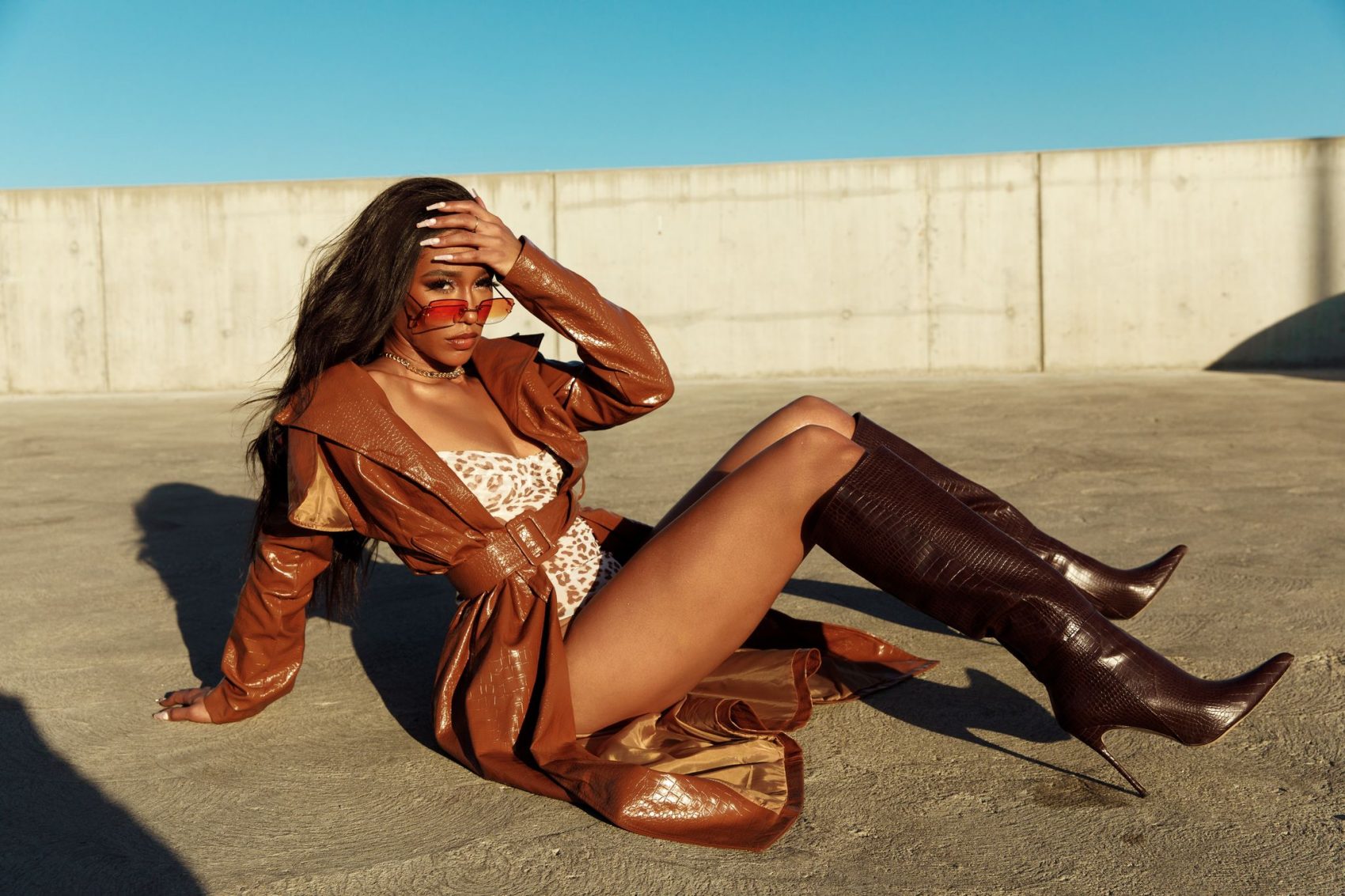 It's clear that Boston-bred multicultural musician BIA is all about securing her bag, dropping hits and minding the business that pays her.  Since dropping quarantine-made banger "Cover Girl," which has amassed over 9.4 million worldwide streams in April, BIA has demonstrated that not even a global pandemic will stop her grind.
As the face of hip-hop throwback fashion brand Sean John's Missguided collaboration and an ambassador for Khloe Kardashian's Good American brand, it's no surprise why the "Same Hands" rappper is one of the most sought after talents in beauty and fashion on top of her musical capabilities. With BIA's latest Savage x FENTY ambassadorship, is it too soon to predict a Rihanna collaboration in the future – especially considering her cosign of BIA's summer banger feature on Russ' "BEST ON EARTH"?
LADYGUNN caught up with the Perico Princess herself ahead of her latest EP For Certain, out today, to chat about her growth as an artist since her 2012 debut mixtape #CHOLASEASON, embracing her sexuality through her music, and how songwriting has been a source of mental health maintenance.
TALK TO ME ABOUT "SKATE". WHAT WAS THE INSPIRATION BEHIND IT?
"SKATE" for me was a fun song and it's exactly what it is. Like how people say, "I love long walks on the beach," but I like long walks with my man to the bank. I like to get money and I like my man to get money. "SKATE" is relatable to a lot of girls and a lot of guys too. No guy wants to be with a bum girl and no girl wants to be with a bum for a guy. It's a fun bop and it gets to the point. For the vision, I wanted to have a candlelit dinner in the bank on a romantic dinner with my man. When I sat down with Edgar at Blank Square, we came up with the treatment together and we started throwing ideas back and forth. They were like, "Why don't we do an ice ball?," because I wanted ice skaters too but since we couldn't do ice skaters, they suggested roller skaters. It just all came together and I was so happy with how the video came out.
IN "COVER GIRL," YOU SAY, "MADE IT OUT THE MUD, ONLY ME I WANNA THANK." WHAT DOES IT MEAN?
I don't want that line to come across like, "I got where I'm at without the help of no one." What it really means is that people can help you but ultimately you've gotta do it on your own. At the end of the day, I came to a point where I feel like so many people have given up on me so I had to pull myself out the mud. There wasn't anybody at that time who could pull me out the mud but me. When I went through an experience, that's what that line was. It was just me pulling myself out the mud and you can't ask for any favors at this point. You just have to make it work.
HOW WOULD YOU DESCRIBE YOUR GROWTH FROM #CHOLASEASON TO 'FOR CERTAIN'?
#CHOLASEASON, I was learning how to make music. I was having fun but I was looking at it like, "I've got to do it this way. I've gotta do it that way." I feel like 'FOR CERTAIN' is way more my authentic self. I know who I am, I know how to write better music now, I'm more versed in how I put together songs. I felt like 'FOR CERTAIN' was the perfect name because I'm so certain about everything: where I'm at in life, where I'm going, what I'm doing right now. 
IF THERE'S ONE THING THAT YOU'RE FOR CERTAIN ABOUT, WHAT WOULD IT BE?
My calling. My purpose. I'm here and what God put me on this Earth to do, I'm doing it. I'm speaking my truth and I'm living in my purpose and that's what I'm certain about. I just believe so much that I'm a messenger. I'm really here for a higher purpose, whether it falls on the music or some sort of outreach for women. However He allows me to serve that message, I'm gonna continue to serve it.When you take that leap of faith to do whatever you have to do—and I say this to everybody whether you want to become an artist, manager, athlete or you want to go to school and get your degree—you just have to go 100%. You have to be certain with what you're doing. Otherwise, you're not going to succeed in anything because if you don't believe it, you're never gonna push through.
HOW HAS THE RISE OF SOCIAL MEDIA BEEN HELPFUL – OR HURTFUL – TO UPCOMING TALENT IN THE MUSIC INDUSTRY?
I think it's helping because it puts a lot of control into the artist's hands when it comes to who they can reach. There's a lot of people that you wouldn't find if it wasn't for social media and I think we're all thankful for that. Social media has made so many people millionaires in the last couple years and it's just shifting the game in terms of entrepreneurship. What I don't like about [social media] on an artistry level is that you get a lot more gimmicks out of social media than you do real artists. It's easier for somebody to run it up on the blogs and for the wrong reasons on social media versus someone who has real talent. Then there's people who fall a little bit beneath the radar because you wouldn't find them and they do tons of streams but only have 70k followers on Instagram.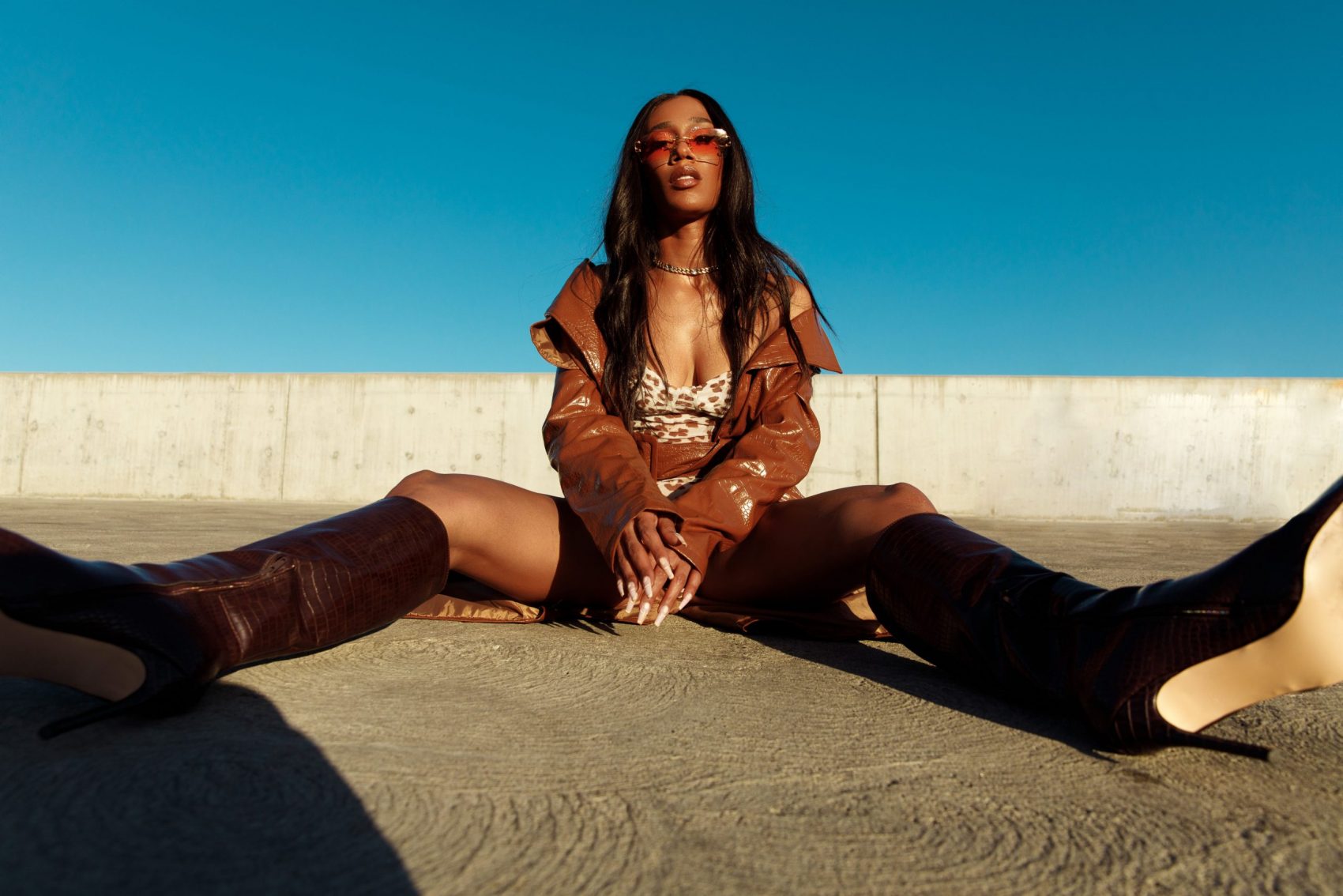 YOU'VE MENTIONED THAT YOU STARTED WRITING MUSIC BECAUSE IT'S THERAPEUTIC. HOW SO, AND WHAT HAS WRITING MUSIC DONE FOR YOUR MENTAL HEALTH?
I've always used music as a release. Whatever's on my mind, I'll just put it on the wax. I feel like I could change my mood with music. If I'm in a bad mood and there's a beat that brings something fun outta me, it could switch  my whole mood up. I think that's why music is so powerful because it has the ability to go with whatever you're feeling. 
WHAT ARE SOME OF THE MOST EMOTIONALLY PROVOKED SONGS THAT YOU'VE EVER CREATED BASED ON THE EMOTION YOU WERE FEELING AT THE TIME?
On my last project, I had a song called "DROWN IN MY CUP." The whole project was rap except for that song and another song that was a little more vibey. Those songs, I feel like when you're going through something like a breakup or a sad time, bring different emotions out of you. I hate going through sad times but I love the music that comes from them. I have an R&B project that I'm working on right now called "R&BIA," and it has a lot of emotions. I'm excited to get that off and I think people will definitely see a lot more of that in that project for sure. 
YOUR SONG "AUTOMATIC" HAD A GROWN, SEXY AND SECURE YOUR BAG VIBE TO IT. WHEN DID YOU BECOME COMFORTABLE IN YOUR SEXUALITY ENOUGH TO RAP ABOUT IT IN YOUR MUSIC?
I've always rapped like that. If you go back to some of my old features like with Victoria Monet for the "Freak (Remix)," it was like that. It might be easier for me to get it off in songs versus in an interview. If you ask me all of these sexual questions right now, I might be like, "Oh my God," but if you put it in a song and you put on City Girls, you might get a different side of me.
WHAT EVENTS THROUGHOUT 2020 DO YOU BELIEVE IMPACTED YOUR CREATIVE PROCESS THE MOST?
There were a lot of events that impacted me as a person such as COVID, Donald Trump and the shift of humanity. I don't want to get too deep and too preachy, but it made me sad for the world. I want to be able to speak for not just me but the women that look like me, the women that relate to me and I want to do it with class and taste and I want to do it the right way. I'm not looking to be anybody's role model but I have a duty to speak for the women that are not heard or can't speak for themselves. I take that very seriously and that's why my music shifted and became more powerful, assertive and for certain. 
WHAT ARE YOUR PLANS FOR A 2021 BIA TAKEOVER? 
Consistency. I really just plan to be consistent with music, contribute to the beauty world because I have a lot of plans and ideas, and on the business front. I want to mentor more when it comes to educating younger artists about the music industry because I feel like there's a gap. People will get a song, go sign a deal and a few years later be like, "What the fuck did I sign?". There's something that happens to those artists and I feel like I owe it to some of them to come back and say, "Before you make this mistake, hear me out and try to do it a different way."
CONNECT WITH BIA
INSTAGRAM // SPOTIFY // TWITTER
photos / Bonnie Nicholds
styling + direction / Grace Butler
editor / E.R. Pulgar
story / D'Shonda Brown